Creepin' It Classy Halloween Decor Ideas
Inside: Looking for ways to decorate for Halloween that are tasteful, not tacky? I'm keeping it spooky chic with classy, elegant ways to decorate the dining room, kitchen, and family room.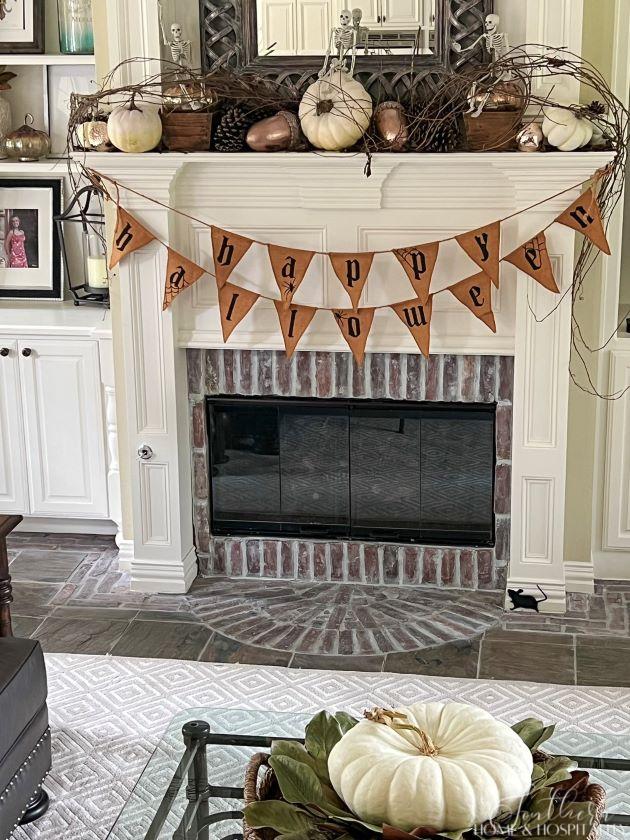 I still love Halloween and all of the fun that comes with it! But now that we're empty nesters, Halloween decorating around the house has changed a bit.
When the kids were little I would put cutesy kid-like hints of All Hallows Eve everywhere.
But now? Like my little pumpkins, my Halloween decor has also grown up.
No more orange jack-o-lanterns. Or plastic pumpkins.
I want my home to look elegant. Refined. Sophisticated. Chic. Not like the Halloween aisle at Dollar Tree exploded and the wreckage landed in my living room (even if some of it did come from Dollar Tree).
Here are my best tips for tastefully decorating for Halloween for adults with some ideas from my humble haunt!
This post contains Amazon and other affiliate links for your convenience. As an Amazon Associate I earn from qualifying purchases. If you purchase something through any link, I may receive a small commission, at no extra charge to you. I only recommend products that I love or would purchase for myself. See my full disclosure here.
Two ways to keep Halloween decorating simple.
As adults, we give up on Halloween decorating because we think it takes too much time. We feel like it's for kids. And it's too much trouble for only one month smack dab in the middle of the fall season.
But the good news is it doesn't take a lot to decorate elegantly for Halloween!
1. Decorate only the focal points. And only in a couple of rooms you use the most.
There's no need to deck out your entire home, especially when the Halloween season is so short. Besides, part of being tasteful and refined shows restraint, right?
2. Layer Halloween decorations into your fall and existing decorations.
This makes for less work. And bonus—it blends Halloween tastefully and seamlessly into your style!
I used both of these ways in my dining room, kitchen, and family room with a little bit of spooky decor in strategic spots. Let's take a look.
Spooky chic dining room ideas.
The dining table is all set for an elegant Halloween dinner party.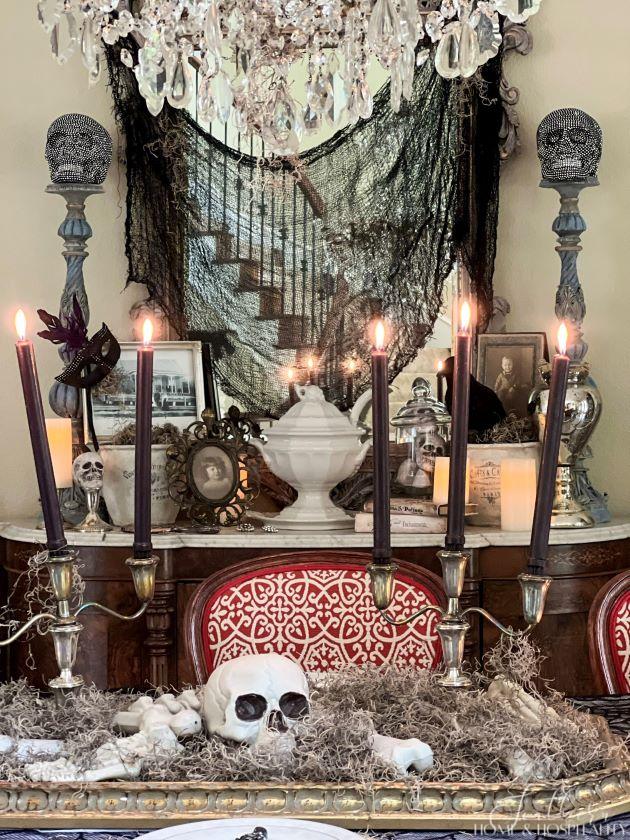 I'll admit, I didn't show much restraint in here. But decorating big next to the front door is the perfect way to make our home look like it's done up to the nines to guests and trick-or-treaters that don't actually come in. And all of the "Halloween" is concentrated here for this whole living, dining, and entry area.
This year I went with a spooky chic Southern Gothic theme. I had so much fun creating this moody, vintage look!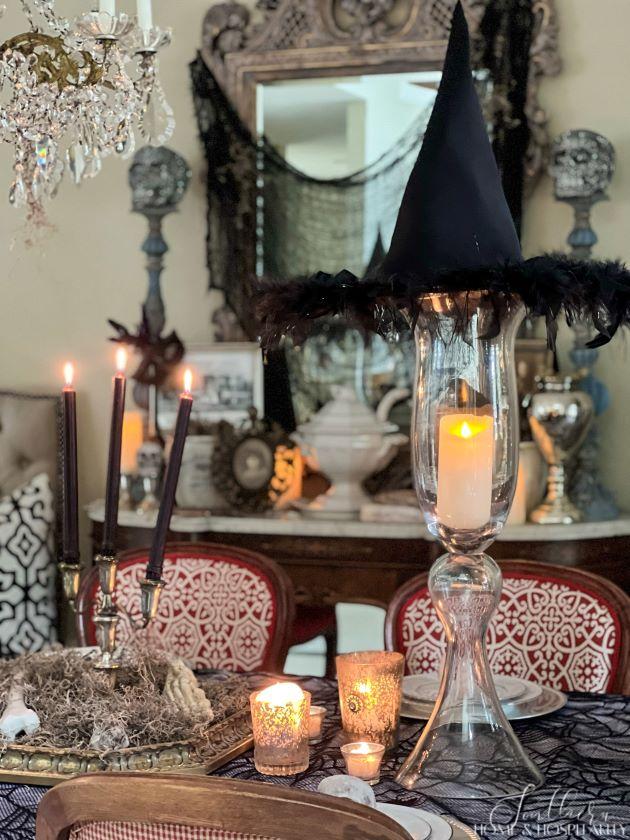 Being true to my Southern and Louisiana roots, I brought in decor that reminded me of scary Southern things like voodoo, moss dripping from trees around vine wrapped, crumbling mansions, and spirits of those who have passed on but may still be among us.
It was actually easy because I already had every single thing I used. The chic spooky ambiance comes from simple elements like a witch hat floating over a candle, old photos silently watching, tarnished vintage candle holders, and awaiting plates with foam heads.
I loaded up the sideboard with creepy curiosities to make a super spooky display with a mixture of past Halloween decor, home decor, and vintage family heirlooms.
See more details of this Southern Gothic dining room and the elements I used to create it in the post, "How to Create a Spooky Chic Halloween Tablescape".
The king of the creepy crawlies hangs on the staircase by the dining room. I'd hate to clean up the spider webs this one makes.
Classy kitchen Halloween decor ideas.
Moving into this area of the house, the Halloween decorations are much simpler. My colors in these rooms are neutral, so using neutral Halloween decor feels a little more grown up than adding a bright orange color palette, like I did for the kids.
In the kitchen, The island is the perfect place to focus the Halloween decor on. I got big impact for free with some dead tree branches I took off of a blackjack oak in the yard.
When these trees are bare in the winter, they remind me of the tree in Poltergeist that eats the little boy—eek! I thought about painting these branches black, but the bark is already so dark they're creepy enough in their natural state.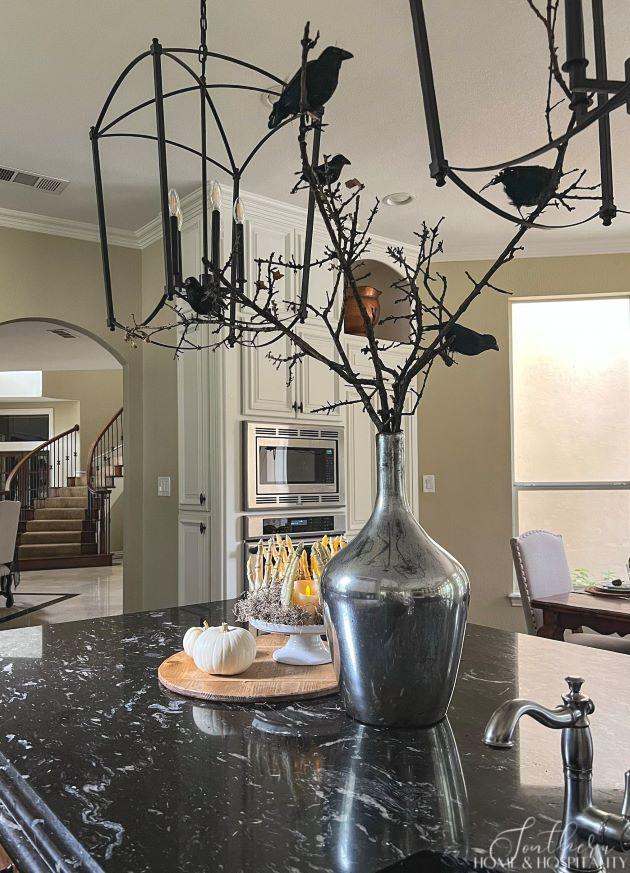 I put them into a large mercury glass jar and attached black crows to nest among the gnarly limbs with a little wire around their feet.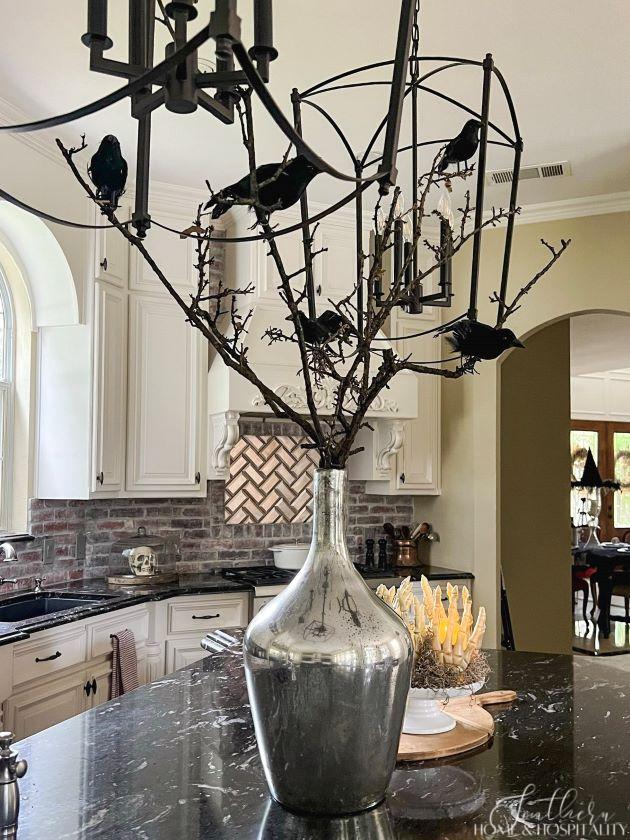 I have a big bag of these skeleton hands from Dollar Tree left over from a DIY project so I use them every year for something. This year they hold flameless pillar candles.
I've even used them in the past on the buffet table at parties to hold serving utensils. The fun possibilities are endless!
You may spot another simple spooky touch under the cloche by the sink—don't worry, it's a plastic skull.
We seem to have some uninvited Halloween rat party guests in the kitchen by the pantry:
And a couple of its friends showed up behind the chair in the family room.
And there's a stray by the mantel!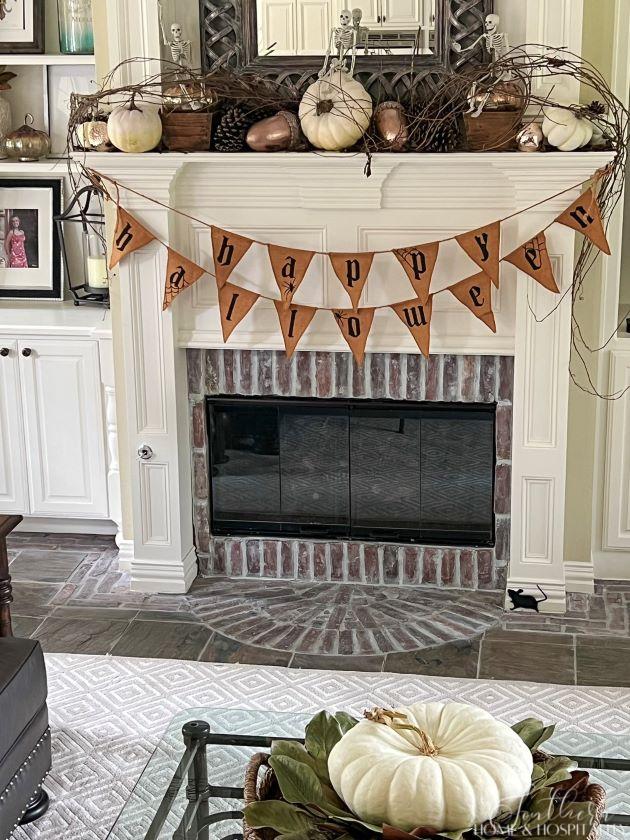 Speaking of the mantel, let's walk over to the family room to see the minimal Halloween decorating I did there.
Low-key Halloween vibe ideas for the living room.
I used both tips for keeping the Halloween decorating simple in the family room.
First, the mantel is the focal point and it's the only place I decorated for Halloween in this room.
Since the beginning of September, I've had the mantel cozied up for fall with faux pumpkins, pine cones, acorns and grapevine. And it's not going anywhere until it's Christmas decorating time.
See how I put it together in the post, "The 4 Cozy Elements You Need for a Neutral + Natural Fall Mantel".
I hung the rustic burlap banner under it that wishes you "Happy Halloween!"(similar)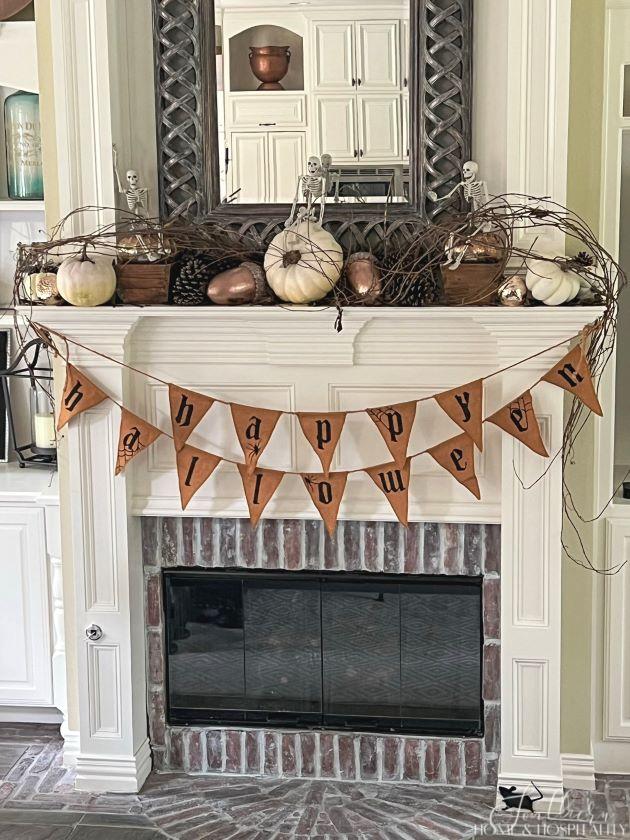 Skeletons are the easiest way to add spooky spirit to existing decor! I posed three skeletons on top of the fall mantlescape.
I like my Halloween to be fun – nothing gruesome or super scary.
These skeletons make me smile when I'm sitting in here because they look like they're having a big ol' party!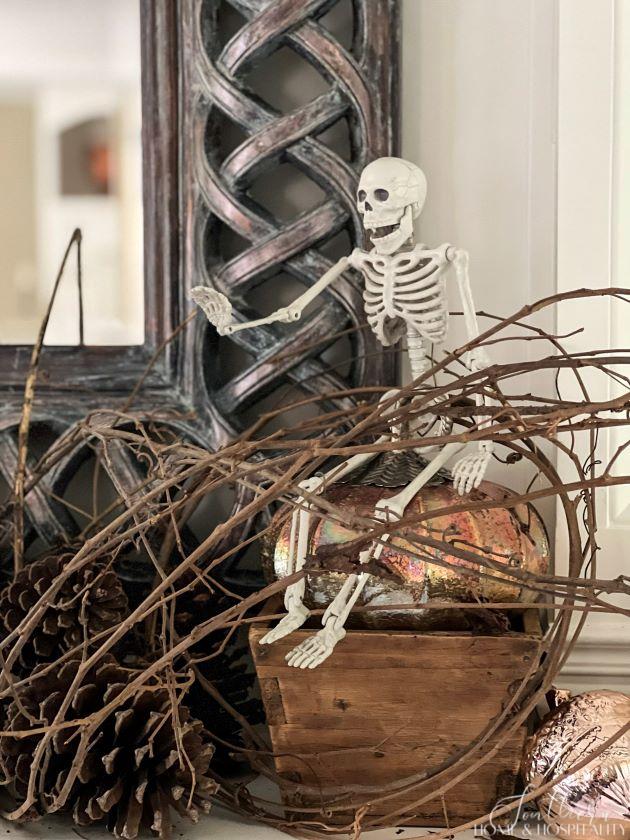 One of them must have told the funniest joke.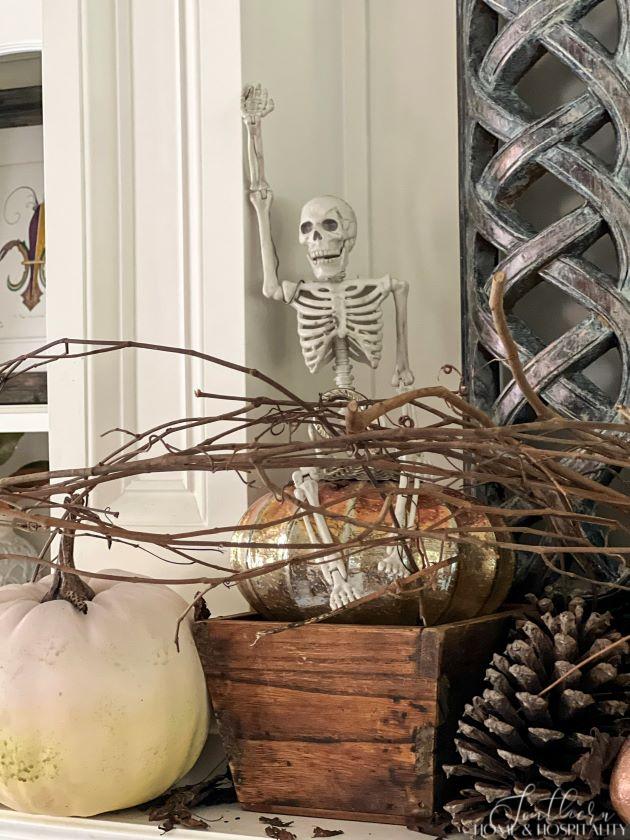 Wish I was in on it! A little double stick tape and wire is a great way to get them to sit and stay where you want.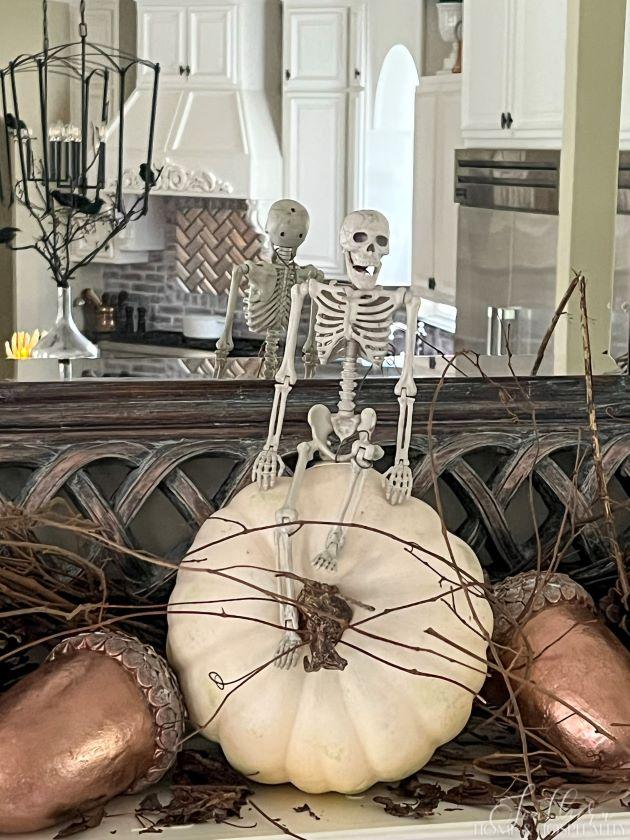 That's the extent of my Halloween decor for this area. But it feels completely decorated for the holiday because it's on the two focal points—the kitchen island and the fireplace mantel!
Uh oh. It looks like we may have an infestation on our hands: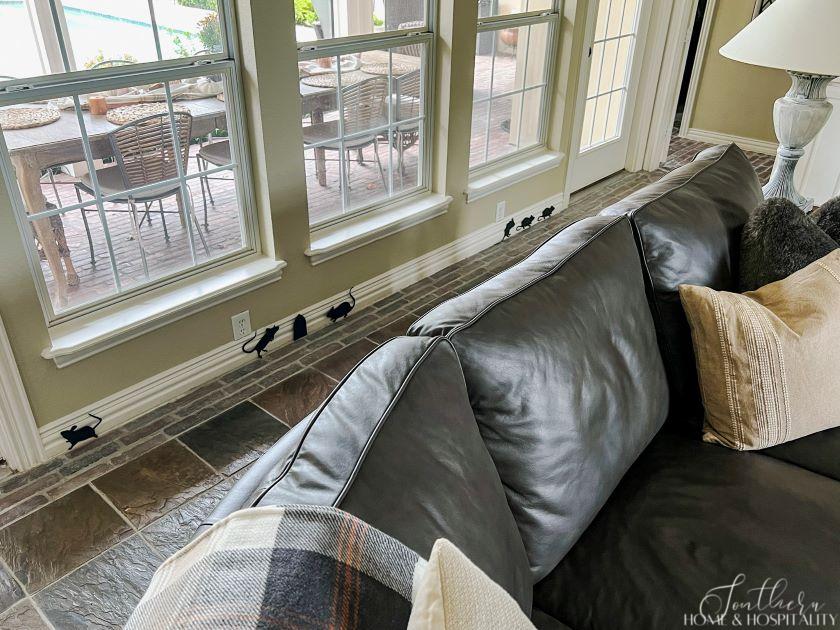 If you missed our outdoor Halloween decorations, make sure and check out my porch and front yard ideas here. Our ghoulish visitors always bring the trick or treaters to the yard!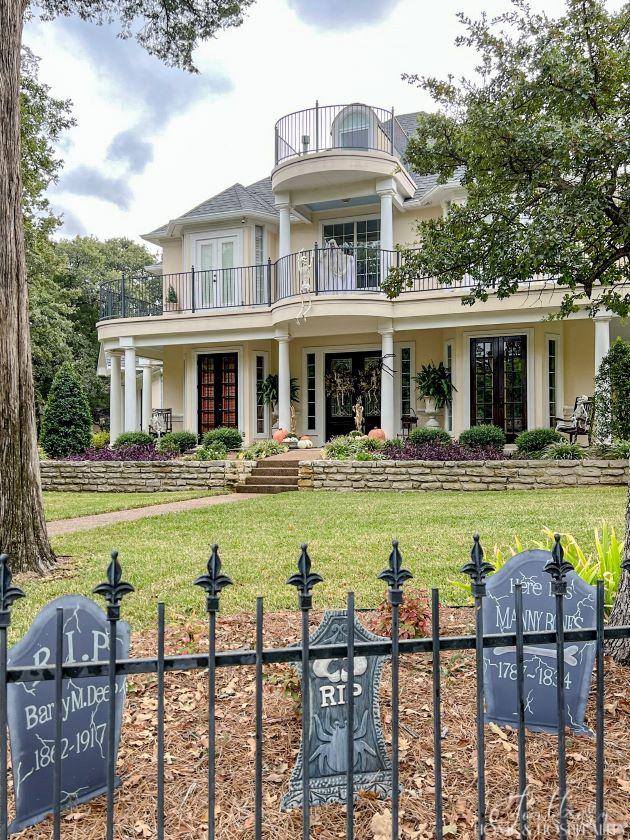 ---
Halloween is the perfect time to express your creativity in a fun way. And it's not all about tacky Halloween decorations that flash like orange lights in the home that you put so much effort into decorating tastefully.
So don't skip over Halloween. Just keep it classy.
I'd love to hear how you make your home "boo-tiful" as an adult!

Before you go:
As always, I appreciate your visit, comments, and shares here on the blog! I'd love it if you also follow along with me on Pinterest, Instagram, and Facebook so you won't miss any of my inspiration and ideas.
Don't forget to sign up for updates to keep in touch.
If you're not already a member of the SH&H family, I'd love to have you join me! You'll not only get email updates, but you'll have exclusive access to all the bonus materials in my free subscriber-only library, like this:
---
Pin it to remember it!
If you've enjoyed this post, please pin and share this on Pinterest: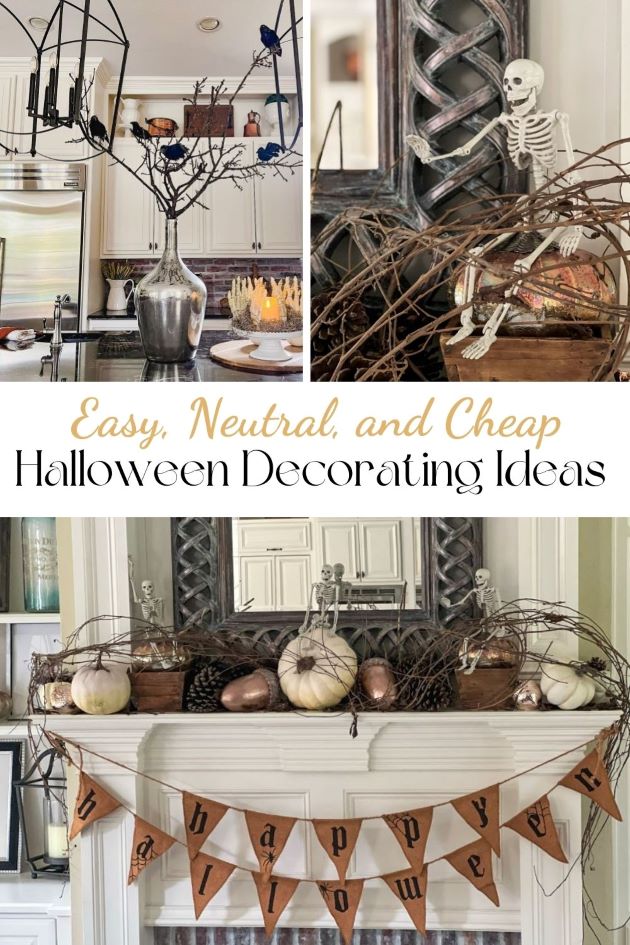 Sources for this post or similar.