Inside: This simple formula for a rustic and elegant mantel styling of pumpkins, pinecones, copper, and grapevine creates a warm, calming, cozy feel for fall! ➡
I felt that fall nesting urge, just like I do every September.
But as I filled my cart at Hobby Lobby with the fall color cliche of bright crayon orange pumpkins and glowing yellow leaves, I realized this burst of color was going to shriek, "just in case you don't remember, IT'S FAAALLLL!!" in my living room's subdued neutral color scheme.
I was looking for the warm fuzzy slipper socks of fall decor. This was a flashing neon "it's fall y'all" sign.
So with a dejected droop of my head, I put everything back on the shelf and went home empty-handed.
Here was where I felt stuck.
I wanted to layer lots of fall accessories on the mantel to make my fireplace look warm, cozy, and fall-nesting-worthy. But at the same time, I wanted the focal point of our room to feel calm and peaceful.
The traditional color fall decor in orange and yellow wasn't gonna get me there.
And I didn't want to end up with a chaotic mess of a fall Pinterest fail.
So how could I bring in the calm warmth and comfort I craved for fall?
And then it dawned on me.
By going au naturel.
My secret to keeping it calming? To use only neutral colors and natural textures.
This "mantlescape" is all about texture. The natural, rustic shapes of pinecones and grapevine mixed with glass, metal, wood, and (what else) pumpkins.
During most of the year you'll only see one or two simple items on display here.
But this time of year is all about gathering, family, and reminiscing. So for the fall season, I'm OK with loading up my family room mantel in cozy layers.
You can see the different ways I've styled this fireplace mantel by season last year: my Easter mantel here, my Summer mantel here, and last Christmas' mantel here.
This post contains Amazon and other affiliate links for your convenience. As an Amazon Associate I earn from qualifying purchases. If you purchase something through any link, I may receive a small commission, at no extra charge to you. I only recommend products that I love or would purchase for myself. See my full disclosure here.
The magic materials to create this neutral fall mantel.
My fall four formula for this rustic mantel styling is simple:
How to take apart a grapevine wreath.
The grapevine was a key player in styling this mantel, and I had to prep it before decorating the mantel.
Step 1: Using an old large grapevine wreath, I cut the branch holding it together with some garden clippers and pulled it off.
Tip: You'll avoid some of the mess by dismantling the wreath outside. Save some of the grapevine leaves to sprinkle around the mantel styling.
Step 2: Then I gently worked it apart. This one ended up in about three separate pieces.
Step 3: I stretched them out for a few minutes while I was getting everything else together.
I've read that you can soak the grapevine overnight in water if you want to reshape it. Personally, I didn't because I wanted it to be curvy and not straight, I didn't want to wash away all of the leaves, and patience when it comes to crafting is NOT one of my virtues.
After getting the grapevine ready, I chose the rest of the elements:
Faux pumpkins all in creamy tones and in various shapes and sizes – a large pumpkin, two medium pumpkins, a couple smaller round pumpkins, and some baby boo mini pumpkins
Rustic wood containers to use as lifts
Copper pumpkins and copper acorns
And my go-to bag of trusty pinecones. (See how I also use them for winter

here

.)
How to cozy up the fall fireplace.
To put the four elements together on the mantel, I began with the grapevine. Putting it on first and tucking everything else in helps keep all of the items in place.
Plus, it is almost impossible to add the grapevine after without knocking everything else off.
This is the trickiest part and you really have to work with it to get it to cooperate. It's ornery but it's the wind beneath the wings of this styling. So the few minutes making it behave is worth it.
Tip: I have cup hooks on the sides of my fireplace that stay in place all of the time to hang banners. I made sure to catch one of the meaty branches in each one. A backward command hook is a great way to hold garlands on the mantel. I used a large one in the middle to help hold the grapevine.
2. After wrangling the grapevine to stay, I started tucking in the rustic wood containers and the largest middle pumpkin:
3. Followed by the large copper acorns in the middle…
4. More pumpkins on the ends…
5. And I filled the spaces in with pinecones, then added the copper-colored glass pumpkins and ceramic copper acorns last.
I found these cute copper acorns at Hobby Lobby that add the perfect amount of light and a teeny bit of glam to all of these rustic elements:
I finished off the mantlescape by adding in a couple of small pieces of grapevine here and there and sprinkling the dried grapevine leaves on the mantel that had come out of the wreath. Just like Mother Nature would.
Tip: Because the grapevine does tend to have a mind of its own, just in case it decided to move, I added command poster strip to the ceramic acorns, the bottom of the middle pumpkin, and even on the side of the mantel to help train the grapevine to stay where I wanted it.
The impression of this mantle arrangement isn't orderly. But instead of being a hot mess, it's quiet. And cozy. and brings all the rustic feels.
How does so much "stuff" look so calm?
There is a simple plan that alternates between the dark and the light and the rough and the smooth. The different heights and shapes add more interest.
And look at how much dimension and organic quality the wild curved grapevine brings!
And the glow of the copper shines warm light within the dark decor.
The contrast of dark and light makes the mantle burst with interest even though it has an absence of "color".
This rustic fall mantel really brings up the cozy factor in this room.
And its "natural" arrangement feels calm. It doesn't awaken my inner neat freak.
The subtle shades of rich brown and creamy white meld with the warm, relaxing atmosphere of my family room.
No bright orange and yellow shouting at me and disturbing my chill nesting fall vibe.
Other neutral fall mantel decor ideas.
More quiet neutral home decor elements for your fall mantel inspiration:
Neutral pumpkins in other subdued soft colors
Natural elements – Dried florals, fall grasses, wheat stalks, feathers, acorns, and fall leaves in brown and tan tones
White pitchers
A black and white or neutral colored fall sign
Wood, white, or black candle holders
Lanterns
Rustic pottery
Wicker fall seasonal decor or baskets
Neutral books
And some neutral fall mantel decorations I'm loving this season:
---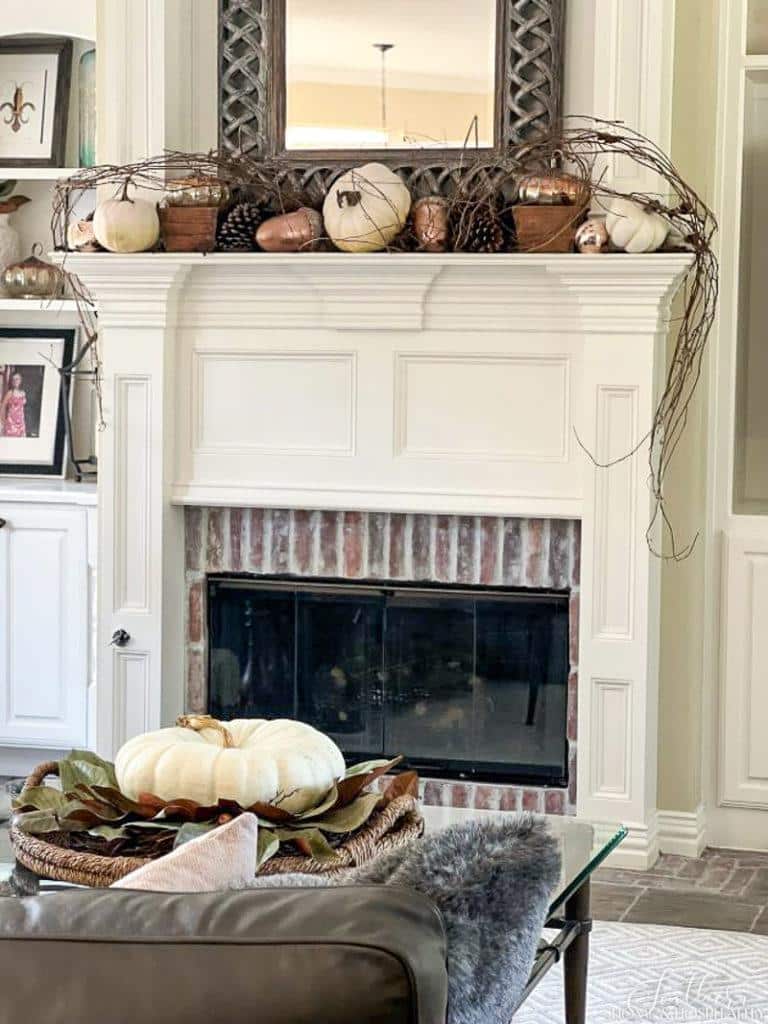 This mantel feels like the cozy throw I'm curling up under on the sofa.
While eating fall soup, watching a coastal grandmother movie, AND with the scent of a pumpkin spice candle wafting through the air.
And heck, maybe even a fire burning in the fireplace.
But let's not get carried away. We are in Texas! Maybe in late November. (But of course I'm already wearing those fuzzy slipper socks.😉)
Did this simple neutral mantel give you a few ideas about how to decorate your own home this autumn? If you're team neutral fall decor, share your beautiful mantels in the comments!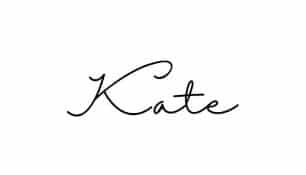 Don't forget to sign up for updates to keep in touch…I have lots of fun and useful freebies you may be interested in in my subscriber-only library like my cheat sheets for where to place lighting, bathroom fixtures, artwork, and furniture!
Pin this to your fall and decorating boards – just hover over the upper left corner of the picture: