Inside: How to set a beautiful table for New Year's Eve in glitzy, glamorous black and gold! ➡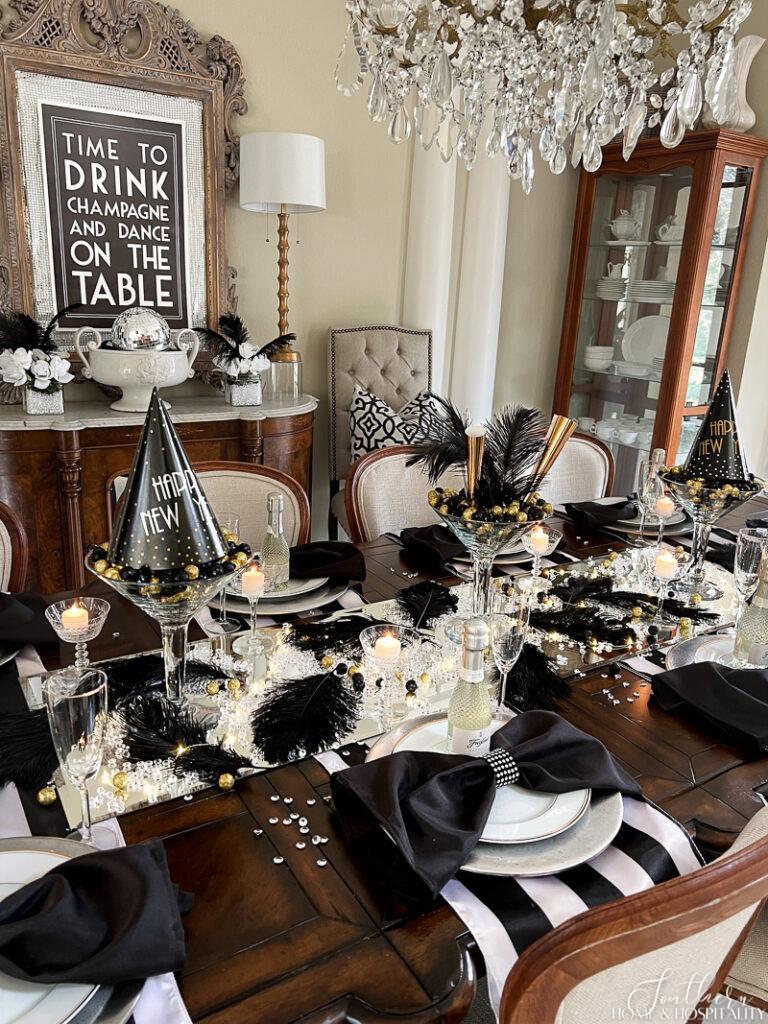 There are four things I most associate with decorating for New Year's Eve:
Black and gold.
Sparkle and shine.
Champagne bubbles.
A Gatsby/roaring twenties vibe (because a little New Year's Eve party never killed nobody).
And my dining room is dressed with it all.
Black and gold is the color scheme and sparkling bubbles is the table's theme!
This post contains Amazon and other affiliate links for your convenience. As an Amazon Associate I earn from qualifying purchases. If you purchase something through any link, I may receive a small commission, at no extra charge to you. I only recommend products that I love or would purchase for myself. See my full disclosure here.
Black and gold New Year's table decorations.
This black and gold tablescape was the perfect opportunity for me to pull out a combination of lots of old party and banquet decor from years of chairing school events (can you believe I didn't have to buy anything for this table?)
New Year's Eve centerpiece.
As the base for this New Year's tablescape centerpiece, I started with a full length mirror designed to go on the back of a closet door. It's the perfect backdrop to reflect and amplify the sparkle.
On top I laid a strand of battery-operated twinkle lights. And a generous scatter of diamond vase filler.
Votive candles placed in a mix of vintage champagne glasses as candle holders added more light all the way down the center of the dining table.
Three oversize martini glass vases hold black and gold glitter balls. And party hats with a Gatsby/Art Deco style font from a stash of old new year's decorations.
I brought in a little sparkle and more pops of gold with a scatter of the same black and gold glitter foam ball vase filler down the centerpiece. The diamonds and the balls remind me of bubbles in this champagne tablescape theme!
Party horns in black and gold with black feathers look festive in the center vase: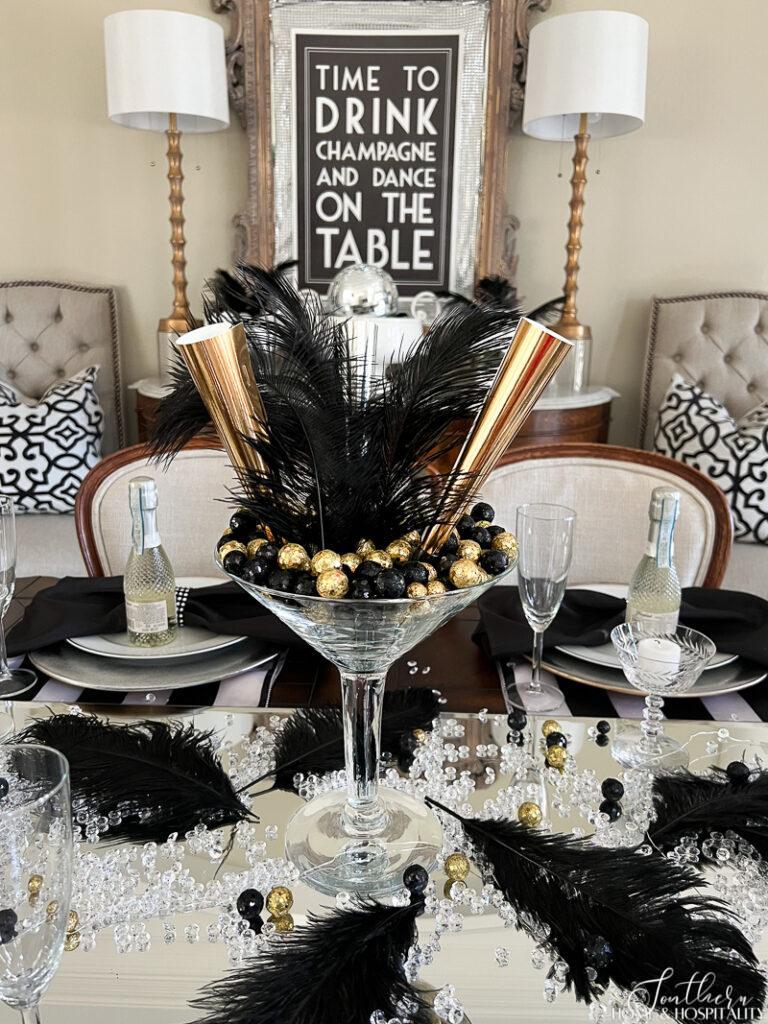 And I filled in the middle of the table with more black ostrich feathers from end to end.
New Year's Eve place settings.
Black and white satin stripe table runners lay across the table under each table setting. They break up the expanse of wood and also serve as placemats.
On top, I placed aged silver charger plates with white dishes rimmed in gold. And nestled in champagne flutes, ready for midnight.
Also at each place setting is a Freixenet prosecco split bottle party favor for toasting the end of the holiday season and the beginning of a new year. This is one of my favorite bottles to give – the facets are so pretty!
I dressed the top of the plates for the new year's celebration with napkins folded into a big black bow. I can't decide if it looks more like a bow tie or a giant bow that you'd find on a formal evening gown, but it works! The napkin ring is made from rhinestone ribbon I had left from an old craft.
New Year's Eve sideboard decorations.
No one's dancing on this table, but my old party sign from my birthday celebration is so much fun for this tablescape!
I had this Art Deco graphic printed on photo paper and mounted it on a piece of foamcore. A shiny, sparkly, sequin fabric fills the rest of the mirror behind it.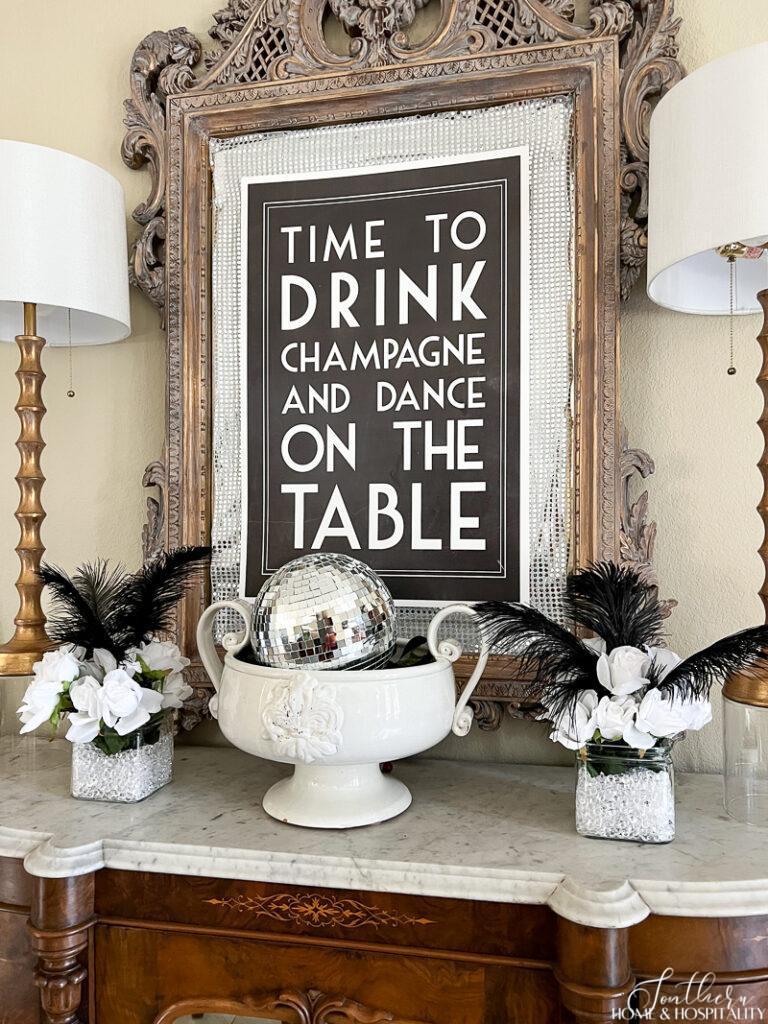 A disco ball brings more sparkle and fun.
And I filled some florist vases with more diamond scatter filler, white roses, and a few black feathers.
More ideas for a glam black and gold New Year's Eve table.
The decorating possibilities are endless with this New Year's black and gold theme. Here are some other easy ideas to make this color scheme memorable for a New Year's Eve dinner party:
Use an assortment of clocks for a centerpiece
Print a clock face and lay it under clear glass salad plates from the dollar store
Drape gold beads throughout
Use a top hat as a vase or centerpiece
Paint wine bottles gold and use as vases
Put fairy lights in pretty bottles
Do you need a cocktail idea for New Years Eve or another special occasion? See my French 75 recipe with a low carb option.

Cheers and Happy New Year!

As always, I appreciate your visit, comments, and shares here on the blog! I'd love it if you also follow along with me on Pinterest, Instagram, and Facebook so you won't miss any of my inspiration and ideas.
Don't forget to sign up for updates to keep in touch…I have lots of fun and useful freebies you may be interested in in my subscriber-only library like my cheat sheets for where to place lighting, bathroom fixtures, artwork, and furniture!