Beautiful Blue and White Mother's Day Brunch Table
Inside: Set the stage for a Mother's Day backyard brunch with this beautiful blue and white tablescape that uses easy decor from the house and special details to make the day with your favorite moms unforgettable! ➡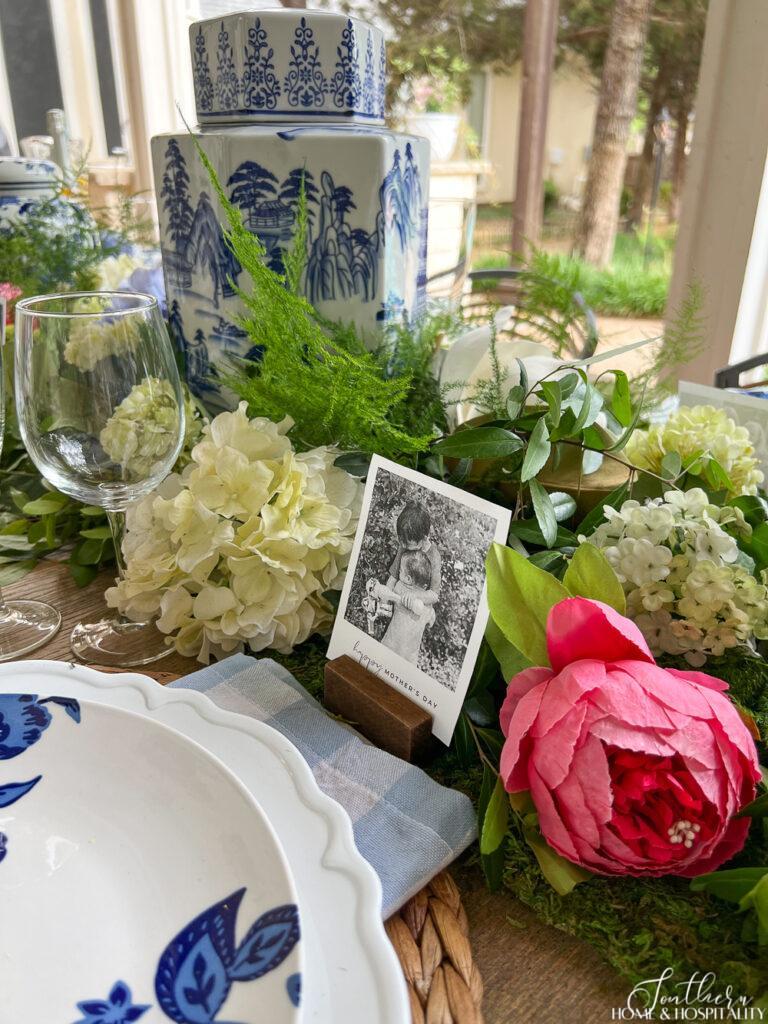 ---
Mother's Day is all about honoring the special women who have loved us unconditionally. But let's not forget about the ones who have laughed with us, cried with us, and helped us get through it all. Our fellow mom friends.
This Mother's Day brunch tablescape was inspired by celebrating each other, and it's built on some of the things we moms all kind of crush on:
Blue and white. Bubbly. And blossoms.
This post contains Amazon and other affiliate links for your convenience. As an Amazon Associate I earn from qualifying purchases. If you purchase something through any link, I may receive a small commission, at no extra charge to you. I only recommend products that I love or would purchase for myself. See my full disclosure here.
How to set a Mother's Day table for mom friends.
All of the mother figures in my life have passed on – my mom, my mother-in-law, and my stepmother, so Mother's Day carries with it a bit of sadness. So an all-mom, all-adult Mother's Day tablescape is a happy way to still commemorate this special day.
This table setting is part of a fun virtual supper club, and I'm honored to be the special guest for May and the "Mother's Day Luncheon"! If you're not familiar with this popular feature, you'll definitely want to start following these five blogger mom friends who live all over the country and get together virtually to set and share a theme table every month. And that's not all – we'll have a complete Mother's Day menu for you later this week. If you've landed here from Rachel's lovely pink garden table at The Ponds Farmhouse, thank you for your visit and I hope you come back again! (You'll find all the stops at the bottom of the post.)
Easy steps to create a blue and white Mother's Day tablescape.
Since mothers were my inspiration, I thought about what I could use that moms seem to all love. (The ideas my 23-year-old came up with were funny, but I wasn't going to put yoga pants or wood signs with sayings on the table.😂)
But bait us with blue and white chinoiserie, hydrangeas, and wine? We're IN.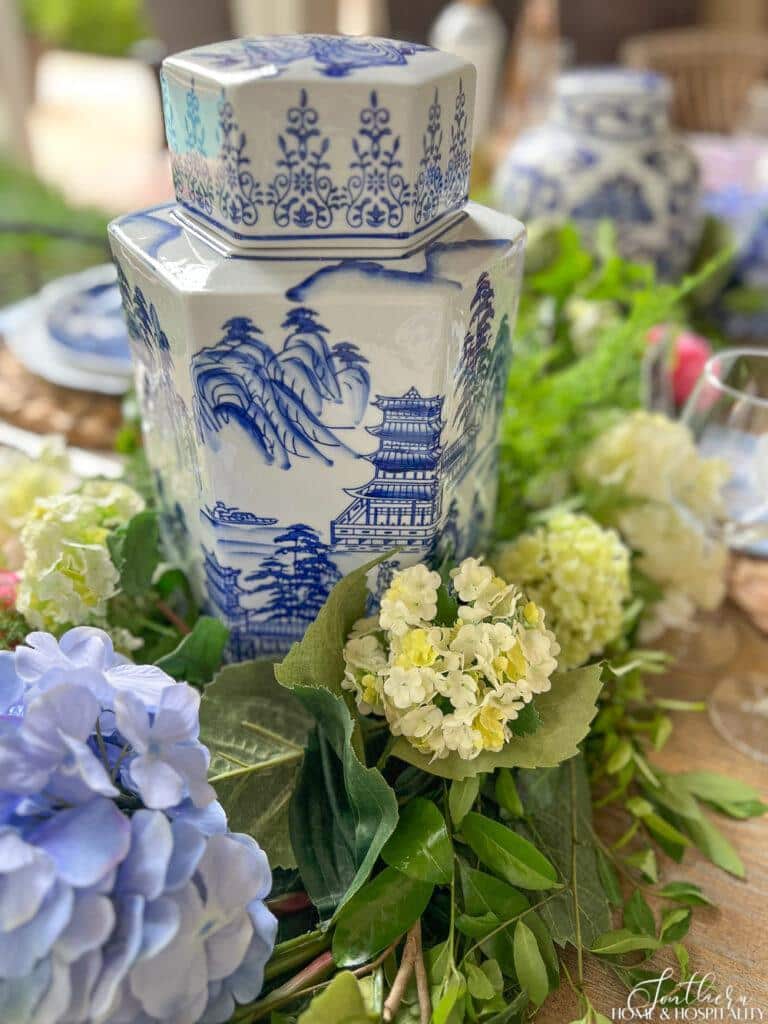 So a blue and white table theme with flowers and wine was a natural choice for a group full of mamas.
May is the perfect time for an outdoor meal in Texas. So instead of using my formal dining room table, this Mother's Day brunch is alfresco style on the back porch.
By bringing items outside that I had indoors, this blue and white tablescape came together in a few easy steps!
The blue and white color scheme.
After deciding on the blue and white color palette, it was so simple to gather up things to use from inside the house, including:
Chinoiserie ginger jars
Blue and white napkins and a table runner
Blue and white flowers
Blue and white plates
The blue and white centerpiece.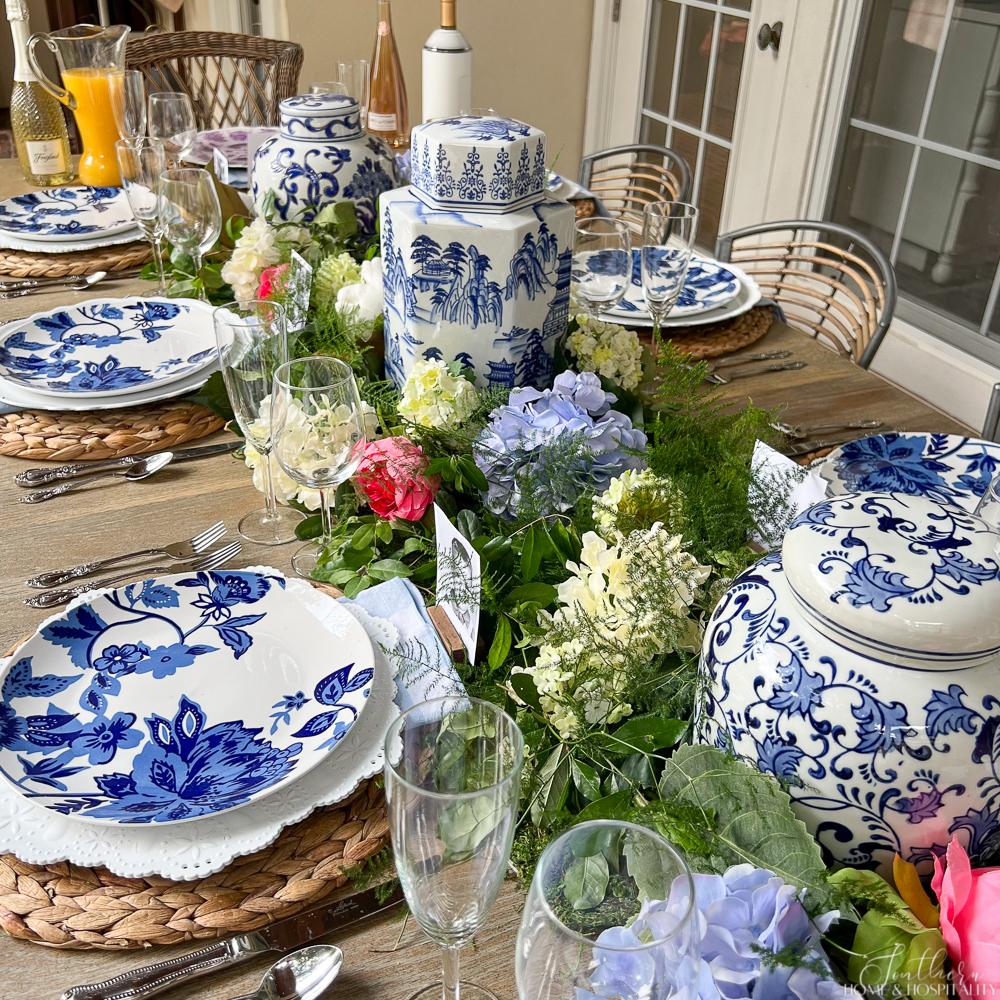 Instead of flower arrangements, I went with my favorite low, garland-style centerpiece that fills the middle of the table and doesn't block conversation.
I started the centerpiece base with a blue and white table runner. To add to the outdoor ambiance, I layered a moss mat over the top as a base for the flowers.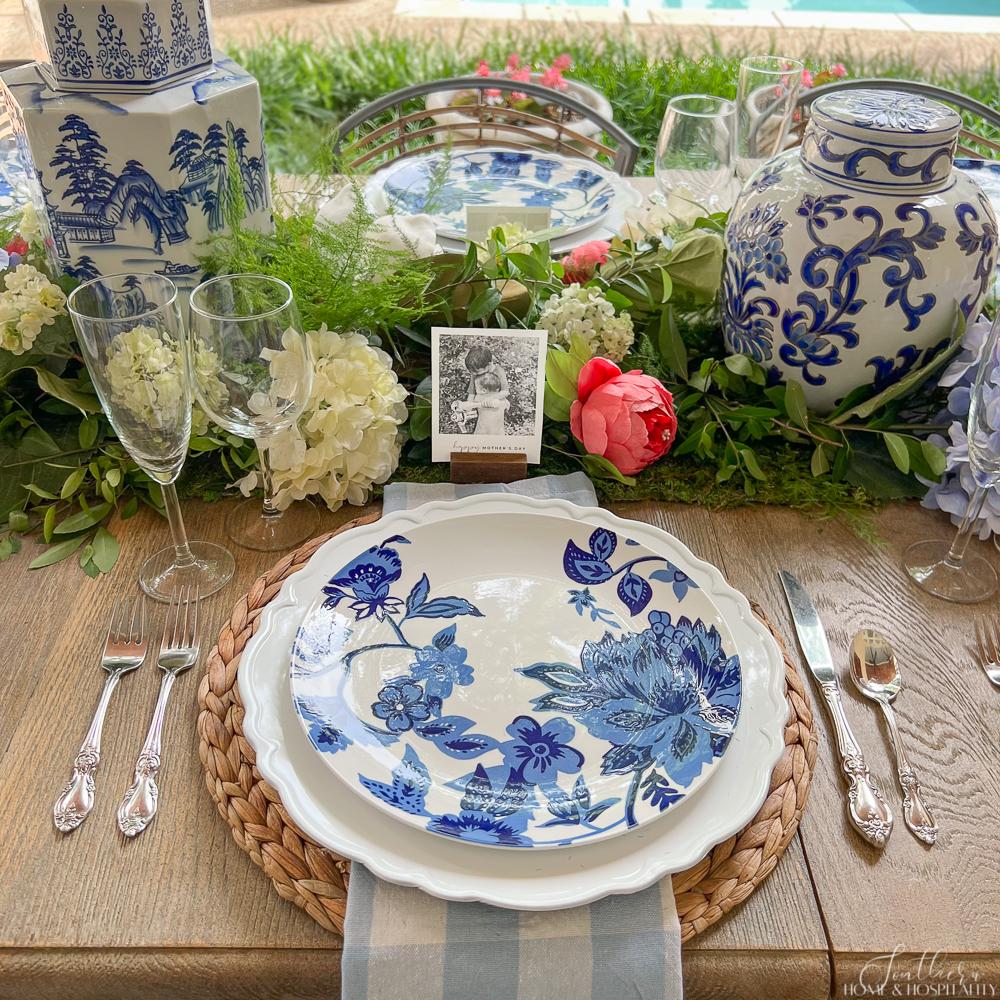 Next, I placed three blue and white chinoiserie ginger jars evenly so that they sat in between the place settings.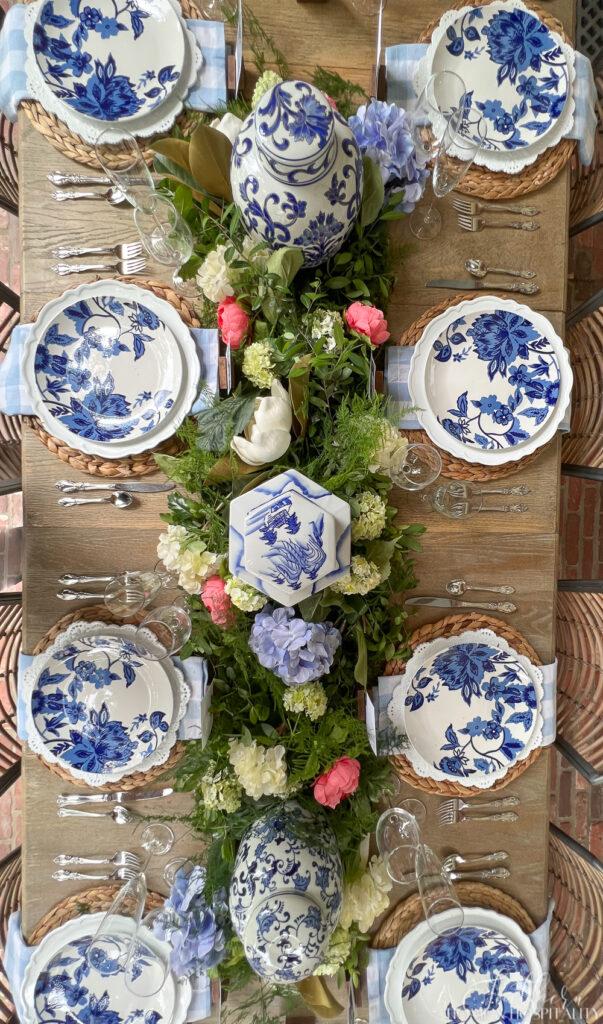 Then I laid out faux flowers throughout the center of the table – blue hydrangeas, white hydrangeas, and a few white magnolia and viburnum blooms.
Fresh flowers, especially hydrangeas, are finicky and prone to wilting. Using fake blossoms makes life so much easier!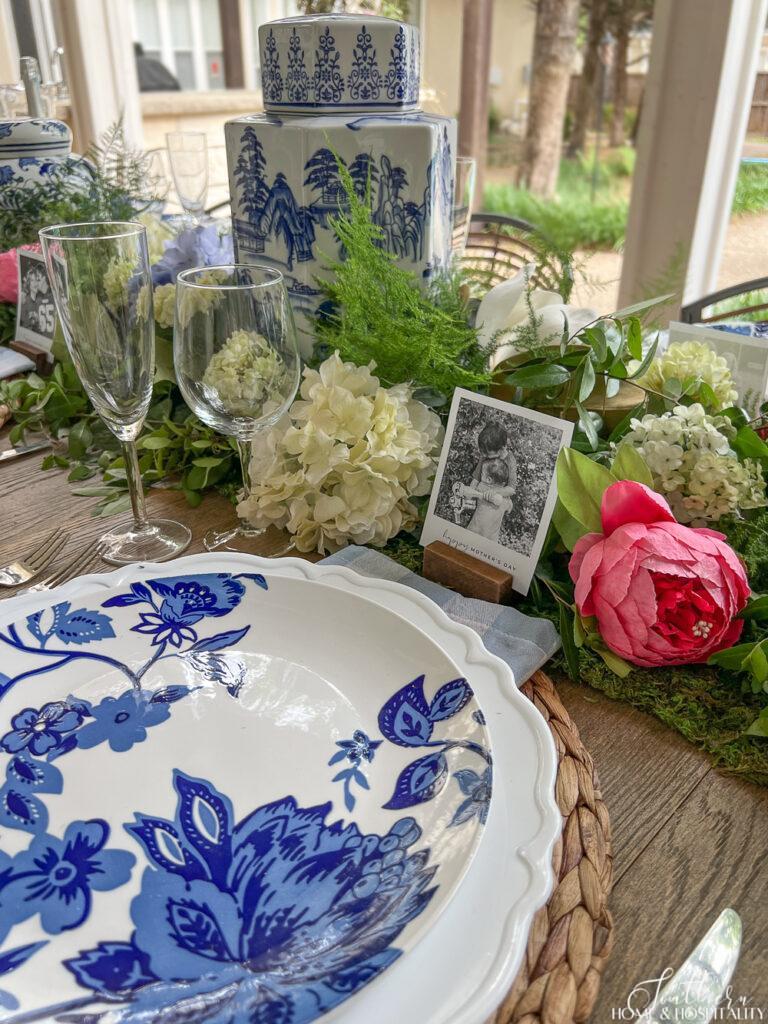 A sprinkling of hot pink peonies made the perfect addition to the blue and white for a ladies luncheon. 🌸
And the final touch was to fill the entire centerpiece with greenery. The selection at the grocery store was not good the day I went, so only the fern was storebought. I clipped all of the other greenery around the backyard – for free.
Mother's Day blue and white place settings.
I started the place settings with hyacinth placemats, always appropriate for an outdoor table setting. Then on top are white china-look chargers from Hobby Lobby (under two bucks each).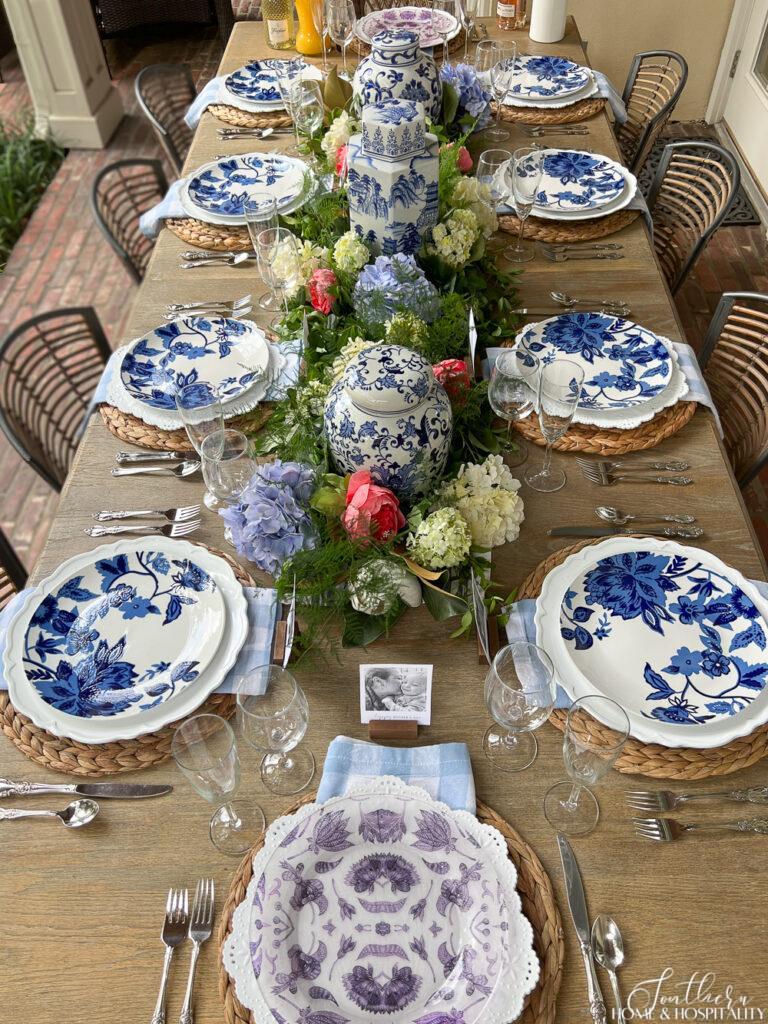 But an even better deal was these blue and white floral dishes from Dollar Tree: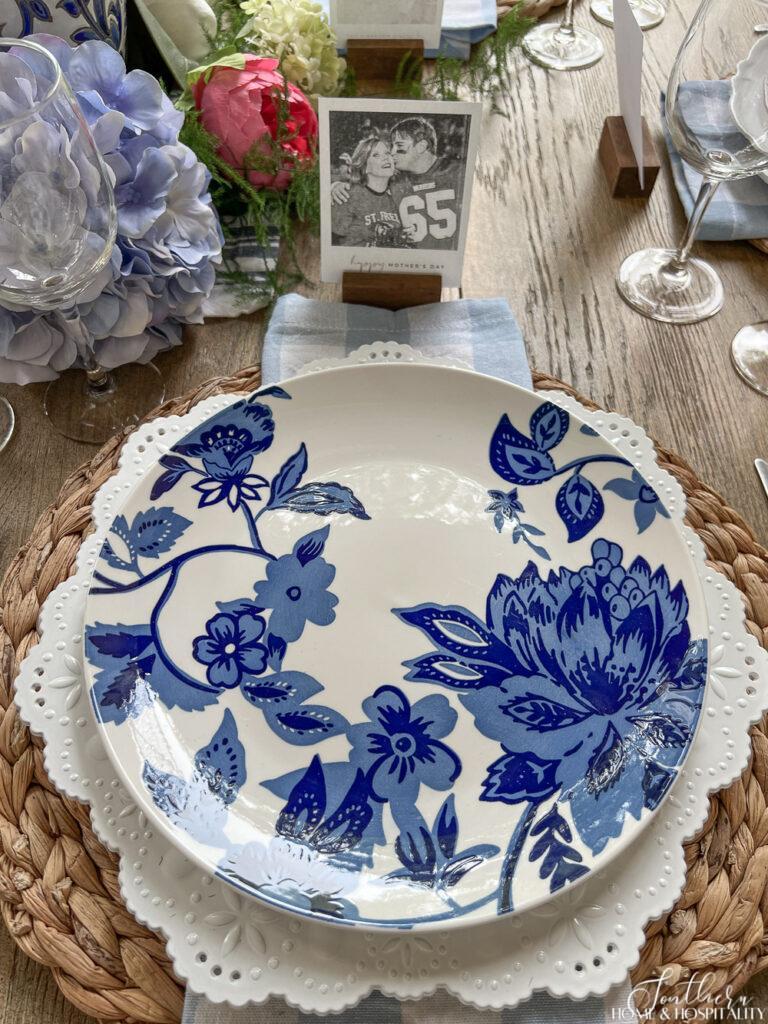 They only had eight, so I grabbed a couple of clear glass plates and decoupaged two coordinating dinner plates (this easy DIY coming next week). I set the ends of the dining table with the different plates.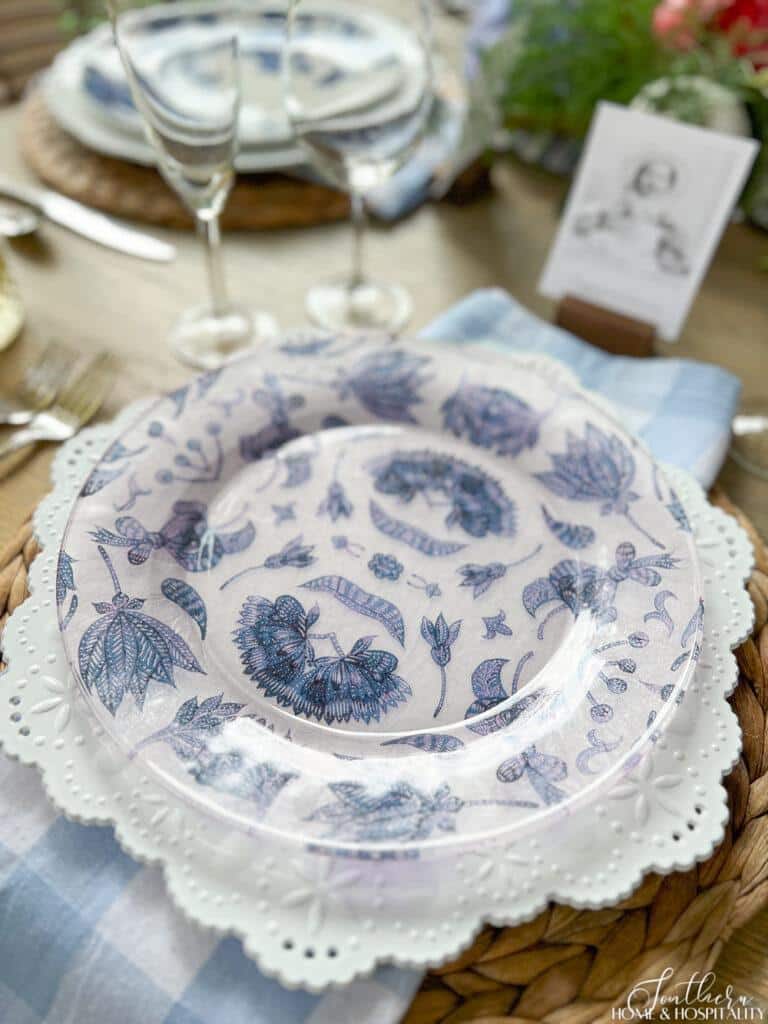 Then I laid these sweet soft blue buffalo check cloth napkins under each table setting: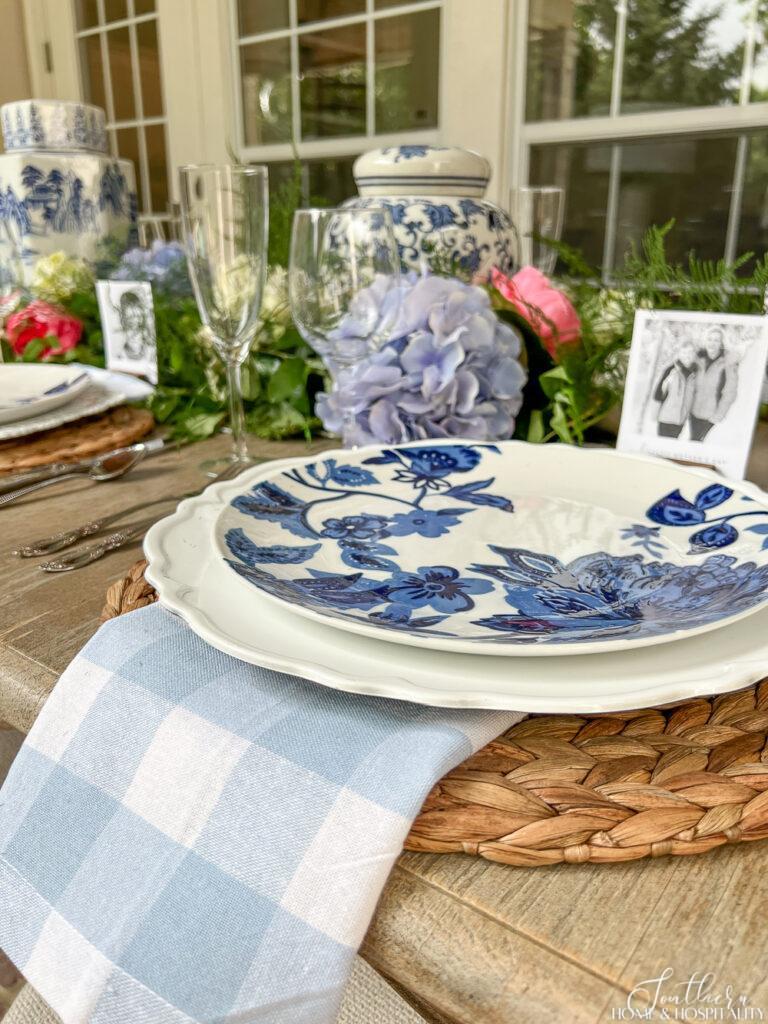 A Mother's Day table for moms wouldn't be complete without wine, so each place setting has a choice of wine glasses and champagne flutes.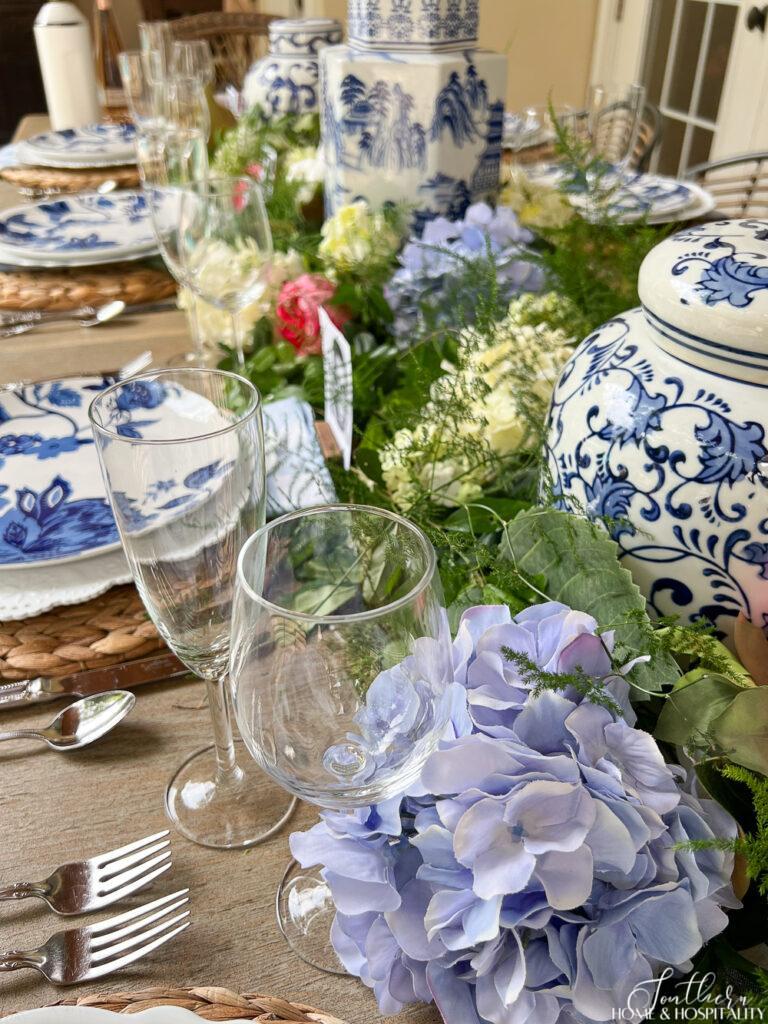 For the wine, Prosecco, and Champagne lover, this Vinglace insulated wine chiller makes the best Mother's Day gift: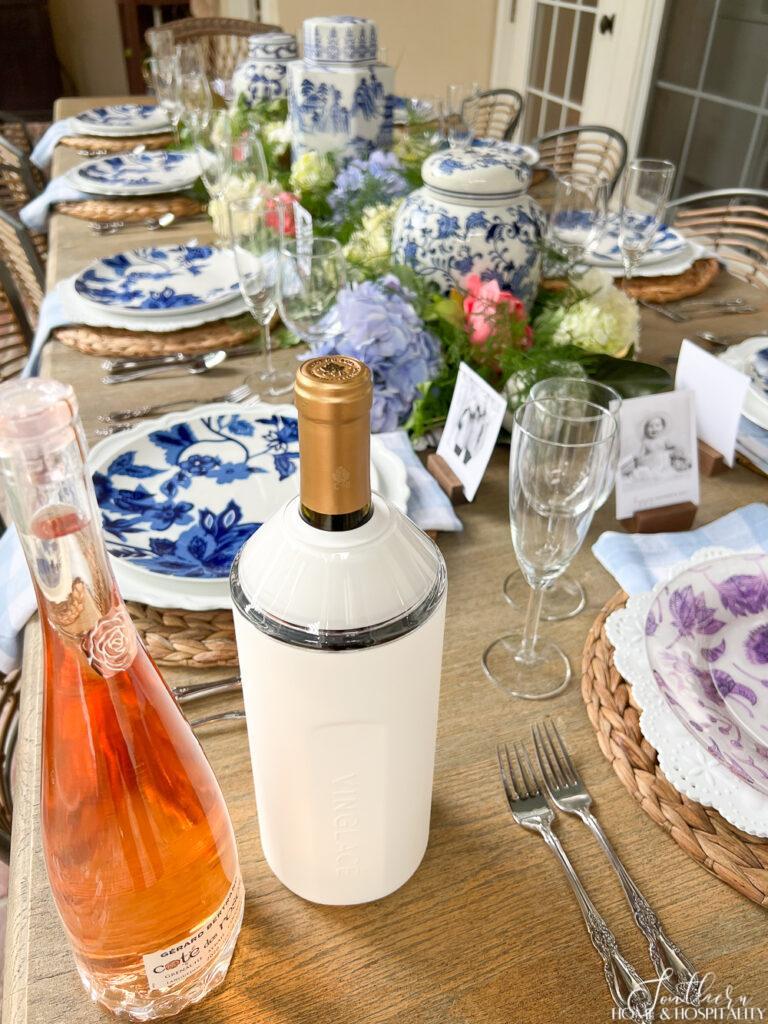 You can even have it personalized for mom. (If you're interested, make sure to use the code SOUTHERNHOMEANDHOSPITALITYBLOG for a discount on your order.)
A special note from you is the best gift! If you need inspiration for the perfect Mother's Day message, see "160 Best Mother's Day Quotes She'll Treasure Forever".
Special touches for a Mother's Day table.
Creative place cards.
A memorable tablescape is all about the little details. Instead of typical place cards, using photos is a fun way to have each guest find where they sit. And they double as table decorations!
I made these on Canva and printed them on cardstock: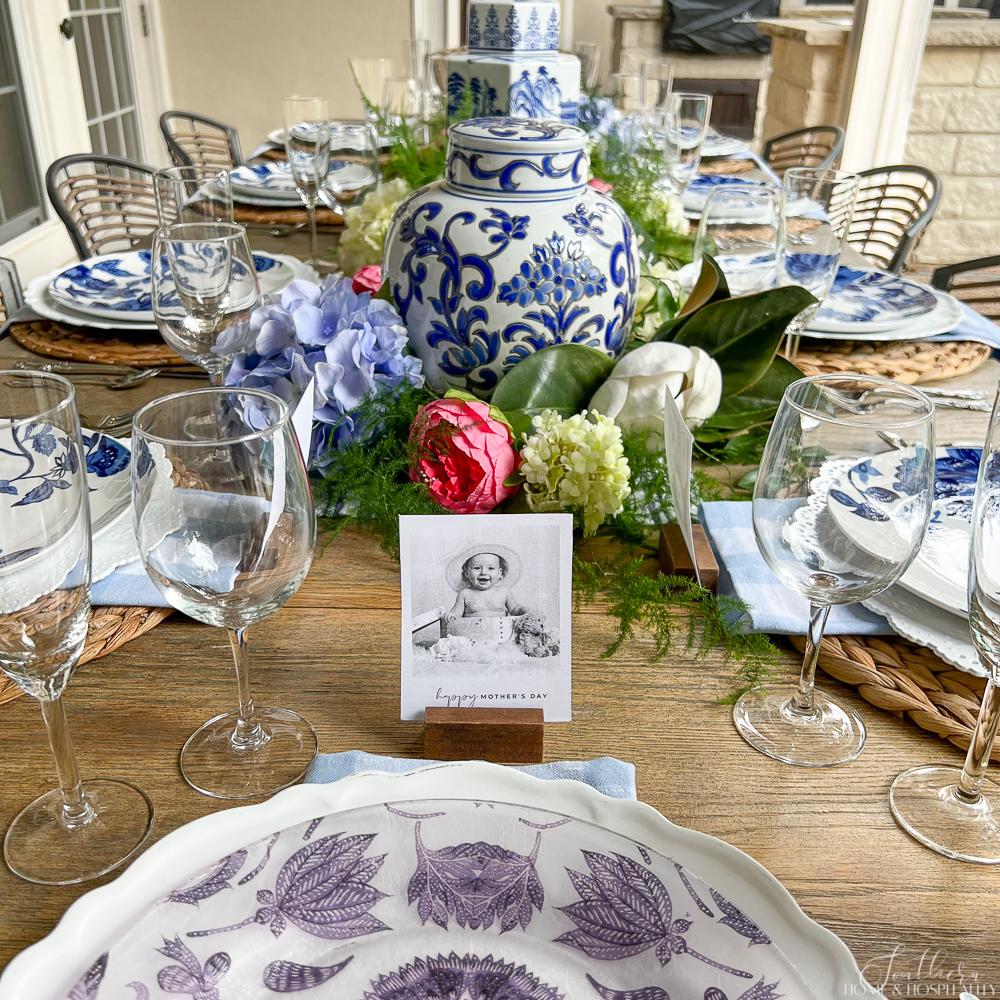 With a little creativity, you can come so many ways to go with this idea for Mother's Day, like:
Use baby photos of their kids (it would be fun to see if other people recognize who those babies are)
Use a picture of their mother (again, will other people be able to guess whose is whose?)
Use pictures of the mom and their kids together
Or favorite photos of their kids alone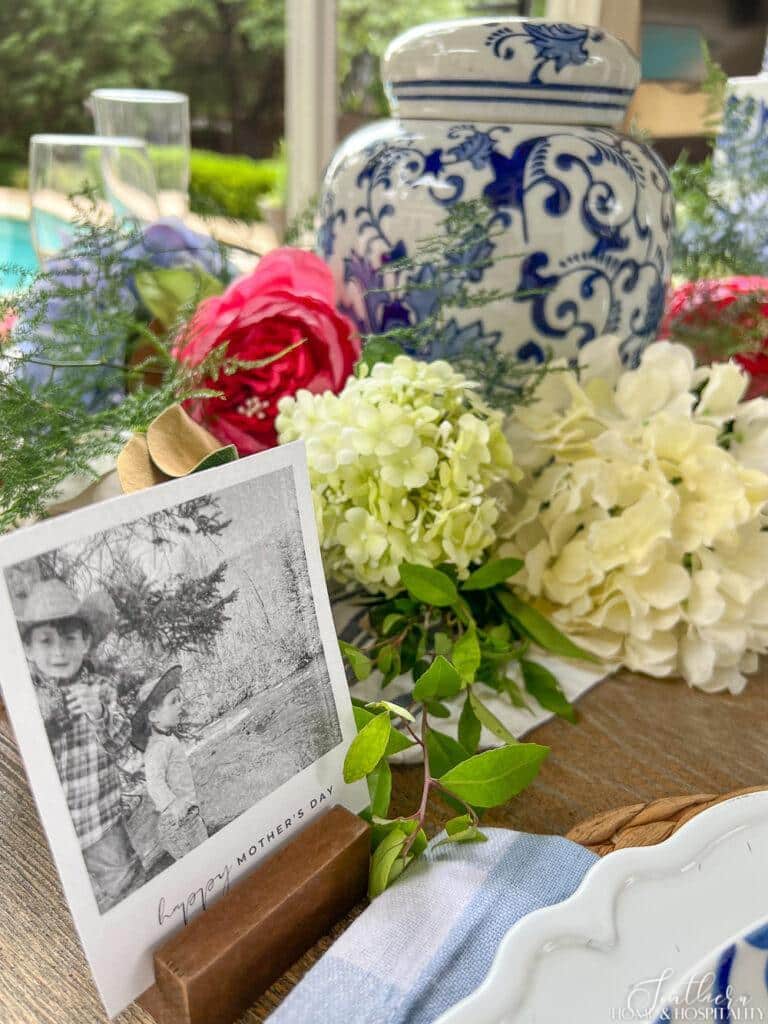 Wine and mimosas.
Did I mention that wine is a mom friends' party favorite? And since this is a Mother's Day luncheon table, I couldn't not serve mimosas, right?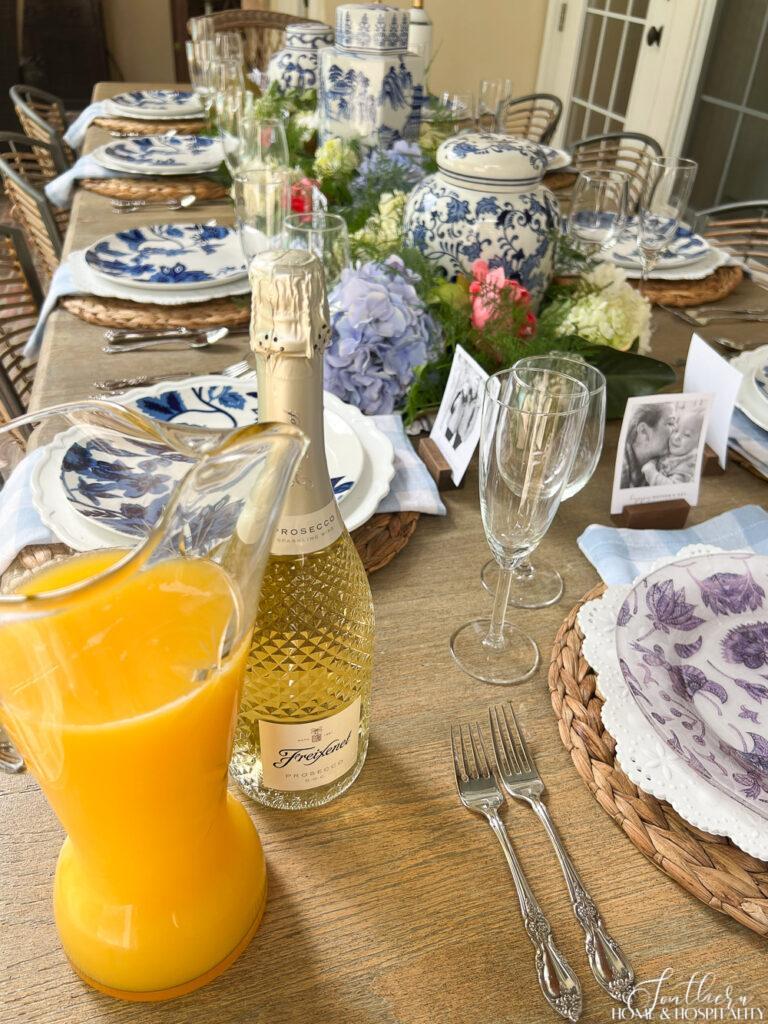 For another special touch, set up a mimosa bar on a small table or bar cart with several varieties of fruit juice, a silver wine bucket, and a group of pretty glasses.
Include mom's favorites.
This blue and white table inspiration is easy to customize for your mother using her favorite color combinations. Which means you'll probably be able to find some table decor around her home!
Add a small gift.
A small gift or favor at each place setting like a candle, lotion, or flowers is another great way say "Happy Mother's Day".
Other ideas for a blue and white table.
A blue and white tablescape is not only perfect for a Mother's Day celebration, it would also make a lovely table for bridal showers, baby showers, tea parties, or for any summer or spring gathering.
As you're collecting your blue and white table items, keep in mind these other ideas:
Use the blue and white ginger jars as vases for the flowers in the centerpiece.
Or place individual blue and white flowers in smaller vases or inexpensive mason jars and arrange them down the length of the table.
Add a white tablecloth for an easy way to make the blue pop and make the meal more special.
If you love an outdoor table setting, be sure to also check out "How to Set a Simple Al Fresco Table Brimming with Autumn Ambiance".
---
This Mother's Day, let's raise a mimosa to our best mom-friends over a beautiful table setting!

Before you go:
As always, I appreciate your visit, comments, and shares here on the blog! I'd love it if you also follow along with me on Pinterest, Instagram, and Facebook so you won't miss any of my inspiration and ideas.
Don't forget to sign up for updates to keep in touch.
If you're not already a member of the SH&H family, I'd love to have you join me! You'll not only get email updates, but you'll have exclusive access to all the bonus materials in my free subscriber-only library, like this:
---
Pin it to remember it!
If you've enjoyed this post, please pin and share this on Pinterest: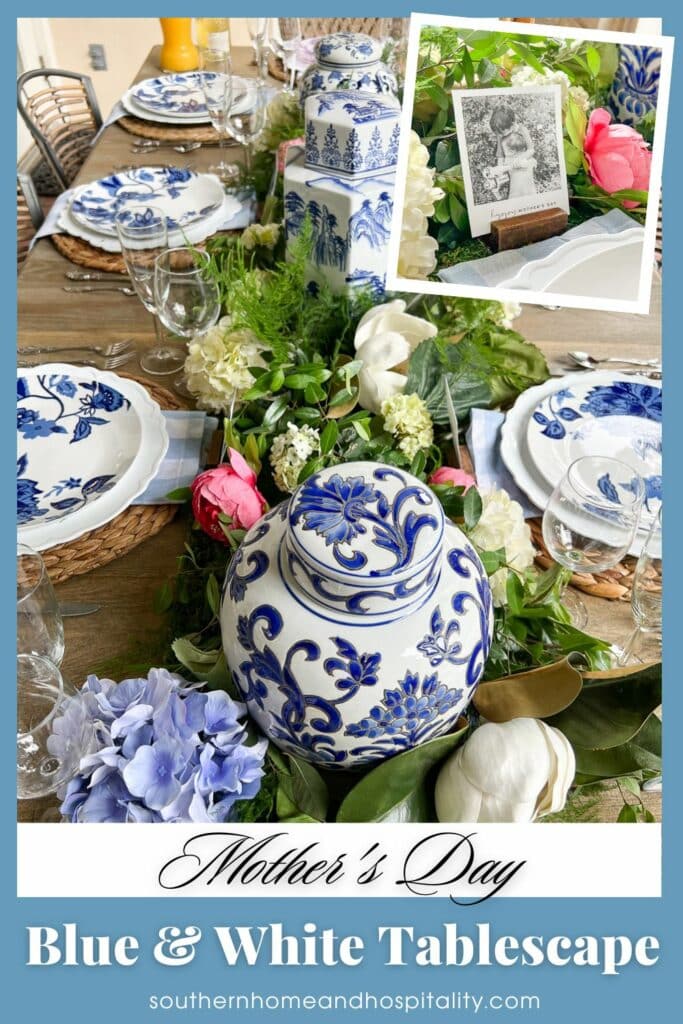 Continue our virtual supper club.
Now on to visit more of my blogger mom friends. The next house on our progressive dinner tour is Stacy at Bricks 'n' Blooms. If you've never visited her, both her home and gardens are amazing!!
Catch up on all the stops and creative ideas here: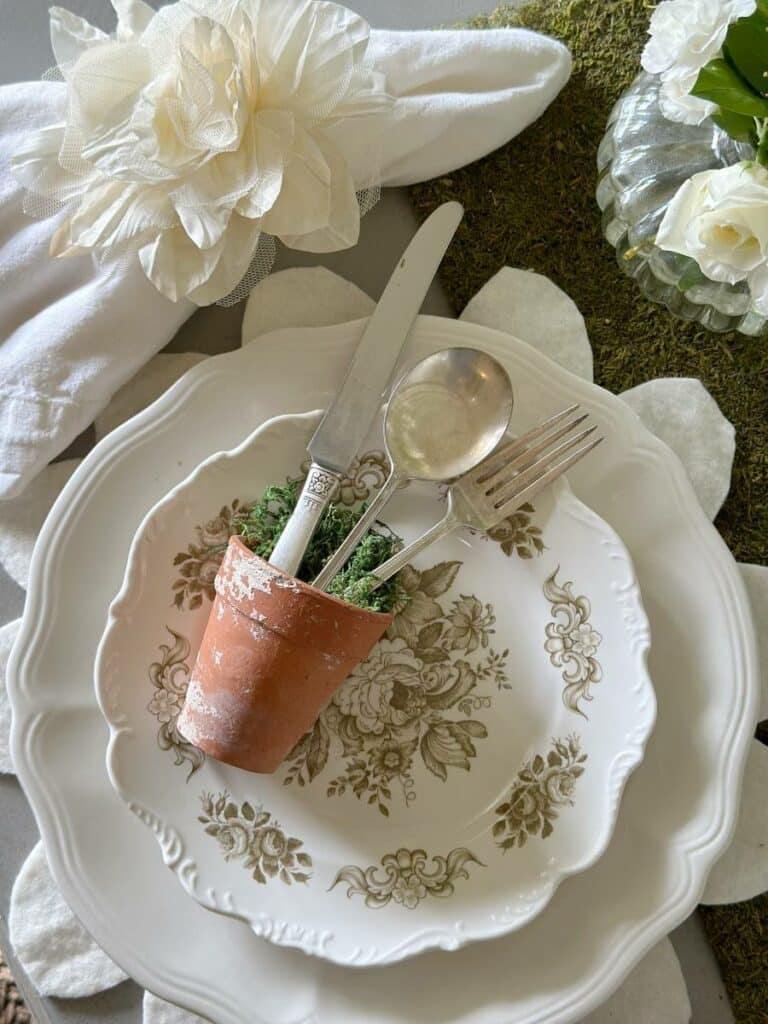 And for the Mother's Day Luncheon menu complete with easy recipes, check back in on Saturday!
Sources for this post or similar.

---