Inside: As Mother's Day approaches, it's time to celebrate the remarkable women in our lives who have nurtured us, loved us unconditionally, and shaped us into the people we are today. What better way than with heartfelt quotes about moms that capture the essence of a mother's love? Touching, inspirational, and even humorous, this list of the best Mother's Day quotes beautifully convey the unique bond between a mother and child. ➡
---
Thanks, Mom.
While this short and sweet sentiment is perfect for the football player in the big game, we can do better when it comes to telling Mom how we feel.
But how can we put into words how much this special lady means to us on Mother's Day?
She made us, both literally and spiritually. She lost endless bleary nights of sleep rocking us. And then later worrying something would happen to us every time we went out into the world by ourselves.
She wiped our tears, noses, and bottoms. She sacrificed her time, her privacy, and her personal dreams, not to mention her body. And her happiness always took a backseat to ours.
Take it from a full-time, full-on mom of 35+ years. While I would love a gift my kids have spent their hard-earned money on, I've kept and treasured every special message they've ever written me more than any present.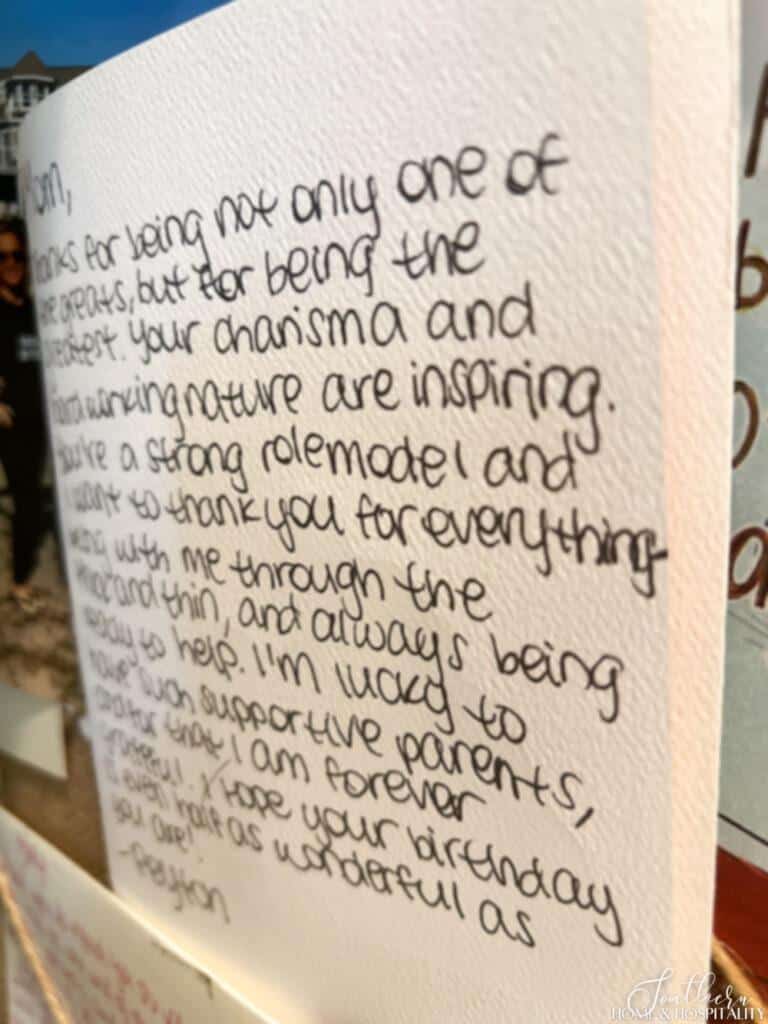 After hectic years of driving, feeding, tutoring, counseling, and working at their schools to make sure they got the best leg up on life, they no longer need me that way.
And when I feel low or put out to pasture, I read those simple little notes. And they give how I've spent my life meaning all over again.
But sometimes finding the words to thank someone so important is harder than you think. Well, this mom is here to help you out – I've curated a collection of 160 best Mother's Day quotes to get you inspired!
Whether you want to honor your mom, stepmom, mother-in-law, grandma, aunt, or bonus mom, you're sure to find one that speaks to you. Some will pull your heartstrings. Some will make you nod. And some will make you even giggle.
And all are sure to bring a tear to Mom's eye.
Get ready to be moved and inspired by these heartfelt Mother's Day quotes that remind us of the incredible power of a mother's love.
Inspirational quotes about mothers.
"Who ran to help me when I fell, and would some pretty story tell, or kiss the place to make it well? My mother." ― Ann Taylor
"A mother's love is everything. It is what brings a child into this world. It is what molds their entire being. When a mother sees her child in danger, she is literally capable of anything. Mothers have lifted cars off of their children and destroyed entire dynasties. A mother's love is the strongest energy known to man." —Jamie McGuire
"Mothers can look through a child's eyes and see tomorrow." —Reed Markham
"Only mothers can think of the future because they give birth to it in their children." —Maxim Grosky
"God couldn't be everywhere so that is why he invented mothers." —Daphne Wilder, "Because I Said So"
"The truth is that no matter how old we are, as long as our mothers are alive, we want our mother." —Goldie Hawn
"Mother—that was the bank where we deposited all our hurts and worries." —T. Dewitt Talmage
"The best place to cry is on a mother's arms." —Jodi Picoult
"A mother is clothed with strength and dignity, laughs without fear of the future. When she speaks her words are wise and she gives instructions with kindness." —Proverbs
"A mother is she who can take the place of all others but whose place no one else can take." —Cardinal Mermillod
"She's the sky that holds the clouds. She's the lady of the house, a blind believer in all I dare to be." —The Band Perry, "Mother Like Mine"
"Motherhood: All love begins and ends there. " —Robert Browning
"I find the backbone of a mother to be the strongest, yet most pliable of them all; to bend over backward and still be a pillar—some call it magic." —Ka'ala
"There is no velvet so soft as a mother's lap, no rose as lovely as her smile, no path so flowery as that imprinted with her footsteps." —Archibald Thompson
"There will be so many times you feel like you failed. But in the eyes, heart, and mind of your child you are super mom." —Stephanie Precourt
"Most mothers are instinctive philosophers." — Harriet Beecher Stowe
"The real religion of the world comes from women much more than from men—from mothers most of all, who carry the key of our souls in their bosoms." —Oliver Wendell Holmes
"To the world, you are a mother. To our family, you are the world." —Unknown
"In a child's eyes, a mother is a goddess. She can be glorious or terrible, benevolent or filled with wrath, but she commands love either way. I am convinced that this is the greatest power in the universe." ―N.K. Jemisin
"To describe my mother would be to write about a hurricane in its perfect power. Or the climbing, falling colors of a rainbow." —Maya Angelou
"Youth fades; love droops; the leaves of friendship fall; A mother's secret hope outlives them all." —Oliver Wendell Holmes
"The heart of a mother is a deep abyss at the bottom of which you will always find forgiveness." —Honore de Balzac
"The loveliest masterpiece of the heart of God is the heart of a mother." —St. Therese of Lisieux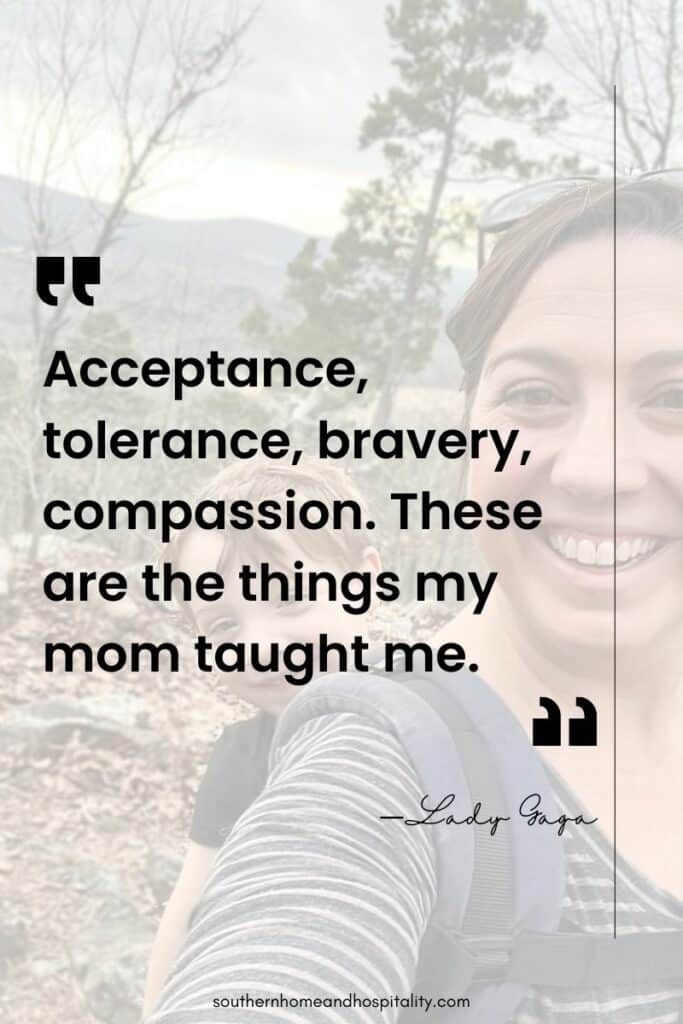 "A mom is like a teabag. You can't tell how strong she is until you put her in hot water." —Eleanor Roosevelt
"My mother said to me, 'If you are a soldier, you will become a general. If you are a monk, you will become the Pope.' Instead, I was a painter, and became Picasso." —Pablo Picasso
"There is no influence so powerful as that of the mother." —Sara Josepha Hale
"Mother is the name for God in the lips and hearts of little children." —William Makepeace Thackeray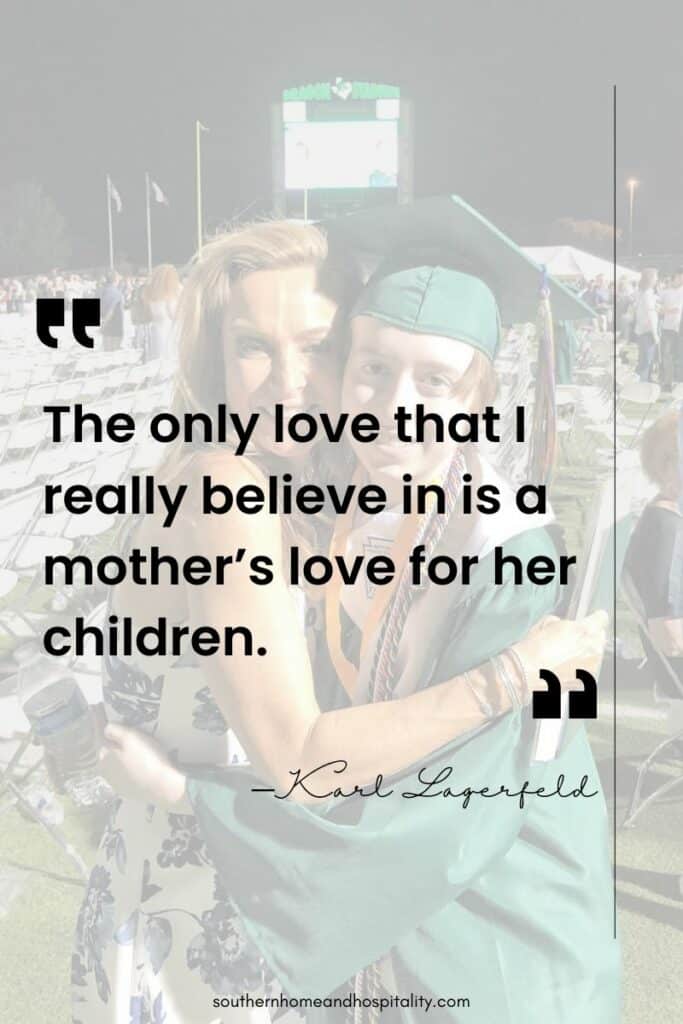 "The bond between a mother and her child is the only real and purest bond in the world, the only true love we can ever find in our lifetime." —Ama H. Vanniarachchy
"Blessed is a mother that would give up part of her soul for her children's happiness." —Shannon L. Alder
"A mother is a mother still, the holiest thing alive." —Samuel Taylor Coleridge
"We have a secret in our culture, and it's not that birth is painful. It's that women are strong." —Laura Stavoe Harm
"If I made a list of the people I admire, Mom would probably fill up half of it. She could do anything and everything." —Patsy Cline
"I am sure that if the mothers and various nations could meet, there would be no more wars." — E.M. Forster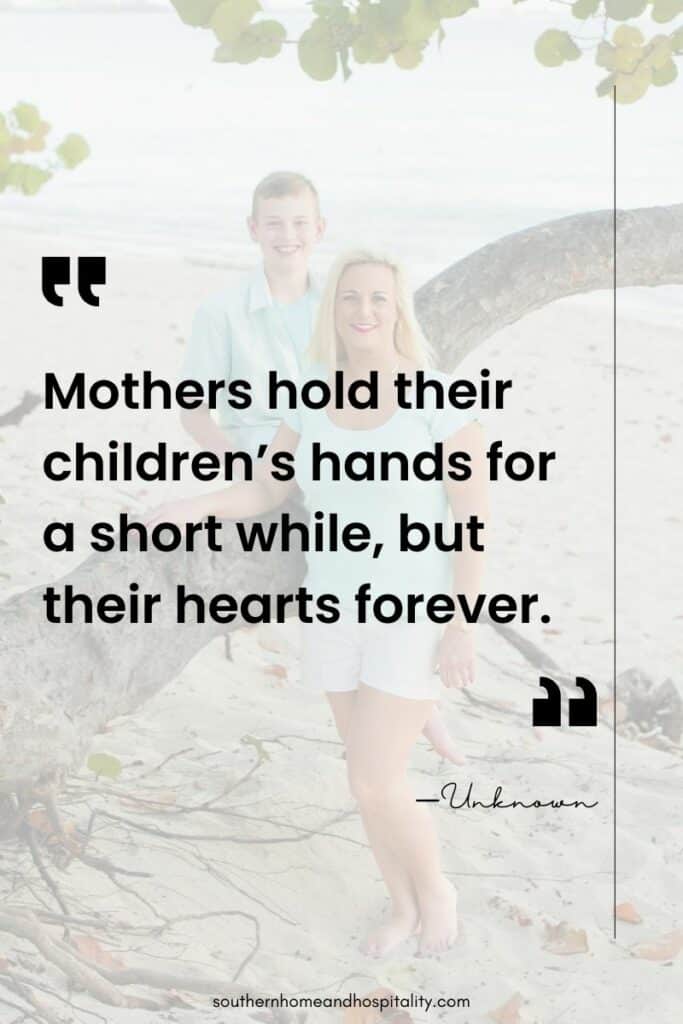 "As far as I'm concerned, there's no job more important on the planet than being a mom." —Mark Wahlberg
"I don't know what it is about food your mother makes for you, especially when it's something that anyone can make – pancakes, meat loaf, tuna salad – but it carries a certain taste of memory." ―Mitch Albom
"I can imagine no heroism greater than motherhood." —Lance Conrad
"Mothers can forgive anything! Tell me all, and be sure that I will never let you go, though the whole world should turn from you." —Louisa May Alcott
"A mother is a person, who seeing there are only four pieces of pie for five people, promptly announces she never did care for pie." —Robert Quillen
"The influence of a mother in the lives of her children is beyond calculation." —James E. Faust
"My mother was the making of me. She was so true, so sure of me; and I felt I had something to live for, someone I must not disappoint." —Thomas Edison
"To a child's ear, 'mother' is magic in any language." —Arlene Benedict
"Mothers are like glue. Even when you can't see them, they're still holding the family together." —Susan Gale
Quotes about mothers and daughters.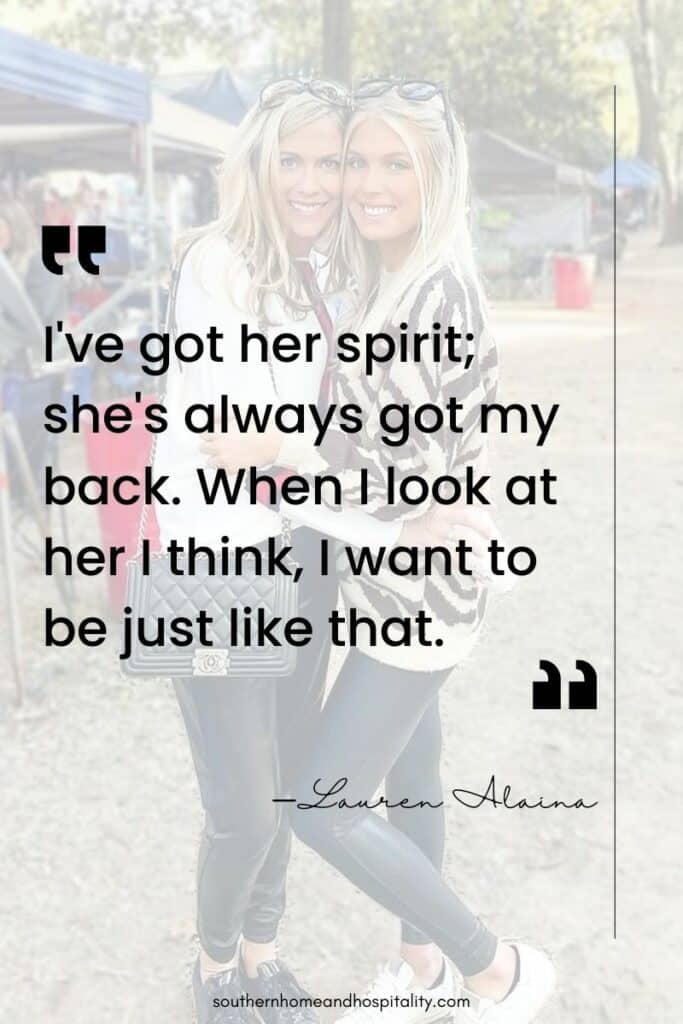 "My mother was my role model before I even knew what that word was." —Lisa Leslie
"No daughter and mother ever live apart, no matter what the distance between them." —Christie Watson
"The woman who is my best friend, my teacher, my everything: Mom." —Sandra Vischer
"She used to be my only enemy and never let me be free; Catching me in places that I knew I shouldn't be; Every other day I crossed the line; I didn't mean to be so bad; I never thought you would become the friend I never had." —The Spice Girls, "Mama"
"My mom taught me a woman's mind should be the most beautiful part of her." —Sonya Teclai
"A mother and daughter's love is never separated." – Viola Shipman
"I'm a strong woman because a strong woman raised me." —Unknown
"Mother-daughter disagreements were, in hindsight, basically mother stating the truth and daughter taking her own sweet time coming around." —Barbara Delinsky
"Of all the rights of women, the greatest is to be a mother." —Lin Yutang
"My Mother: She is beautiful, softened at the edges and tempered with a spine of steel. I want to grow old and be like her. " —Jodi Picoult
Great women raise great women who raise great women. —Jennifer Fujita
Quotes about mothers and sons.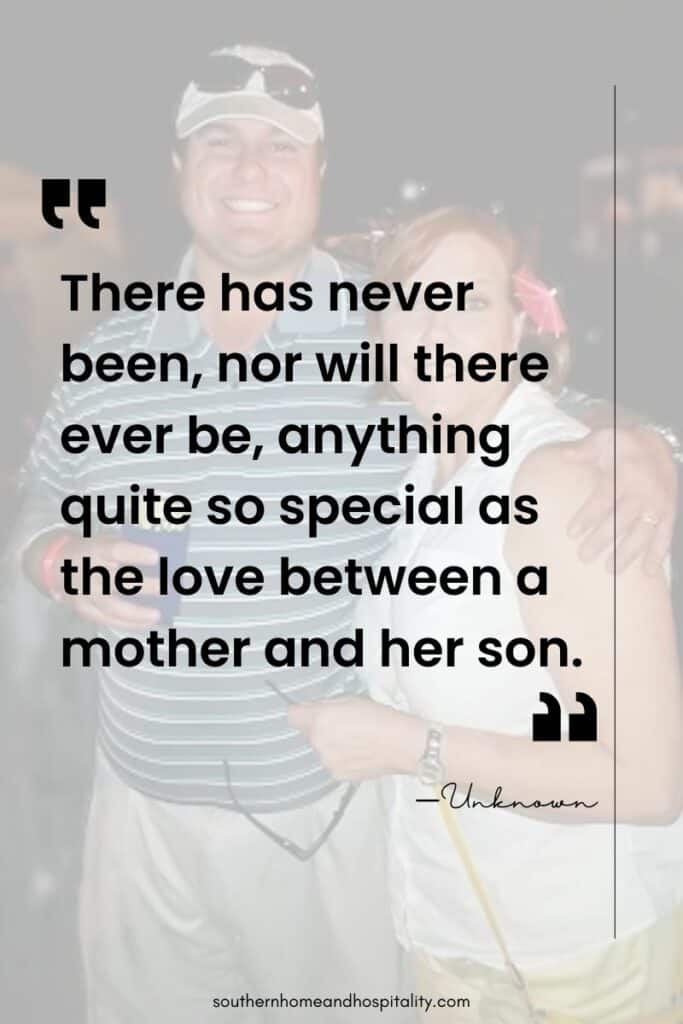 "Moms are as relentless as the tides. They just don't drive us to practice, they drive us to greatness." —Steve Rushin
"A man can love different women during his life. But the love for his mother is timeless." —Unknown
"A man loves his sweetheart the most, his wife the best, but his mother the longest." —Irish Proverb
"My mother is my root, my foundation. She planted the seed that I base my life on, and that is the belief that the ability to achieve starts in your mind." —Michael Jordan
"A mother's joy is a son's greatest treasure." —Unknown
"Men are what their mothers made them." —Ralph Waldo Emerson
"My mother was the most beautiful woman I ever saw. All I am I owe to my mother." —George Washington
"The bond between mother and son lasts a lifetime." —Unknown
"And if it's a funny old world, mama, where a little boy's wishes come true, well I got a few in my pocket and a special one just for you." —Bruce Springsteen, "The Wish"
"It may be possible to gild pure gold, but who can make his mother more beautiful?" —Mahatma Gandhi
Funny quotes about moms.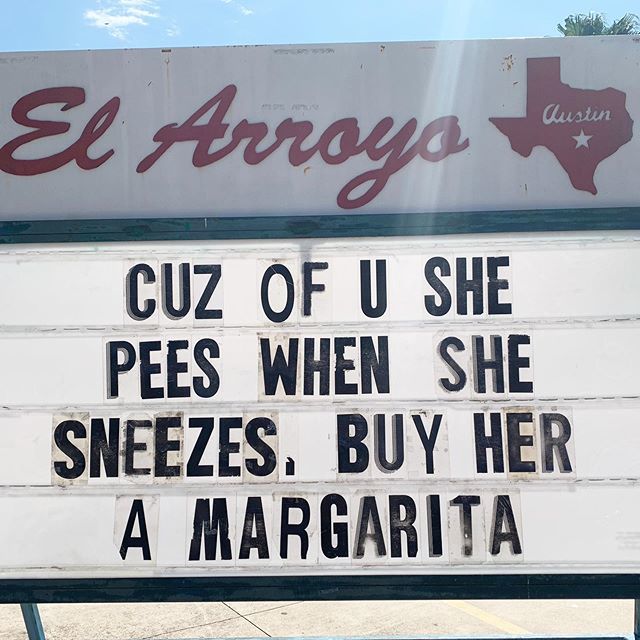 "It's not easy being a mother. If it was easy, fathers would do it." —Dorothy, "The Golden Girls"
"A mother is the person you can always call to see how long chicken lasts in the fridge." —Unknown
"Mom, I love you, even though I'll never accept your friend request." —Unknown
"Her nickname is Mom but her full name is Mom. Mom. Mom. Mom." —Calvary Baptist Church sign
"If evolution really works, how come mothers have only two hands?" —Milton Berle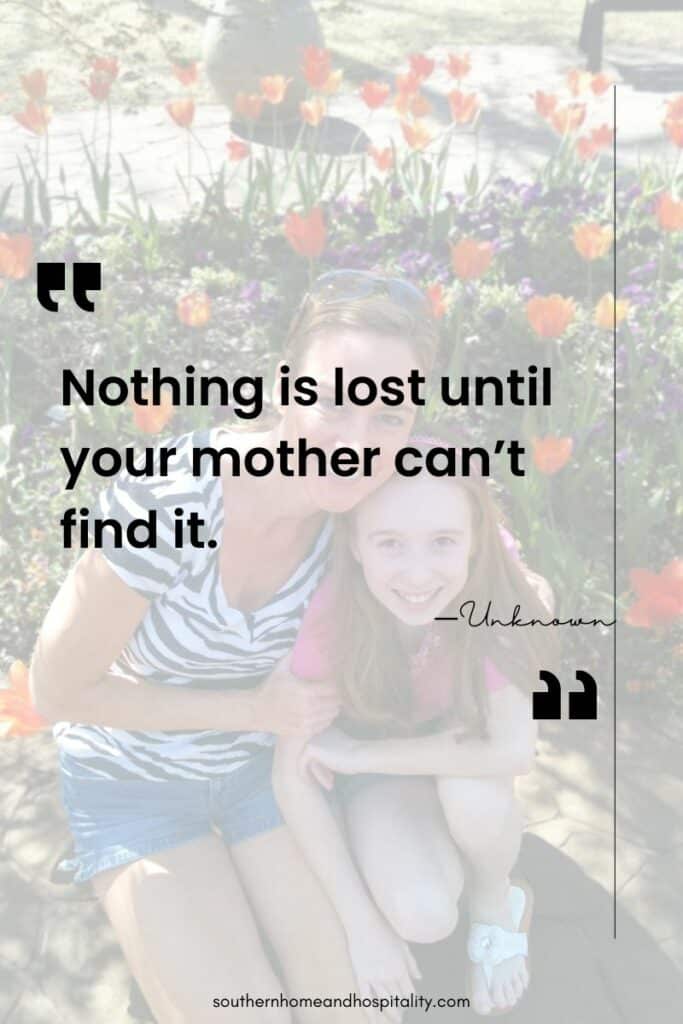 "When your mother asks, 'Do you want a piece of advice?' it's a mere formality. It doesn't matter if you answer yes or no. You're going to get it anyway." —Erma Bombeck
"Honey, I'm your mother. It's my job to strong-arm people into seeing how amazing you are." — Beverly Goldberg, "The Goldbergs"
"There is only one pretty child in the world, and every mother has it." —Chinese Proverb
"Any mother could do the jobs of several air traffic controllers with ease." —Lisa Alther
"Moms give us wings to fly and rides to the ER when we don't understand what a metaphor is." —Andrew Blackburn
"A mother's love is unconditional, her temper is another story." —Unknown
"I smile because you're my mother. I laugh because there's nothing you can do about it." —Unknown
"A mom forgives us all our faults, not to mention one or two we don't even have." —Robert Brault
"By the time you realize your mother was right, you have a daughter who thinks that you're wrong." —Sada Malhotra
"Show me a messy house and I'll show you a really fun mom." —Ellen Brenneman
Thank you Mom quotes.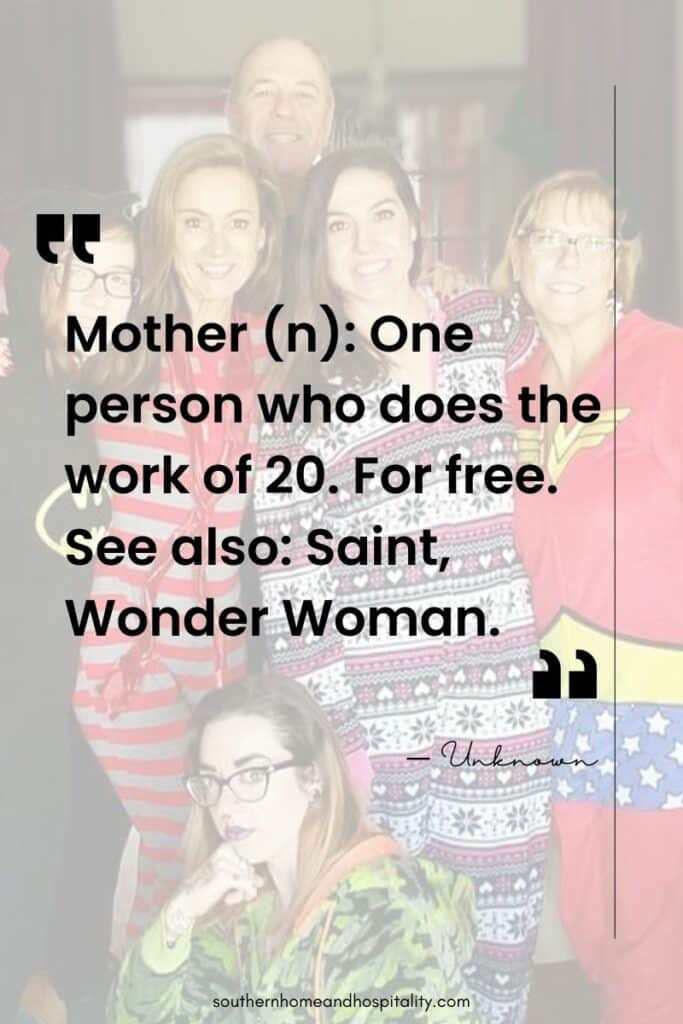 "Dear Mom, thank you for keeping all the bad stuff I did from Dad." —Unknown
"So, Mother I thank you, for all you've done and still do; You got me, I got you, together we always pull through." —Christina Aguilera, "Oh Mother"
"All that I am, or ever hope to be, I owe to my angel mother." —Abraham Lincoln
"You showed me when I was young just how to grow; You showed me everything that I should know; You showed me, just how to walk without your hands; 'Cause mom you always were the perfect fan." —Backstreet Boys, "The Perfect Fan"
"You've given me everything that I will need to make it through this crazy thing called life." —Carrie Underwood, "Mama's Song"
"Everything good in me, I got it from my mama." —Honey Country, "Got It From My Mama"
"No gift to your mother can ever equal her gift to you —life." —Unknown
I Love You Mom quotes.
"Mother is the heartbeat in the home; and without her, there seems to be no heartthrob." —Leroy Brownlow
"I look back on my childhood and thank the stars above. For everything you gave me, but mostly for your love."—Wayne F. Winters
"I'll love you forever. I'll like you for always. As long as I'm living, my mommy you'll be." —Robert Munsch
"No language can express the power and beauty and heroism of a mother's love." —Edwin Chapin
"If love is as sweet as a flower, then my mother is that sweet flower of love" —Stevie Wonder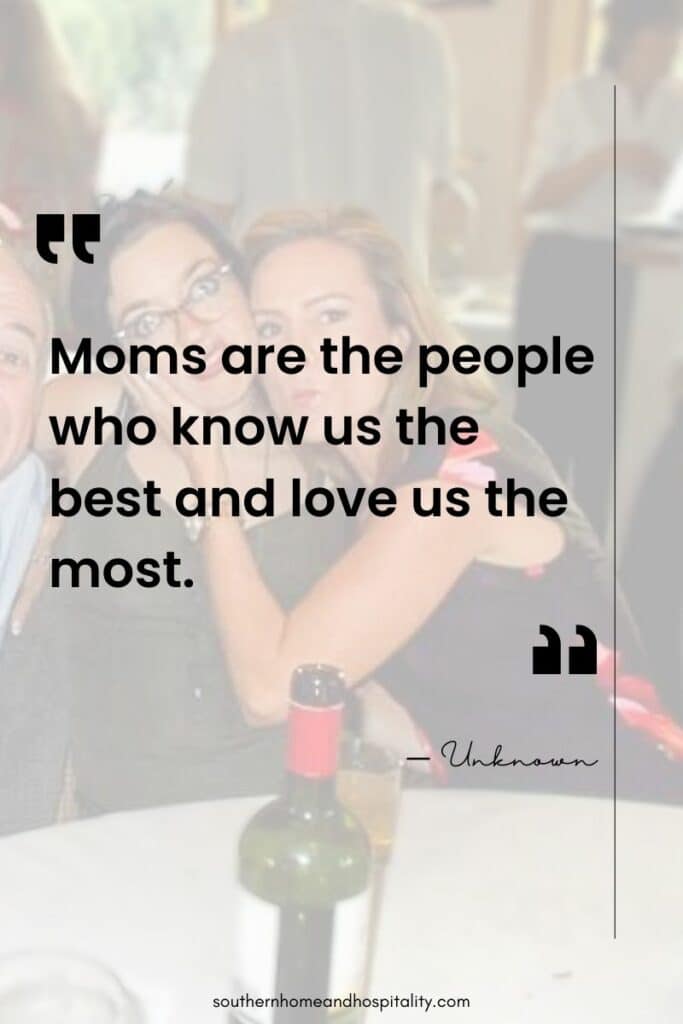 "I know you were on my side even when I was wrong; And I love you for giving me your eyes, staying back, and watching me shine." —Taylor Swift, "The Best Day"
"Mother love is the fuel that enables a normal human being to do the impossible." —Marion C. Garretty
"A mother's arms are more comforting than anyone else's." —Princess Diana
"Call your mother. Tell her you love her. Remember, you're the only person who knows what her heart sounds like from the inside." —Rachel Wolchin
Mother's Day quotes for new moms.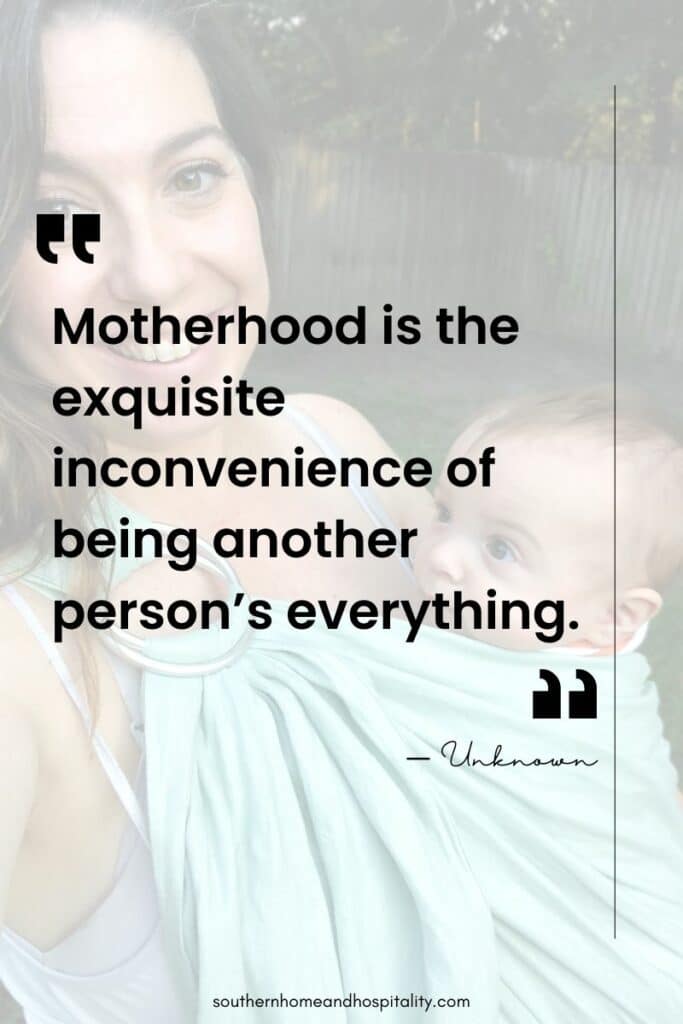 "I believe the choice to become a mother is the choice to become one of the greatest spiritual teachers there is." —Oprah Winfrey
"Having kids — the responsibility of rearing good, kind, ethical, responsible human beings — is the biggest job anyone can embark on." —Maria Shriver
"Motherhood is the exquisite inconvenience of being another person's everything." —Unknown
"To the world you may be one person; but to one person you may be the world." —Dr. Seuss
"The art of mothering is to teach the art of living to children." —Elaine Heffner
"There is no way to be a perfect mother, and a million ways to be a good one." —Jill Churchill
"Motherhood was the great equalizer for me; I started to identify with everybody." —Annie Lennox
"There is no role in life that is more essential than that of motherhood." —Elder M. Russell Ballard
"Mother is a verb. It's something you do. Not just who you are." —Cheryl Lacey Donovan
"Motherhood is the biggest gamble in the world. It is the glorious life force. It's huge and scary – it's an act of infinite optimism." —Gilda Radner
Mother's Day quotes for grandmothers.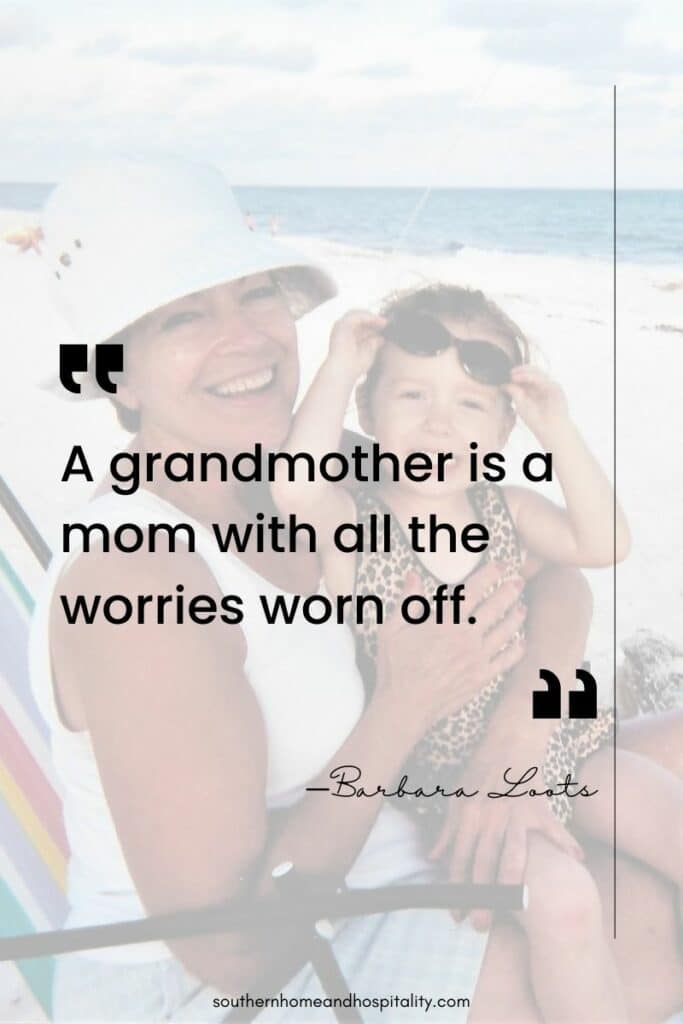 "Parent-child relationships are complex. Grandmother-grandchild relationships are simple. Grandmas are short on criticism and long on love." —Janet Lanese
"Grandmother: A wonderful mother with lots of practice." —Unknown
"There's no place like home—except Grandma's." —Unknown
"Grandmothers always have time to talk and make you feel special." —Catherine Pulsifer
"A grandma is warm hugs and sweet memories. She remembers all of your accomplishments and forgets all of your mistakes." —Barbara Cage
"Grandmothers see the best in us, think the best of us, and bring out the best in us." —Cheryl Hawkinson
"Grandmas are moms with lots of frosting." —Unknown
"As I learned from growing up, you don't mess with your grandmother." —Prince William
"Grandmother. The true power behind the power." —Lisa Birnbach
Mother's Day quotes for mom friends.
"The love and compassion you've always carried in your heart makes you a wonderful mother and a beloved friend." —Unknown
"Being a mother is learning about strengths you didn't know you had." —Linda Wooten
"I want my children to have all the things I couldn't afford. Then, I want to move in with them." —Phyllis Diller
"Becoming a mom to me means you have accepted that for the next 16 years of your life, you will have a sticky purse." —Nia Vardalos
"There's no b***h on earth like a mother frightened for her kids." —Stephen King
"You are a gift from God, a friend that I can count on, and a wonderful model of a mother." —Unknown
"Sooner or later, we all quote our mothers." —Bern Williams
Short Mother's Day quotes.
"No matter your age, you will always need your mom." —Unknown
"A mother's love endures through all." —Washington Irving
"Raising a kid is part joy and part guerilla warfare." —Ed Asner
"We are born of love; love is our mother." —Rumi
"An ounce of mother is worth a ton of priest." —Spanish Proverb
"If I know what love is, it's because of you." —Hermann Hesse
"A mother understands what a child does not say." —Jewish proverb
"Moms just know… How to help. How to heal. How to listen. How to love." —Bill Gray
"In a child's eyes, a mother is a goddess." —N.K. Jemisin
"She taught me that fear is not an option." —Diane Von Furstenberg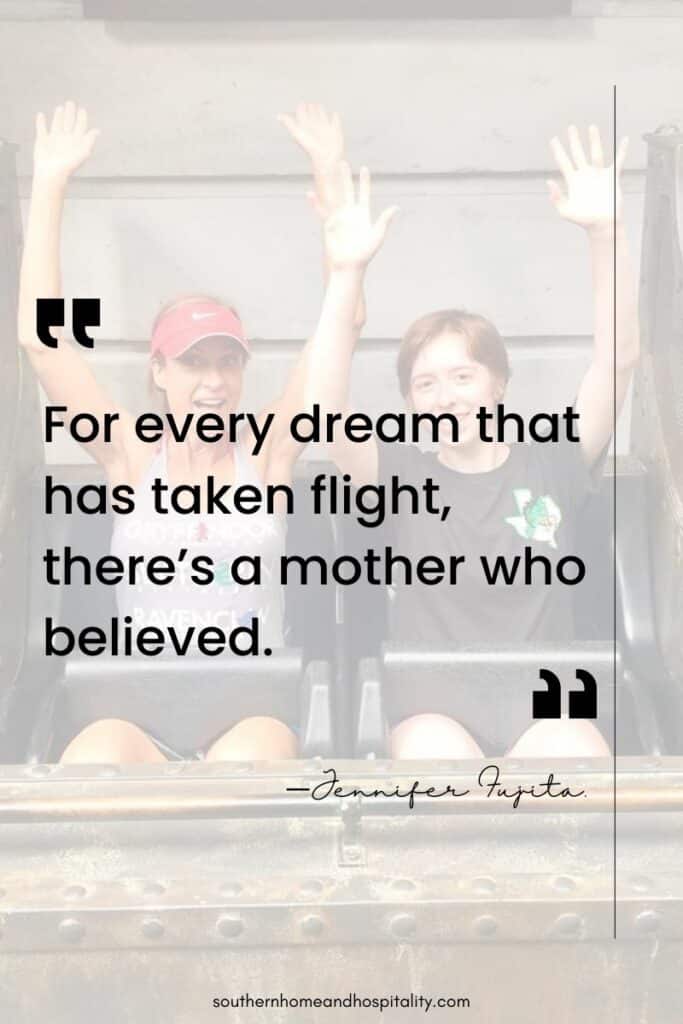 "The natural state of motherhood is unselfishness." —Jessica Lange
"Moms are like buttons. They hold it all together." —Unknown
"Life doesn't come with a manual, it comes with a mother." —Unknown
"There ought to be a hall of fame for mamas." —Glen Campbell and Steve Wariner
"Ain't a woman alive who could take my mama's place." —Tupac Shakur
Quotes for mothers in heaven.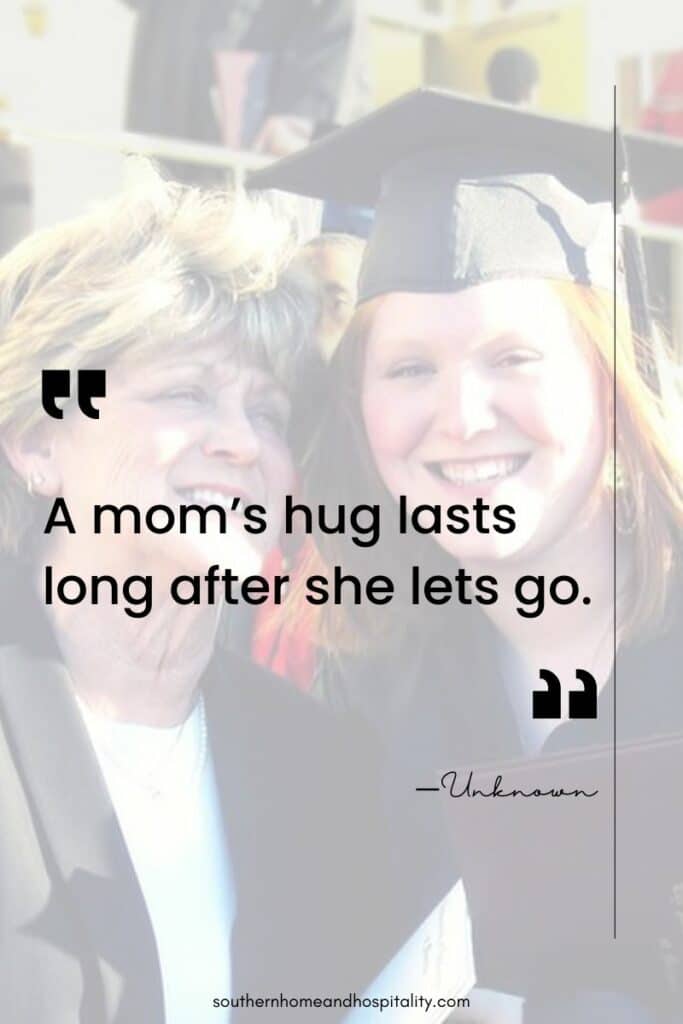 "There is an emptiness inside of me — a void that will never be filled. No one in your life will ever love you as your mother does. There is no love as pure, unconditional and strong as a mother's love. And I will never be loved that way again." —Hope Edelman
"If I had a single flower for every time I think of you, I could walk forever in my garden." —Claudia Ghandi
"My mom is a never-ending song in my heart of comfort, happiness, and being. I may sometimes forget the words, but I always remember the tune." —Terri Guillemets
"I love you every day. And now, I will miss you every day." —Mitch Albom
"There are no goodbyes, wherever you are, you will always be in my heart." —Mahatma Gandhi
"In my daughter's eyes, I can see the future; A reflection of who I am and what will be…When I'm gone I hope you'll see how happy she made me; For I'll be there in my daughter's eyes."―Martina McBride
"He who loses his mother loses a pure soul who blesses and guards him constantly." —Kahlil Gibran
---
To wrap up this collection of Mother's Day quotes, I want to share this poem that one of my kids brought home from school for Mother's Day over 20 years ago. I have no idea who originally wrote it, but it's still so true.
I keep it tacked to my workspace bulletin board: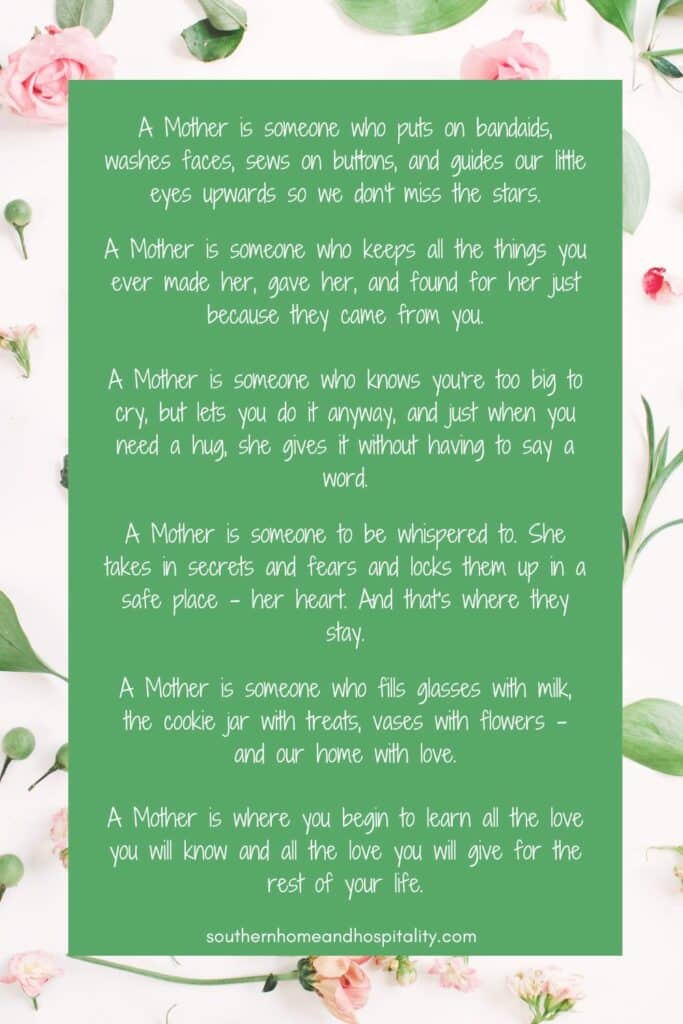 Motherhood is like a rollercoaster ride – full of ups, downs, and unexpected twists, but always an adventure worth taking. From the mounds of laundry to the never-ending "mom, mom, mom", mothers truly deserve all the love and kudos on their special day.
So don't just fork over a Mother's Day card – because your mama taught you better than that.
Take a few minutes to write her a message to let her know that her superpowers of love are truly appreciated. 💐
Happy Mother's Day,

Before you go:
As always, I appreciate your visit, comments, and shares here on the blog! I'd love it if you also follow along with me on Pinterest, Instagram, and Facebook so you won't miss any of my inspiration and ideas.
Don't forget to sign up for updates to keep in touch.
If you're not already a member of the SH&H family, I'd love to have you join me! You'll not only get email updates, but you'll have exclusive access to all the bonus materials in my free subscriber-only library, like this:
---
Pin it to remember it!
If you've enjoyed this post, please pin and share this on Pinterest:
---