The Epic List of 110+ Quotes and Messages for House and Home
Inside: A collection of over 100 inspiring quotes about home sweet home. House sayings that make your message special for stud signings, house blessings, moving, housewarmings, graduations, welcome home parties, scrapbooks, and more! ➡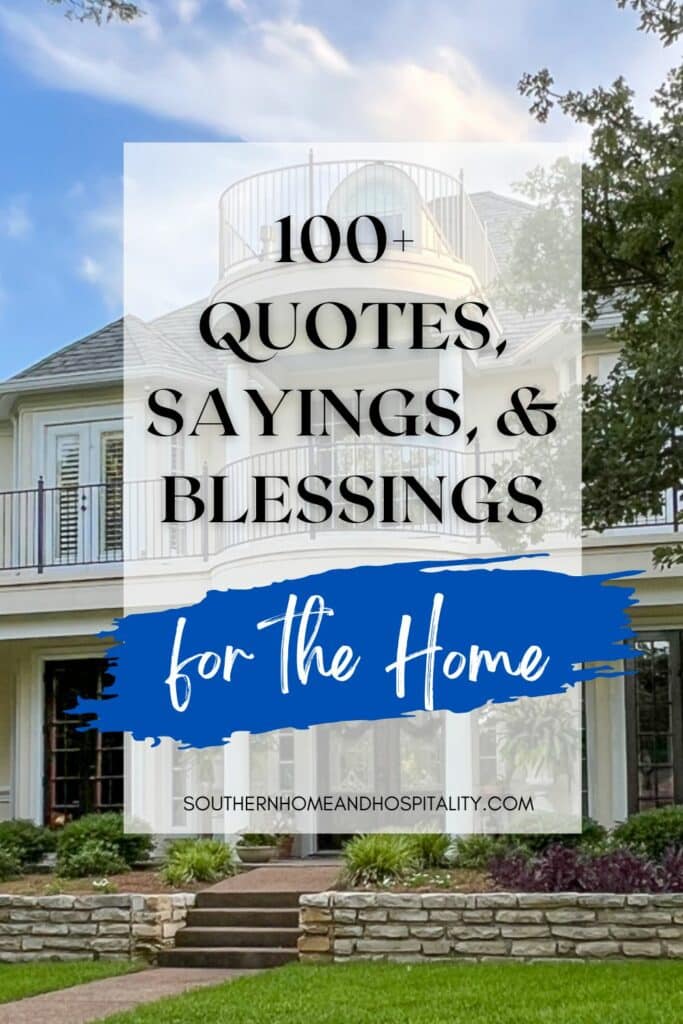 Make sure to pin this post to refer to again and again to find the perfect quote about home all in one place!
---
Quick – tell me in a sentence what a home is.
When I put you on the spot, were you able to explain it in a way that truly conveyed everything the word "home" means to you?
In a pinch, maybe you only came up with "a building where people live". That's a house. But I bet you wanted to say something much more eloquent.
There are people on this planet that can pull those perfect words out of the air and string them together in a way that expresses exactly what we want to say. But maybe we aren't those people.
So when you need inspiration for that perfect heartfelt message about home, you're sure to find a quote or two (or ten) that speaks to you in this list of over 100 quotes about the home – everything from the literary to the lighthearted.
When you might need a quote about home.
Before we dive in, why do we need this list?
This blog is dedicated to making the best home we can to live our best life in. One that makes us feel happy. Content. And safe.
It's also about gestures of hospitality. And ways to make things more special, whether it be decor, gifts, or parties.
And I'm always a sucker for a good motivational quote!
Here are just a few times where you might need a quote about the home, a house blessing, or a saying: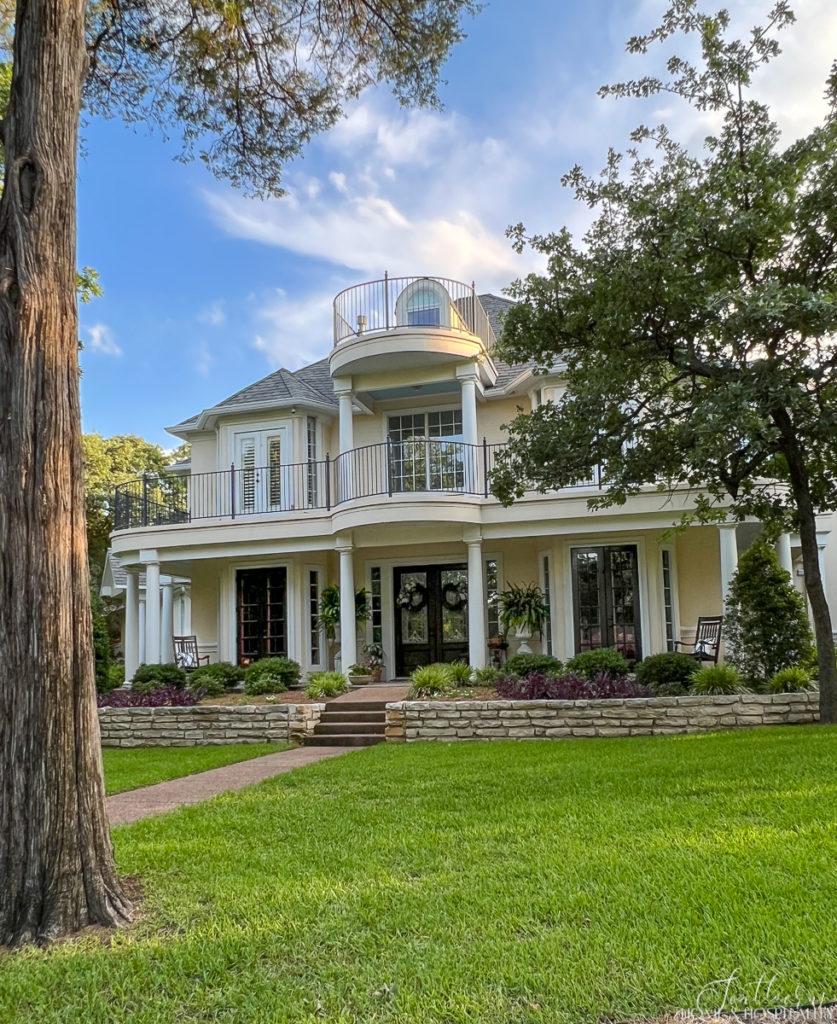 A housewarming gift message
An inspirational quote for someone building a home
A prayer or speech for a new home blessing
A message for someone leaving home, like a graduate
A welcome home bash
A stud signing party during construction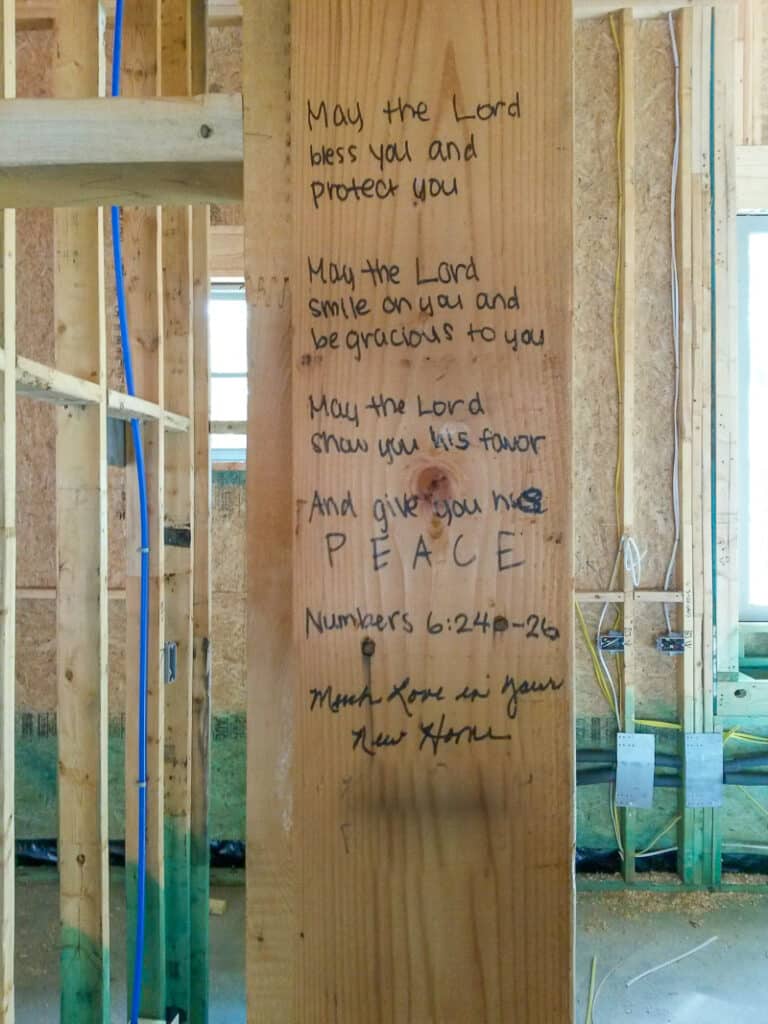 A farewell party for someone moving away
A card for new neighbor treats
For art or signs for the home
For a chalkboard or letterboard
To include in a photo album, scrapbook, or memory book
On the walls before painting or remodeling
Simply when you need the reminder of the love and comfort of home
My family wrote messages on our stair treads before we put new carpet on. Mostly thoughtful, but the most memorable (and having nothing to do with home btw) was "I'll be back." Sure to give the next homeowner the creeps when they recarpet.🤣
100+ inspirational quotes about the home.
Now that you know where you can use a home quote for that extra special sentimental touch, let's take a look at this curated list of over 100 inspirational home quotes for the perfect message!
Quotes about home sweet home.
"Home is not a place, it's a feeling." — Cecelia Ahern
"A house is made of walls and beams; a home is built of love and dreams" — Ralph Waldo Emerson
"Home isn't where you're from, it's where you find light when all grows dark." — Pierce Brown
"It's not how big the house is, it's how happy the home is." — Unknown
"May your home always be too small to hold all of your friends." — Irish Blessing
"Home is where we should feel secure and comfortable." — Catherine Pulsifer
"Home is any four walls that enclose the right person." — Helen Rowland
"Home is a shelter from storms – all sorts of storms." — William J. Bennett
"Home is a refuge from the world, a place where we can be ourselves." — Unknown
"A house is not a home." — Polly Adler
"A home is not a mere transient shelter: its essence lies in its permanence, in its capacity for accretion and solidification, in its quality of representing, in all its details, the personalities of the people who live in it." — H. L. Mencken
"Home is where the happiest memories are made." — Unknown
"Home sweet home. This is the place to find happiness. If one doesn't find it here, one doesn't find it anywhere." — M. K. Soni
"A House + Love = Home" — Unknown
"Home is where you feel loved, appreciated and safe." — Tracey Taylor
"Home is everything you can walk to." — Jerry Spinelli
"Home is where our story begins." — Unknown
"East and West. Home is best." — Charles Haddon Spurgeon
Home is where love resides, memories are created, friends and family belong and laughter never ends." — Unknown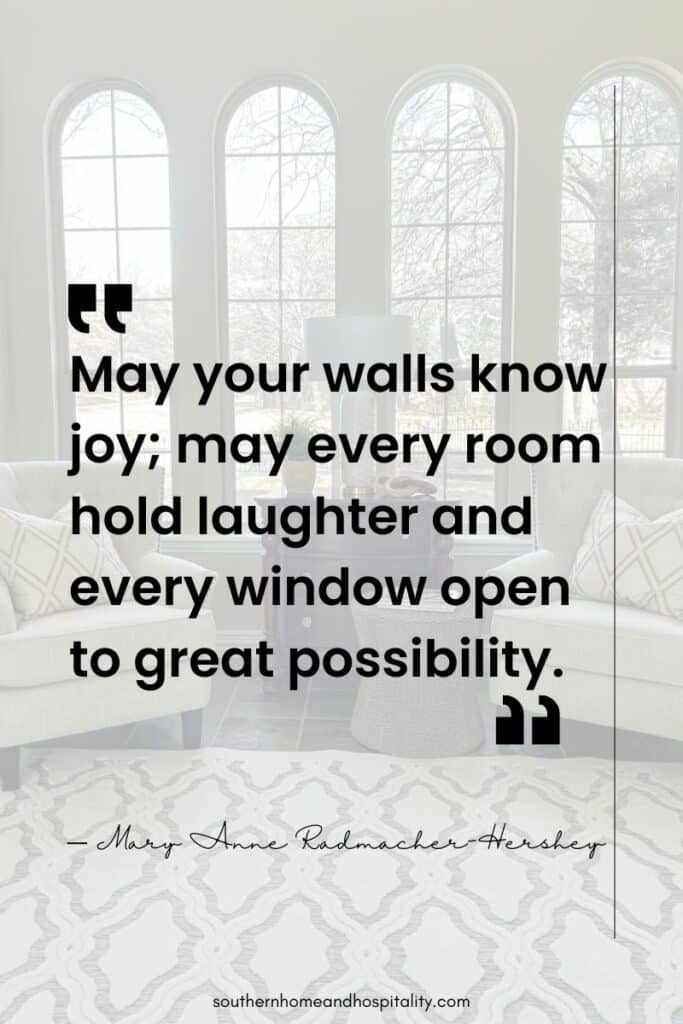 "May your walls know joy; may every room hold laughter and every window open to great possibility." — Mary Anne Radmacher-Hershey
"Every happy home has a foundation of love and a framework of support." — Wes Fesler
"When there is love in the home, there is joy in the heart."— Unknown
"Love builds a happy home." — Unknown
"Home is where the heart is." — Unknown
"Where love finds love. It is the best place to be. It is home." — Unknown
"If you go anywhere, even paradise, you will miss your home." — Malala Yousafzai
"When I am home I am happy." — Unknown
"Have nothing in your house that you do not know to be useful, or believe to be beautiful." — William Morris
"Home is where love resides, memories are created, friends and family belong together, and laughter never ends." — Unknown
"I want my home to be that kind of place—a place of sustenance, a place of invitation, a place of welcome." — Mary DeMuth
"The home is the one place where we can be ourselves and shut out negativity from the world outside. It's so important to have a place where we can go and feel protected from it all; it's something we all deserve." — Pia Edberg
"There is a magic in that little world, home; it is a mystic circle that surrounds comforts and virtues never known beyond its hallowed limits." — Robert Southey
"A good home must be made, not bought. In the end, it's not track lighting or a sunroom that brings light into a kitchen." — Joyce Maynard
"A home should be a stockade, a refuge from the flaming arrows of anxiety, tension, and worry." — Wilfred Peterson
Home can be anywhere you are together. Home isn't necessarily a place, it's the feeling of being protected and safe." — Unknown
"Home, the spot of earth supremely blest, a dearer, sweeter spot than all the rest." — Robert Montgomery
Old houses are full with memories and that's why they resist to collapse! — Mehmet Murat Ildan
Quotes from famous people about home.
"Good food and a warm kitchen are what make a house a home." — Rachael Ray
"The ache for home lives in all of us. The safe place where we can go as we are and not be questioned." — Maya Angelou
"There is nothing like staying at home for real comfort." — Jane Austen
"Home is the place where, when you have to go there, they have to take you in." — Robert Frost
"The most important thing a man can know is that, as he approaches his own door, someone on the other side is listening for the sound of his footsteps." — Clark Gable
"Home is where one starts from." — T. S. Eliot
"Where thou art, that is my home." — Emily Dickinson
"How often have I lain beneath rain on a strange roof, thinking of home." — William C. Faulkner
"Home is the nicest word there is." — Laura Ingalls Wilder
"Love begins at home." — Mother Teresa
"The secret of a happy home is that the members of the family learn how to give and receive love." — Billy Graham
"When you invite people to your home, you invite them to yourself." — Oprah Winfrey
"I don't care if we have our house, or a cliff ledge, or a cardboard box. Home is wherever we all are, together." — James Patterson
"When you walk through the front door of your home with that feeling that everything's okay – then you know you're home." – Michelle Obama
"A house is not a home unless it contains food and fire for the mind as well as the body." ― Benjamin Franklin
"Happiness is a small house, with a big kitchen." — Alfred Hitchcock
"Home is a name, a word, it is a strong one; stronger than magician ever spoke, or spirit ever answered to, in the strongest conjuration." — Charles Dickens
Quotes about coming home.
"The light is what guides you home, the warmth is what keeps you there." — Ellie Rodriguez
"Home is a place you grow up wanting to leave, and grow old wanting to get back to." — John Ed Pearce
"I believe that all of our lives we're looking for home and if we're really lucky, we find it in someone's loving arms. I think that's what life is: coming home." — Anita Krizzan
"A man travels the world over in search of what he needs and returns home to find it." — George Moore
"Maybe that's the best part of going away for a vacation — coming home again." — Madeleine L'Engle
"Nothing is better than going home to family and eating good food and relaxing." —Irina Shayk
"The longest road out is the shortest road home." — Irish Proverb
Quotes about leaving home.
"Home is wherever you leave everything you love and never question that it will be there when you return." — Leo Christopher
"For there's never any laughter, howsoever far you roam, like the laughter of the loved ones in the happiness of home." — Edgar A. Guest
"Where we love is home — home that our feet may leave, but not our hearts." — Oliver Wendell Holmes, Sr.
"If you know you're going home, the journey is never too hard." — Angela Wood
"Home should be an anchor, a port in a storm, a refuge, a happy place in which to dwell, a place where we are loved and where we can love." — Elder Marvin J. Ashton
"The magic thing about home is that it feels good to leave, and it feels even better to come back." — Wendy Wunder
"You can have more than one home. You can carry your roots with you, and decide where they grow." — Henning Mankell
Quotes about home and family.
"Home is where somebody notices when you are no longer there." — Aleksandar Hemon
"Home is where there's one to love." — Charles Swain
"Recipe for a happy home: A pinch of patience, a dash of kindness, a spoonful of laughter and a heap of love."— Unknown
"Home isn't where you live, but where they understand you." — Unknown
"For our home to be a refuge it needs to be a place where love, compassion, and patience prevail." — Allan Lokos
A happy home is the starting place for love, hopes and dreams." — Unknown
"What I love most about my home is who I share it with." — Tad Carpenter
Funny quotes about home.
"The fellow that owns his own home is always just coming out of a hardware store." — Kin Hubbard
"Home is the place we love best and grumble the most." — Billy Sunday
"Home is where you can say anything you please because nobody pays any attention to you anyway." — Joe Moore
"Home is where the wi-fi connects automatically." — Unknown
"Our house is clean enough to be healthy and dirty enough to be happy."— Unknown
"A happy home is one in which each spouse grants the possibility that the other may be right, though neither believes it." — Donald Fraser
"Home wasn't built in a day." — Jane Sherwood Ace
Home quotes from movies and songs.
"Mid pleasures and palaces though we may roam, be it ever so humble, there's no place like home." — John Howard Payne
"How does it feel to be without a home. Like a complete unknown. Like a rolling stone?" — Bob Dylan
"E.T. Phone home." — Melissa Mathison
"There's no place like home." — Dorothy, The Wizard of Oz
"Home is where my habits have a habitat." ― Fiona Apple
"If I ever go looking for my heart's desire again, I won't look any further than my own backyard. Because if it isn't there, I never really lost it to begin with." — Dorothy, The Wizard of Oz
Historical quotes about home.
"Seek home for rest, for home is best." — Thomas Tusser
"There is a magic in that little world, home; it is a mystic circle that surrounds comforts and virtues never known beyond its hallowed limits." — Robert Southey
"Where could one settle more pleasantly than in one's home? — Cicero
"You are a king by your own fireside, as much as any monarch on his throne." —Cervantes
For other ideas to make gifts that can be ho-hum more special, see "Creative Wine and Alcohol Hostess Gifts" and "Creative and Fun Ways to Give Gift Cards".
Bible verses and blessings for the home.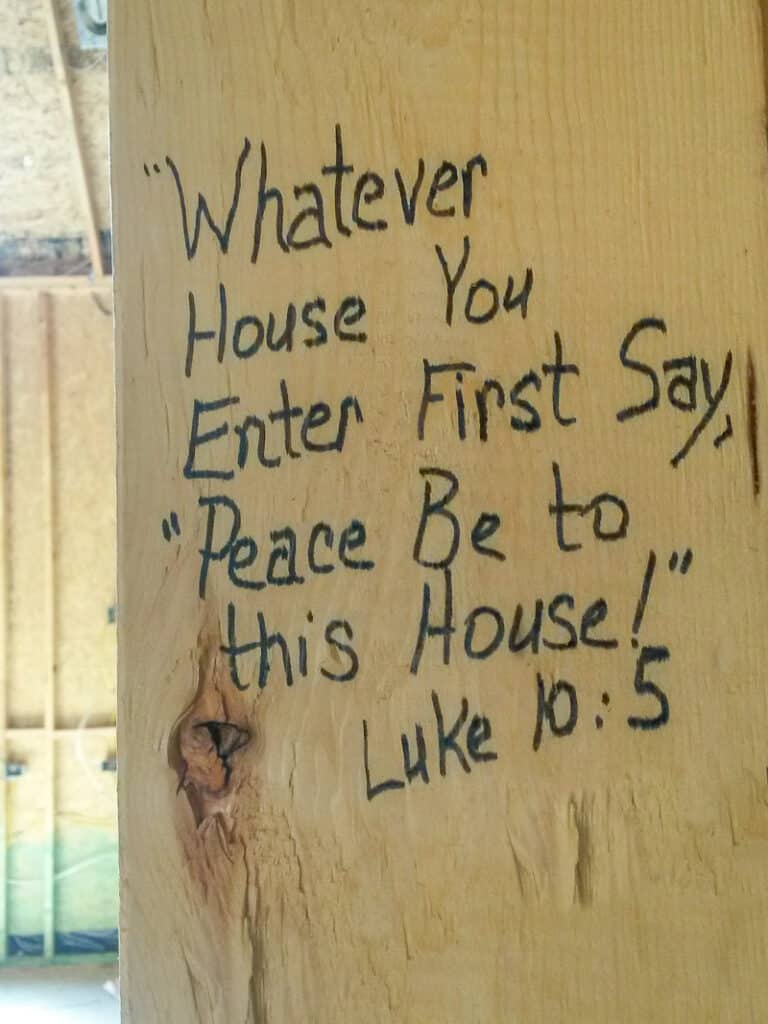 "Peace be to this house." — Luke 10:5
"By wisdom a house is built and by understanding it is established; by knowledge the rooms are filled with precious and pleasant riches."— Proverbs 24:3-4
"The Lord will keep you from evil; He will keep you safe. He will protect you as you come and go, now and forever." — Psalm 121:8
"You will be blessed when you come in, and blessed when you go out." — Deuteronomy 28:6
"Let every person be quick to hear, slow to speak, slow to anger." — James 1:19
"Peace be to you, and peace be to your house, and peace be to all that you have." — 1 Samuel 25:6
"Love is patient, love is kind." — 1 Corinthians 13
"Be strong and courageous. Do not be frightened or discouraged, for the Lord your God is with you wherever you go." — Joshua 1:9
"Where you go, I will go, and where you stay, I will stay." — Ruth 1:16
"Build homes and plan to stay. Plant gardens and eat the food they produce" — Jeremiah 29:5
"I have found the one whom my soul loves." — Song of Solomon 3:4
"When you lie down, you will not be afraid; when you lie down, your sleep will be sweet." — Proverbs 3:24
"Love your neighbor as yourself" — Mark 12:31
"God is with her; she will not fall" — Psalm 46:5
"Give us this day our daily bread" — Matthew 6:11
"They broke bread in their homes and ate together with glad and sincere hearts." — Acts 2:46
"Love one another as I have loved you." — John 13:34
"As for me and my house we will serve the Lord." — Joshua 24:15
"Now my eyes will be open and my ears attentive to the prayer that is made in this place. For now I have chosen and consecrated this house that my name may be there forever. My eyes and my heart will be there for all time." — 2 Chronicles 7:15-16
"The Lord bless you and keep you; the Lord make his face to shine upon you and be gracious to you; the Lord lift up his countenance upon you and give you peace." — Numbers 6:24-26
"For every house is built by someone, but the builder of all things is God" — Hebrews 3:4
"Always be humble and gentle. Be patient with each other, making allowance for each other's fault because of your love." — Ephesians 4:2
---
Whew! I hope you found the perfect sentiment after "shopping" this long list of comforting happy home quotes and sayings.
Even if you don't use them as they are, they might inspire your own special words of exactly what you want to say.
Do you have a quote you love that you didn't see? Share it with us in the comments!

Before you go.
As always, I appreciate your visit, comments, and shares here on the blog! I'd love it if you also follow along with me on Pinterest, Instagram, and Facebook so you won't miss any of my inspiration and ideas.
Don't forget to sign up for updates to keep in touch.
If you're not already a member of the SH&H family, I'd love to have you join me! You'll not only get email updates, but you'll have exclusive access to all the bonus materials in my free subscriber-only library, like this:
---