How to Bring Collected Southern Style into Your Home
Inside: Essential elements and tips for bringing the welcoming and timeless look of southern style into your home no matter where you live! ➡
---
The feel of a Southern home is unmistakable. Southern-style decor is refined and traditional but at the same time comfortable and laid back.
It welcomes us in. It makes us want to slow our pace, visit, and share stories.
Southern interiors feel like they have evolved over time. Each room has its own rich personality and tells us a story about who lives there (because Southerners love stories).
If a physical structure could have a persona, a Southern home would of course have "Southern charm".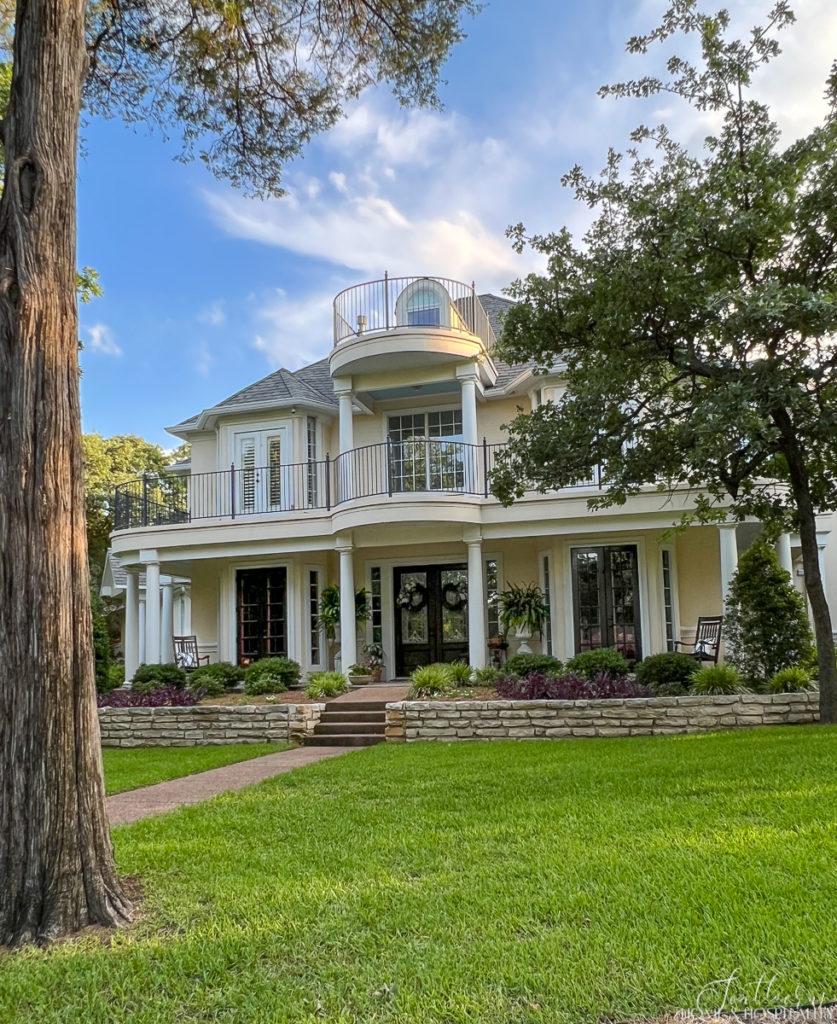 What magic draws us into these homes and envelopes us in their comforting aura?
There are several quintessential design elements you'll find over and over in southern rooms. Even if your house is a blank slate, incorporating a few of these southern staples can add instant warmth and timeless, curated style!
This post contains Amazon and other affiliate links for your convenience. As an Amazon Associate I earn from qualifying purchases. If you purchase something through any link, I may receive a small commission, at no extra charge to you. I only recommend products that I love or would purchase for myself. See my full disclosure here.
Vintage furniture and antiques mixed with current pieces.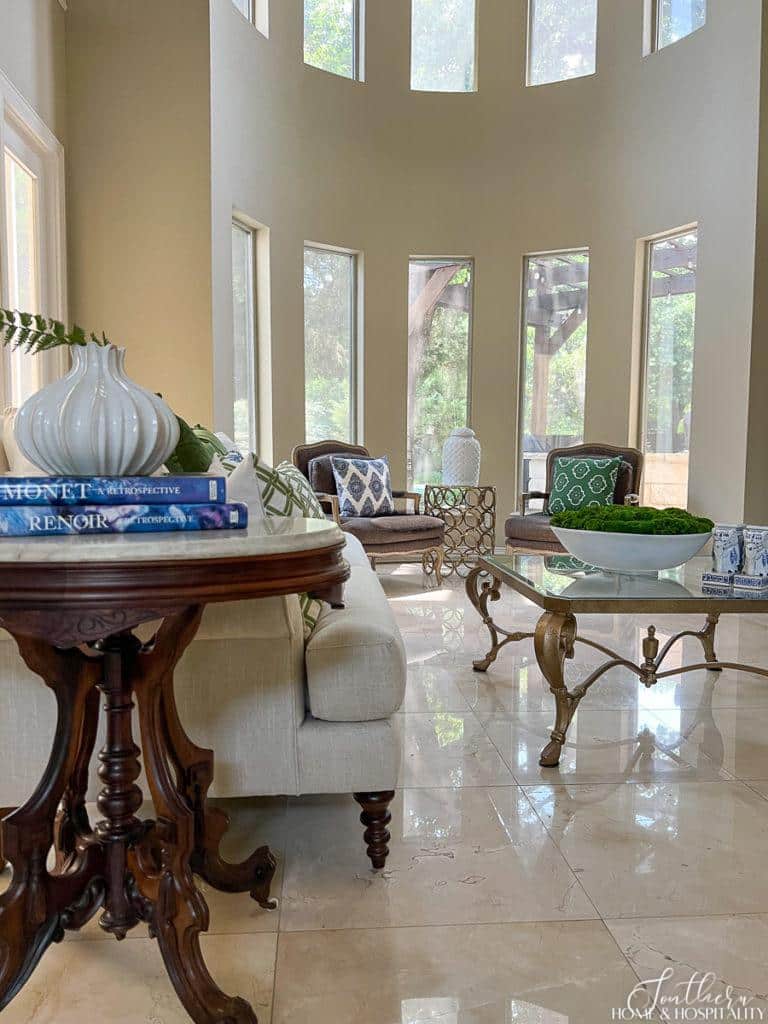 This is probably the number one most important characteristic of southern decorating.
Walk into almost any Southern home, and you will find a cherished heirloom piece handed down by an earlier generation.
Southerners are all about tradition, connection, and have a soft spot for decor that holds meaning to them. Antiques and vintage furniture and accessories bring a curated feel and character to a room, whether they are family heirlooms or newly acquired.
Southern designers have such a flair for mixing in these old pieces. Their trick is to never decorate a room with pieces all from one time period, and to always inject some decor that's fresh and current to keep things from feeling stuffy.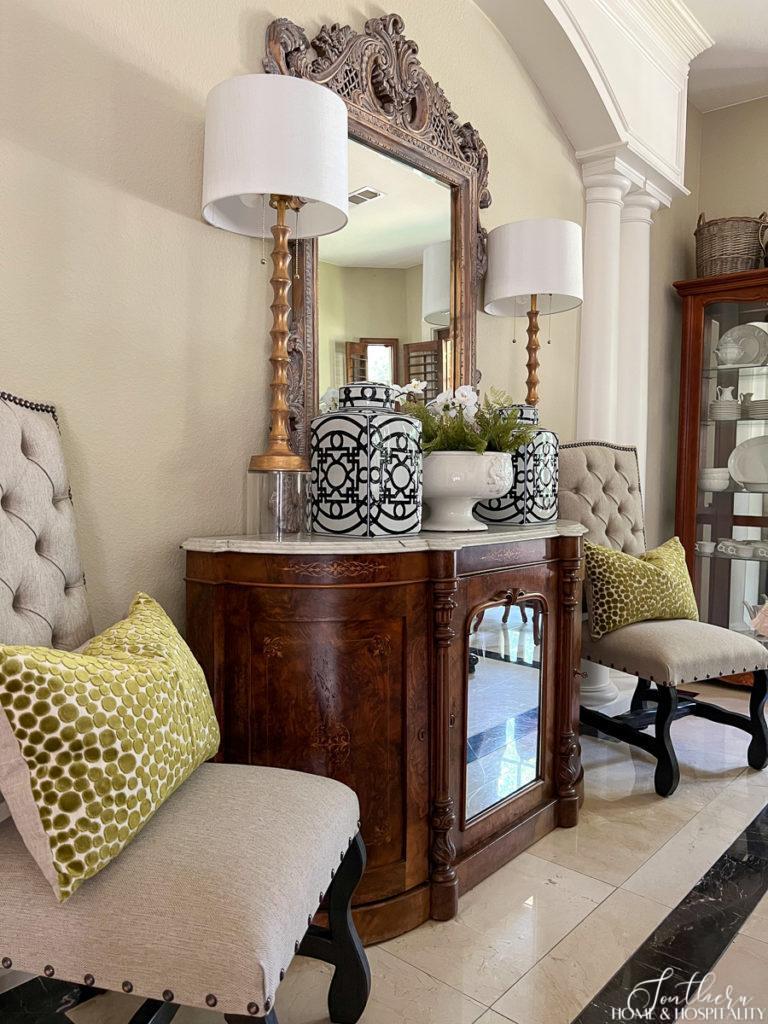 I've been blessed with several treasured French antiques from my grandmother including this marble top demilune sideboard. I also inherited her love for French style.
But it's easy to add this collected over time feel to a room even if you don't have anything passed down to you. Thrift stores and FBMP are full of time-worn treasures. Buy what speaks to you and maybe one day it will even become an heirloom to your family.
See how to mix them into your home in the post, "Seven Easy Tips for Mixing Decorating Styles in a Room".
Silver.
Silver is associated with formality and elegance, and its cost and upkeep eventually made it fall out of fashion with our busy lifestyles. But for Southerners, it has always had a place at the table and in our decor. The patina of heirloom silver holds such richness and a sense of history.
Many of us have inherited a silverware set in a matching pattern, a tea service, or a tray or two. But silver can also be found very reasonably by thrifting.
The upkeep is really not as bad as you might expect. The silver I leave out as decor I probably only polish once a year with some Wright's silver polish. And my silverware never needs polishing because I store it in an anti-tarnish silver storage bag and it's always ready to go for special dinners.
Cane, wicker, and lattice.
All of these woven materials are used frequently in the South, most likely because they bring inside a feeling of being on a porch or in a garden. Even a pattern-evoking basketweave or lattice on fabric or wallpaper gives a Southern vibe.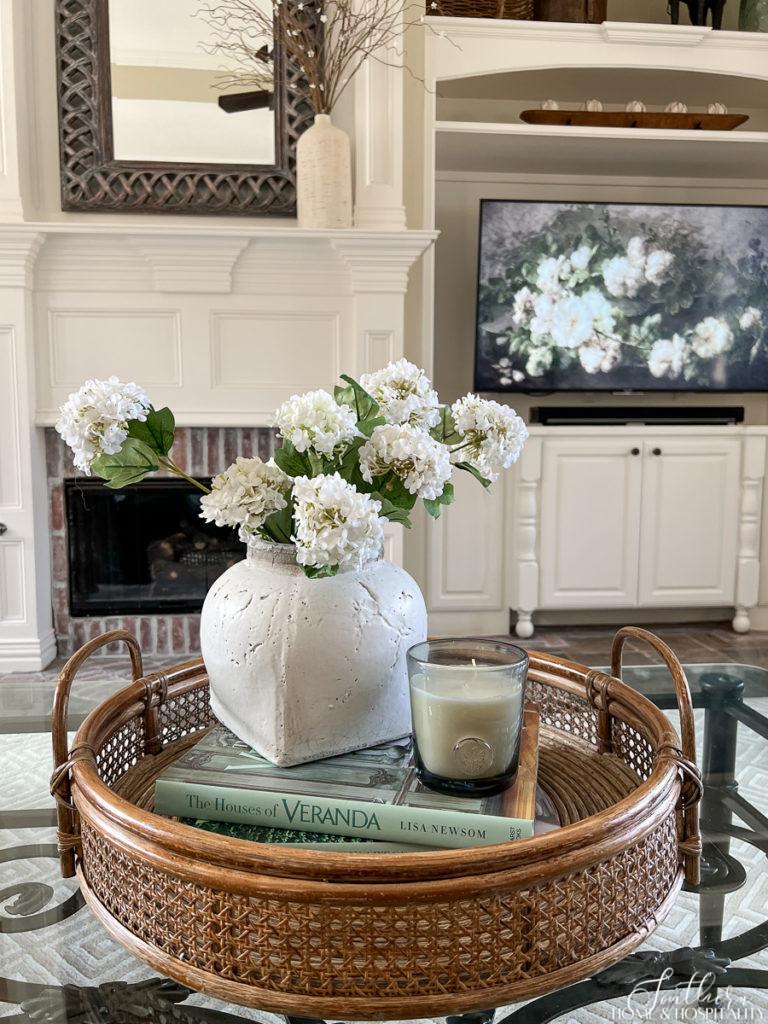 Out of this rattan family, my absolute favorite is caning and I'm thrilled to see its popularity this year in everything from chairs to candle holders. I would not surprise myself if I had to acquire a cane back chair or two during this trend.🥰
Brick and rustic wood.
Southern decor has a refined elegance but the rustic touches keep it from being too formal or fussy. Two of these rustic details often found in southern homes are wood beams and brick floors.
One of my favorite features when we first looked at our current home were the brick inlays in the floor throughout the kitchen, den, and laundry room. My fondness for brick comes from the fact that it is widely used in architecture in my home state of Louisiana. I loved it so much I brought up the brick onto the kitchen backsplash when we remodeled our modern French country kitchen!
If there was an architectural feature that I could go back and add when we made over our family room, I think it would be a rustic wood beam between the kitchen and family room where we opened the wall. They add so much character!
Ironstone.
Decorating with vintage ironstone and white dishes is another common basic used in southern styling, bringing in a sense of a curated, collected room, while partnering easily with almost any decor.
I inherited a set of white Redcliff Ironstone from both my grandmother and my parents. It seems everyone in North Louisiana had these as their "good" dishes in the 1950s and '60s.
My favorite piece is the soup tureen. I even use the sauce tureen that looks like a mini-me version of it on the kitchen counter as a sugar bowl.
Monograms.
Almost nothing else says "Southern lady" like a monogram. If anything has a monogram or initial on it, I am immediately drawn to it like white on rice. I've even had to edit my accessories on occasion because I end up with too many in one room.
I am always enamored by monogrammed bed linens in the bedrooms featured in Southern home design magazines, but I've never had them myself (yet). I think I keep waiting until I find just the right linens that I'll want to keep for a very long time.
Lanterns.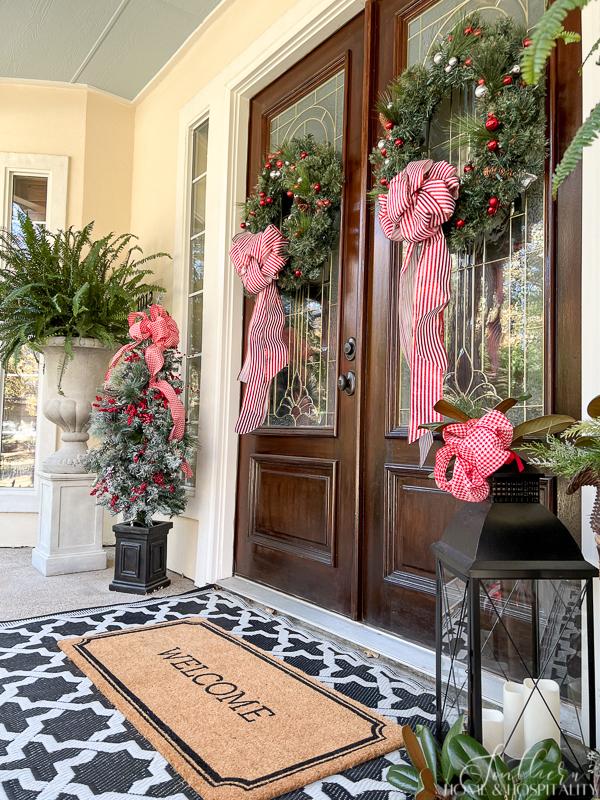 Decorating with lanterns indoors is a nod to the southern porch. You'll see them anywhere you use accessories – coffee tables, dining centerpieces, and shelf styling.
These lantern style pendants are right at home in my southern style kitchen: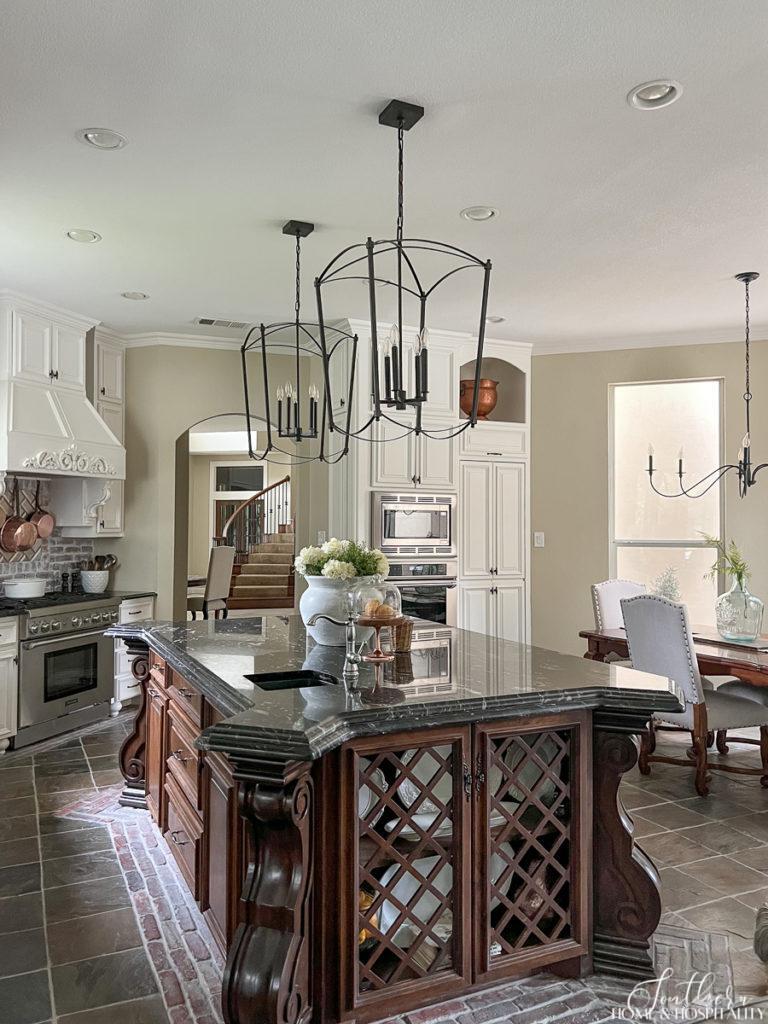 Bold pattern and color.
Southerner designers are not afraid to bring big personality to a room with lots of color and pattern. The re-emergence of wallpaper will be a go-to for these "go big or go home" decorators. These elements as well as the current Grandmillenial style trend seem so very southern to me.
Colorful, traditional, layered, and a little over the top. When done well in a room it is stunning. But this look is usually best left to the professionals. Southerners do sometimes suffer from a "more is better" mentality and for the average home decorator, this can lead to overdecorating and rooms that don't mesh well. In my own home, I find it easier to use neutral colors and patterns for my basic decor and inject color on top of it when the whim strikes!
Collections.
Lastly, southern design often infuses personality into a room with a collection. It can be anything from dishes to copper pots to vintage portraits. Collections carry more impact as a grouping and add interest to a space.
I'm not a big collector, but I do have a small collection of family silver baby cups and a few pretty perfume bottles. And I guess you could say my ironstone dishes are my largest collection.
---
All of these classic Southern design elements add the character, history, style, and elegance that Southern homes are known for.
Whether or not your home is south of the Mason-Dixon line, try incorporating a few of these Southern essentials to create a home that is timeless and welcoming!

As always, I appreciate your visit, comments, and shares here on the blog! I'd love it if you also follow along with me on Pinterest, Instagram, and Facebook so you won't miss any of my inspiration and ideas.
Don't forget to sign up for updates to keep in touch…I have lots of fun and useful freebies you may be interested in in my subscriber-only library like my cheat sheets for where to place lighting, bathroom fixtures, artwork, and furniture!
---