Mixing decorating styles can make a room more attractive, interesting, and inviting but knowing how to do it right can be confusing. Here are seven easy tips for how to mix decor styles with confidence! ⟹
Have you ever noticed how rooms decorated by professional designers always include pieces of furniture or accessories that are unique or different from each other?
That's because mixing different styles of decorating really adds visual appeal! It's what gives the room its character and depth and keeps it from being one-note and boring.
And that's great news for those of us that don't ditch everything we own every time a trend goes out of style!
There are lots of reasons that we need to know how to mix furniture styles.
Sometimes we inherit or are given some great furnishings that don't match our home.
Maybe we need to blend furniture together after a new marriage.
Or our spouse's preferences are much different than ours (it's not nice to make your hubby feel like he's living in someone else's house, lol).
And we all have to deal with our changing tastes and trends.
But mixing different styles in a room needs to be done the right way or you just end up with a strange mish-mash of stuff. Following these seven tips will have your rooms looking curated, interesting, and intentional instead of like a chaotic mess!
Should I really mix design styles in a room?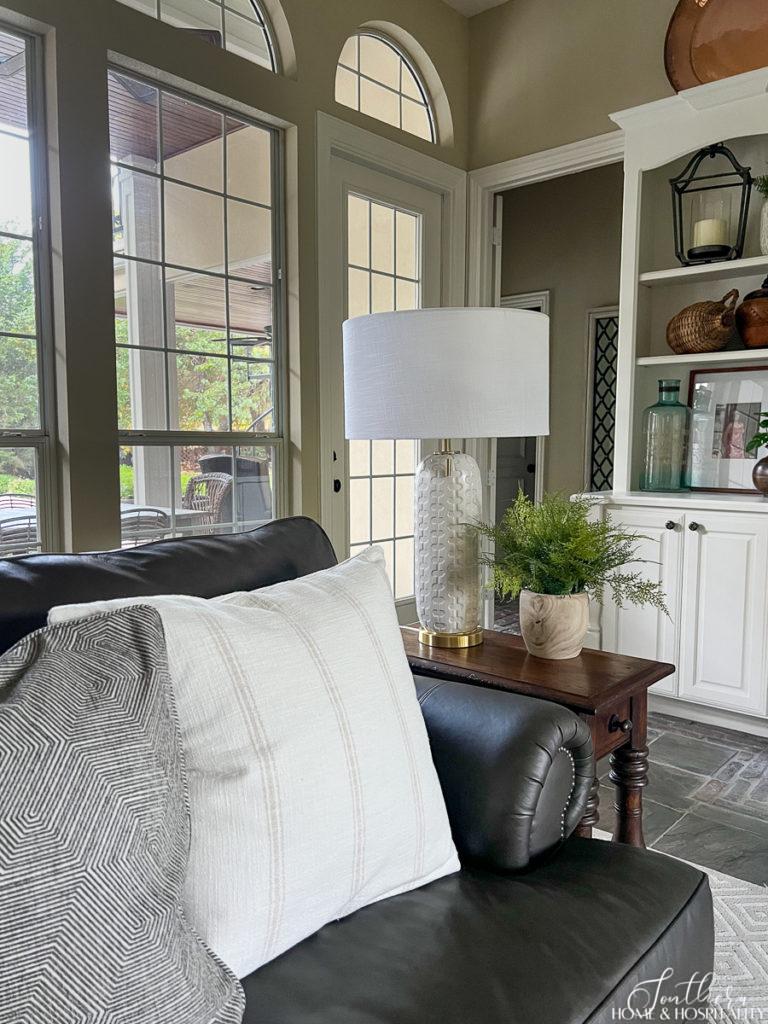 Not only is mixing decorating styles ok, you absolutely should! This is a tool that designers always use to give a space interest. If done correctly, it can make your room look "professionally" decorated. A room where every single thing belongs to the same style becomes "theme-y" and devoid of personality. Completely vintage rooms belong in a museum or antique store. And trendily decorated rooms appear that you purchased everything at the same time at the same store and lack any soul… definitely not an interesting, curated look!
Traditional decor like mine is associated with being older, so I always mix in newer style pieces to keep the room fresh. Traditional furniture and accessories can also tend to be ornate, so this offsets the busyness with the more simplistic clean lines of a different style. A plus of adding in some traditional pieces to nontraditional styles is that in a few years your room doesn't scream what decade it was redecorated in since they never go out of style! And decorating becomes more affordable if you mix styles a bit since trends tend to change every five or so years. This avoids the need to start from scratch and repurchase everything all at once.
An eclectic style of decorating has become more and more popular over the years because it allows homeowners to mix old pieces with new, more expensive and high-end with cheaper items, and the familiar traditional with clean and modern. Being matchy-matchy has very much fallen out of favor and people want to infuse their personality into their surroundings.
How to mix decorating styles.
The 80/20 Rule of Decorating.
Keep the ratio of your main style to a different style to roughly an 80/20 ratio.
This first one is a very simple formula and it works for EVERY design style! Decide what your decorating style is. Is it traditional, transitional, farmhouse, boho, coastal, modern, or something else? After you've zeroed in on what your favorite or main style is, have that style comprise 80 percent of the room. Pieces in this main style should include your large, most expensive furniture pieces and most of your accessories, wall art, and rugs. Then take your next favorite style and have that be your 20 percent. Simple as that!
So for example, if your style is traditional like mine, you might add something unexpected like lucite furniture or geometric accessories. If your room is contemporary, add a vintage piece or two with an interesting accessory or an antique desk.
You can even incorporate a third complementary style by adjusting your ratio slightly to make room for it, say 70/30. Your main style is still the majority and the other two make up the other 30 percent.
My style in my living room is traditional with touches of French and a dash of modern. So you can see about 70 percent falls in the classic/traditional style. And I've sprinkled in some of the French I love plus some clean contemporary items with the accent table, moss bowl, and pillow fabric patterns to freshen it up and make it interesting!
Give each piece at least one buddy.
Ever heard of the buddy system in decorating? Successful mixing of decorating styles requires having items complement each other. In order to do this, every piece of furniture, accessory, wood tone, and metal color should have at least one buddy who they have something in common with…a color, style, finish, or texture. This helps the room feel intentional and cohesive.
For instance, in my family room there a three dark wood pieces of furniture that are buddies. And there are modern-style lamps and a modern geometric pattern on the area rug. That pattern from the rug is repeated on the throw pillows. The ivory pillows around the room tie into the color of the rug and the chairs.
Keep your buddies in balance.
After you've made sure everything has at least one buddy, you'll need to place them so that the room is visually balanced. This allows the eye to scan the room and to find it pleasing and interesting because everything doesn't match, not the opposite. Simply evenly distribute items around the room according to their characteristics…color, texture, pattern, and size. My dark wood end table is on the opposite side of the room from the dark wood chest. The dark sofa sits on a light colored rug. The modern lamps sit on traditional wood furniture. The geometric patterns on the pillows and rug are spread out all over the room. It's all about balance to make a room flow and feel "right"!
Try making the odd man out the focal point.
Sometimes you have one piece whether it be furniture, wall art, or an accessory that just doesn't fit. Don't try to camouflage that but flaunt it! Try making it a focal point and treat these pieces like art in your room. Make sure they are special because they will stand out. Have it look intentional by adding in accessories that have something in common with the odd piece besides its style, like color or shape.
Use a limited color palette.
Using only three or four colors in a room helps make the space look pulled together and planned. The visual interest comes largely from the varying styles and you don't want a barrage of different colors creating visual chaos and competing for attention. And the tighter the color palette the farther apart on the decorating style map you can stretch!
Also keeping the colors you use in neutral tones helps to highlight the special things about the different styles that are in the room. It's easier for a nonprofessional decorator to mix styles successfully by starting with a neutral wall color. Neutrals won't compete for that attention!
Every room needs a vintage piece.
A piece of furniture or decor accent that has some history really adds personality and fits in any style room, even the sleekest contemporary space. Vintage items come in all sorts of styles…traditional, art deco, mid-century modern, etc. so there is one out there that will complement your style. And of course, in my opinion, every room benefits from a French piece, like a classic French chair or mirror!
Every room also needs a few current pieces.
Adding a few current accents will help make any mix of design styles look fresh and updated! If you just add the trend with a few of its accessories, you won't have to replace that much when they go out of style.
FAQ's in mixing decorating styles.
Can you mix wood colors in a room?
Yes, you absolutely can! Gone are the days of matched sets of furniture for the living room, complete dining sets, and bedroom suites. A tip for arranging wood furniture that has a large contrast in color, say dark and light, is to place them further apart in the room. A room where every piece of wood furniture was stained the same color would be boring anyway, wouldn't it?
Can I mix metals in my house?
Yep! Having all of the metal colors in a room match is also an outdated decorating rule. Choose one primary metal and then one or two in a different color and texture to complete the look. When we remodeled the kitchen, I used dark iron colored cabinet hardware and lighting, but mixed it with brushed chrome faucets. Try to have at least one other item share the same color as that second or third color (another use of the buddy system).
How can I break up old matching furniture sets?
Try mixing the furniture into different rooms. Nightstands can be used as end tables in a sitting area. Dressers can be used as a buffet in the dining room. Use the dresser mirror somewhere else or remove it altogether. Replace or paint your matching dining chairs. Or even mix up the chairs further by adding different host chairs. Paint is always an easy option to add variety to matching furniture.
---
No matter the decorating style, we are truly already mixing looks because most of today's interior design styles have evolved from a combination of other styles. And on top of that, most of us are not decorating all from one store or catalog anyway and are quite possible already intentionally mixing styles. So check your rooms following these easy tips and enjoy a home that is so much more interesting and unique to you!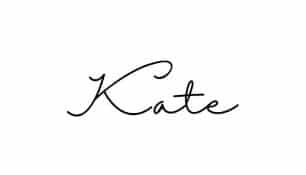 As always, I appreciate your visit, comments, and shares here on the blog! I'd love it if you also follow along with me on Pinterest, Instagram, and Facebook so you won't miss any of my inspiration and ideas.
Don't forget to sign up for updates to keep in touch…I have lots of fun and useful freebies you may be interested in in my subscriber-only library like my cheat sheets for where to place lighting, bathroom fixtures, artwork, and furniture!
Pin this for later: