Fall Front Porch Decor Secrets That Won't Break the Budget
Inside: Don't have a huge budget to decorate the doorstep for the fall season? Load up the porch with cozy autumn curb appeal that won't cost a cornucopia of cash with these front porch decor ideas! ➡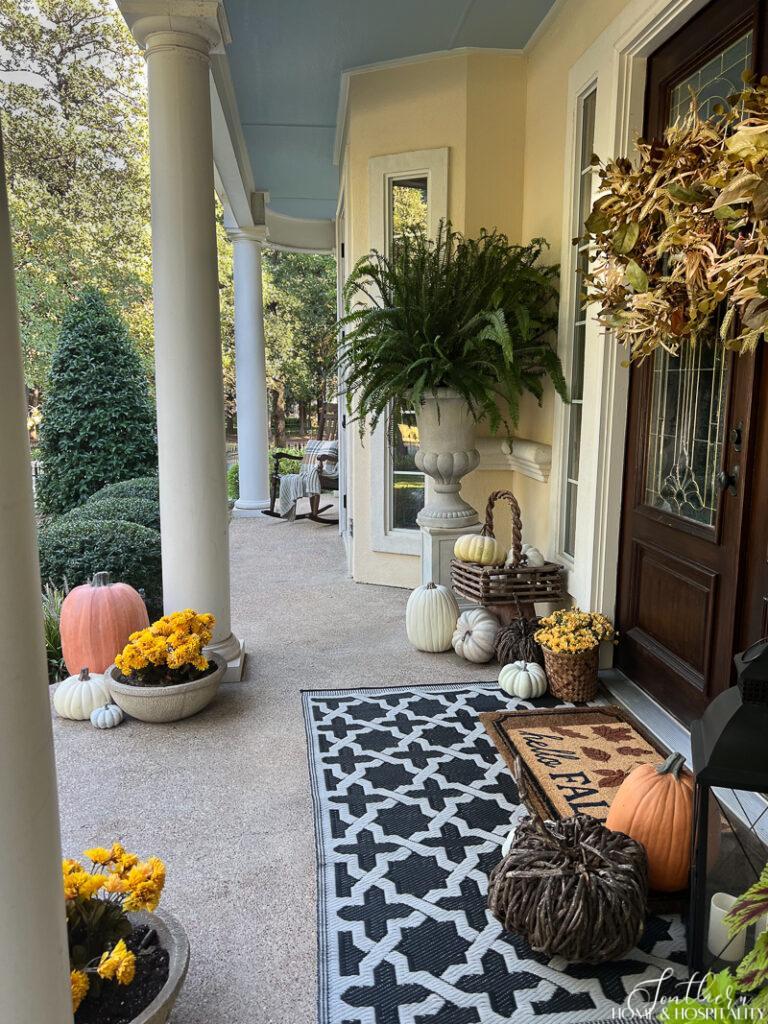 Tis the season for chunky sweaters, pumpkin bread in the oven, and football on the TV. For dropping leaves, gathering 'round the fire pit, and hayrides at the pumpkin patch.
Which means it's time to decorate to reflect the changing season. So let's start where it all starts—on the front porch!
Fall's all about getting cozy, so this time of year we can really layer it on. And who doesn't love an Instagram porch loaded down with piles of pumpkins?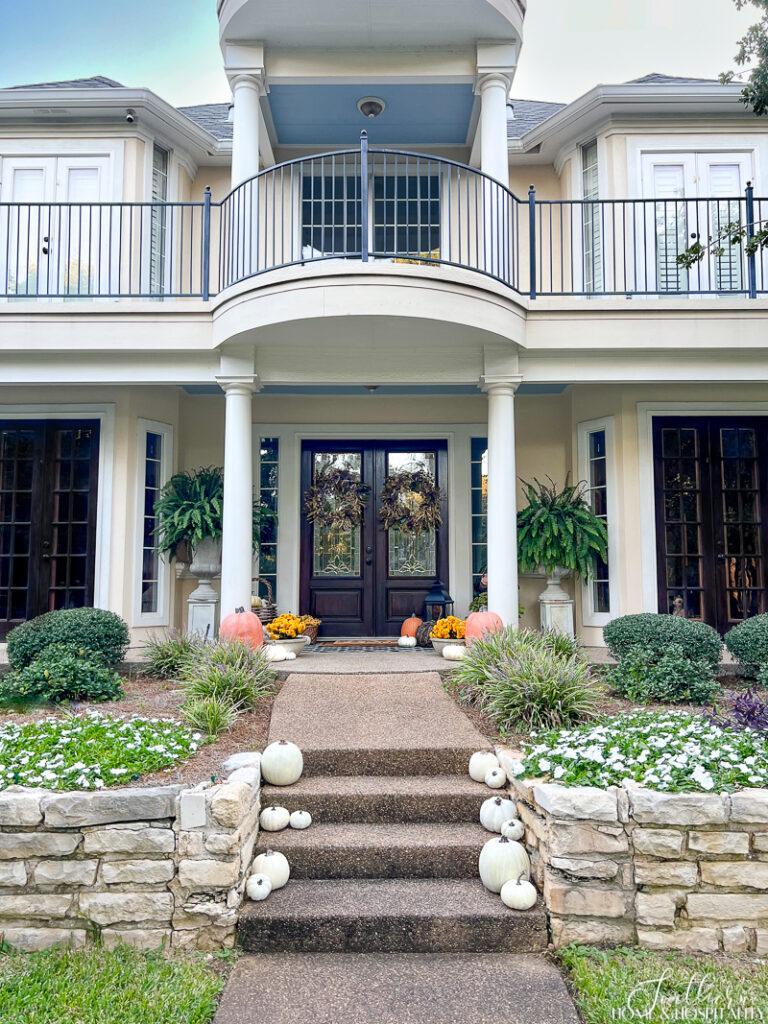 But that can get expensive, slimy, and pumpkins are actually quite heavy when you're dealing with a lot. (Still scarred from the SUV-full donated for an event that I had to load and unload. Twice.)
If you don't have the budget to go that fall crazy, a few of these front porch ideas will create an inviting autumn entry without spending a lot of money!
This post contains Amazon and other affiliate links for your convenience. As an Amazon Associate I earn from qualifying purchases. If you purchase something through any link, I may receive a small commission, at no extra charge to you. I only recommend products that I love or would purchase for myself. See my full disclosure here.
Hang a fall front door wreath.
The first thing you should do is hang a wreath full of fall foliage and natural elements on the front door. If you do nothing else, or have a small front porch where you can't put much out, this is the best way to add fall to the front of the house.
Wreaths can be expensive, but these simple grapevine wreaths really fill my front doors. And all they took was a few minutes and some picks from the craft store!
See the super simple way I used to make these wreaths in the post, " The Easiest DIY Wreath Ever for a Fabulous Fall Front Door.
Welcome fall with a mat.
A welcome mat with a cute fall message is a great way to greet guests. And you can usually pick up door mats very reasonably.
If you have a large porch or double doors, layering mats saves a lot of money. Invest in large mats that can stay in place year round. Then place a small seasonal mat on top. The small mat won't cost much and it won't look dinky or lost!
For my double doors, I use this large 4′ x 6′ outdoor rug under everything. Then I lay this wide estate door mat that says "welcome" over it. And the "hello fall" mat was a fun fall touch on top!
Go with the faux.
You can more easily get away with fake fall porch decor because it is mostly seen from far away or in passing.
Faux pumpkins.
You get way more bang for your buck when you invest in a few foam pumpkins rather than rebuying the real thing every year. And if you get a few each fall, you'll have a nice collection before you know it.
Admittedly, the fake ones aren't as lovely as real pumpkins. But the tradeoff is worth it. And I have a couple of hacks for making faux pumpkins look more real with this easy DIY project.
Every single pumpkin on the porch is faux. I've probably had the jumbo orange pumpkins for a decade. And the white pumpkins are a hodge podge from over the years. Some I bought in white but many I made over with a little paint. Even the mini pumpkins were originally green cheapies from Dollar Tree.
Faux mums.
As much as I love mums for fall, they sadly only last a few days outside here in Texas. We can't wait for the cooler weather, so I have to give Mother Nature a little help,
Don't tell my HOA, but my mums aren't real. And from a distance, I think they look fine—artificial fall flowers are so much better than they used to be. And they'll still be in full bloom till Thanksgiving.
I showed major self restraint in Costco this week and passed on their huge mums (pats self on back). But don't be surprised to see them on my porch next year—their generous Costco size makes a statement from the street.
A throw blanket for cozy fall evenings.
If you have a porch swing, a bench, or rockers, drape warm cozy throw blankets that invite you to sit and enjoy a pumpkin spice latte.
And some throw pillows.
Pillows make everything more comfortable and patterns and colors can speak to the season.
The fall selection will be better if you have a covered outdoor space and can use indoor pillows. These plaid pillows weren't expensive so I don't mind leaving them outside.
Corn stalks, dried wheat, dried gourds, and bales of hay.
These natural fall elements don't cost a lot and if you have a place to store them, they'll last season after season. Tall corn stalks flanking the front door make a beautiful autumn entrance!
Wicker baskets.
Layer in a little more coziness with a wicker basket or two. You can load it with pumpkins, pine cones, blankets, or plants.
Or get some inexpensive bushel baskets to pop mums into:
How do you arrange mums and pumpkins on a porch?
Mums and pumpkins are such a natural for the porch for the fall season. There's no magic formula for placement and you really can't do it wrong. The only mistake might be to sit everything on the flat ground so it can't be seen.
So if there's a simple formula for decorating the porch for fall, it's this: Frame the front door and place your pumpkins, mums, and other fall decor at different heights.
Tips for placing fall decor on the porch:
1. Bring in items to act as risers to add height and more visual interest like:
Baskets
Stools
Crates
Plant stands
Side tables
2. Take advantage of your existing porch containers for pumpkins and mums.
In my round bowl planters, I placed my giant faux pumpkins on grapevine wreaths with some pip berry garland:
3. Bring in other pretty fall plant holders like baskets, galvanized buckets, and vintage finds such as a wagon or wheelbarrow.
4. Make stacks of pumpkins in your front door pots to create a pumpkin topiary to frame the entrance.
5. Or use one of the pumpkins itself as a planter for a pot of mums!
See my easy how-to in the post, "How to Make An Easy Pumpkin Vase for Fabulous Fall Decor".
6. Mix in other fall plants like ornamental cabbage. Add in lanterns and battery operated candles.
6. You don't have to have a large front porch or even front steps to create a dramatic fall entrance. Decorate outside the width of the walkway to make a small front porch feel more grand and welcoming.
7. If you do have front porch steps, place a few pumpkins haphazardly off to the sides of each stair. If you have large enough porch steps, you can include even more fall decor and mums to beckon guests toward the entrance!
What color mums look best together?
Colorful mums can really draw attention to your doorstep and you aren't just tied to traditional fall colors.
The most common colors of fall mums you have to choose from are: yellow, rusty red, gold/orange, purple, white, and even pink!
Go with a traditional color scheme of yellow, orange, and red.
Or be a little different and try some of these less traditional beautiful fall color combinations:
Purple and white
Pink and white
Pink and purple
Pink and yellow
Purple and yellow
Purple and orange
Sources for this post or similar.

---
The porch is one of the first things guests see. Create a warm welcome with a few of these cheap and easy porch decorations that will have your home brimming with autumn curb appeal!
If you use any of my fall porch ideas, or any of my fall posts to help you decorate your home, please share a photo and tag @southernhomeandhospitalityblog on Instagram so that we can all enjoy, and I can share your inspiration in my stories!

Before you go:
As always, I appreciate your visit, comments, and shares here on the blog! I'd love it if you also follow along with me on Pinterest, Instagram, and Facebook so you won't miss any of my inspiration and ideas.
Don't forget to sign up for updates to keep in touch.
If you're not already a member of the SH&H family, I'd love to have you join me! You'll not only get email updates, but you'll have exclusive access to all the bonus materials in my free subscriber-only library, like this:
---
Pin it to remember it!
If you've enjoyed this post, please pin and share this on Pinterest: