Fall's Elegant Navy and Rust Color Trend in the Dining Room
Inside: Simple autumn dining table and buffet decorating ideas with the latest fall wedding color pairing of navy blue with rust, clay, terra cotta, copper, and burnt orange.! ➡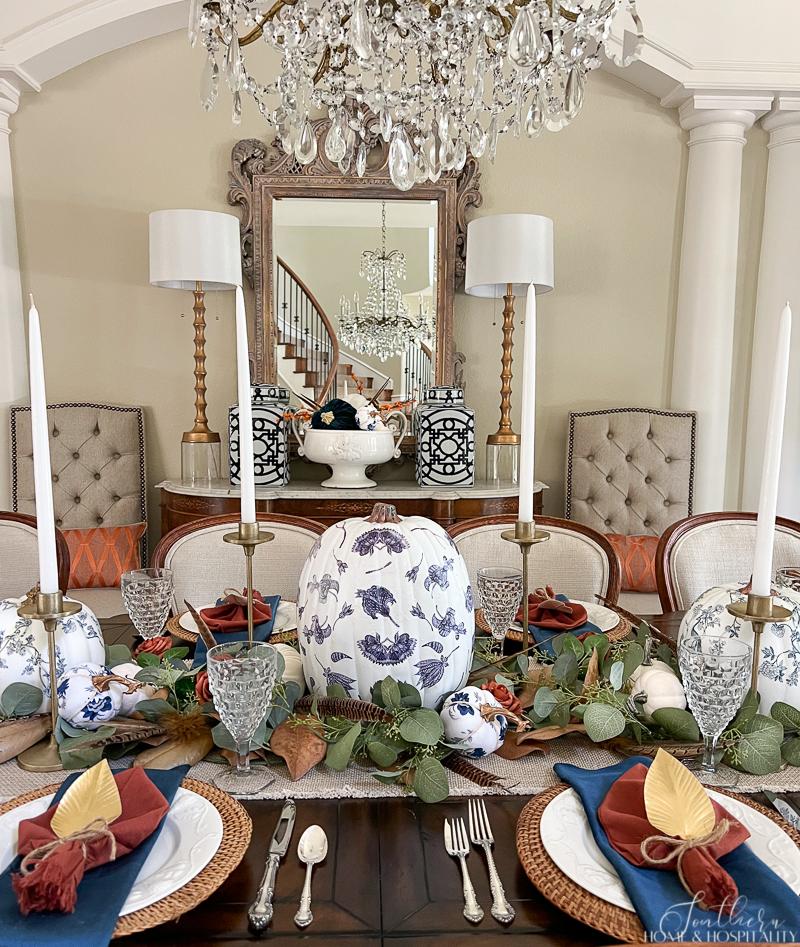 Have you been to a wedding lately?
What I love most right now are the latest color combinations.
The bouquets of burgundy and burnt orange. The rust bridesmaid dresses.
And those elegant, lovely wedding table settings have me going down the Pinterest rabbit hole. Sigh.
One of my favorite unique pairings of these fall wedding colors is deep, midnight blue with different shades of orange—dusty soft colors like rust, clay, and terra cotta.
Boho and moody colors are definitely on trend in the world of wedding style. And their earthy and rich shades are a natural for fall decorating.
So this enchanting wedding color combo became the inspiration for my fall dining room color palette this season!
My fall dining room is part of the Celebrate Fall Home Tour hosted by Leen at Sand Dollar Lane from her lovely coastal style home. When you're done here, make sure to visit all 24 homes for lots of fall ideas and inspiration (links at the bottom)! If you've come over from Zucchini Sisters, welcome!! I love how Rebecca can make over anything to give it real vintage charm.
Navy blue and rust in the dining room.
Choosing this rich, velvety midnight blue allows me to keep most of my current blue decor in the open concept dining room and living room. Not only is this color gorgeous, but practical!
Although I've decorated fall tables in non traditional fall colors before, I've never used blue. And I needed to find a way to make the color blue more fall-ish.
My solution? To keep the blue and white decor in place and swap out the summer greens for warm, deep autumnal shades of burnt orange and rust.
Part three of my fall tour shows off the whole area with the living room's blue and white fall look. And you can see my blue and green summer tour here.
Fall dining room table decor.
I start with the star attraction of the dining room, the table. I follow the same five simple steps every time. Whether it's a small casual table or this extra long formal dining table, it makes table decorating a no brainer.
And the first step is always my color scheme. I've set this table brimming with blue and rust along with warm browns and golds.
Let's start with how I put together the centerpiece and how it brings the color scheme together.
This post contains Amazon and other affiliate links for your convenience. As an Amazon Associate I earn from qualifying purchases. If you purchase something through any link, I may receive a small commission, at no extra charge to you. I only recommend products that I love or would purchase for myself. See my full disclosure here.
How to make a dining table fall centerpiece.
Lay a table runner as the base.
To create the centerpiece, I laid out this extra long table runner full of natural texture. I don't usually use a tablecloth because I like to see the warm wood.
SH&H Tip: Lighter colored table runners are a great way to break up the darkness of wood and define the centerpiece.
Spread out some pumpkins.
Next, I brought in the very symbol of fall decorating—pumpkins. You might expect me to use the traditional orange pumpkins in this color combination.
But this was the perfect chance to make a mashup of my current decor and fall. Blue and white chinoiserie pumpkins!
I placed three DIY decoupage chinoiserie pumpkins that I made with paper napkins along the table runner:
You can see the easy shortcut method I used to make them here. One of my favorite fall DIY projects!
And a few of these mini blue and white pumpkins from Michaels coordinated with them perfectly.
Because the organic filler would be dark, I nestled in a few small white faux pumpkins and ivory velvet pumpkins to inject some lightness and contrast into the darker shades.
Place candles throughout.
After the pumpkins were in place, I staggered six candle holders down the center of the table. They add dimension, and the aged brass metal brings the warmth for fall. And I chose my extra long candle tapers for extra drama.
Fill in with greenery, florals, and natural elements.
To give the centerpiece that bountiful, full, fall harvest feel, I filled the table runner with organics in soft colors. There's no "right" way to do this—it should look natural and a bit messy.
SH&H Tip: An extra long dining table tends to look empty when it's set if there's no decor on both ends and in the middle. Filling it with greenery and organics down the center is my favorite way to solve that, and makes for a statement centerpiece!
I started with a faux eucalyptus garland in a soft green. It looked pretty sparse on its own but it makes a great base to build on and can fit any season depending on what you add.
For fall, I inserted brown magnolia leaves throughout. I simply went out to the yard and picked up the ones that had dropped from the tree. As much free decor there as I wanted!
Unlike the dried green magnolia leaves I used in the family room, the warm leathery brown color on both sides makes a beautiful backdrop for the blues and rusts.
I added more texture, interest, and shades of brown by tucking in pheasant feathers throughout the garland.
Blue, check. Brown check. But where's the rust?
You'll see pops of rust the way down the whole table center with these pretty amber faux roses (made for weddings, of course).
Fall place settings.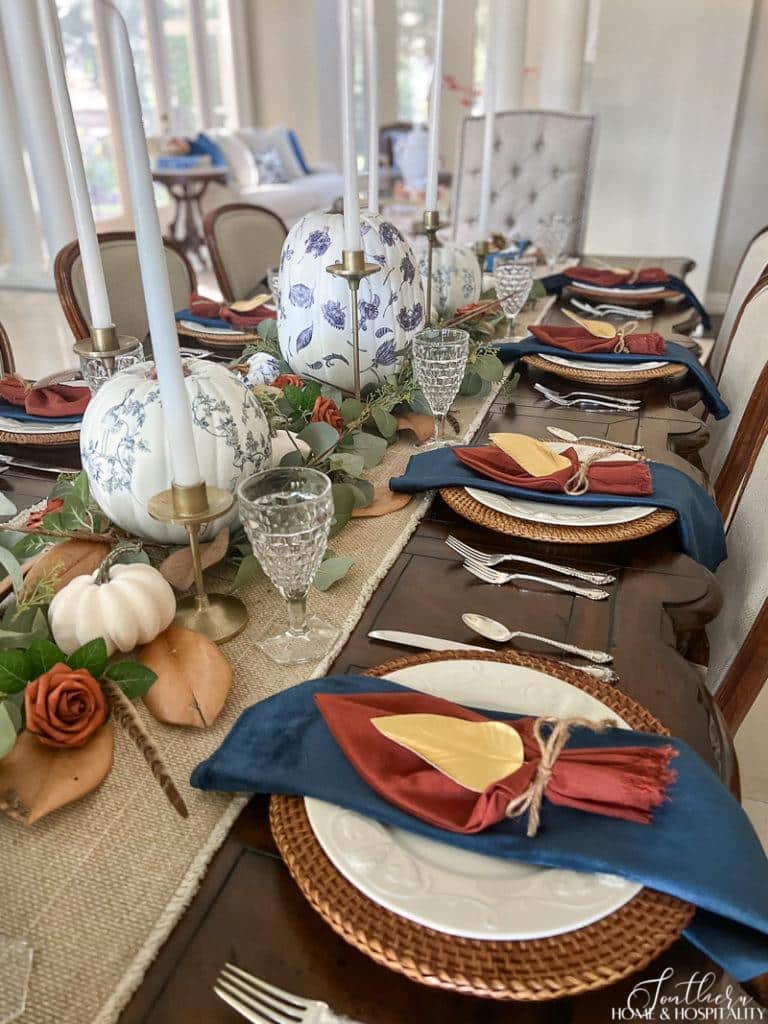 The place settings of a tablescape are where you can really get the color party started.
For this fall table setting, I started with wicker chargers (similar). Because they're rustic for fall. And brown.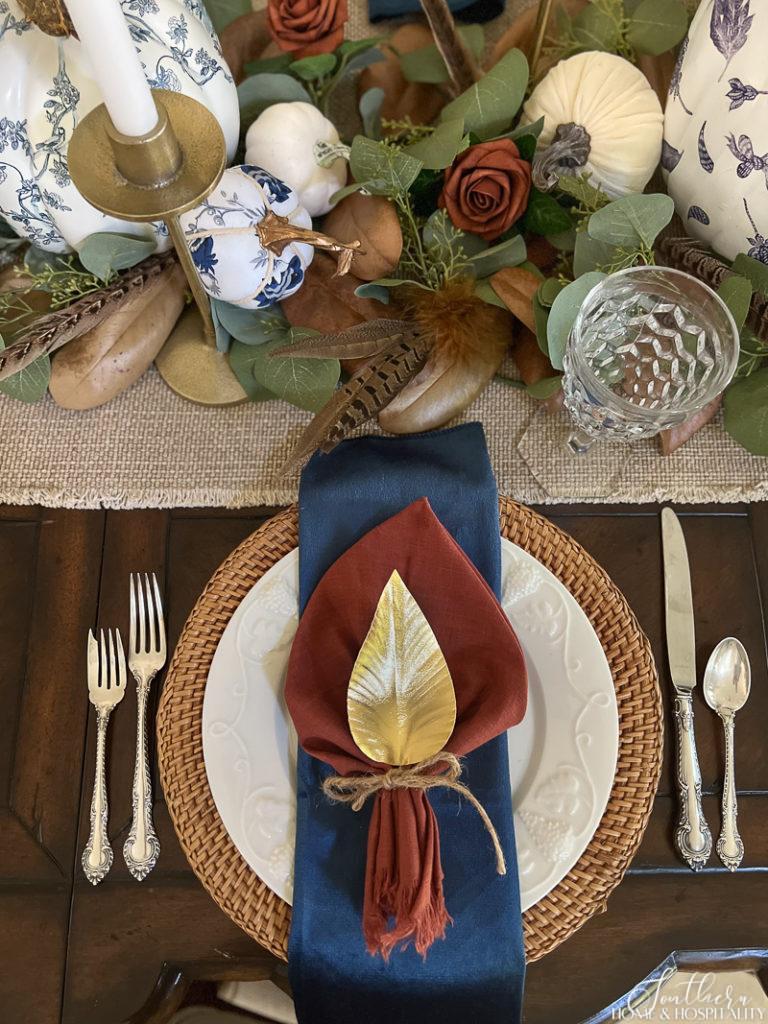 I used vintage ironstone white plates as another chance to break up all of the darkness.
Enter the color pops. Velvet midnight blue napkins over each plate. And rust colored napkins on top. Instead of using napkin rings, I folded and tied off them off with jute twine to resemble a leaf shape.
(No, we aren't messier than normal eaters, but you do have your choice of napkin.😂)
For a finishing fall touch, I added more plate decorations with a gold leaf from, where else? The wedding department at Hobby Lobby.
And one more smidge of blue and white on the end plates with navy and white print napkins rather than rust.
Fall sideboard decor.
To decorate the fall buffet, I've filled the white pedestal bowl with a blue velvet pumpkin, white pumpkins, and another chinoiserie mini. With a little dash of faux bittersweet and pheasant feathers.
And it matches the blue and white ginger jars still on my sideboard from summer (easy fall decorating goal achieved).
It's always easy to add a splash of color with pillows. I swapped the green ones in the side chairs with this burnt orange lumbar pillow cover. I love how they look with navy!
Sources for this post or similar.
---
With the help of those soft orange fall wedding shades, I was able to keep the blue in my dining room from summer. I love the color combination so much, I'll be happy to have it from September, all the way through Thanksgiving dinner!
And I got to decorate with this trendy color combination that I've been drooling over on Pinterest.
It was much less expensive than planning a wedding.😉

Before you go:
As always, I appreciate your visit, comments, and shares here on the blog! I'd love it if you also follow along with me on Pinterest, Instagram, and Facebook so you won't miss any of my inspiration and ideas.
Don't forget to sign up for updates to keep in touch.
If you're not already a member of the SH&H family, I'd love to have you join me! You'll not only get email updates, but you'll have exclusive access to all the bonus materials in my free subscriber-only library, like this:
---
Pin it to remember it!
If you've enjoyed this post, please pin and share this on Pinterest:
Now let's hop over and see all the fall ideas from my talented blogging friends. Our next stop is Feet Under My Table. You'll love Leslie's cozy and welcoming fall porch!
Monday
Sand Dollar Lane // Simply 2 Moms // Pasha is Home // My Family Thyme // Southern Crush at Home
Tuesday
Bluesky at Home // DIY Beautify // Amy Sadler Designs // 2 Bees in a Pod
Wednesday
Worthing Court // The Tattered Pew // Our Crafty Mom // Hearth and Vine // Thistle Key Lane
Thursday
Exquisitely Unremarkable // Aratari at Home // Sonya Burgess // At Lane and High // The Roots of Home
Friday
Dabbling and Decorating // A Life Unfolding // Zucchini Sisters
Southern Home and Hospitality // Feet Under My Table