30 Ways to Create a Festive Fat Tuesday Mardi Gras Table
Inside: Want to let the good times roll for a special dinner? Here are 30 things you can use to make a fun, colorful, and inexpensive Mardi Gras tablescape! ➡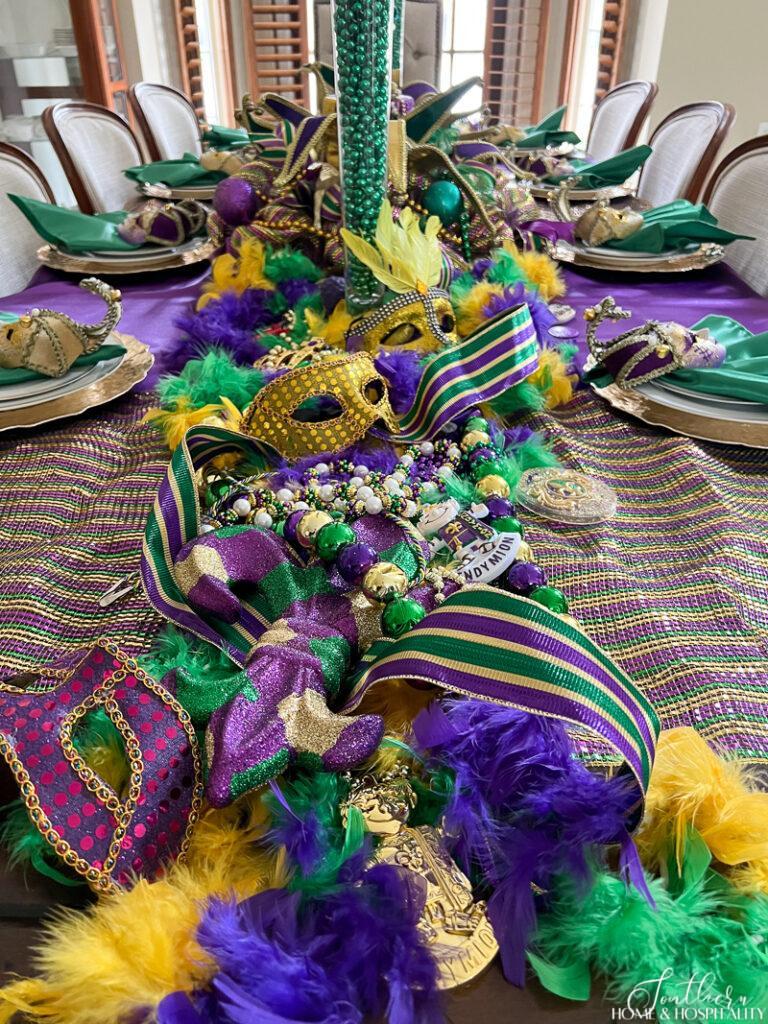 ---
Do you love to have friends over for dinner? And to have a theme to decorate the table around? (If you're a regular here I bet you do.) Do you love a good celebration of life in general?
If you nodded yes, any of these are the perfect reason to have a Mardi Gras theme dinner party!
There's no other place quite like New Orleans – bursting with culture, great jazz, slap-yo'-mama-good food, and a laid-back attitude (it's not called the "Big Easy" for nothing). And the Crescent City is probably most famous for its own unique version of Carnival, better known as Mardi Gras.
Even if you live miles away from Bourbon Street like me, Mardi Gras is a state of mind. It can and should be celebrated everywhere – just because we're not in N'awlins, doesn't mean we don't like to let the good times roll too!
So don't dismiss this dining table idea because you haven't ever been to Mardi Gras, New Orleans, or don't own any Mardi Gras table decor.
Because a Mardi Gras table theme with its vibrant color has big impact for little money. And I have 30 different ideas you can pick from to make this festive and fun table setting that'll bring the NOLA party to your own home.
How to set a Mardi Gras Table.
Because I go to Louisiana and Mardi Gras often, I've a-"krewed" (omg stop it already) a treasure trove of things to use – a lot more than most people outside the state usually have. And putting out a little of the flamboyant, fun decor in my house in Texas really brings the happy to otherwise dreary days in February.
This carnival season I focused it all in the dining room. There's a lot here – because Mardi Gras can be a time when more is more. But that means there's a whole dining room full of ideas for you to pull from!
See how I used the same decorations on my Mardi Gras tree.
It's not necessary to go all out to make a Mardi Gras table setting. Maybe you don't have four storage containers full of Mardi Gras flair (guilty). Just two or three ideas from this list will make an easy Fat Tuesday tablescape.
And the good news? Some of these things you may already own.😊
This post contains Amazon and other affiliate links for your convenience. As an Amazon Associate I earn from qualifying purchases. If you purchase something through any link, I may receive a small commission, at no extra charge to you. I only recommend products that I love or would purchase for myself. See my full disclosure here.
Table linens in Mardi Gras colors.
The single most important decorating element that will say "laissez les bon temps rouler" are the traditional colors of Mardi Gras. And table linens are always an easy way to bring in color to any tablescape.
Start with a base for the Mardi Gras tablescape with any of the following in purple, green, or gold:
A tablecloth in one of the signature colors, or even white or black to contrast with the vibrant purple, green, and gold on top.
A piece of accent fabric under the centerpiece, either directly on the table or over a tablecloth. Use something rich and showy like velvet, satin, or something with sparkle (glitter is BIG at Mardi Gras).
To bring in color for the base of this table, I got a couple of yards of purple satin fabric from Hobby Lobby for less than $10.
Deco Mesh is another easy base material that has great impact and texture.
I had quite a bit of purple, green, and gold deco mesh left after making Mardi Gras wreaths. So I laid three strips of it out over the purple satin to add all the colors and some shine. It was flat once upon a time, but after being folded and stored, it now has a permanent wave, but I don't mind. Let's just say it has more texture and character, lol.
Mardi Gras place setting ideas.
The place settings are another opportunity to really bring in the jewel-tone royal colors of Mardi Gras.
Plates. I follow several tablescape groups on Facebook and just drool over all the beautiful patterned china out there in purple, green, and gold. In my next life, I shall have a dish pantry (and a Christmas tree closet, and a personal chef).
All of my dish sets are all-purpose white, but I pulled out the china with the gold rim for this tablescape. But if you're lucky enough to have room to store other colors, wouldn't purple dinner plates look amazing with gold utensils and green glassware?
Napkins. I've added pops of emerald green to the table with these green satin fabric napkins. Purple napkins would be perfect too. And you may already have some gold napkins tucked away somewhere.
Napkin rings can be a fun touch that nods to the table theme. Or go simple with gold napkin rings that you can use for any dinner. I used a set of Mardi Gras jester faces on top of the napkin at each place setting:
Charger Plates. This was a great time to use my gold chargers. If you're into table settings, I bet you have some too.
Glasses in green, gold, or even purple.
Place mats are another easy place to add color.
Utensils. A Mardi Gras table just begs for some gold utensils, doesn't it?
Mardi Gras centerpiece ideas.
Here's where the real fun begins. Fill up the center of the table with as much or as little Fat Tuesday flair as your heart desires! Here are a few Mardi Gras decor ideas to use in the centerpiece:
Beads. If you only use one more of these ideas besides the Mardi Gras color scheme, just bead it. I've put them everywhere. I filled two tall tower pilsner glass vases with layers of purple, green, and gold beads.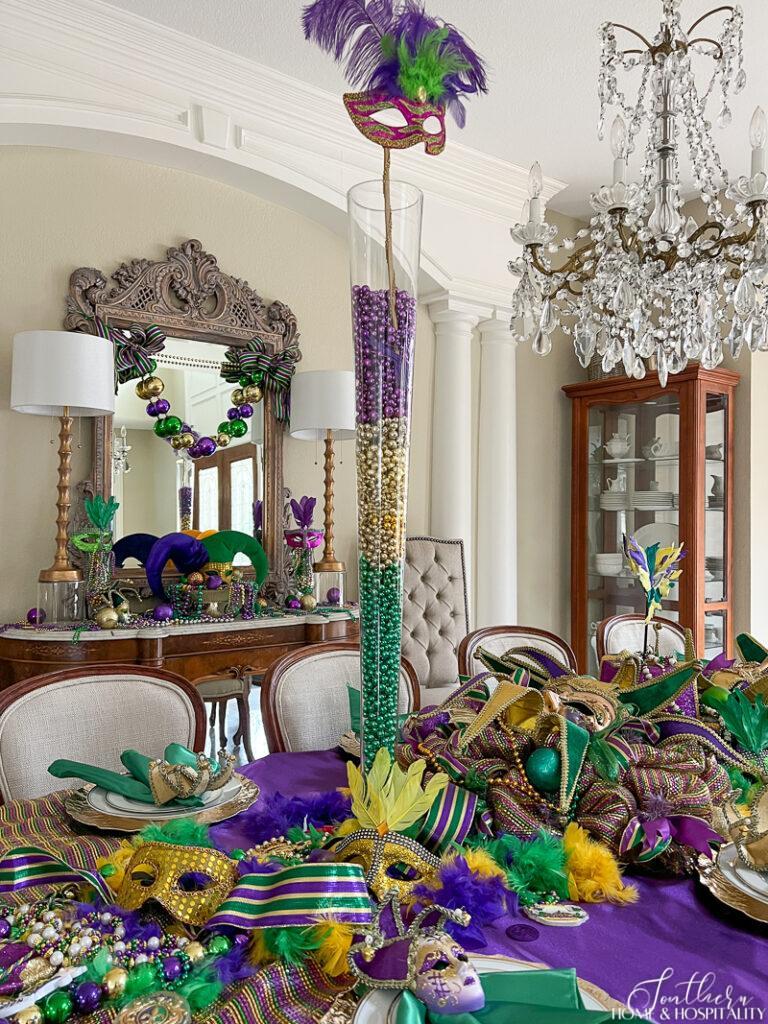 I draped beads throughout the centerpiece. And on the sideboard spilling out of a bowl and hurricane glasses.
Masks. I've incorporated masquerade masks throughout the dining room. My best ones top the tall vases: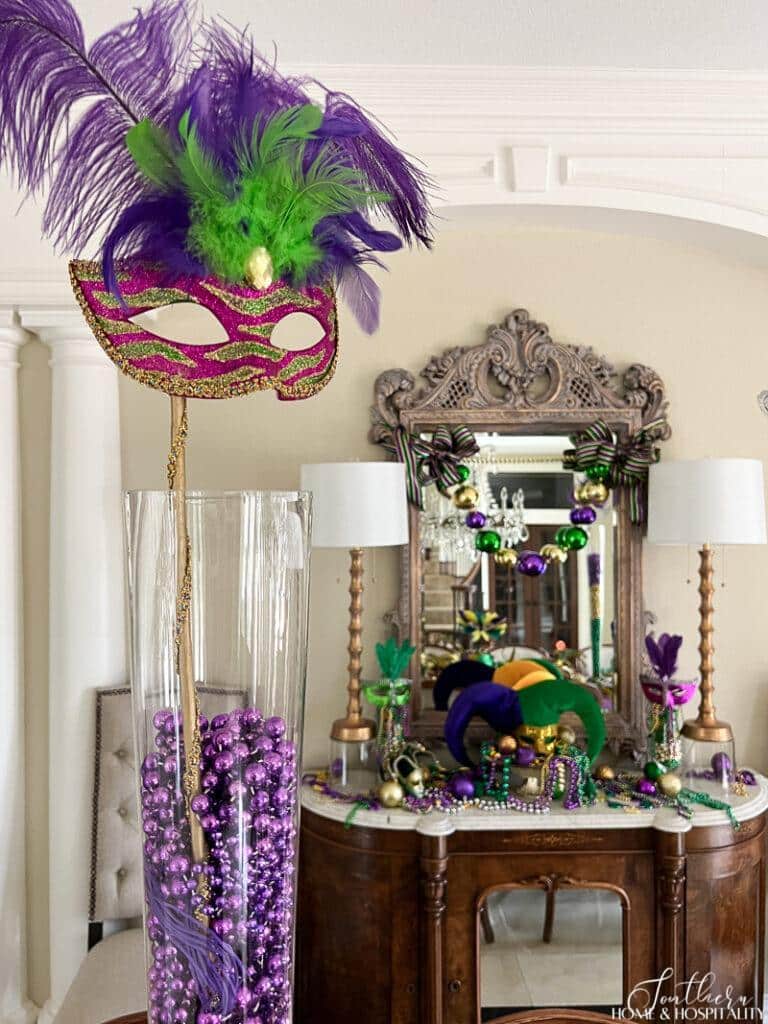 And several more peek out throughout the centerpiece and on the buffet sideboard.
SH&H Tip: For a fun party favor and gift, put a mask at each place setting for guests to take home that can double as table decor.
Wreaths. My two Mardi Gras wreaths that usually hang on the front door lay in the middle of the table for an easy start to my centerpiece:
Feather boas are my favorite easy filler for the centerpiece. I used them as a "garland" all the way down the table.
Fleur de lis decor. The fleur de lis is now dated as home decor (I couldn't pass anything in a store with a FDL during the trend without buying it), but they will always be in style in Louisiana. Pull out any old home decor with a fleur de lis, paint it gold, and you'll be able to use it again in this tablescape.
Cocktail glasses. There's quite a bit of imbibing during Mardi Gras, so cocktail glasses make appropriate and easy decor. Use hurricanes or martini glasses. I have some hurricane glasses straight outta Pat O's on Bourbon Street on the sideboard:
Christmas ornaments. Fill in with Christmas ornaments in purple, green, and gold. After Christmas clearances are a great time to buy these for the Mardi Gras season! These ornaments on the sideboard don't come off as Christmassy at all, even though that's exactly what they were made for.
Doubloons. Scatter a few Mardi Gras doubloons (coins) around the table.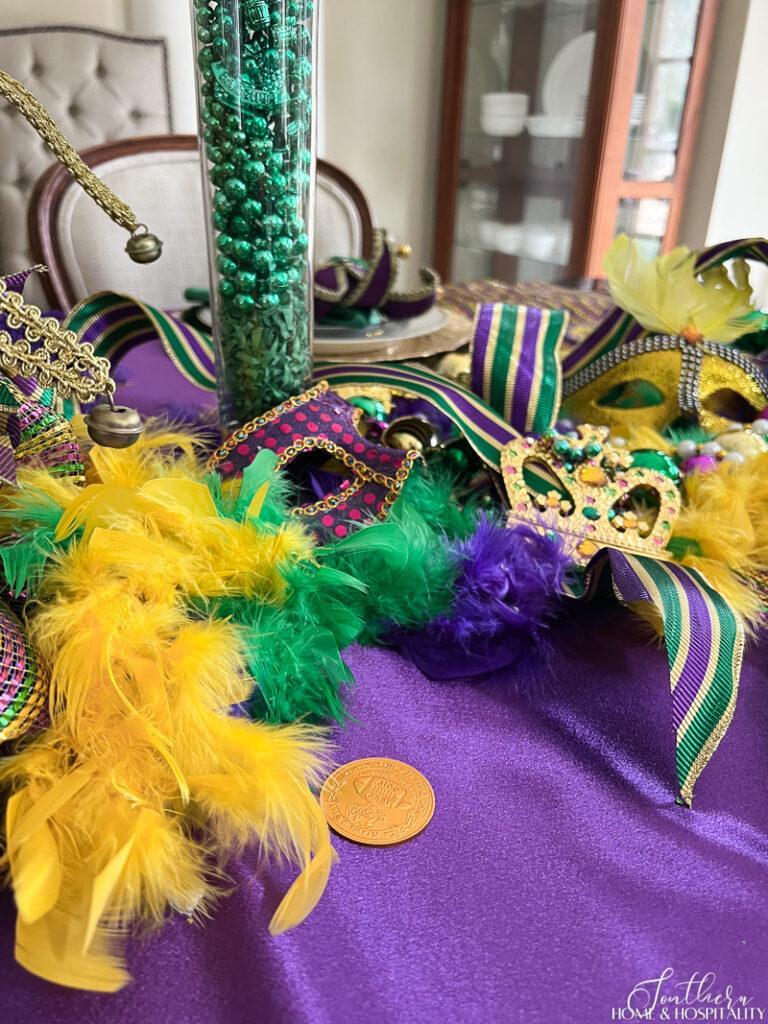 Hats. Hats are a fun, whimsical touch. I added an inexpensive plastic one from Party City to the dining table centerpiece. And a jester hat to the sideboard centerpiece:
Jesters. The large jesters on the wreaths brought some friends to the table. I alternated the small purple and gold jester faces on each of the place settings.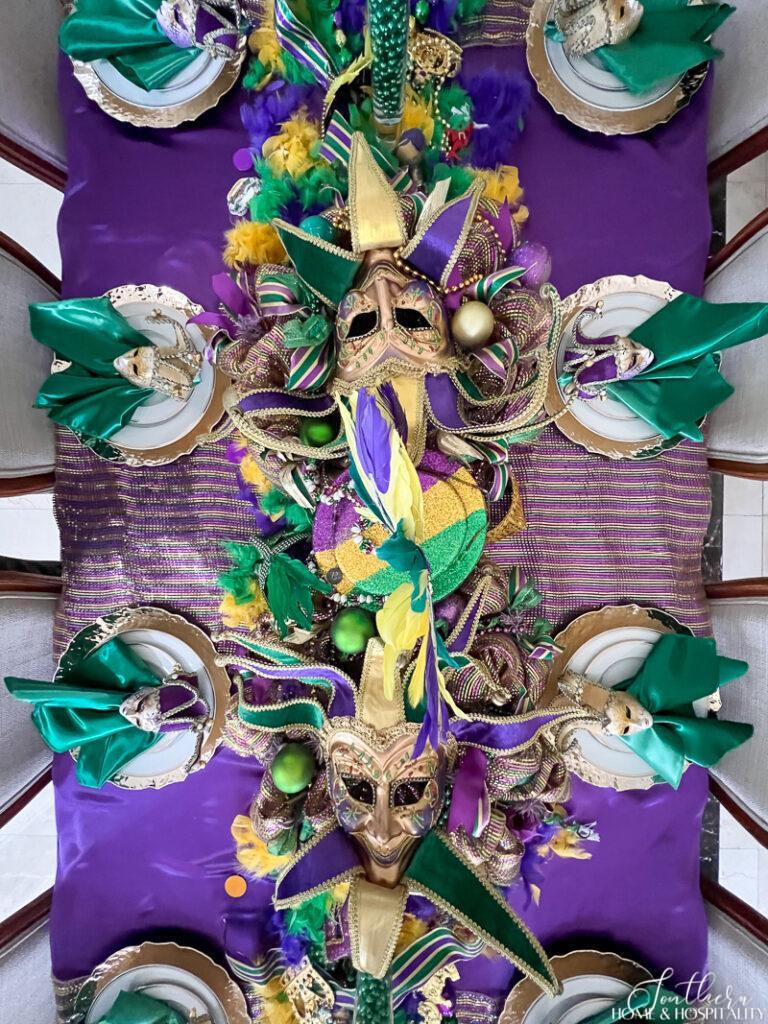 Mardi Gras momentos. I save a few souvenirs from each parade every time I go to Mardi Gras. So it was fun to display some of my memories from past Endymion, Bacchus, and Muses parades.
Ribbon is always a cheap and easy way to add any color to a tablescape. I weaved pieces of purple, green, and gold ribbon into the centerpiece, and also tied some beads onto the buffet mirror with it.
Other Mardi Gras decor ideas.
There are even so many more ideas for a Mardi Gras table that I didn't use:
King cake. Display one on the table on a cake pedestal.
Parasols. I can't believe I haven't brought one of these home yet, but they're a big thing in Mardi Gras parades and second line parades. And so fun when they're decorated!
Crowns are a common Mardi Gras decoration that you might have in your home decor stash.
Busts and statues. As long as they're dressed to Mardi Gras party with masks and beads.
Street signs. Add street signs with names from the French Quarter.
Jazz instruments. Use a trumpet or saxophone for a showstopping centerpiece.
Feathers. Add beautiful, big feathers in purple, green, and gold to a vase.
Flowers. You can't go wrong with this classy and classic centerpiece with blooms in carnival colors.
When is the best time to have a Mardi Gras party?
Mardi Gras is technically a season, not just a Tuesday. It begins on January 6 (King's Day) and ends the day before Ash Wednesday – Fat Tuesday is the final blowout before Lent. But a Mardi Gras celebration is fun any time of year as a party theme!
---
If this puts you in the mood for some good Louisiana food, check out my Short-Cut Chicken and Sausage Gumbo, Boudin Dip, and Air Fryer Biscuit Beignets.
So we don't have to miss out on the party and celebration of Mardi Gras. Let's let the good times roll in the comfort of our own dining room with some of these ideas, however far away from New Orleans that may be.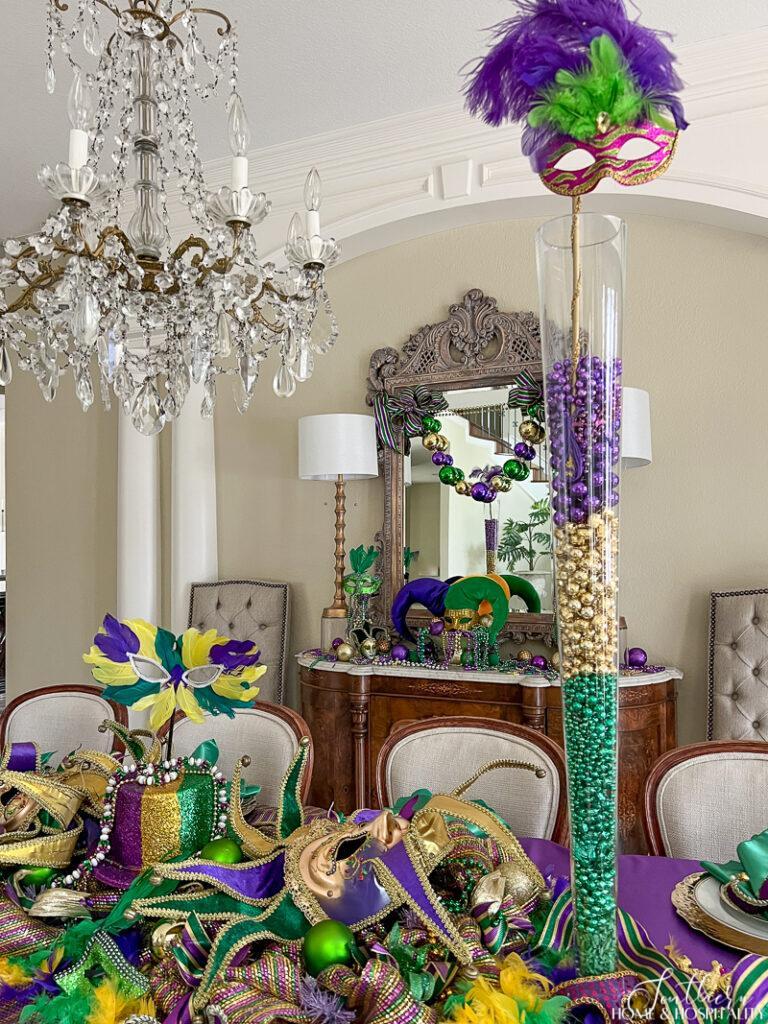 Happy Mardi Gras,

As always, I appreciate your visit, comments, and shares here on the blog! I'd love it if you also follow along with me on Pinterest, Instagram, and Facebook so you won't miss any of my inspiration and ideas.
Don't forget to sign up for updates to keep in touch…I have lots of fun and useful freebies you may be interested in in my subscriber-only library like my printable for a summer theme party signature drink menu!
---