A Mardi Gras Tree: The Cure for Winter Decorating Blahs
How I keep the holiday spirit going by transitioning a Christmas tree into a Mardi Gras tree! ⟹
I have a hard time saying goodbye to my Christmas decorations.
The joyous, abundant decor and the soft white lights give the house a magical quality.
And after it is packed away our surroundings can seem a little blah and lifeless.
My solution to this is to keep a little of the fun of the holidays going by converting my small Christmas tree into a Mardi Gras tree!
It's such a natural transition because I don't usually take down my Christmas decorations until Epiphany (AKA Twelfth night) which kicks off the first day of the Mardi Gras season.
While I've put out Mardi Gras decorations for quite a few years, how the tree came into being was not planned at all.
The smaller Christmas tree from my family room was undecorated and patiently waiting in this space in the dining room to be hauled upstairs to the attic. While I was pulling out Mardi Gras decor all over my dining table, on a whim I put it all on the tree instead of spreading it out all over. And my family loved it! Now it has become a tradition.
My Mardi Gras storage bins are stuffed with more than I care to decorate with on tabletops. I have so many mementos, throws from parades, party decorations, beads galore, and things I've picked up during my many trips to New Orleans and Mardi Gras.
This is the perfect solution to decorating for Fat Tuesday because it allows me to use more of it, plus it is contained and more impactful! A bonus in keeping the house tranquil and restful this time of year.
You can see my transitioning into winter decor post HERE.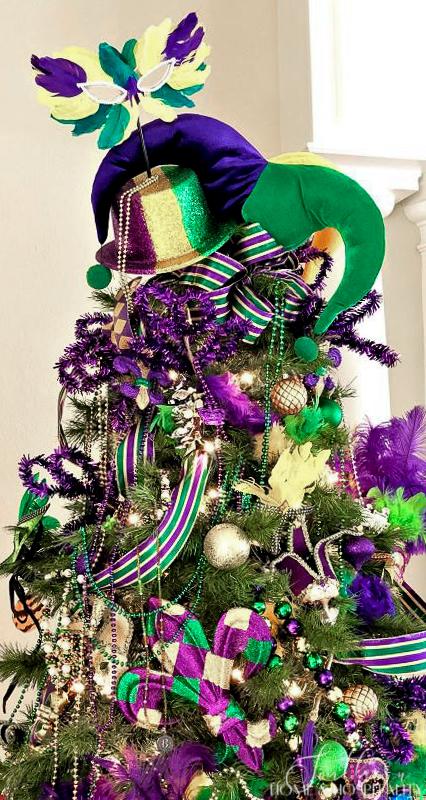 Other than a few purple, green, and gold Christmas balls I've bought, all of the things I use on this tree are things I have collected over the years. It is a fantastic way to display and remember mementos that I've gotten from each trip to Mardi Gras! One of my wonderful friends in the Muses krewe gifts me new things every year. This all-female krewe's signature item is a high-heeled shoe. You can spot many of them throughout my tree. Her husband is in Bacchus so it is well represented on the tree too.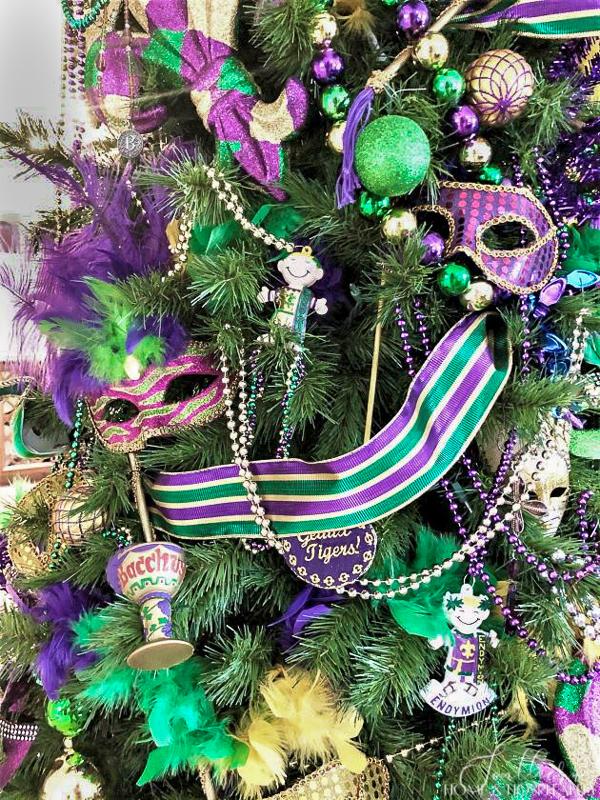 The masks all over the tree are so fun! And the feather boas make great, colorful tree filler.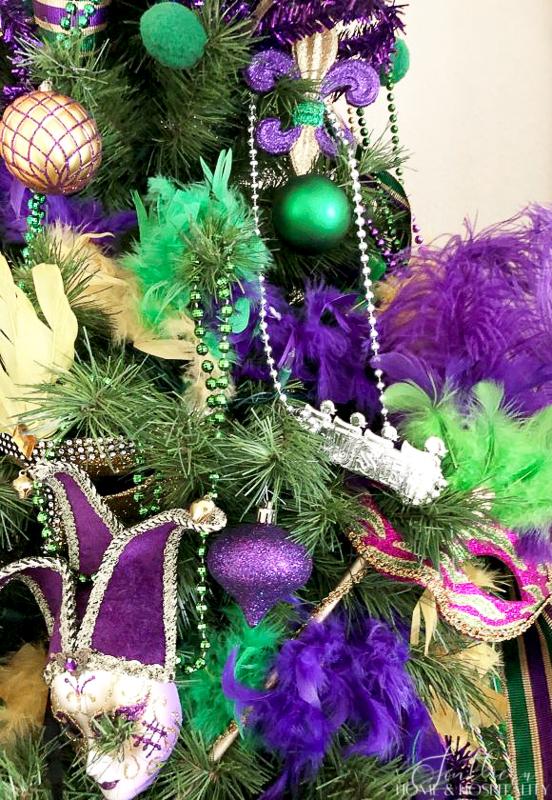 The beads draped all over remind me of how the thousands of strands get stuck in the trees in New Orleans. If you've never seen any of these, they are spectacular!!
Every holiday tree must have a topper. This year I couldn't decide so it got two! I had used these hats as party decor in the past. And the purple tinsel picks that look like fleur de lis I scored at Michael's one year at 90 percent off!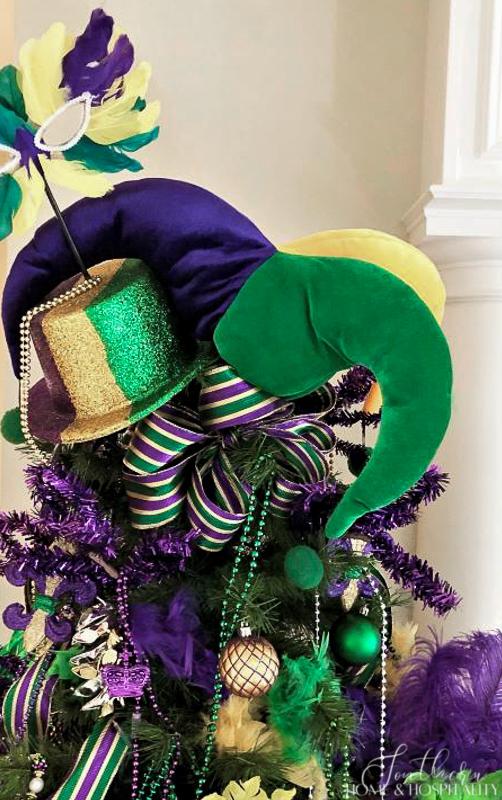 Like so many events in the past couple of years, Mardi Gras parades were canceled for 2021 and will probably still not be totally back to normal in 2022. So sadly I will not be able to add to the tree again this year, but I have my fun memories to hang on the tree to help me reminisce until 2023!
Laissez les bon temps roulez!!
Don't forget to sign up for updates to keep in touch…I have lots of fun and useful freebies you may be interested in in my subscriber-only library like my cheat sheets for where to place lighting, bathroom fixtures, artwork, and furniture!
Pin this for reference later: