Inside: This DIY wreath welcomes guests and the new spring season and takes just minutes to make!! ➡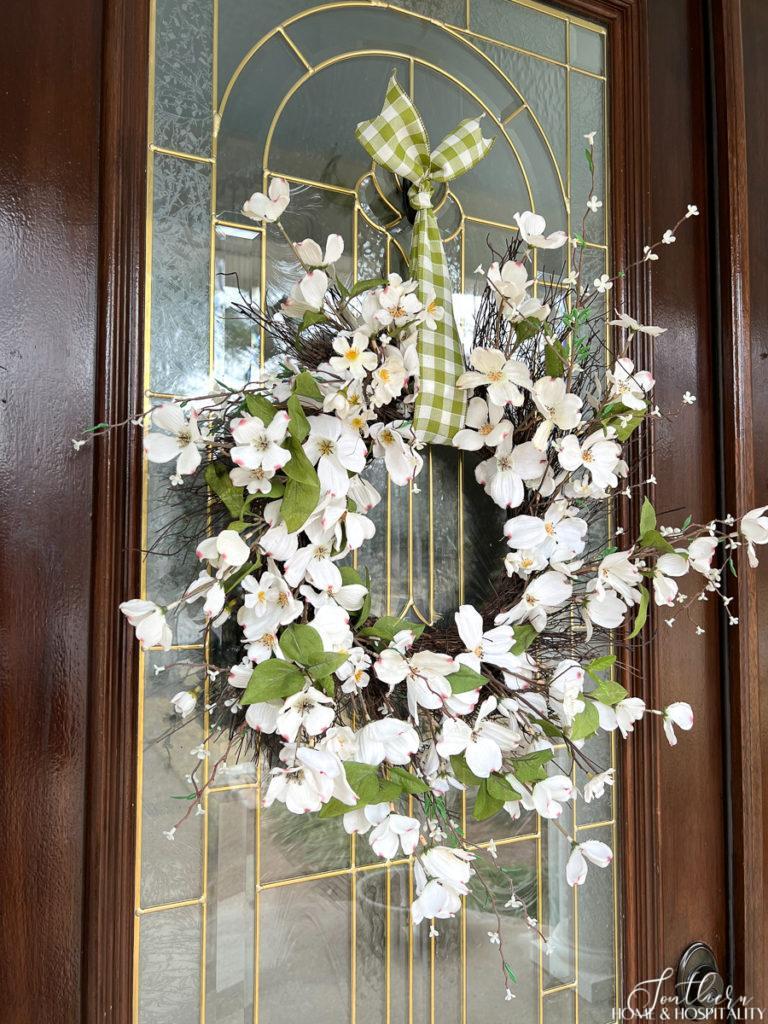 ---
March has arrived and it's time to freshen the front door for spring and kick winter to the curb.
This spring blossom wreath DIY was so quick to put together – in just minutes I was done and they were hanging on the doors ready to welcome friends and the new season!
This spring wreath DIY is an easy project that really requires no crafting skill level. And a beautiful wreath full of spring florals is the easiest way to get me in the mood to break out my spring decor inside.
This post contains Amazon and other affiliate links for your convenience. As an Amazon Associate I earn from qualifying purchases. If you purchase something through any link, I may receive a small commission, at no extra charge to you. I only recommend products that I love or would purchase for myself. See my full disclosure here.
Spring blossom wreath supplies.
Wispy twig grapevine wreath or regular grapevine wreath base
Dogwood blossom stems or any spring floral with similar size blooms; the number depends on how many sections you can cut from one
White cherry blossom stems or any spring floral with blooms smaller than the first and larger than the last; the number depends on how many sections you can cut from one
Mini flower stem (I found the one above at Hobby Lobby); the number depends on how many sections you can cut from one
Ribbon to hang
I already had the wreath, dogwood, and cherry blossom stems that I used here from other projects, but I've linked some options above for dogwood and white cherry blossom stems. I usually have good luck finding faux flowers for spring at Hobby Lobby, Michaels, and JoAnn.
How to make a spring blossom wreath.
1. The first step is to cut apart the floral stems into sections with wire cutters or scissors. How long you cut the sections of the stems with the largest flowers (like this dogwood) will determine how large the outer edge wreath diameter will be.
2. Then with the largest flower picks, insert the first stem sideways into a part of the wreath that has branches that will hold the stem in place. On this type of wreath, the interior ring holds the stems in nicely.
If you'd like it to be more secure, you can use a hot glue gun or floral wire to attach the pieces into place. Since I tend to take my wreaths apart and redo them, I skip the hot glue.
3. Insert the rest of the large flower stems moving clockwise around the wreath. I placed mine about 4-5 inches apart.
4. Next, insert sections of the medium-sized flower in between the pieces of the larger flowers. I used pieces of cherry blossoms that were shorter than the dogwood pieces.
5. Then it's time for the smallest flowers. I cut this stem apart into sections long enough so that they would extend past everything else on the wreath. I was able to get five pieces from this one stem by cutting the side sections off and then the long middle piece in half. I spaced the five pieces evenly around the wreath.
You can call this floral wreath done at this point if you want. To dress it up a little further without adding a bow, tie a piece of ribbon in spring colors around the top to use as a wreath hanger.
After you hang the new wreath, you can do final fluffing, bending, and tweaking. I love how much dimension these wreaths have!
I always have to make two of each wreath since I have double doors, so quick and easy is a bonus for me. It only took me about ten minutes per wreath and they were ready to hang.
Other 10-minute spring wreath ideas.
There are so many wonderful colors in the spring floral section of the store so this easy wreath technique has unlimited possibilities. For a more colorful spring wreath here are a few ideas to get you started:
Rainbow tulip wreath
Yellow forsythia wreath
Pink cherry blossom wreath
Lavender wreath
---
If you like easy spring DIY's, read "How to Decoupage Flower Pots with Napkins: Fun DIY for Pretty Planters" and "How to Make a Faux Chocolate Bunny".
Sources for this post or similar.

---
Bye-bye winter gloom – this simple wreath adds the perfect touch to welcome spring time and warmer weather!

As always, I appreciate your visit, comments, and shares here on the blog! I'd love it if you also follow along with me on Pinterest, Instagram, and Facebook so you won't miss any of my inspiration and ideas.
Before you go:
Don't forget to sign up for updates to keep in touch.
I have lots of fun and useful freebies you may be interested in in my subscriber-only library like my cheat sheets for where to place lighting, bathroom fixtures, artwork, and furniture!
---
Pin it to remember it!
If you've enjoyed this post, please pin and share this on Pinterest:
---