Inside: Lots of fun decoration ideas for any golf theme party including Caddyshack and Happy Gilmore theme parties. Plus golf party food and drink ideas! ➡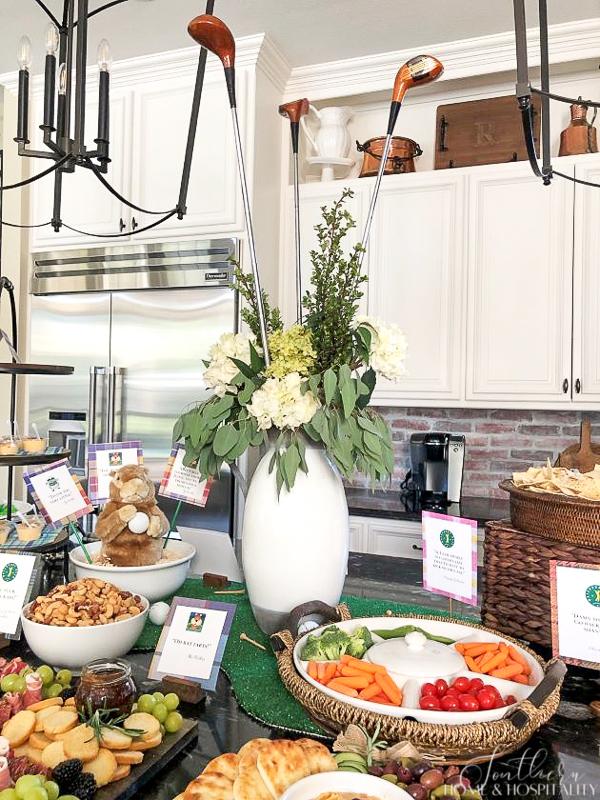 ---
Golf is the third partner in my marriage.
My husband has been an avid golfer since childhood and it's how he spends most of his free time – playing, watching, and talking about it. (I'll give him props here and tell you he is also very good.)
I've become ok with it because so many of our friendships have evolved from golf. And when you make friends this way that means…
Even more hearing a blow-by-blow of every hole (eyes glaze over).
But golf friends have golf parties.
And that's where I make my best contribution to the sport.
Golf-themed party ideas for adults.
Hubby's golf buddies are a fun group of about 30-40 truly great guys and have their own long standing annual tournament dubbed the "Ryder Cup".
It is several days of doing a whole lot of their favorite "man/golf" stuff…playing, joking, trash-talking, drinking, and probably a little gambling too.
In 2019, we had a full out Caddyshack theme. I requested that the guests dress up with something related to golf or the movie, not expecting much participation.
Boy, for people that hate to dress up, they were totally into this one. It really brought out the fun side in some of them!
This post contains Amazon and other affiliate links for your convenience. As an Amazon Associate I earn from qualifying purchases. If you purchase something through any link, I may receive a small commission, at no extra charge to you. I only recommend products that I love or would purchase for myself. See my full disclosure here.
Golf party decorations.
I changed this year's celebration to a more general golf theme, which allowed me to reuse some of what I already had. So I've got that goin' for me, which is nice (Caddyshack reference😉).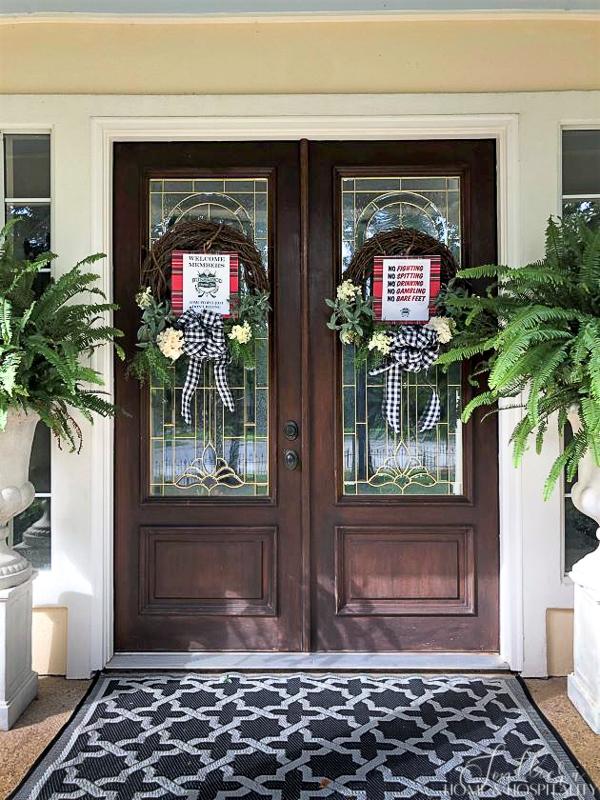 I set the stage for what was inside with a couple of Caddyshack signs on the front door.
There were nods to golf around all of the main party areas. Just like with any party, a lot of guests hung out in the kitchen, so most of my focus went there.
Golf party centerpieces.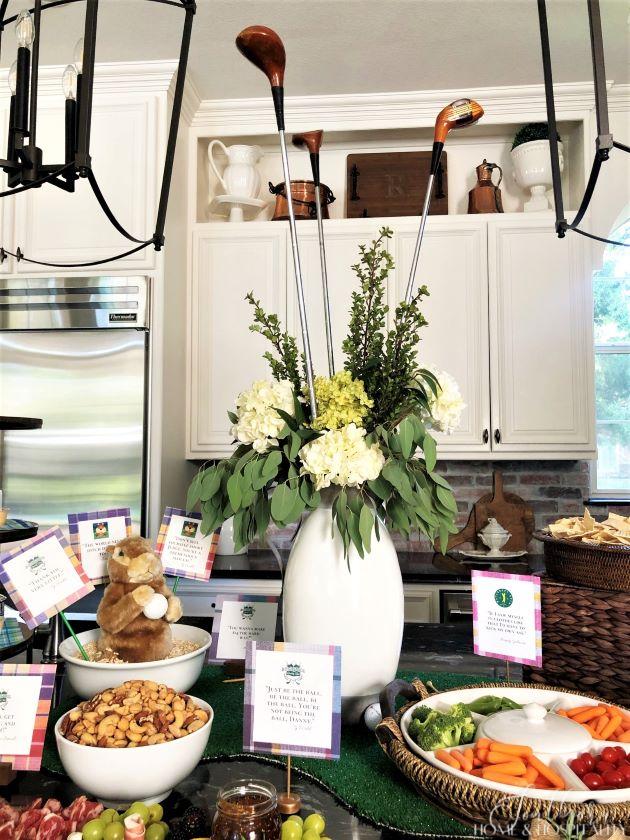 I put three "vintage" golf clubs into a vase…my husband used these when he played on the golf team in high school and he got all nostalgic when I put them out (cue early 80's music).
I added faux hydrangeas and real greenery and sat it on top of a piece of astroturf cut in the shape of a golf green.
I sprinkled some tees and balls around the turf runner. If there are party decorations I can shop my house for it's definitely for a golf soiree!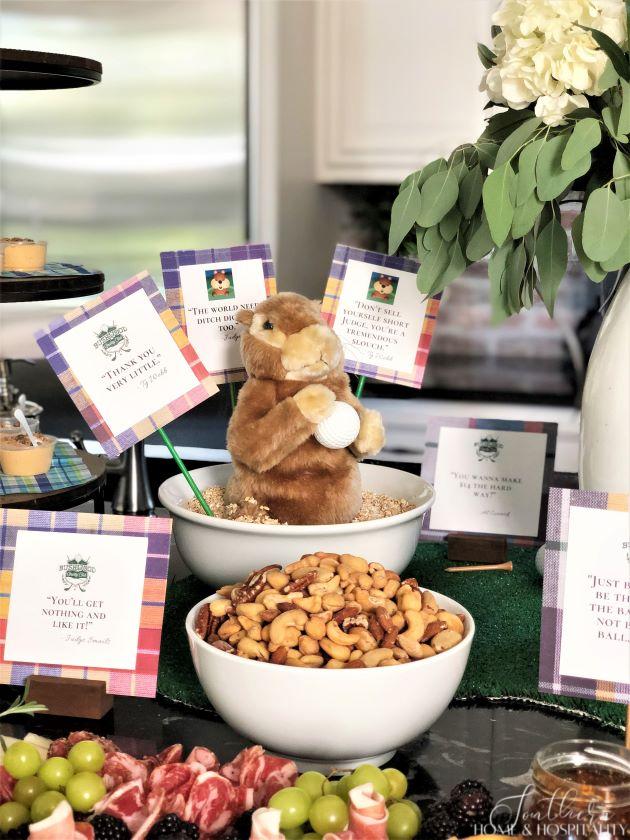 I brought back my fun Caddyshack items. The required gopher. He popped out of the ground made up of oatmeal "dirt".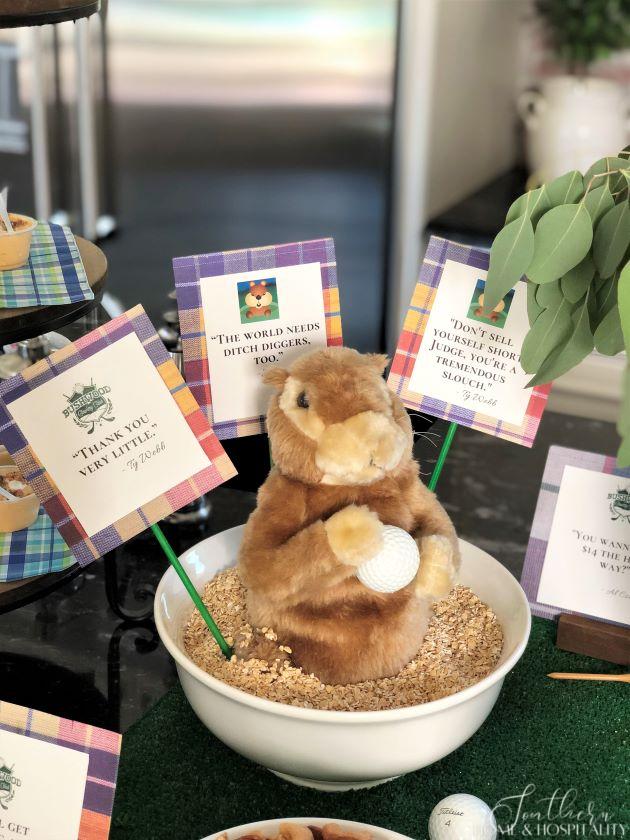 Two of the best and most quotable golf movies of all time are Caddyshack and Happy Gilmore, so I spread quotes throughout where guests would hang out.
It was fun to get my husband's opinion on the best ones and hard to narrow them down to just a few! (They can be a little raunchy, but this party's audience is just fine with that.)
I gave them a preppy background with a "Mad for Plaid" pad of scrapbook paper.
Can't leave out this infamous reference to the Caddyshack swimming pool scene: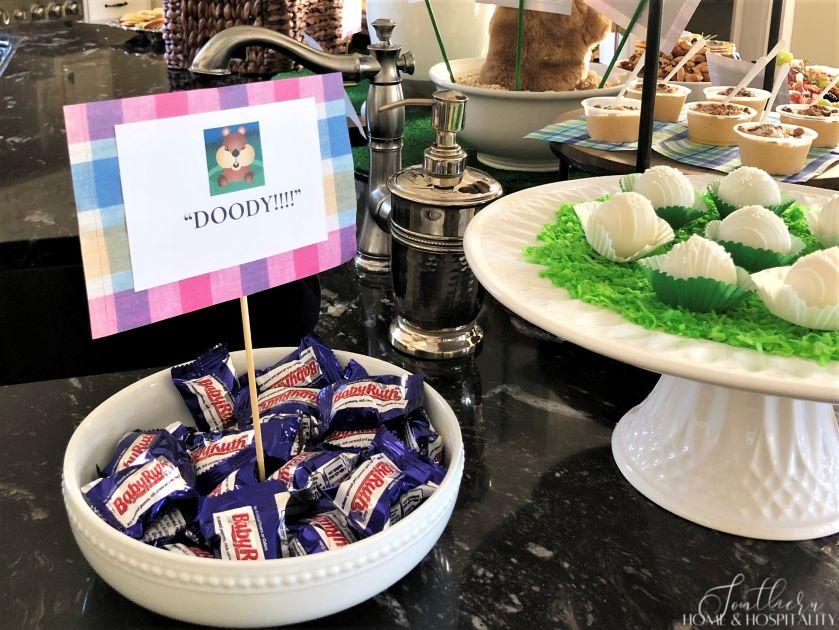 Even the bathrooms got signs above the two toilets that guests would use…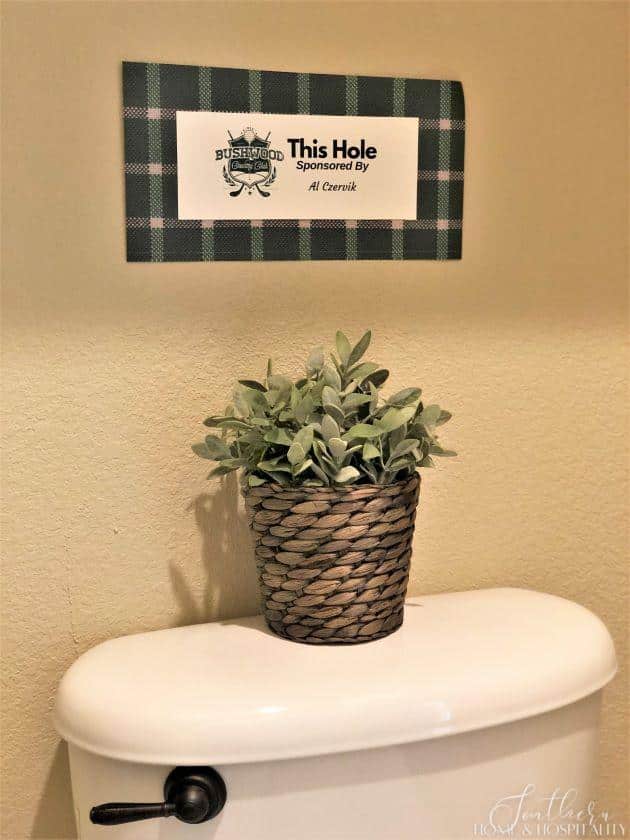 The kitchen table served as the wine and Prosecco station. Three oversized martini glasses became tees for the paper lantern "golf balls".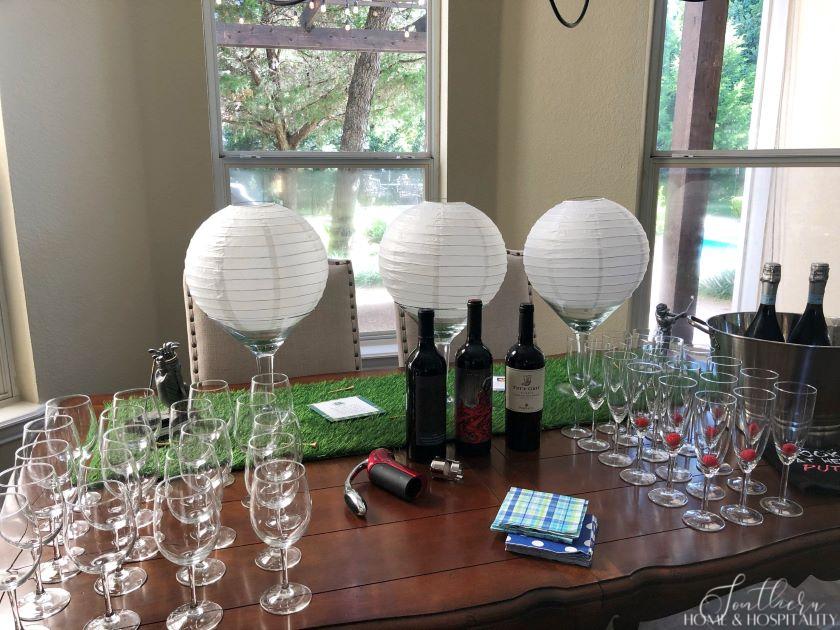 They sat on a grass runner with movie quotes, wood tees, and a couple of old golf trophies.
I made new plaques for the trophies on cardstock with inside jokes for this golf crew.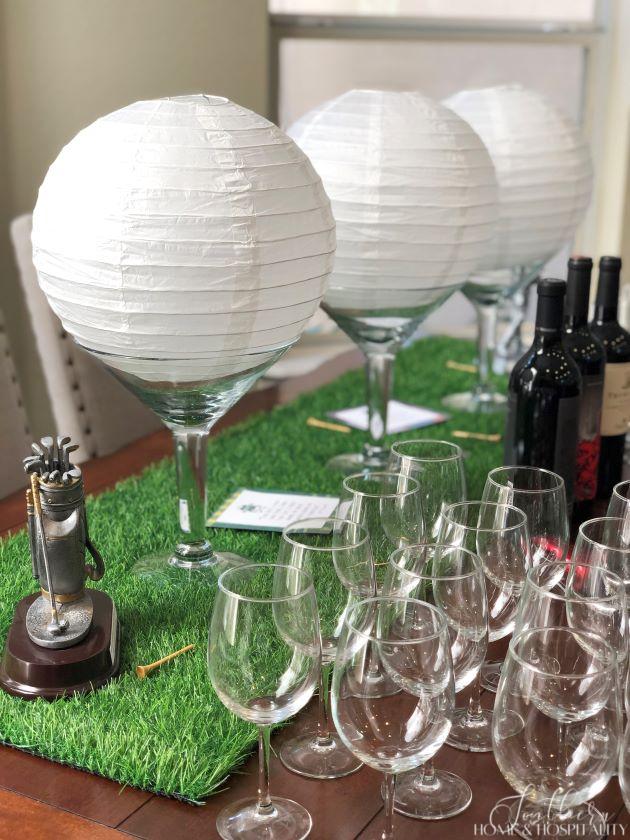 The outdoor kitchen became the main bar, AKA the 19th hole. I revived my signature drink menu from the Caddyshack theme with Gopher Juice, the Carl Spackler, and the Lacy Underall.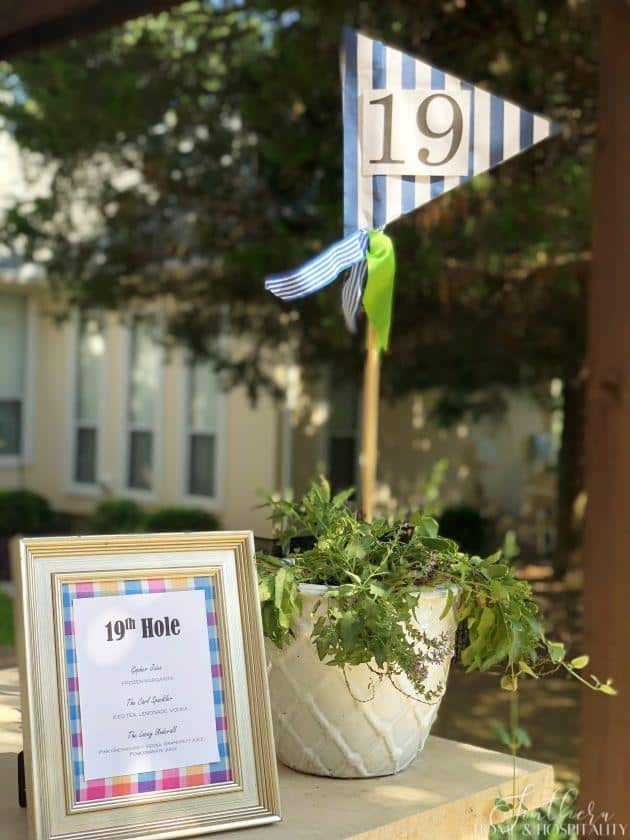 More old woods, tees, balls, and movie quotes created a golf theme table centerpiece for the outdoor patio.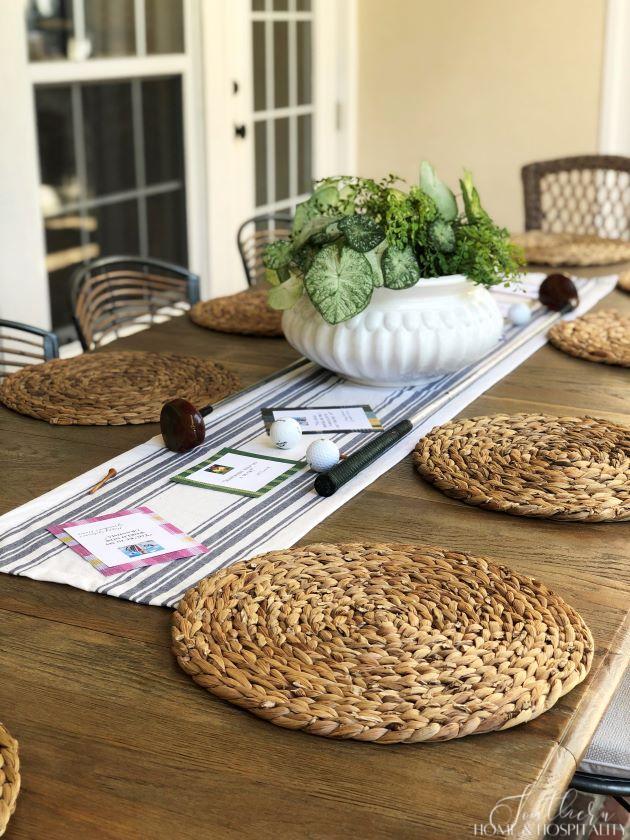 I kept the table decorations low so everyone could talk easily. Because parties are really about the people, not the decorations.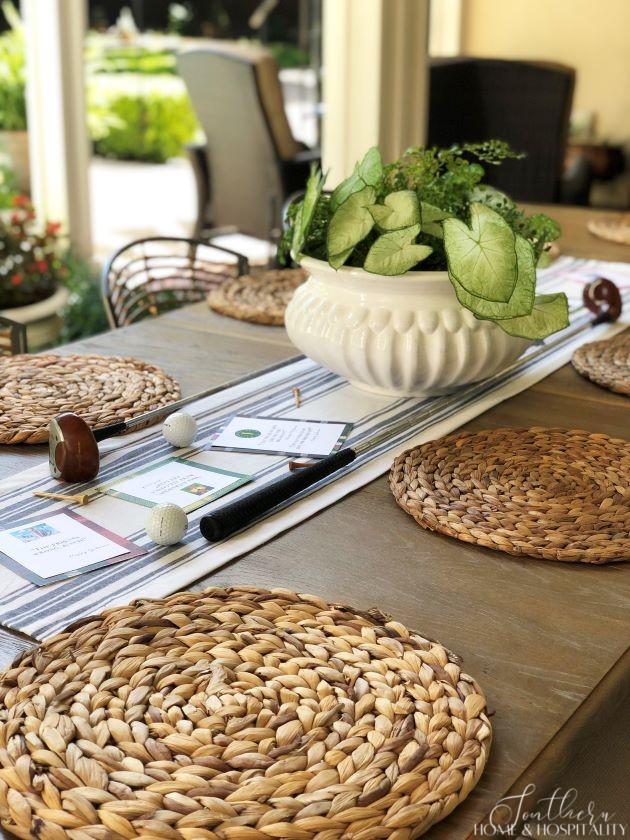 The family room is where the pairings were announced and some guests hung out. My DIY moss bowl became the perfect golf green for a few balls.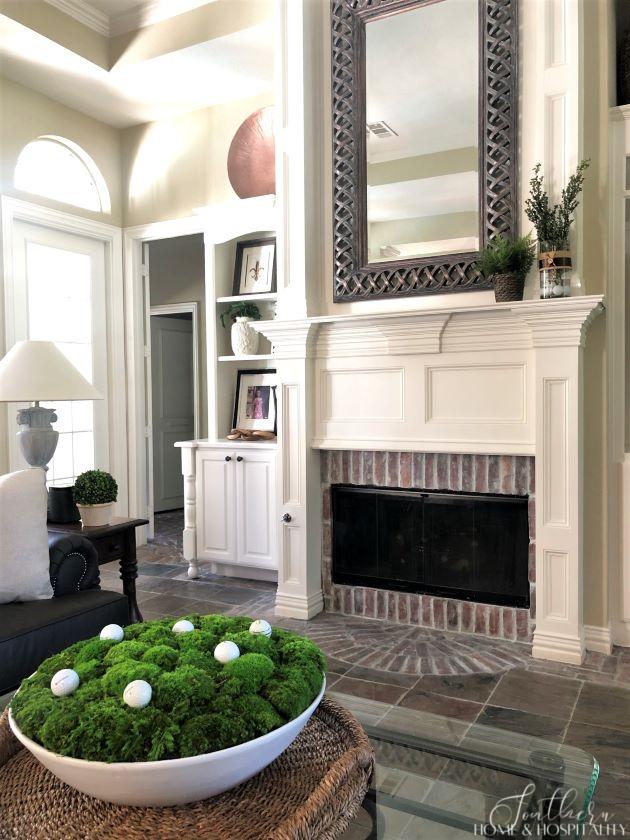 And I decorated the mantel with a vase filled with the extra greenery and more golf balls.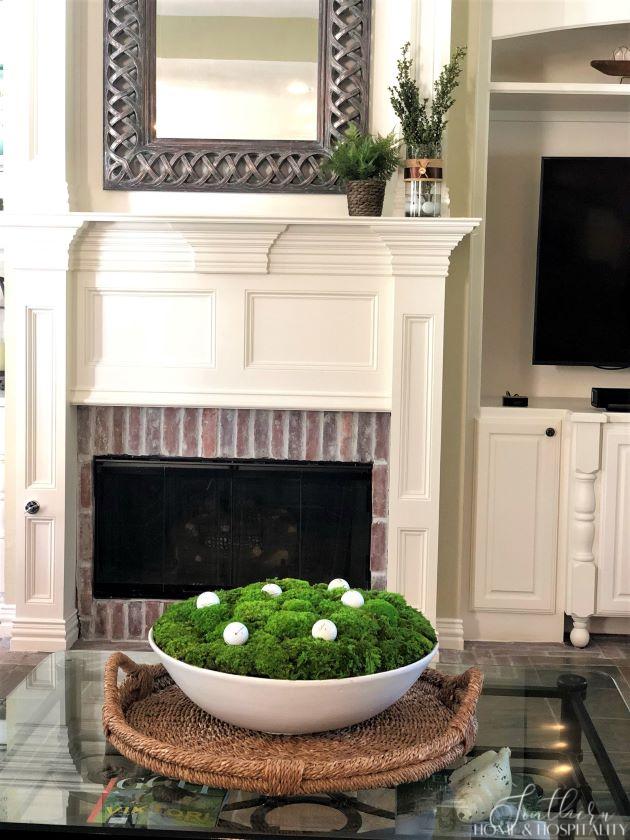 I dressed the vase up for the theme with a couple of tees and a ball marker hot glued to burlap and satin ribbon.
Golf-themed appetizers.
We had a mobile hamburger grill caterer come and set up in the backyard to serve burgers, potato salad, and baked beans for dinner.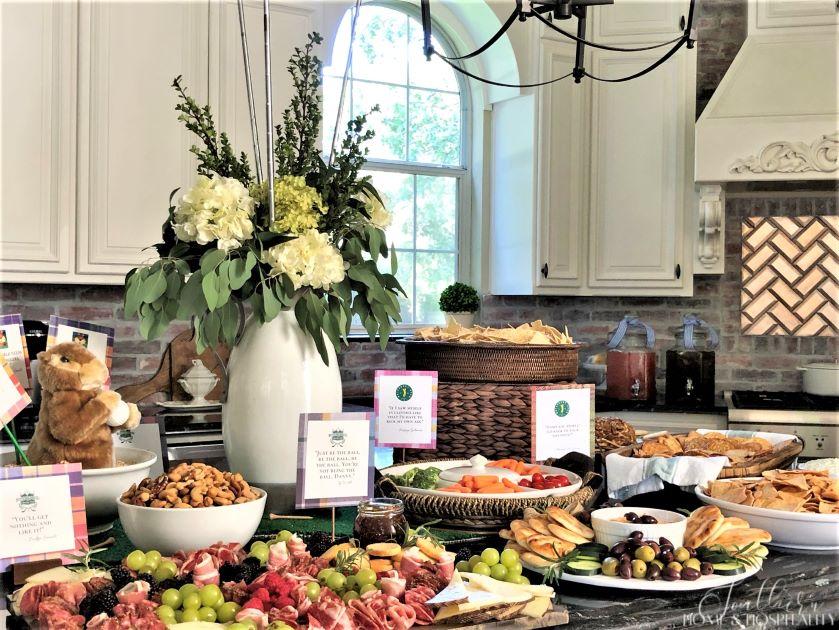 And inside we had an appetizer spread ready for the hungry golfers and their plus ones as they hung out and visited.
We built this charcuterie offering with folded skewered meats, various cheeses, fruit, and some fig jam.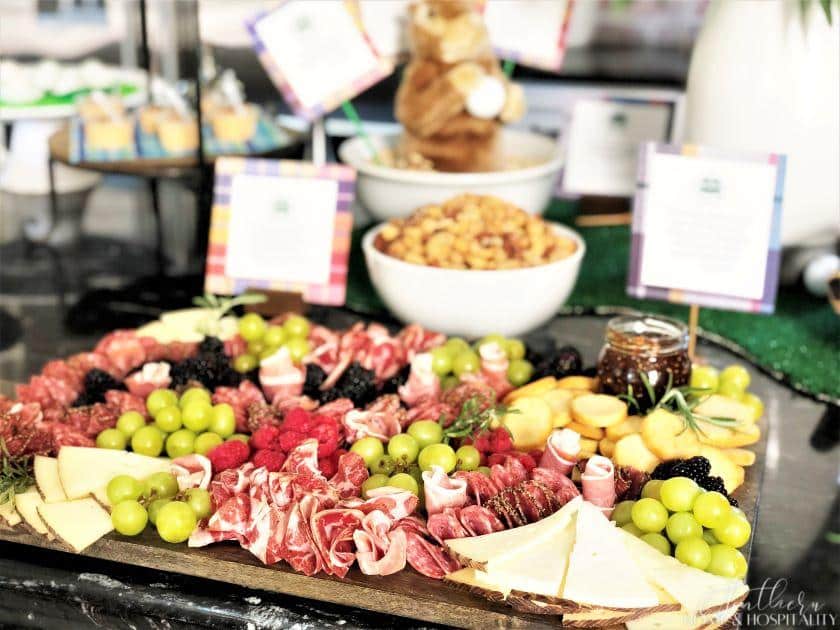 This was a hit and all but disappeared! I think skewering the meats into small sections of three pieces made it easier to eat.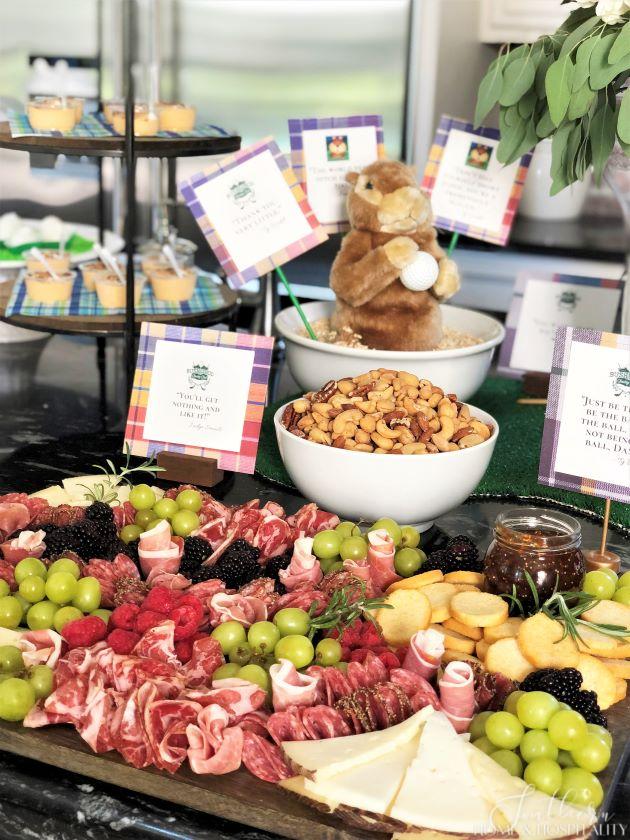 We also offered this Greek tray: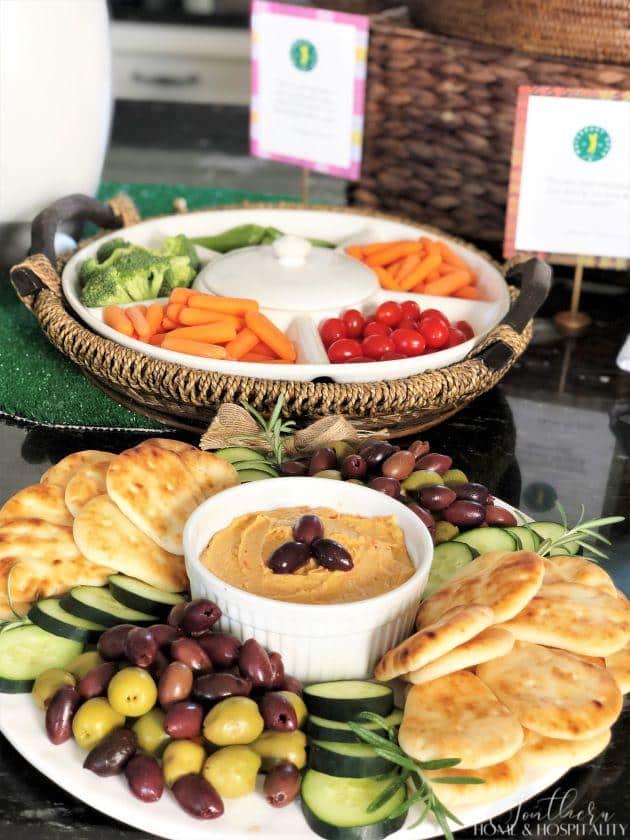 This platter had Mediterranian noshes…hummus, naan dippers, olives, and cucumbers.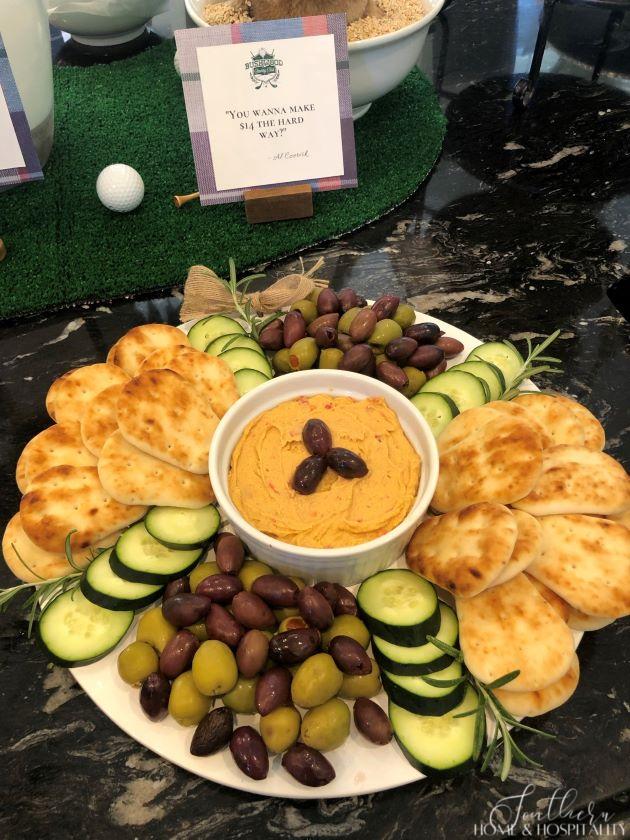 I thought this appetizer was perfect for a golf party in the South… a pecan-coated pimento cheese ball on a silver platter: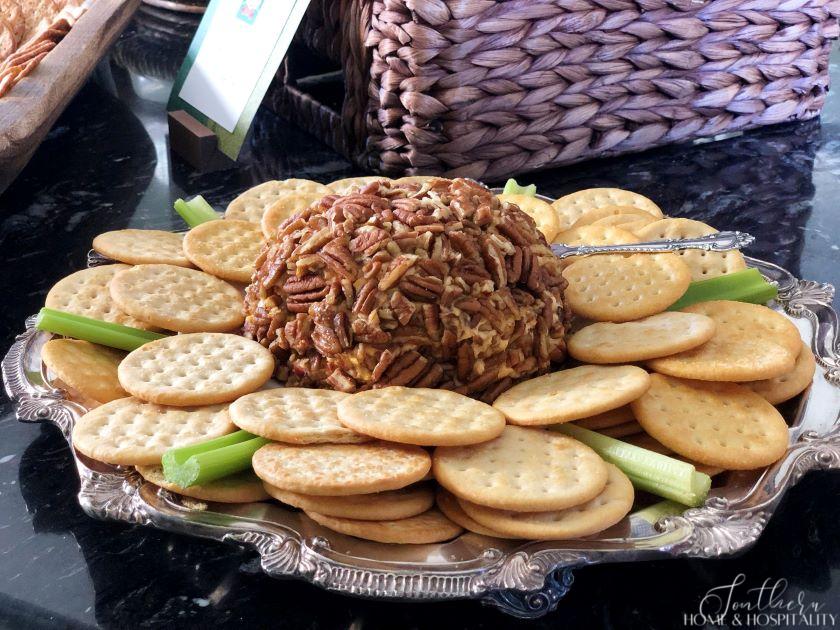 Very Masters-like.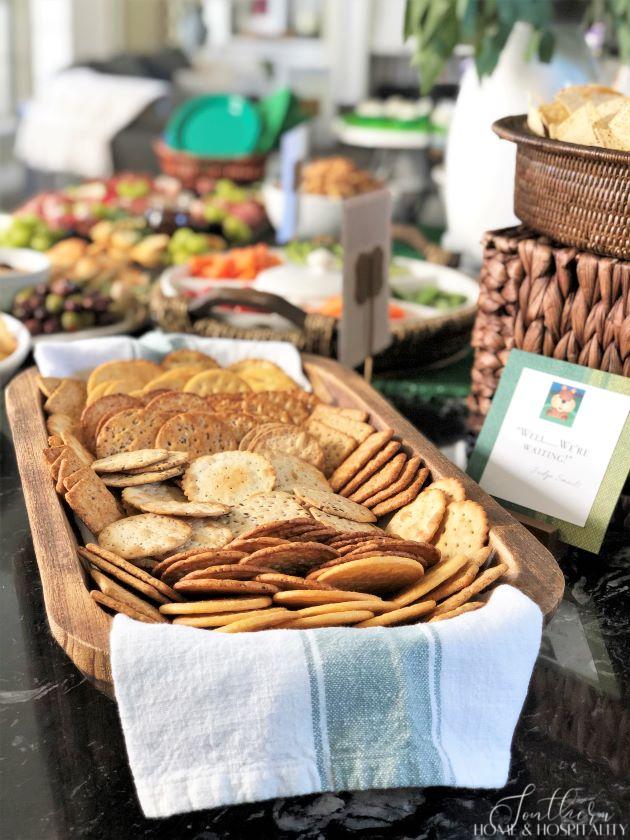 We had a few additional munchies with a couple more dips and several dipper options.
Golf party desserts.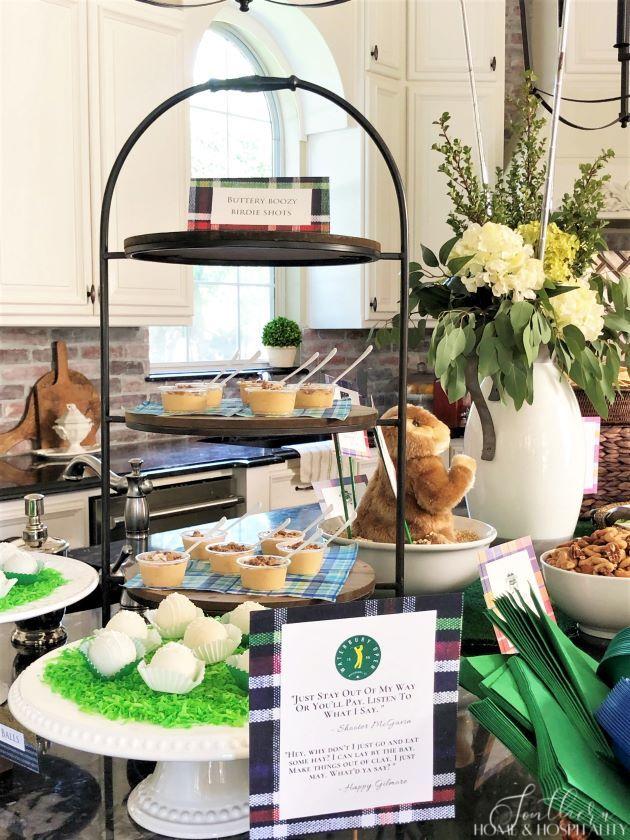 For something sweet, we had two choices.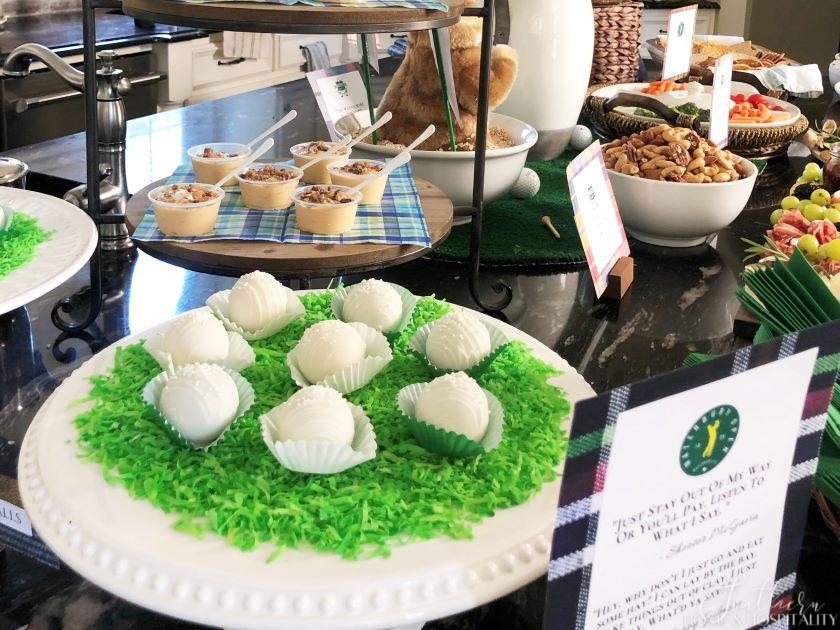 An assortment of cake balls in red velvet, lemon, and white chocolate, all coated in white to resemble golf balls. Some coconut dyed with green food coloring became the underlying "grass".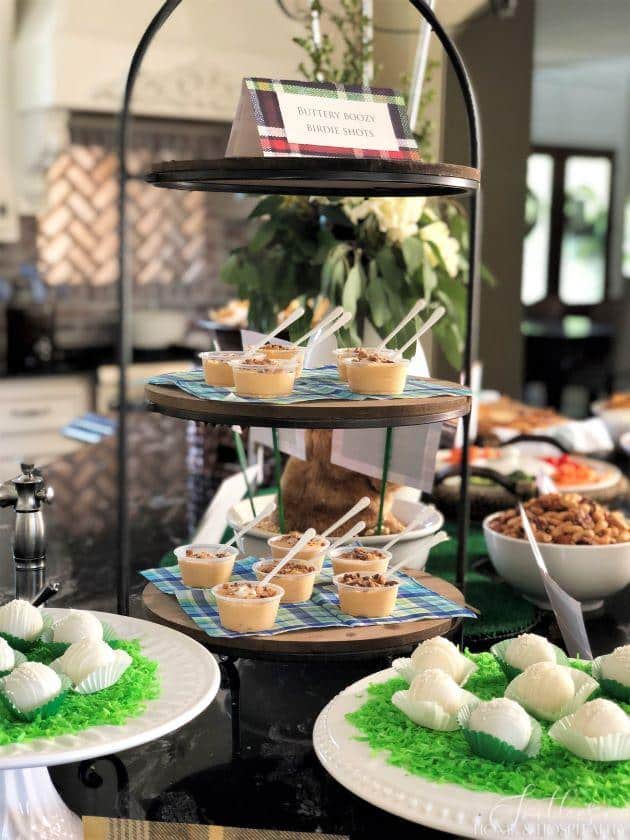 Buttery Boozy Birdie Shots were the other dessert option. Butterscotch and Bailey's pudding shot mini desserts served in condiment cups, topped with Heath crumbles.
Golf party cocktails.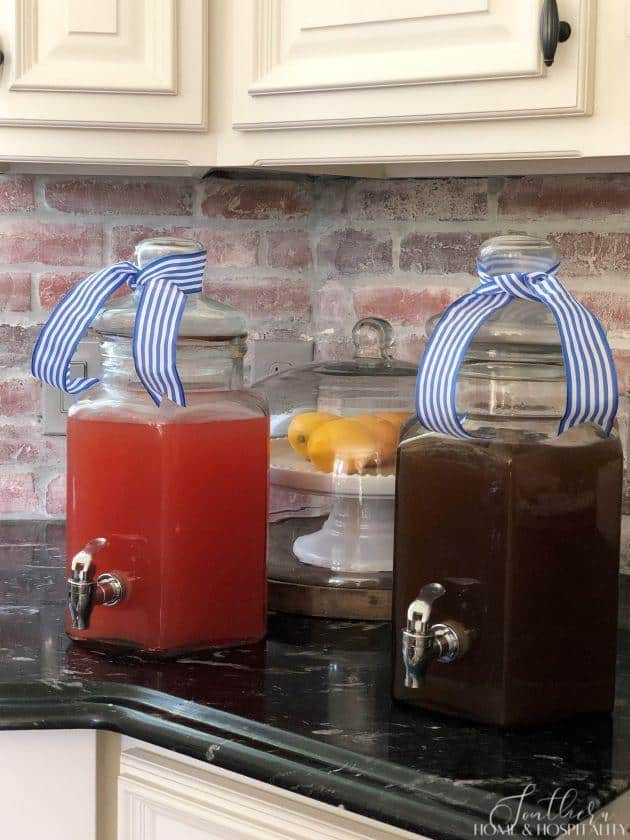 I always have some big batch signature drinks available in drink dispensers and plan them around the party's theme.
This gathering's drinks were a pink cocktail made up of grapefruit and vodka with a splash of pomegranate juice. The other was a spiked Arnold Palmer.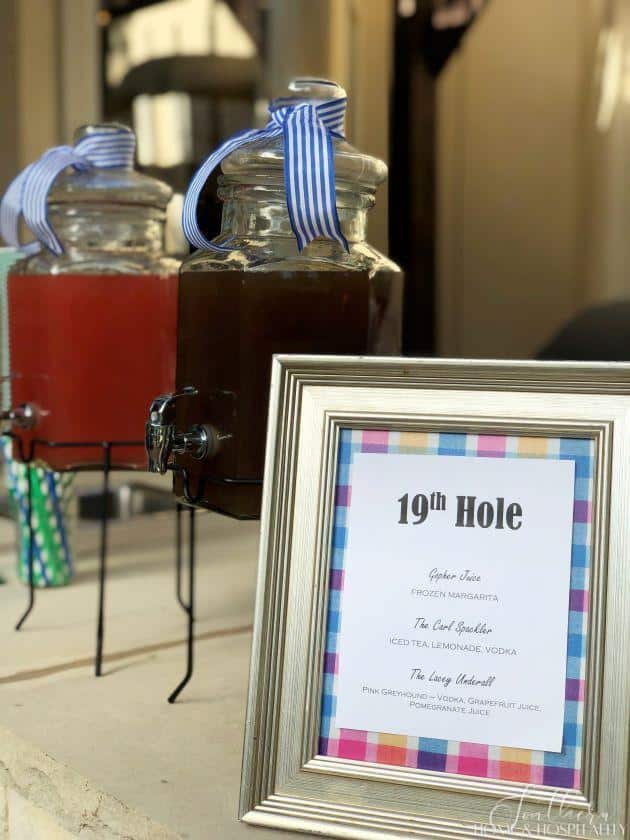 And in keeping with the Caddyshack theme, they were renamed the Lacy Underall and the Carl Spackler!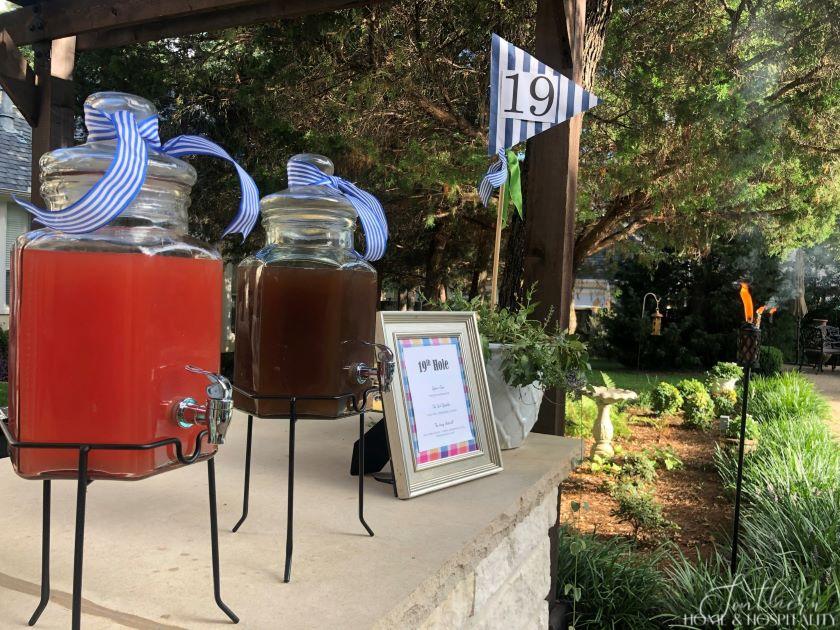 If you'd like the recipe for another delicious golf cocktail, check out my post for the signature drink of the Masters, the Azalea Cocktail.
---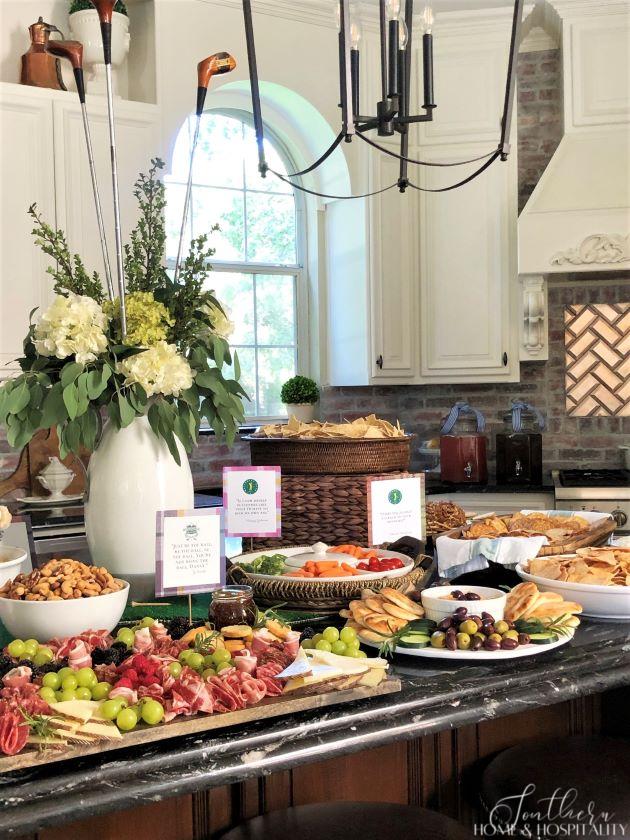 Our first real party since the pandemic is in the books, and it was sooooo good to gather more normally again!
You may also want to check out the fun Margaritaville theme party we've thrown for this tournament.
I hope this post inspires you to infuse a little extra fun into whatever kind of party you are having!
Go to your happy place, ("Happy Gilmore")

Before you go:
Don't forget to sign up for updates to keep in touch.
As always, I appreciate your visit, comments, and shares here on the blog! I'd love it if you also follow along with me on Pinterest, Instagram, and Facebook so you won't miss any of my inspiration and ideas.
---
Pin it to remember it!
If you've enjoyed this post, please pin and share this on Pinterest: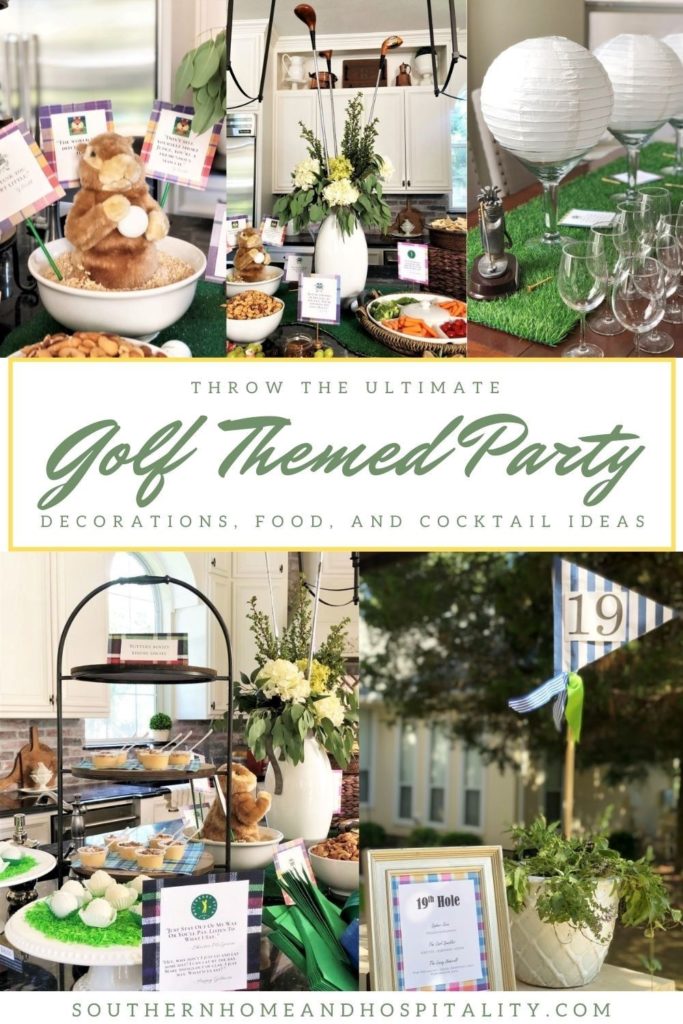 ---