How to Create a Stylish and Sophisticated 4th of July Tablescape That Pops
Inside: What if the folksy Americana flair that's sold in the stores for the Fourth of July doesn't fit your style? I'm showing you how I've set an elegant table that's patriotic without the kitsch! ➡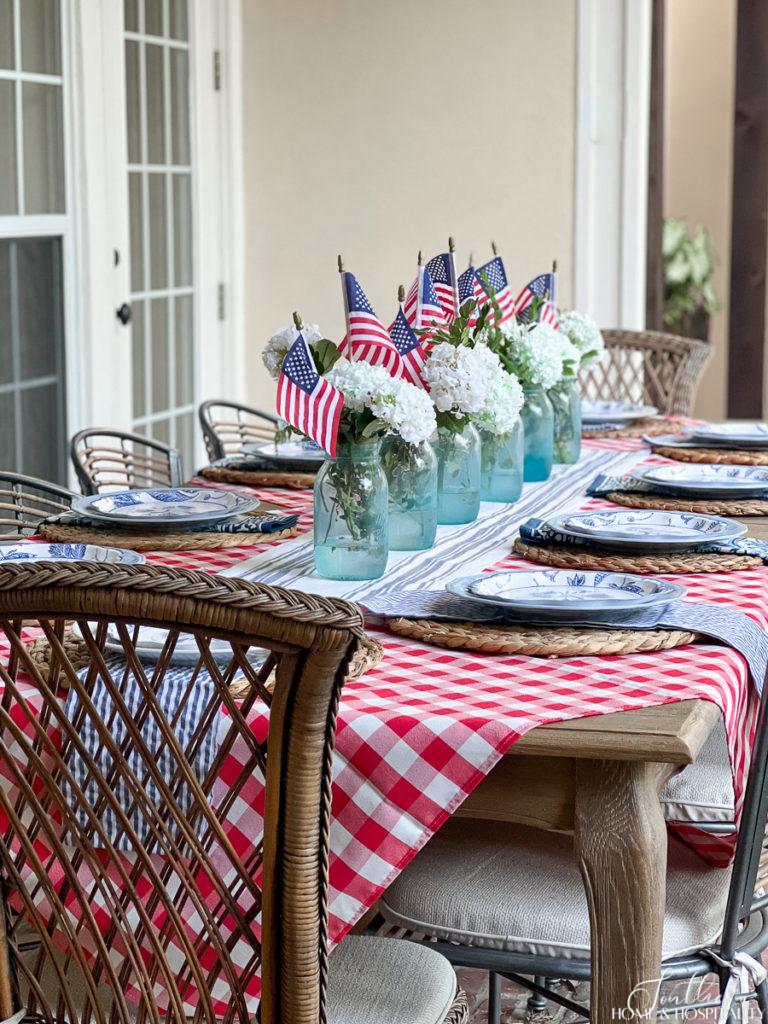 ---
If you've known me for more than five minutes, you know I'm all about decorating for every holiday.
But when I decorate for patriotic holidays it always seems like it just doesn't fit. Which is ok. It's only for a few days every summer, right?
Still, it bugs me when something feels off.
I always thought it was the colors that never fit in. And I'm not a big Americana folksy look kind of girl (not that there's anything wrong with that).
But even so, I just threw out whatever bright-colored stars and stripes merchandise the stores were offering up, and called it a day.
And it finally dawned on me. With the mega popularity of blue and white in styles that I do like, I was two-thirds of the way to patriotic decor that I liked too!
So when it was time to put together this patriotic tablescape of red, white, and blue on our outdoor table on the back porch, I decided to elevate the elegance with something more fitting my style.
Let's talk about the ways I did it and how you can set a more chic, sophisticated Fourth of July tablescape!
This post contains Amazon and other affiliate links for your convenience. As an Amazon Associate I earn from qualifying purchases. If you purchase something through any link, I may receive a small commission, at no extra charge to you. I only recommend products that I love or would purchase for myself. See my full disclosure here.
Inject your style with the table linens.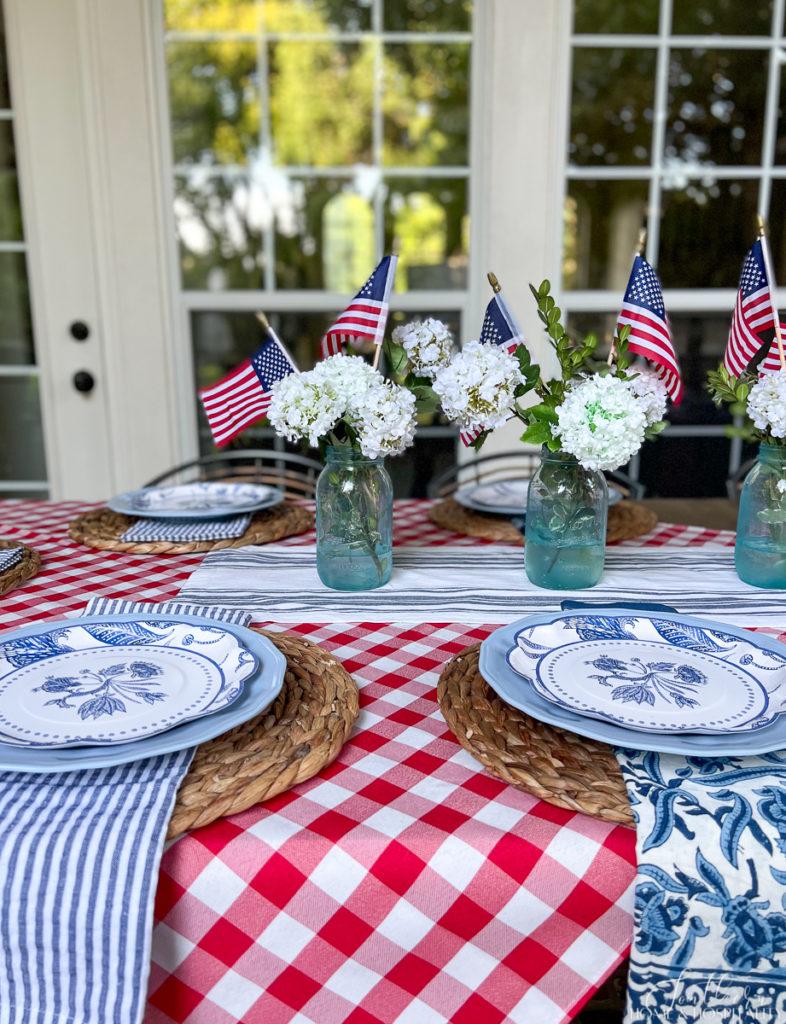 Fabrics are your golden opportunity to change the style of the whole table! Just use patterns and colors for the tablecloth and napkins that fit the style you're going for. Instead of the expected stars and stripes patterns, opt for a more stylish, elegant option in blue and white like:
Seersucker in blue and white stripes
Chinoiserie
Florals
Moroccan prints
Geometric patterns
Bonus: You can use them other times besides the 4th because they don't have a "tell-tale" holiday pattern or color (unless your signature pattern happens to be stars and stripes in red, white, and blue).
For this tablescape, I used two red and white gingham square tablecloths as a base, because I think it's a fun summer pattern— and I already had them. I could have made this tablescape even more refined by leaving these off and gone mostly blue and white with a few red accents.
I layered on a blue and white linen table runner with simple gray-blue stripes. And then came the infusion of style personality with these summery blue and white seersucker cloth napkins: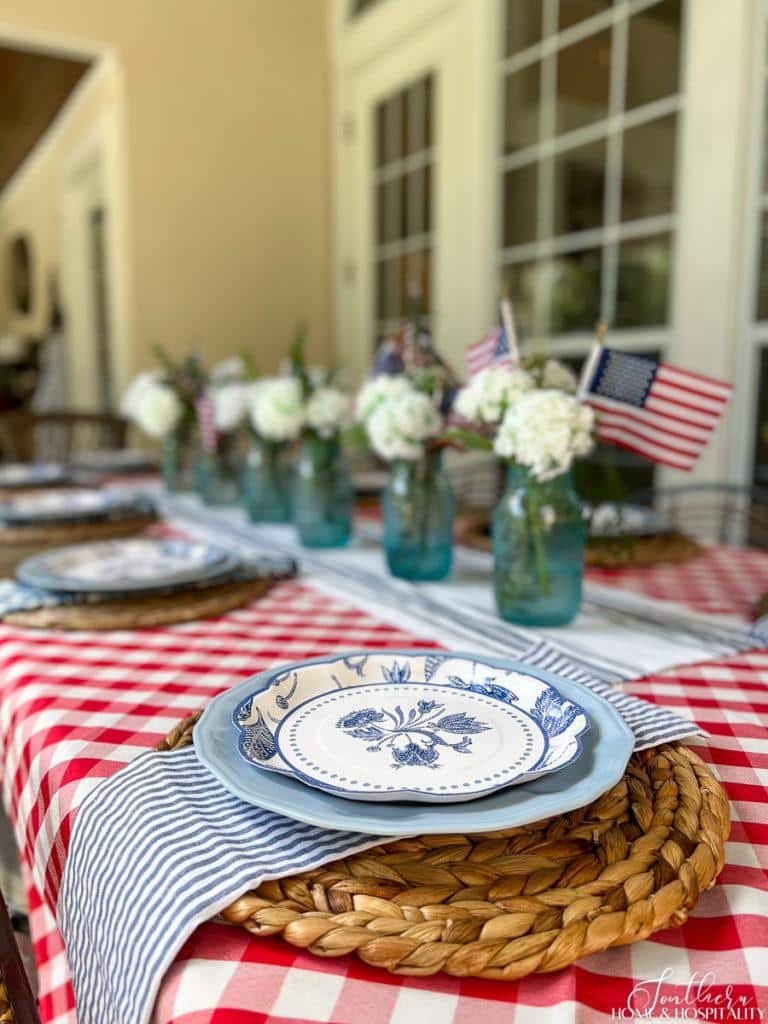 And these pretty napkins in a floral pattern that bring in some navy:
Rethink shades of red, white, and blue.
Instead of using the loudest and brightest shades from the American flag, experiment with shades of red and blue you'd actually use in your decor. They could be muted, faded, darker, or lighter versions of red and blue. Maybe faded reds. Or reddish pinks. And sophisticated navy or pretty light blue really up the elegance and makes the table decor feel more current!
Although my red is a classic shade in the gingham, the navy and light blue in the napkins, jars, and plates really adds more style and sophistication to the table!
Flowers and flags make a perfect patriotic centerpiece.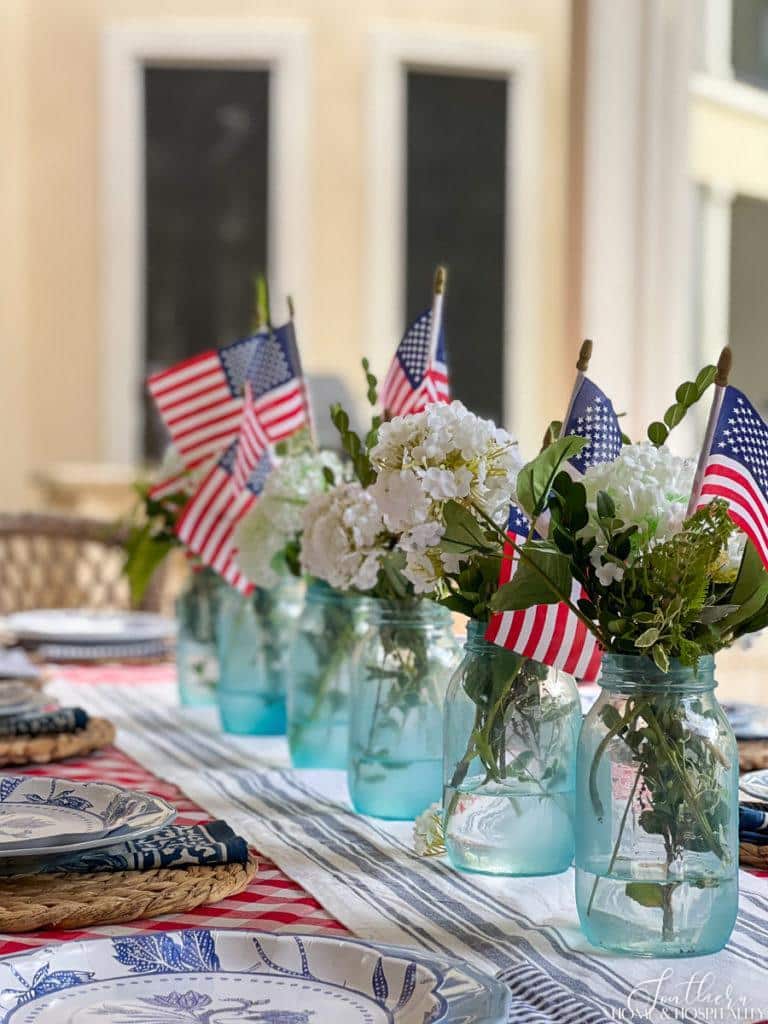 Flowers.
Flowers always make an elegant statement on a patriotic 4th of July tablescape. Use a blue and white ginger jar as a vase for a fashionable current decor touch and fill it with red and white blooms. Or simple blue hydrangeas in clear vases are always gorgeous.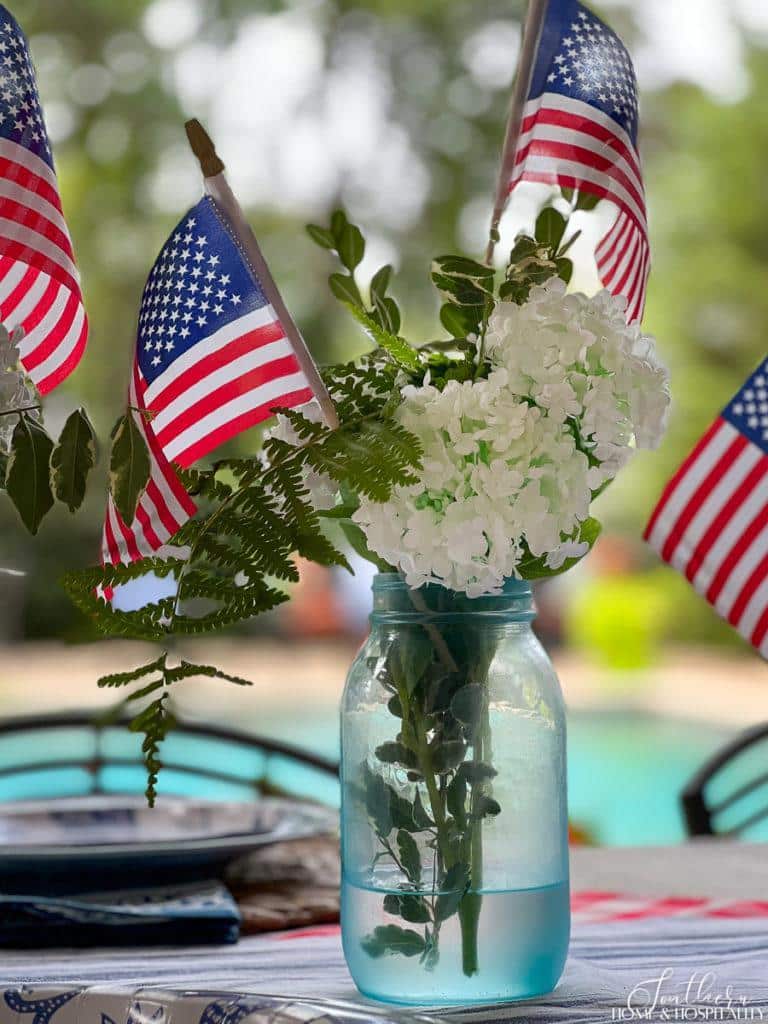 Keeping my 4th of July centerpiece budget-friendly, I created this arrangement for my long dining table from a box of mason jars I already had on hand. I zshushed them up for the red, white, and blue color palette with some aqua sea glass spray paint I'd been wanting to try.
I filled the "sea glass" mason jars with faux white flowers and some real greenery cuttings from the yard and lined the center of the table with them.
See the details for this easy craft in the post, "Make Your Own Beautiful Sea Glass Bottles in Five Minutes."
American Flags.
Although I'm stripping away some of the louder, themey elements of July 4th for a more elegant table, I think flags are an absolute must! And there's no easier way to decorate a table for Independence Day than with flags. So I finished off the centerpiece with lots of mini American flags in the jars down the length of the table for maximum impact for the focal point of the tablescape.
Red, white, and blue place settings.
A more sophisticated, elegant table is also achieved by how nice you want to go with the place setting elements. No, the china is not too good for an elegant 4th of July tablescape— even if it's outside.
The table settings are the other big opportunity to change the direction of the table style!
Placemats.
I used woven hyacinth placemats in this tablescape to mix up the textures and break up the red, white, and blue.
But it's also the perfect place to introduce one of those patterns in your style with some pretty fabric placemats.
Fabric napkins.
Napkins are one of the fabrics we talked about above and ditto for another chance to inject that shade of blue or print that you love! And using elegant napkin rings can be the jewelry to dress up your table's "oufit".
Plates, glasses, and utensils.
We tend to go disposable with utensils and dishes for summer parties. I know I usually do. But you can really elevate 4th of July cookout food with real plates (or even china), glasses, and utensils. Doesn't an everyday hamburger just seem more "gourmet" off of a real plate?
I've used a mix for this tablescape. I don't have enough light blue melamine plates so I mixed in my favorite everyday white plates. But even the melamine plates and paper plates are made to look like "fancy" dishes.
I wouldn't mind having some real salad plates like this, just sayin'.
Update: Since this table setting I scored real blue and white plates at a bargain at Dollar Tree! You can see them in the table setting post, "Beautiful Blue and White Mother's Day Brunch Table".
A little something extra.
Make your party guests feel special with a little unexpected final touch. It doesn't need to be extravagant or over the top!
Something as simple as:
A few sparklers tied with a ribbon at each place setting that everyone can have fun lighting after dinner.
Pretty menu cards with different 4th of July trivia, or corny dad joke at each place setting that can be read aloud during dinner.
A red, white, and blue individual dessert to look forward to, like a mini cupcake.
I've added a special Fourth of July dessert in a cute mini-me mason jar— cheesecake with fresh berries in a strawberry sauce. I dotted them with a couple of blueberries to complete their patriotic color palette!
Other ideas and options for 4th of July table decor.
It's always best to pull from what you have. Or to pick up decor at a big discount at the dollar store. Be on the lookout around your house or while shopping for these things that would look lovely in a red, white, and blue tablescape:
---
I hope this July 4th table inspiration sparks your imagination for July tablescape ideas that you can create out of some of your own decor that fits your style!
Have a Happy 4th of July!
Don't forget to sign up for updates to keep in touch.
If you're not already a member of the SH&H family, I'd love to have you join me! You'll not only get email updates, but you'll have exclusive access to all the bonus materials in my free subscriber-only library, like this:
---
Pin it to remember it!
If you've enjoyed this post, please pin and share this on Pinterest:
---