10 Simple Decorating Ideas for Summer with Blue and Yellow
Inside: Take this summer home tour and learn easy ways to add blue and yellow to your summer decor for a home that's calming and cheerful. Then check out 27 other bloggers' beautiful homes for more summer decorating inspiration! ➡
---
---
Blue and yellow. The colors of a clear sky on a warm, sunshiny day. 💙💛
The colors of summer.
And my inspiration for brightening things up in the kitchen and family room for this sunny season!
One of my favorite ways to mark the changing weather is to decorate with different colors. It's fun to play around with color combinations and switch them up from year to year. And my new experiment for this summer is this blue and yellow color palette.
Because my living spaces are all neutral, adding a few pops of accent colors is an easy way to bring in the vibe of any season. Blue and yellow really stand out against all the earth tones and ivories, so I don't need much – making it quick and friendly on the budget too.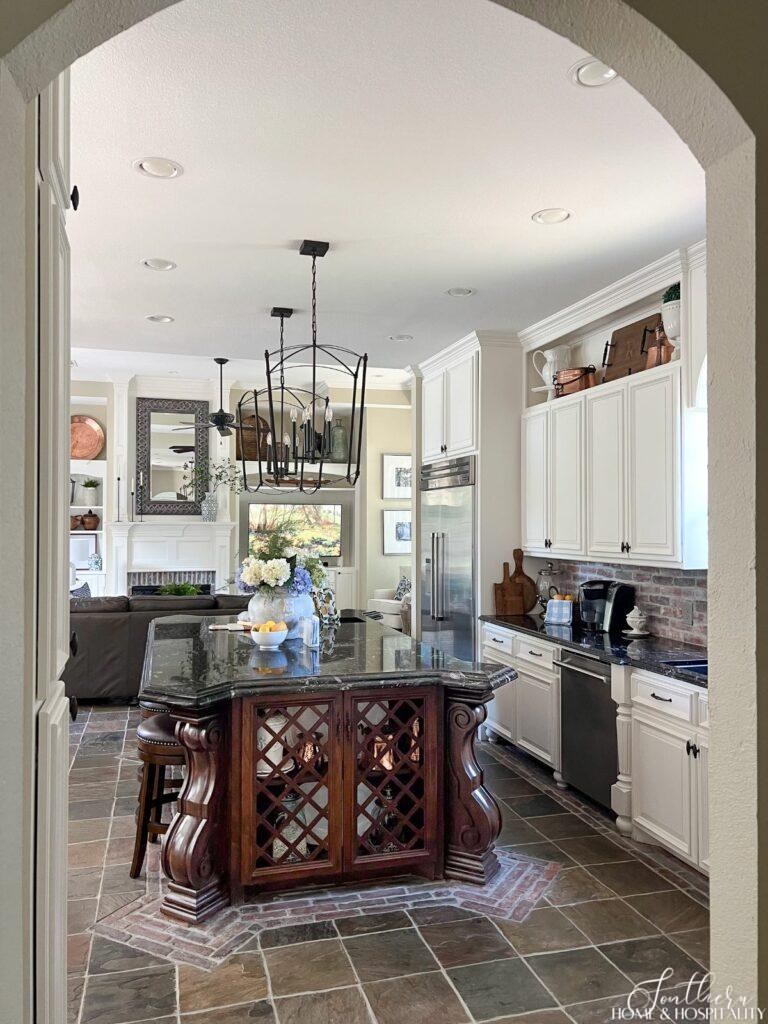 So if you're looking to try a cheery new color scheme in your home this summer, come tour my kitchen and family room for 10 ideas to get you started summer decorating with the perfect color combination of blue and yellow!
After your visit here, make sure to check out each beautiful summer home tour at the end of this post. I'm thrilled to be a part of this super-talented and creative group of bloggers hosted by Kelly of The Tattered Pew. If you've come over from Julie's at My Wee Abode, thank you for your visit and I hope you come back again! Julie works wonders decorating her small rental home, like with her cute coastal touches for this summer.
This post contains Amazon and other affiliate links for your convenience. As an Amazon Associate I earn from qualifying purchases. If you purchase something through any link, I may receive a small commission, at no extra charge to you. I only recommend products that I love or would purchase for myself. See my full disclosure here.
How to add blue and yellow to your summer home decor.
This blue and yellow color combination instantly brings the happy to any room. It's crisp. It's energetic. And at the same time restful.
I paired the yellow with different shades of softer blue hues ranging from light to deep blue. Instead of having the pops of bright yellow looking like glaring caution lights amongst the tranquility of nature, the reserved blue shades really help chill out the vibrancy of yellow, and allows it to blend with the subdued natural colors in these rooms.
Add splashes of yellow and freshness with lemons.
Nothing says French Country decor quite like a Provençal pattern, traditionally made up of bright blue, warm yellow, and lemons. So I'm having a summer crush over infusing all of these into my French Country style kitchen.
(This goes to show you don't have to have an all-white kitchen to decorate with blue and white!)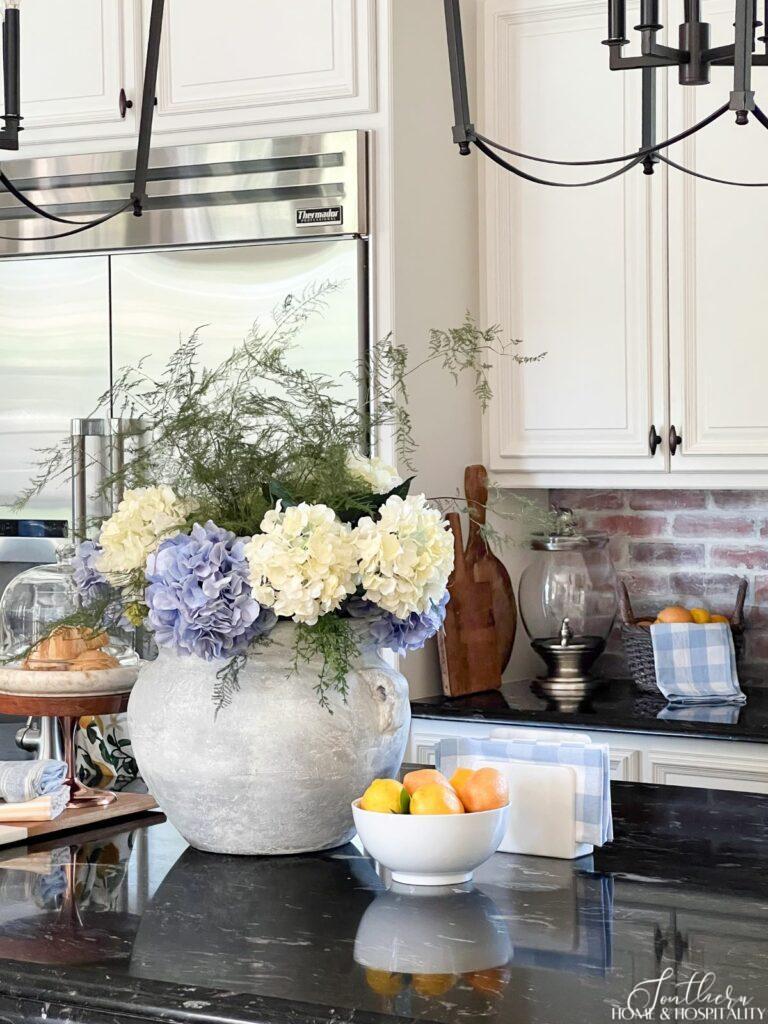 A white bowl of lemons brings a happy pop of color to the kitchen island.
See how I also used lemons for spring decorating in the post, "How to Add Cheerful Spring Color to Brighten Your Home on a Budget".
And a basketful of lemons along with a lemon drink dispenser was a great way to add French Country summer yellow to the back counter.
A bowl of lemons looks good anywhere, so I used another in this summer coffee table vignette in the family room:
And a few lemons on the family room hutch add sunny yellow accents to the blue and white dishes here.
Use flowers to bring in color.
Since the gardens outside are at their peak this time of year, nothing is more natural than decorating with flowers for summer. Plus they're an easy way to decorate with almost any color you want (I wish nature made more blue flowers!)
My kitchen island is one of the best places to decorate for the season because it's the first thing you see when you walk into this area of the house. For this summer kitchen island centerpiece, I filled a large rustic vase with soft blue and creamy white hydrangeas and summery ferns, and they make a striking blue and white statement as soon as you come in.
I'm a big fan of the look of real touch hydrangeas – and the fact that faux flowers are so much better behaved than fresh flowers.
But I couldn't resist this cutie at Target filled with real flowers. He brings a little yellow fun to the coffee table for summer (if only it was a Yorkie…).
I decorate with faux greenery all year long, but especially in summer. I'm pretty sure it's a requirement to have a couple of summer ferns in southern homes, and I have one on the coffee table and the side table.
Decorate with classic blue and white vases and chinoiserie.
With the wild popularity of blue and white and chinoiserie, most of us have a few ginger jars, vases, and other home decor that can make decorating with blue and white for summer a breeze.
I pulled a blue and white vase from the living room for the summer mantel and filled it with some of my favorite faux greenery branches.
And these two chinoiserie jars became the centerpiece on top of a blue and white French stripe table runner on the kitchen table.
Add yellow and blue accents with kitchen linens.
One of the easiest ways to add pattern and color in the kitchen is with dish towels and napkins. I pulled out this lemon and yellow stripe dish towel set, these French linen dish towels, and these sky blue buffalo check napkins to add soft blue and yellow color all around the kitchen.
Put out the pretty blue and white plates.
I scored these blue plates with floral patterns at Dollar Tree this year that I used on the Mother's Day brunch table setting on the patio. I knew they'd come out of the dish cabinet a lot – and I turned right around and used them again immediately here. They were perfect to add blue accents to the hutch and to the coffee table.
Toss in some blue and white accent pillows.
A change in seasons always means a change in pillows around here. I pulled out a few blue and white pillows for the sofa:
And I brought back these geometric blue and white pillow covers from last year's summer and fall decor:
And if you look closely, this pillow in the kitchen dining area brings in blue, yellow, and also the lemons!
I think the table would look lovely with a new Provence patterned table runner (adds to shopping list…)
Drape a blue and white throw to chill out.
Along with pillows, throw blankets are simple ways to inject seasonal color.
I usually keep this blue and white throw in the guest room, so I'd forgotten how much I like it. It's a great weight for summer to curl up under and watch movies in the air conditioning when it's blazing hot outside.
Change out photos and artwork for ones with blues and yellows.
Changing the art or photos in a frame you already have in place is so easy. Just pop in a summer printable, or an inexpensive art print with your colors of the season.
Or switch a photo like I do. I change the picture in our built-ins for every season. In last summer's house tour, this frame held a beach photo of me and my husband, but this year we're all dressed up for a summer wedding in blue and white.
Display a scene of summer on the television.
Whenever you're hanging in the family room and not using the tv, wouldn't it be nice to look at a painting instead of a big black rectangle?
You no longer need a Samsung Frame TV to make your tv become wall art. Do a search on YouTube for "TV art" and you'll see lots of beautiful choices. These videos change frames after a few minutes like a screensaver so the image won't burn into the screen.
Decorate with books that bring in blue and yellow.
When I change out the books on the coffee tables, I try and find ones in my collection that match the colors I'm decorating with for that season. So I pulled a few coffee table books with blue and golden yellow covers. And thank you Southern Living – the latest issue just happens to have blue and white hydrangeas on it.
---
I can't believe I've waited until now to try this classic color combination! My experiment with using blue and yellow ended up being quite easy. And affordable since I already had blue and white decor to pull from. Although I don't have a lot of yellow decorations, using lemons and kitchen linens was a simple solution to pull off this yellow and blue color scheme.
The kitchen and family room now feel relaxing with the blues, and fun with the yellows – just like summer.

Before you go:
As always, I appreciate your visit, comments, and shares here on the blog! I'd love it if you also follow along with me on Pinterest, Instagram, and Facebook so you won't miss any of my inspiration and ideas.
Don't forget to sign up for updates to keep in touch.
If you're not already a member of the SH&H family, I'd love to have you join me! You'll not only get email updates, but you'll have exclusive access to all the bonus materials in my free subscriber-only library, like this:
---
Pin it to remember it!
If you've enjoyed this post, please pin and share this on Pinterest:
---
Summer decor sources for this post.

​
Bloggers' Best Summer Home Tours links.
For more summer inspiration, let's continue the tour! Up next is Cecilia at My Thrift Store Addiction. She's always so creative with her touches of vintage charm. And make sure to visit the rest of my blogging friends who have opened up their homes by clicking the links below:
Monday's Tours

The Tattered Pew // Worthing Court // StoneGable
My Wee Abode // Southern Home and Hospitality // My Thrift Store Addiction
Tuesday's Tours

She Gave It a Go // Cottage In The Mitten // Eleanor Rose Home
Peacock Ridge Farm // Bricks n' Blooms // Cottage On Bunker Hill
Wednesday's Tours

White Arrows Home // A Life Unfolding // Simply2Moms
WM Design House // White Lilac Farmhouse
Thursday's Tours

The Ponds Farmhouse // Thistle Key Lane // Open Doors Open Hearts
Robyn's French Nest // Cloches and Lavender // DIY Beautify
Friday's Tours

Pasha Is Home // My Family Thyme
---