Christmas Decorating Trends and Favorites for 2022
Inside: What's popular this year in holiday decorating? Get the scoop on styles and colors, and be prepared for Christmas with the best items from this year's holiday trends! ➡
I have a confession to make. I've been scoping out the Christmas decor in the stores already.
Yes, we are still knee deep in pumpkin season and the turkeys have yet to arrive.
But as soon as we have our first cold snap and I wake up to the burning smell of the first-time-the-heat-has-come-on-in-months, my mind goes straight to Christmas.
One of the sort of strange things about being a home decor and entertaining blogger is we decorate way too early for Christmas. And I'm not mad about it.
So just in case you haven't taken notice of the new holiday decor popping up in stores, I've been checking it out and doing the research for both of us.
And I can't wait till after turkey to show you a few of my favorite things that are going to be in for the holidays!
Friendly disclaimer: Yes it is still fall. If you just can't go here yet, save this post or pin the graphic at the bottom to open at your own holiday pace – and keep on fallin'.
This post contains Amazon and other affiliate links for your convenience. As an Amazon Associate I earn from qualifying purchases. If you purchase something through any link, I may receive a small commission, at no extra charge to you. I only recommend products that I love or would purchase for myself. See my full disclosure here.
This year's Christmas trends.
Decorating with collected, curated, special classic decorations full of Christmas traditions and memories is never more important than during the holidays. So most of us don't buy all new holiday decorations every year and we aren't dictated by the latest Christmas trends.
Just like with regular interior design trends, keeping a timeless look is the smart way to save money and decorating frustration. See eight ways how here.
But we still love to see what's new. And maybe we add one or two things to our Christmas classics to keep it fresh. So let's check out the big new trends in style and color that are going strong this year:
Trending holiday styles.
The holiday looks run the gamut so there's something for everyone's personal style, whether you're a fan of the rustic with lots of natural elements, glitz and glam, or the tried and true traditional.
Nostalgic Holiday. The comforts of Christmas are big this season. Think cozy patterns like tartan plaids and buffalo check. And traditional decor in classic red and green. Even the red and gold combo that's gone out in recent years is making a comeback. Traditional decorations like gingerbread men and houses, candy canes, bottle brush trees, and nutcrackers from our childhood are everywhere. And let's not forget about those quintessential Christmas 70's ceramic Christmas trees.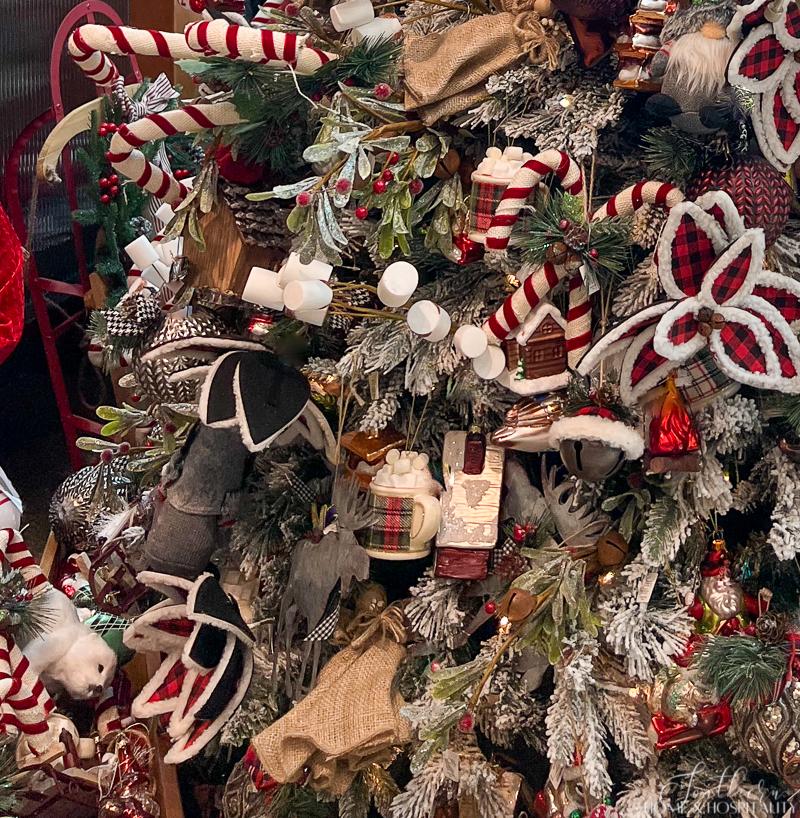 Inspired by nature. Rustic touches found outdoors always have a big place in holiday decorating, but it's even bigger now with the popularity of using more natural materials all year long. You can never go wrong with pine cones, wood, and winter greens. And forest animals like owls, deer, and moose will be peeking through Christmas trees of this style.
Vintage elegance. All the glamour of the gilded age with rich fabrics like velvet paired with mercury glass, capiz shell, and pearlized accessories are on trend.
Nordic and Scandinavian style. The more minimalist look of these cold climate design styles will still be hot this year. Which means expect the gnomes so popular last year to be sticking around this Christmas season.
Trending Christmas colors.
As with the wide range of styles, there's a color combination for everyone's tastes as well, running from bold and bright colors to neutral and white.
Neutrals. If neutrals are your norm, there's no rule that you have to add traditional Christmas colors. Whites, browns, grays, navy, and black look amazingly holiday-festive, sophisticated, and so now.
Green. Green is having a moment in decorating, and I'm giddy that one of my favorite colors is also a favorite trend this Christmas! Gorgeous green in various shades of emerald, olive, and moss will be everywhere.
Blue. If green is in, blue is waaaaay in. The enormous popularity of blue and white in the past decade means more and more blue holiday decor each year.
Whites. Cool, brilliant white is hot and also a beautiful classic.
Brights. Bright, bold happy colors are making a splash. Even different shades of purple Christmas decorations will be in supply, taking a cue from the Pantone color of the year.
Metallics and champagne. The colors of all the luxury metals – gold, brass, silver, pewter, and bronze continue to beautify the holiday living room. And the metallic darling right now is champagne, which bridges the gap between silver and gold.
Trending color combos for Christmas:
Red and green
Red and gold
Blue and gold
Blue and white
Red and white (you can start my three part red and white home tour from last year here)
Green and earthy, muted tones
Blue and natural tones
Holiday favorites for 2022.
Let's sit back and sip that pumpkin spice latte, and look at some of the fabulous festive decor that's coming our way online and in stores this year!
And just a friendly tip – if you really like something you may want to scoop it up now and save it in the closet until you're ready to decorate. Even if it's a little early for Christmas, it's still the perfect time to shop. It's so irritating when something's already sold out at the beginning of December!
Hot Christmas decorating accessories.
With the popularity of chinoiserie and blue and white, I see it popping up everywhere!
How fantastic is this chinoiserie tree cookie jar from Dillard's Southern Living collection? They have a cute matching blue and white Christmas tree baker too.
I've already ordered these vintage bells to use this holiday season:
And these oversize inflatable ornament balls would have major impact on the front porch.
And here are a few more accessories out this season that I love:

Holiday pillow favorites.
The choices are amazing this season at all of my favorite places to buy affordable throw pillows! At Kirklands:
These boucle stripe pillows were as cheery and cozy as a cup of Christmas cocoa at Target (they always have some of the best Christmas decor at reasonable prices):
And I'm a sucker for ivory tartan plaid at Christmastime!
Here's a darling embroidered lumbar pillow at World Market:
And if you're looking for pillow covers in rich reds you can use year after year, these velvet pillow covers are my favorite from Pottery Barn.

The best tree collars and tree skirts.
I'm going to use my first tree collar this year and it was a tough decision with all the beautiful options. I went with this brass metal tree collar from Hearth & Home.
Here are some other beautiful options:

And here are a few of my favorite tree skirts:

Christmas ornaments.
These handpainted chinoiserie ornaments would be gorgeous on a blue and white or a blue and gold tree! There's also a coordinating ginger jar ornament.
And speaking of chinoiserie ginger jar ornaments, this is such a cute assortment of tiny ginger jars for the tree.
More current ornaments I'm loving:

The most realistic garland.
Christmas garland just gets better every year. Here are a few of the best I've come across online this year that could pass for the real thing:

The most realistic greenery, floral, and berry picks.
I pulled together this group of pretty and quite realistic stems:

Christmas wreath favorites this season.
Some really beautiful selections that are available to decorate your door for the festive season:

The most realistic Christmas trees.
If you're buying a new tree this year, these artificial trees almost look like the real deal. Plus they'll look better for longer, they're less messy, and easier to decorate!
I've found these trees in various styles and sizes that are super realistic:

I just got this stunning 8′ King slim flocked tree from King of Christmas. It's my first slim tree and flocked tree – I can't wait to see the white lights glowing in the family room corner.
Tree toppers.
And here are a few lovely tree toppers I've found that are worthy of those trees:

Christmas ribbon favorites.
And let's wrap the tree in some of the beautiful ribbons this year!
Like this traditional green velvet paired with traditional red ribbon.
Or some of these ribbons in on-trend colors:

See how to put ribbon on a Christmas tree the easy way here.
Christmas stockings.
And finally, how about some of this year's pretty stockings hung by the fire?

---
Getting a jump on holiday decorating does let me enjoy more quality time during my favorite season (it's not called the most wonderful time of the year for nothing). Because it's all a bit of a blur after Thanksgiving day.
I'm really just looking forward to cozying up by the tree with my family and my dog. That's the best gift of all.