Milestone Birthday Celebration in New Orleans
Inside: The Crescent City is the ultimate place to celebrate a milestone birthday! ➡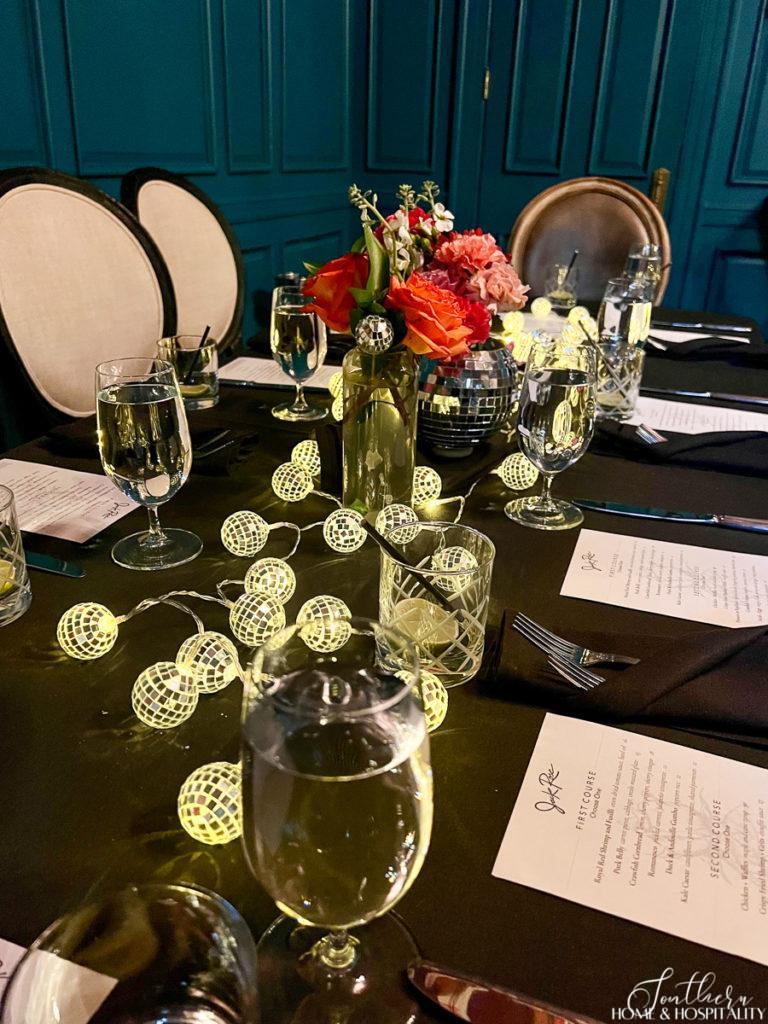 ---
What better place to celebrate a milestone birthday than in the city where everything's a party…New Orleans!
My friend Virginia who lives in NOLA, recently did just that with such flair, planning a whole weekend agenda of birthday festivities for us to celebrate her new decade. The birthday weekend was dubbed "Decades of Sparkle and Shine"— I'm leaving off the exact number because she doesn't look her age!
Planning a whole weekend of events around the celebration was brilliant because it allowed her to include more of the important people in her life.
New Orleans is one of my favorite cities, and Virginia always lines up fantastic restaurants and activities every time I visit. And this weekend was no exception so I thought I'd share how we celebrated her birthday NOLA style!
This post contains Amazon and other affiliate links for your convenience. As an Amazon Associate I earn from qualifying purchases. If you purchase something through any link, I may receive a small commission, at no extra charge to you. I only recommend products that I love or would purchase for myself. See my full disclosure here.
Birthday celebration lunch at the Pontchartrain Hotel.
Our first activity on Saturday was a big birthday lunch in a private room at Jack Rose in the historic Pontchartrain Hotel. This restaurant was designed for fun— I couldn't get enough of its playful, colorful decor!
When you enter, this main area is called the living room and it is Instagram-worthy for sure.
It kind of has the granny chic vibe going with its furniture, and the portrait wall is amazing. Keeping it fun and not fuddy-duddy, the centerpiece of the portrait wall is a painting of rapper Lil Wayne with Jack Rose's signature dessert, the Mile High Pie.
I'm not sure if you can tell in these photos but his grill has real bling! My sister-in-law Sarai and I couldn't pass up the fun of the Lil Wayne photo opp…
The ceiling as you walk through the restaurant has a huge disco ball surrounded by green trailing plants…
I snapped a picture of the other dining room as I was walking by and it is equally as dazzling:
This whole blue dining room was reserved just for Virginia's friends and family. The teal color on the walls was just gorgeous.
The disco ball decor seems to be standard at Jack Rose but was so appropriate for this celebration!
Each of the dining tables had one of these disco ball punch bowls in the center:
And when the lid was taken off, it revealed its hot pink glittered interior.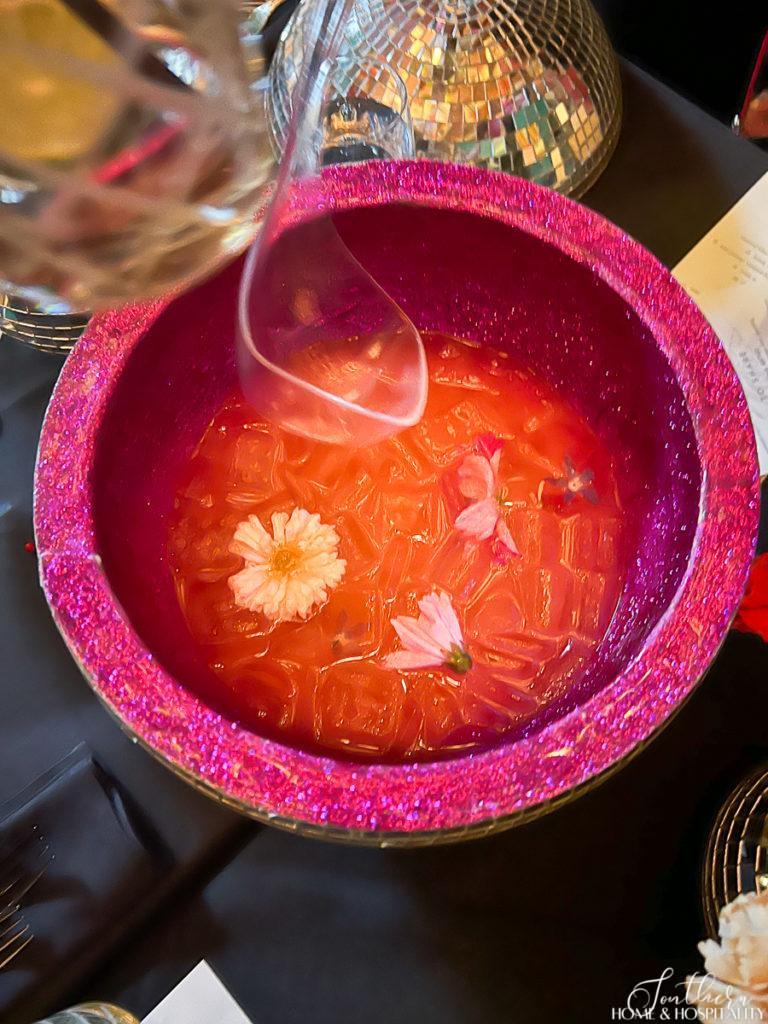 And a pretty sparkling cocktail!
Everyone got butterfly or disco ball headbands so that we would look as fun as the room…
The food was amazing as it always is in NOLA. For my starter, I had this duck and andouille gumbo:
I didn't take a picture of my entree— Poisson en Papillote, but I did get photos of a couple of the desserts. This is their signature Mile High Pie:
And the Banofee Pavlova:
After this beautiful and decadent lunch, we went up to the Ponchartrain Hotel's rooftop bar, Hot Tin for another cocktail.
Everything in the Pontchartrain is named after Tennessee Williams since he stayed there while writing "Cat on a Hot Tin Roof."
It was a beautiful spring day to take in the views of downtown New Orleans and the Mississippi River. You can see the Superdome roof out to the left:
And the Mississippi River is off to the right:
Sunset cruise on Lake Pontchartrain.
On Saturday evening, just Virginia's sister and small group of girlfriends boarded a sailing yacht with New Orleans Yacht Sailing Experience for a two hour sunset cruise around Lake Pontchartrain.
The birthday girl living her best life:
A good time was had by all…
Maybe we heard they were having backup singer tryouts for Abba??
We watched the gorgeous full sunset until it dipped below the bridge horizon…
And the band of sunset colors remained for our cruise back into the harbor.
Making NOLA style headdresses.
On Sunday morning, the girls were off again to make headdresses at NOLA Craft Culture. This is not your ordinary craft shop. The people of New Orleans dress up for celebrations all year long and the sparklier, shinier, more colorful, and more over the top the better. I didn't have a chance to go into the shop but from what I understand it is a glitter superstore!
You can see the touch of New Orleans I bring to my Texas home during the Mardi Gras season here with my Mardis Gras Tree.
They also have a classroom/workroom and that's where we were treated to a headdress workshop…only in NOLA right? Here were a couple of their sample headdresses:
We each hot glued feathers, flowers, and rhinestones onto upside down visors. I marveled at how different everyone's were and each so beautiful! The amount of feathers and supplies they had available to us was amazing— can't just pick some of this up at Hobby Lobby.
The big reveal at our next stop…
Brunch at Broussard's
Our last activity on the birthday agenda was a ladies Sunday brunch at Broussard's. This New Orleans restaurant is over 100 years old and it is one of the original fine dining establishments in the French Quarter. I got to soak in more of the New Orleans architecture here that I love so much!
We were feeling fabulous in our new headdresses. Here's a group shot in the courtyard at Broussard's surrounding the birthday girl:
And a headshot of each our headdresses in their full glory:
We spent several hours laughing and talking over more amazing food. I started with the Ponchatoula Strawberry Salad.
This goat cheese "crouton" was one of the best things I've ever put in my mouth!
The skillet cornbread with gruyere was also quite tasty.
For my entree, I chose BBQ Gulf Shrimp and Grits. In case you're not familiar with what BBQ shrimp in New Orleans is, it is not covered in barbecue sauce. It's basically butter with lemon, Worcestershire, and spices. And it is heavenly. Here it was served with mascarpone grits…yummmmmm.
We shared some of their dessert offerings and Bananas Foster prepared at the table is a must. Dinner and a show!
Birthday weekend wrap-up.
I got to eat boiled crawfish before the season is over while I was there too! We added sides of shrimp, corn, and potatoes and enjoyed them on the patio that evening.
Monday morning we packed up to head back home. I stayed in a room in Virginia's 100-year-old rent house. This is the view down the stairs just to give you an idea of its charm.
Virginia's home is around the same age and also has amazing vintage architectural features. And I thought these lilies in full bloom were perfect for Louisiana in their purple and gold:
By chance, Susan and I were on the same flight since she connected through Dallas. We wore our headdresses in the airport and no one batted an eye down there. But we did get several compliments and were also asked to take a photo with someone, lol.
I was determined to get my headdress home without breaking any of the feathers. The man next to me on the airplane was polite but I'm sure he didn't love how much space it took in my lap and on my head!
I was successful and it makes me smile whenever I see it displayed on the shelf in my closet.
And a perfect departing touch was grabbing coffee and a beignet from Cafe Du Monde in the airport to top off a wonderfully memorable trip to New Orleans!

Before you go:
As always, I appreciate your visit, comments, and shares here on the blog! I'd love it if you also follow along with me on Pinterest, Instagram, and Facebook so you won't miss any of my inspiration and ideas.
Don't forget to sign up for updates to keep in touch.
If you're not already a member of the SH&H family, I'd love to have you join me! You'll not only get email updates, but you'll have exclusive access to all the bonus materials in my free subscriber-only library, like this:
---