Our Weekend in Hilton Head Island, SC
Things to see and do during a weekend in the beautiful and quintessentially southern town of Hilton Head! ⟹
Hilton Head and the surrounding areas around Charleston and Savannah are some of the most beautiful and quintessentially Southern places to me. My husband and I recently took a trip with a group of friends there so I'm sharing a little of what we saw and did!
Where we stayed.
The couple who invited us has a beautiful second home where we all stayed. It's located in Sea Pines, a gorgeous gated community filled with moss draped oaks, palm trees, magnolias, and as the name implies, lots of tall pine trees. I didn't take a lot of photos of the house itself because with ten people staying there, somehow no rooms are ever "photo ready."
I did snap this picture of our bedroom when we arrived with its beautiful vaulted ceiling and beams.
Right outside of our bedroom was a sitting area in front of the stairwell with this gorgeous wood ceiling. I could sit in any area of this home and gaze at the incredible views forever.
On the back porch they've recently added new flags…gotta represent our home state!
Hilton Head is known for its delicious fresh seafood. The first night our hosts treated us to these blue crabs that they steamed on the patio and we had dinner al fresco out by the pool. It doesn't get any better than this at a restaurant! The level of Old Bay seasoning was just right and so was the weather. I don't know why there were no mosquitos eating me alive while the sun went down. Maybe the ocean air?
What we did.
On our first full day, we all played golf at Heron Point in Sea Pines.
I am a very "casual" golfer but I wanted to play at least once so I could soak in some of the scenery of the golf courses there!
And this course did not disappoint in its beauty.
I think there's a reason for this fountain. If not for anything else, to remind you to watch out for gators when you're on the course, especially near any water.
We spotted these guys just hanging out while we were playing!
The second day was one of my favorite activities of the trip… we rode bikes to our destinations which allowed me to get a better look at the beauty of the area. If you've never been to Hilton Head, it is absolutely the thing to do! People are on bikes everywhere and there are bike paths all over.
Our first stop was to Harbour Town to shop in the boutiques and see the iconic lighthouse and the yacht basin.
There are several magnificent oaks there that are so large it's hard to get them in one photo!
On the bike ride back, we meandered through some neighborhood streets so I could ooh and aah over the beautiful homes. I was in heaven!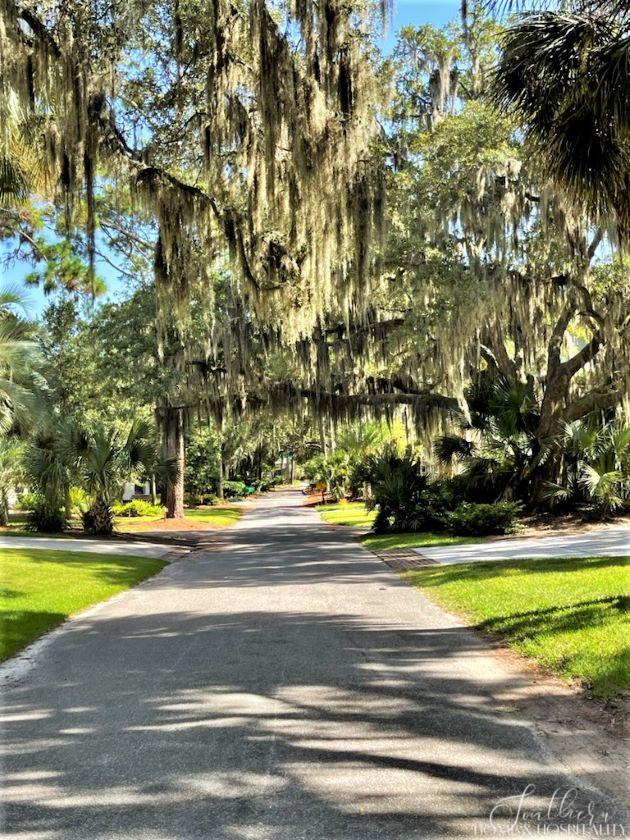 They all had yards full of moss draped oaks, palm, pines, and magnolias. Here are just a couple to give you the idea.
They all had gracious southern porches and balconies. This one really stood out to me when I spotted the ivy covered steps up to the front porch.
Be still my heart.
In the afternoon we hopped on the bikes again and headed to the Salty Dog Cafe, another Hilton Head tourist landmark for lunch and cocktails on the patio. You may have seen shirts sporting this logo. I know I've seen them for years. At lunch I got in one of my must have dishes when I go to the lowcountry…a side of she crab soup!
The Salty Dog has a charming little area of awning covered boutiques for shopping, where we all went to get a Salty Dog shirt. These parrots were perched in the middle of the shops.
On the last day, most of the group played golf at the course at Harbour Town, the site of the RBC Heritage PGA golf tournament. I didn't play but did go in and get a couple of things from the pro shop and took a few photos:
The rest of us that didn't play enjoyed more shopping and lunch. I never had a chance to eat shrimp and grits on this trip (another lowcountry must have of mine) but I did have an absolutely delicious shrimp burger! This photo was taken across the street from the patio where we ate. It was the only marshland I got to see on this trip, but South Carolina is full of it.
The beach.
From our house we followed this path right down to the beach.
The sand in Hilton Head is soft and fine. And very packed down where the tide goes out so it is ideal for walking on!
Since we were there after a lot of schools had already started back but before Labor Day, the beach where we were was not crowded at all. Just a few people walking. During certain designated times of the day, people bring their dogs out and they don't have to be leashed. I loved watching the pure joy the dogs had as they frolicked and ran around!
We spent several hours of our last day on the beach. It was cloudy so we didn't get a colorful sunset, but even so, evenings on the beach with a cocktail are one of my favorite times.
We were being watched by this guy as we were leaving the beach. I think he was saying "don't leave Hilton Head…it's so nice here!"
I hope you enjoyed my vacation photos of this incredibly beautiful area of the South. If you've never been, I highly recommend it. This was my third time going to Hilton Head and I'm already ready to go back!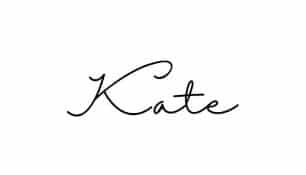 Don't forget to sign up for updates to keep in touch…I have lots of fun and useful freebies you may be interested in in my subscriber-only library like my Packing List Printable!
Pin this for reference later: