A Visit to Grapevine: The Christmas Capital of Texas
Inside: A visit to this Texas city's downtown at Christmastime is like stepping into a Hallmark Channel holiday movie! ➡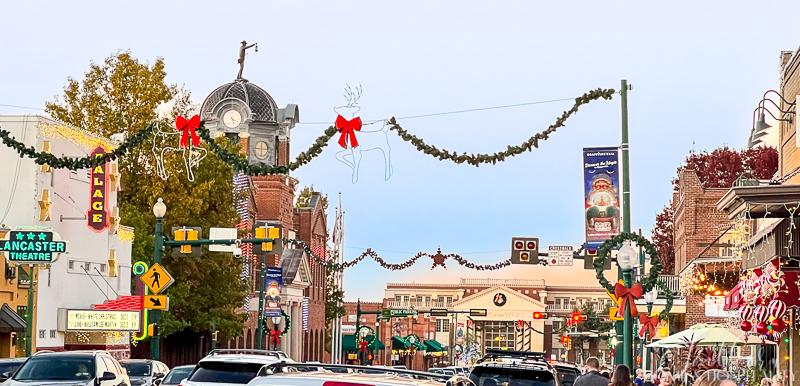 I just happen to live a hop, skip, and a jump from one of the most charming areas for Christmas!
As a matter of fact, the city of Grapevine, Texas was dubbed by the state senate, "The Christmas Capital of Texas". And for good reason. The Christmas activities and events here abound.
I was over there holiday shopping and snapped a few photos to share some of its holiday charm with you. It was late afternoon so I didn't get pictures of how beautiful it is after dark with all of the many Christmas lights, but it is so cute during the day as well!
Sandwiched between Dallas and Fort Worth, the two largest cities in North Texas, its small town feel is a wonderful respite in this sprawling DFW metroplex.
There are so many delightful events and activities for the holidays in Grapevine I can't list them all, and it makes a wonderful place to visit in December. But I enjoy simply walking Main Street in downtown Grapevine this time of year because it is bursting with Hallmark Christmas charm!!
Christmas on historic downtown Main Street in Grapevine.
All year round, historic downtown Grapevine has the feel of stepping back into yesteryear with its downtown-of-a-small-southern-town architecture style. But at Christmas, the charm level is exponential!
Every storefront, restaurant, and wine bar is dressed to the nines for the holidays with lights, Christmas trees, ribbons, and wreaths.
Little shops and boutiques line Main Street with cute displays that you can window shop as you stroll.
Let no surface remain undecorated! The Christmas cheer even spreads to the rooftops.
And of course there has to be a Christmas store! I wish I had a photo of this shop at night. All of that red tinsel is simply aglow with red lights.
Looks like Santa Claus was taking a break inside:
There are plenty of places for shoppers to sit and take a break too!
Main Street has something for all ages. For the adults, there are lots of wine bars to duck in for a holiday break. The city isn't named "Grapevine" for no reason!
A fun way to spend a holiday afternoon? Visit Dr. Sue's Chocolate, marvel at the gorgeous glass creations at Vetro Glassblowing Studio, and hit one of the wine tastings.
Lots of good restaurants too…
And the historic Palace Theatre shows classic Christmas movies like "It's A Wonderful Life" and "White Christmas":
There are lots of community areas to hang out in when not shopping, eating, or drinking. There's a large park area with a pavilion that's surrounded by fun things for the kids.
During the holidays, the town square gazebo is transformed into Santa's living room:
And this huge singing Christmas tree puts on a light show to the music!
And speaking of light shows, this tunnel's lights also change to the music. It is so cool to walk through at night!
And city hall on the left has its own separate light show, keeping time to the music piped in throughout Main Street: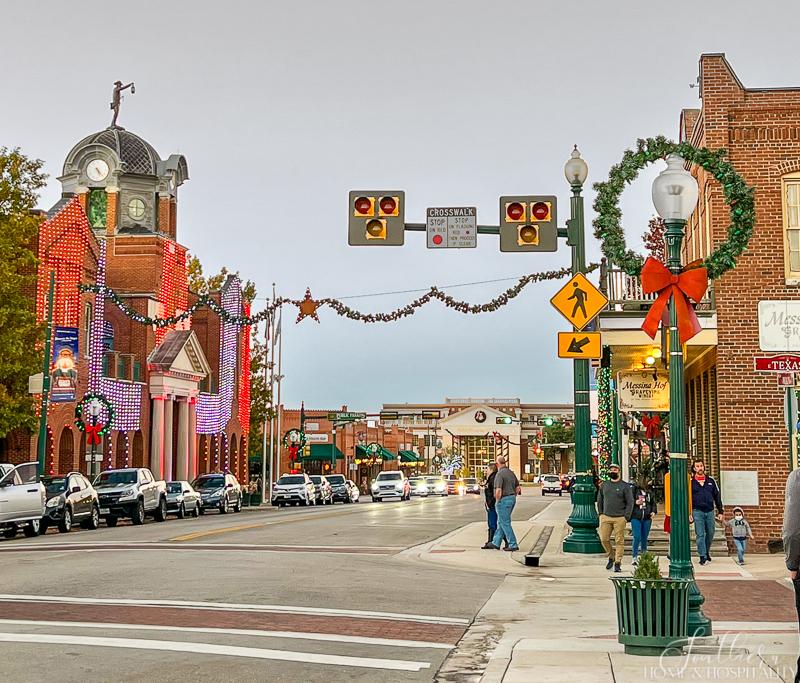 And there's even one more:
And there are so many photo ops out here! Christmas ornaments and other enormous decorations make the perfect place for a family photo.
There's a whole square of Christmas vignettes dedicated just to this:
Other Christmas events in Grapevine.
As I mentioned, strolling Main Street is only a small part of why Grapevine is called the Christmas Capital of Texas. I would feel remiss if I didn't mention some of the other very popular family activities in Grapevine this time of year.
The Gaylord Texan Resort has stunning decorations during the Christmas season, and it has a spectacular ice exhibit, aptly named ICE! The themed exhibit features two million pounds of ice sculptures hand-carved by 35 artisans from Harbin, China, and is kept at a bone-chilling 9°F to keep the ice from melting (they supply parkas!) The year I went it featured a fun Rudolph the Red-Nosed Reindeer theme.
If you don't want to stay at the Gaylord, the massive Great Wolf Lodge is right across the street with its indoor water park that kids go nuts over.
And if you want to stay at the end of Main Street, Hotel Vin is a cool new hotel right next door to the 20,000 square foot Harvest Hall food court/entertainment plaza.
Grapevine is also home to a vintage railroad train and during the holiday season, it becomes the North Pole Express. Families board in their pajamas for a ride that brings the magical world of the Polar Express to life! And when the trains are not headed to the North Pole for this fun event, they moonlight as Christmas wine trains for the adults.
If you happen to visit on the first Thursday of December, you can catch the Parade of Lights on Main Street, one of the largest lighted Christmas parades in North Texas.
And one more fun event for the family is a visit to Nash Farm off of Main Street. They offer tours with a peek at what it was like to spend a traditional Christmas on the farm in the Victorian 1800's.
Love southern cities? You can see my visit to Hilton Head here and a big birthday celebration in New Orleans here.
---
I hope this visit to Grapevine's Main Street brought a little holiday spirit to your Christmas season. I know a visit there always gives me the Christmas feels!
Happy Holidays!!

As always, I appreciate your visit, comments, and shares here on the blog! I'd love it if you also follow along with me on Pinterest, Instagram, and Facebook so you won't miss any of my inspiration and ideas.
Don't forget to sign up for updates to keep in touch…I have lots of fun and useful freebies you may be interested in in my subscriber-only library like my Packing List Printable!