Hot Home Decor Trends for 2023 That Keep Your Space in Style
Inside: The biggest home decor trends of 2023 for kitchens, color palettes, decorating styles, and furniture design, plus some that are on their way out. ➡
---
Now that your home has been stripped of its holiday decor in the new year, you might be getting the itch to update with some new accessories and furniture. Or to coat all the walls in a new shade of fresh paint. Or maybe even break out the sledgehammer for a complete reno.
Curious about what's up and coming in interior design trends in 2023, so that your changes are on point and not passe'?
Like, is gray going out of style? Is farmhouse still in style? Will we still see brass everywhere? And are white kitchens still white hot?
So many questions. But we've got some answers according to the projections of top interior designers. Here are the home decor trends to watch in the design world in 2023:
Hot in the kitchen for 2023.
Most experts agreed on these kitchen trends for the coming year:
The most notable change for the kitchen is in color. When a trend like all white kitchens becomes too big, everyone's starts to look the same. What was spectacular becomes nothing special. Although a classic white kitchen will never truly go out of style, people don't want their kitchen to look like everyone else's. And they're getting bored with all white. The resulting trend? Color and warmth will come into the kitchen more and more.
Painted cabinets using colors like dark green and blue will replace some or all of the cabinets in the kitchen.
We'll start to see warm, stained wood cabinets coming back in the mix – sans the glossy orange that drove us away in the first place.
Dark countertops are back to add depth and contrast. Marble in black and other dramatic colors with bold veining will make a statement in kitchens this year.
And behind the counters, solid slab backsplashes will be trendier than tile.
Warm gold hardware and lighting will continue to be popular, in subtle sheens of antique, satin, and champagne finishes (not the shiny yellow brass of the 80's variety). Matte black will still be going strong.
Does this mean brushed nickel and oil rubbed bronze are out of style? Nope. And in even better news, there's no need to replace all the metals in your kitchen all at once anymore. Because mixed metals in the kitchen create a curated look in the kitchen that is so 2023.
Furniture style kitchen storage will also be bringing the collected look. And multi purpose furniture pieces are a great way to conceal the clutter instead of putting it on display on open shelves. We'll see free standing furniture cupboards as well as built in cabinets that look like furniture. And tables in place of some kitchen islands.
Home design trends.
Decorating professionals predict a preference for more defined spaces over open floor plans. Toward more coziness and multipurpose uses for rooms. Everyone's not rushing to put up new walls in their living room, though. A home office or dining room can be easily carved out of the living space using furniture and an area rug.
Statement walls as an architectural feature are still going strong, but with raised wood patterns, rather than reclaimed wood and shiplap.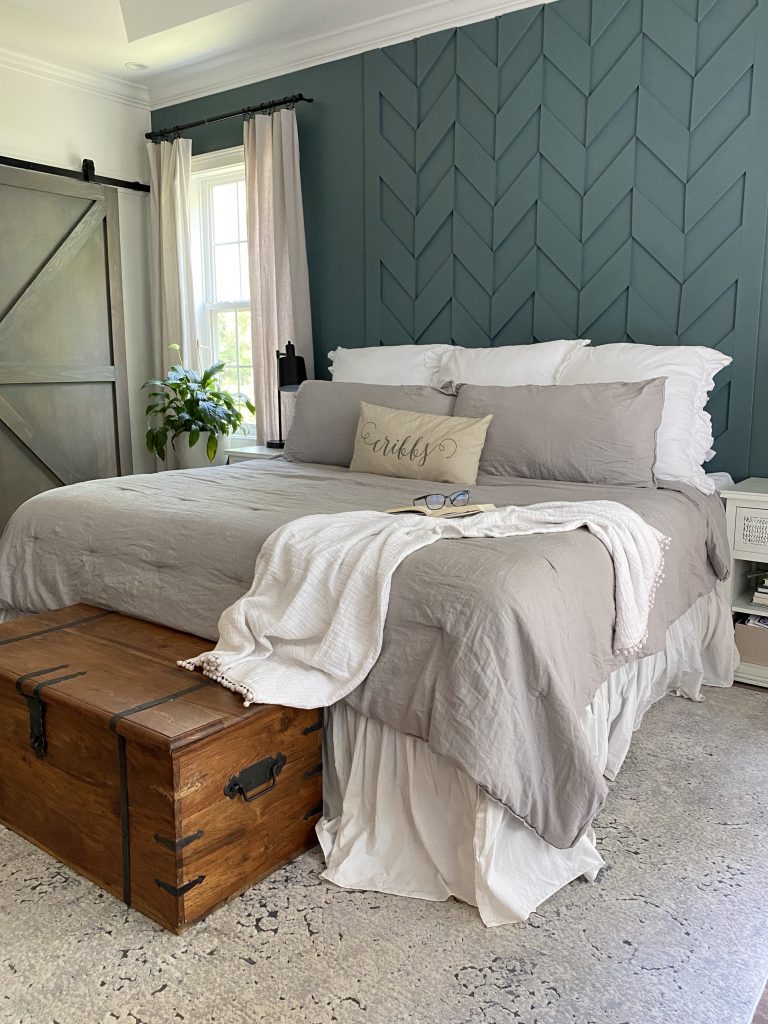 Architectural curves are still in for home plans, with lots of graceful curved doorways, windows, walls, staircases, trim details, and decorative arches.
And the decorative niche may be making a comeback in the next year.
Not sure what to put in that niche or alcove? Read "25 Creative and Useful Ways to Decorate a Wall Niche" here.
Decorating styles.
Minimalism is on the outs and being a little extra is in. Just like the all white kitchen, people are bored with minimalism and craving more warmth, contrast, and coziness. They're tired of spaces that lack personality and their unique stamp.
One single décor style is out and eclectic mixing of design styles is in.
Art Deco style is making a comeback with its deep jewel tones, luxe fabrics, and curved lines.
Farmhouse is becoming more modern, refined, and elevated. Original farmhouse decor with shiplap and shabby chic "live, laugh, love" signs has evolved into a more contemporary take on this comfortable, beloved style. Not sure exactly what it is now? Just look at any photo from Studio McGee.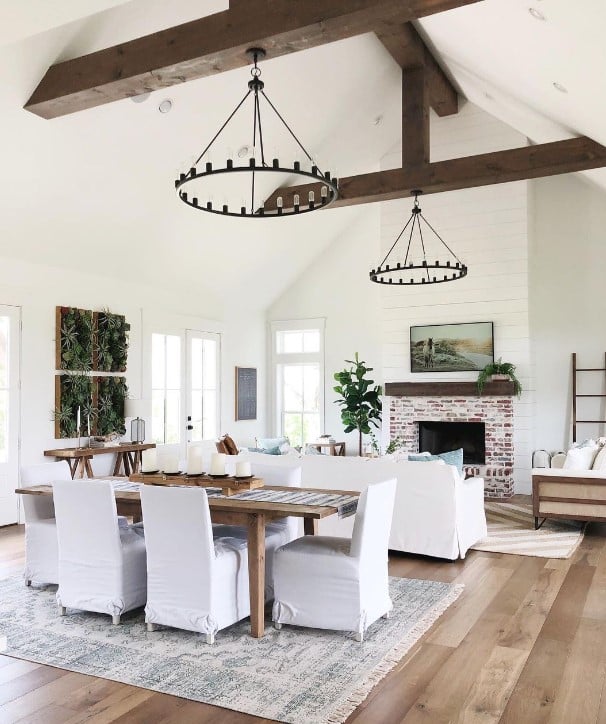 And the organic modern/boho trend that was so hot last year will still be around, but cooling off a bit.
Colors.
Saturated rich colors will make a splash. Unexpected bold colors, moody colors, and jewel tones are in. And a sure sign is the shade crowned Pantone's color of the year, Viva Magenta – a bold hybrid of hot pink and red that can't be missed.
The neutral room is still timeless and sophisticated, but now more cozy. All white and griege "sombertown" cool color palettes are being replaced with warmed up neutrals. The fifty shades of gray (and silver, and white) from recent years are now warmer tones like taupe, camel, cream, and chocolate. And we're even adding soothing pastels like blush pinks in the mix as neutrals.
Single light woods are too flat and devoid of interest for us in 2023. We'll be seeing the use of warmer wood tones and a combination of dark and light shades for a more collected and inviting look.
Trending materials.
Wallpaper continues to soar in popularity. Never say never – remember when we were painstakingly picking roosters and flowers off the wall? And with the new peel and stick versions, it's so much easier to experiment (and remove). Dramatic wallpaper is an easy way to make a statement on an accent wall or in a powder room.
Zellige tile and its handmade texture will bring personality and interest to kitchens and bathrooms.
Brass is back bringing its metallic warmth.
Natural materials continue to be big, adding luxe, interest, and reflecting our need to be eco-conscious. Marble, brick, stone, and wood are in – faux materials are out.
Texture is huge in creating cozy rooms. Those natural materials bring in beautiful texture. And then on top of that we'll layer on:
Fur, velvet, and luxe fabric textures.
Rustic organic pottery is going strong.
Boucle was everywhere last year and will still be around. But some designers say it's on a downturn, so I wouldn't invest in any large furniture pieces covered in the nubby yarn.
Rattan, wicker, and caning always stand the test of time. But sadly like boucle, these timeless organic materials are starting to reach oversaturation. So maybe skip the big pieces for now, or they may date your room soon.
Furniture.
We're still embracing mixing in thrifted, heirloom, heritage, and vintage furniture. This "trend" is actually timeless, but after the supply chain issues from the past couple of years and the grandmillenial and coastal grandmother crazes, this decorating style is having a heyday. A few vintage pieces instantly add character and charm to sterile, new spaces.
Curved furniture will still grace rooms in 2023, breaking up all those straight lines and sharp edges with organic shapes.
Darker wood furniture will add richness to vanilla-boring rooms.
Furniture details are starting to inch back in.
Upholstery will bring loads of different texture and color.
Natural materials like caning and animal hide for case goods are still trending, either covering the entire piece or with textural insets and details.
What is the life cycle of home décor trends?
The big trends (think gray or Farmhouse) tend to stick around for 10-15 years, while smaller trends start to flame out after three or four (remember chevron and "keep calm and carry on" everything?)
How to incorporate home décor trends into your home.
There's no need to trash everything and go with the trends. That's not logical or cost efficient, and with the short life span of trends, you'd be constantly getting rid of everything. Personally, I'm more of timeless gal that finds watching the top interior design trends fascinating. But I actually only add trends if they fit my home and style.
Using the trends in small ways is just one of my 8 Tips to Truly Timeless Decorating.
Here's how we can use the trends to make our home the best it can be in 2023:
Use the latest trends as a way to get you thinking about what you already have. To see your home with a fresh eye. Is anything screaming that it's way past it's prime that's putting a time stamp on your room? Sometimes a little editing and moving around makes all the difference.
Use trends in small touches with accessories and low cost items. Keep the big investment pieces timeless and participate in trends with things that are easy to change.
Don't use trends at all. There are no high school mean girls in your home to make you do what everyone else is doing. Just because everyone else is wearing a floral prairie mumu, doesn't mean you'll look good in it. Some trends will fit your personal style and some won't. You know you and what you like.

As always, I appreciate your visit, comments, and shares here on the blog! I'd love it if you also follow along with me on Pinterest, Instagram, and Facebook so you won't miss any of my inspiration and ideas.
Don't forget to sign up for updates to keep in touch…I have lots of fun and useful freebies you may be interested in in my subscriber-only library like my cheat sheets for where to place lighting, bathroom fixtures, artwork, and furniture!