Inside: The entry of a home sets the style for the rest of the house. See how I kept the style of my foyer for Christmas and dressed it in some of my favorite southern and French Country Christmas elements! ⟹
I just finished decking our halls for Christmas and I'd love to show you around! I've broken up my Christmas home tour into several different parts for you to keep the posts short and sweet. Today let's go inside and look at what you would see when you enter our home… the foyer and staircase.
The entry of the house sets the tone for what's to come and our Christmas foyer is no exception! I keep the Christmas decor here in line with my regular design…classic and traditional with a nod to my love for French accessories.
So let's take a peek…
Garland draped staircase.
Our curved staircase sits right inside the front doors and I think it just requires a garland at Christmas!
I draped a basic garland along the rails of our staircase and filled it out with a variety of faux greenery picks, including my Southern favorites, magnolia and pine. I let it sweep out onto the floor on each side to make the stairs look more inviting.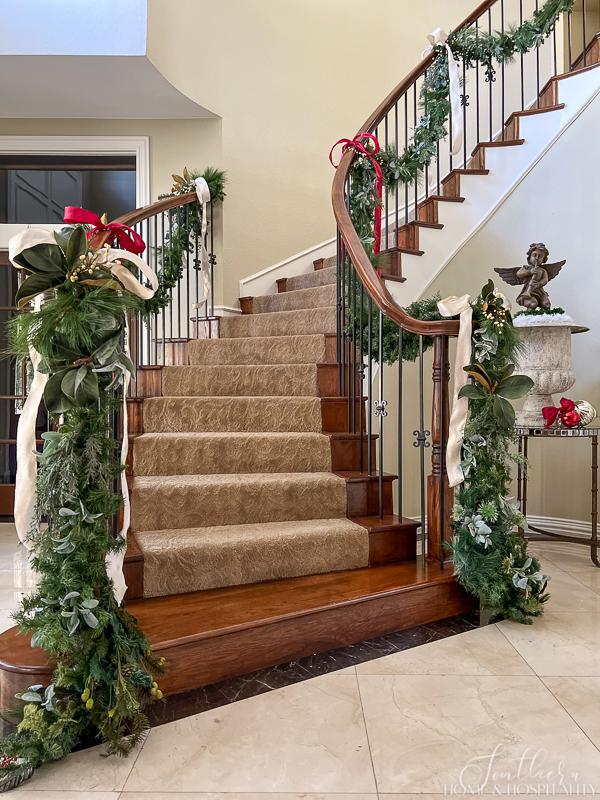 I concentrated berries, magnolias, and extra picks at the ends of each cascade.
I tied alternating bows in crimson and champagne to "hold" each swoop. Tying this kind of simple bow with streaming ribbon created more of a vintage French and even Victorian look.
The ribbons tie the foyer in with my overall color theme this Christmas (pun intended). They fit in with the deep red, white, silver, and champagne you'll be seeing in each of my holiday home tour posts!
This deeper shade of red has more of a vintage vibe than bright Christmassy reds…
And the champagne color brings in some sparkle, lightness, and joy!
Foyer table Christmas vignette.
The large aged urn that stays on the mirrored foyer table year round holds an angel to trumpet in guests and the good news of Christmas!
To add to the French Country feel, I added a boxwood wreath around the base. A layer of snow fills in the urn and adds a bit of white and softness.
And some mercury glass ornaments in my Christmas color theme tied together with crimson ribbon finished off the foyer table.
Thank you for visiting our home for the first part of my Christmas home tour! Meet me next in the living room and then on to the kitchen and family room for a look at our red and white classic Christmas decor that creates the feeling of my theme this year, "Comfort and Joy".
Happy Holidays!
As always, I appreciate your visit, comments, and shares here on the blog! I'd love it if you also follow along with me on Pinterest, Instagram, and Facebook so you won't miss any of my inspiration and ideas.
Don't forget to sign up for updates to keep in touch…I have lots of fun and useful freebies you may be interested in in my subscriber-only library like my cheat sheets for where to place lighting, bathroom fixtures, artwork, and furniture!
Pin this for reference later: