This heart shaped topiary is inexpensive to make and right at home in French country or French farmhouse style Valentine's day decorating! ⟹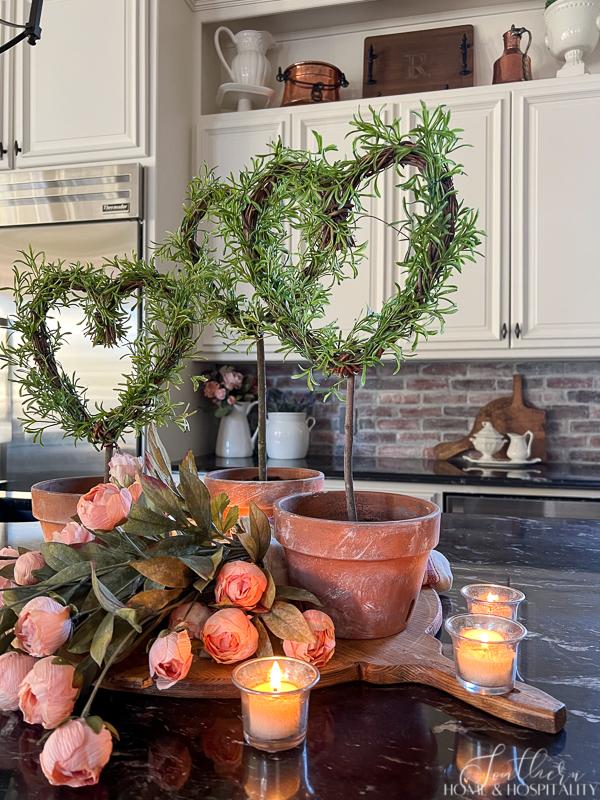 This post contains Amazon and other affiliate links for your convenience. As an Amazon Associate I earn from qualifying purchases. If you purchase something through any link, I may receive a small commission, at no extra charge to you. I only recommend products that I love or would purchase for myself. See my full disclosure here.
Do you decorate for Valentine's Day?
Since my kids are grown, I have way fallen out of the habit of decorating much, and back then it was mostly for their classroom parties. But I am a fan of celebrating love and all of my special relationships… with my husband, my family, and my friends. So I do still get a warm fuzzy feeling from having just a little nod to Valentine's day around.
And I just love topiaries! I came up with this idea because rosemary topiaries really fit in a French country style kitchen. Plus, I wanted to decorate for Valentine's Day with something a little more adult now besides cardboard and tinsel hearts. So what better way to add a Valentine's Day decorating touch than heart shaped topiaries?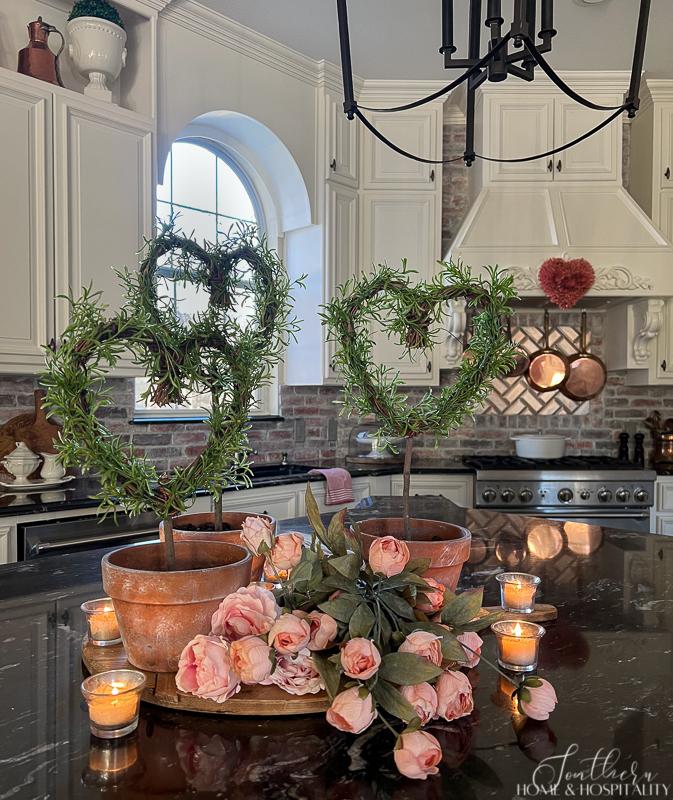 There's nothing overtly Valentine-y about them other than their heart shape so they make for a more subtle, adult Valentine look that fits in with my decor.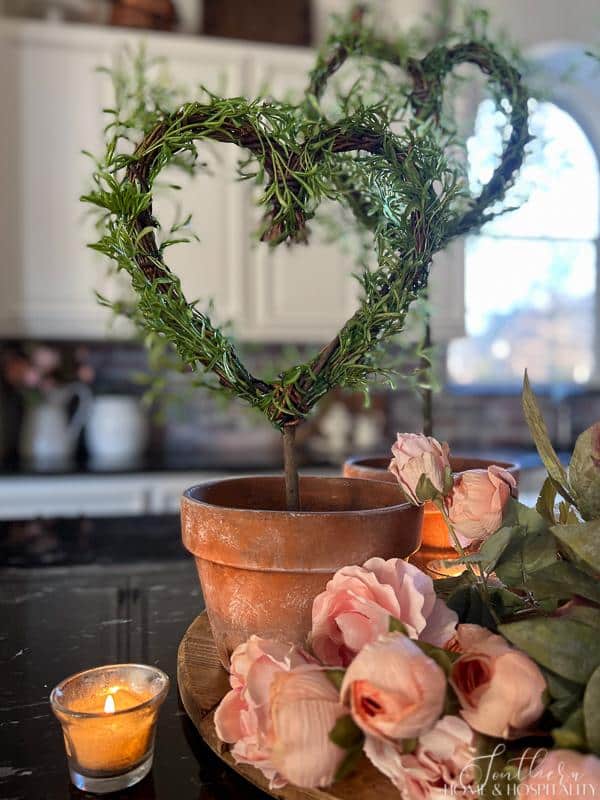 Let me walk you through how I put these heart shaped topiaries together in case you'd like to make some of your own! It was really inexpensive since I had a lot of the supplies already.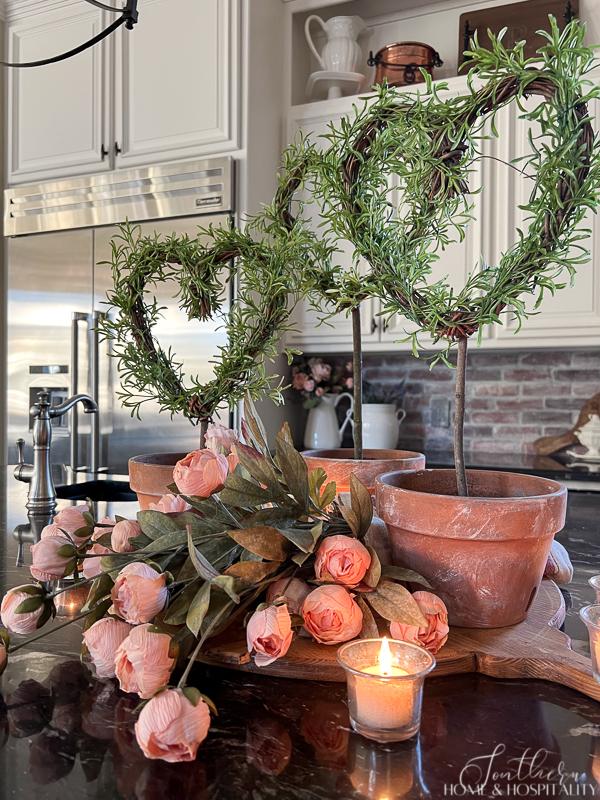 How to make the topiary.
What I used:
Garden pot
Styrofoam
Green floral wire
Stick from the yard
I was able to find everything I needed to make the topiaries from Hobby Lobby and from around the house.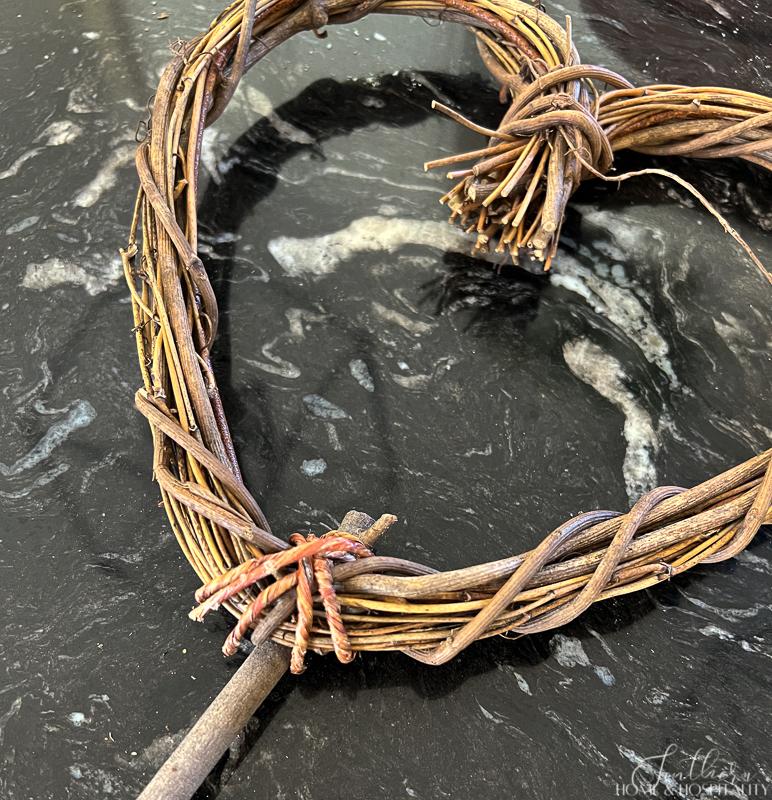 First, I took a nice straight branch from a bush in the yard and wrapped a piece of grapevine wire around the stick and the wreath until it was secure. I had to wrap it quite a few times to get it straight and stable enough to stand on its own.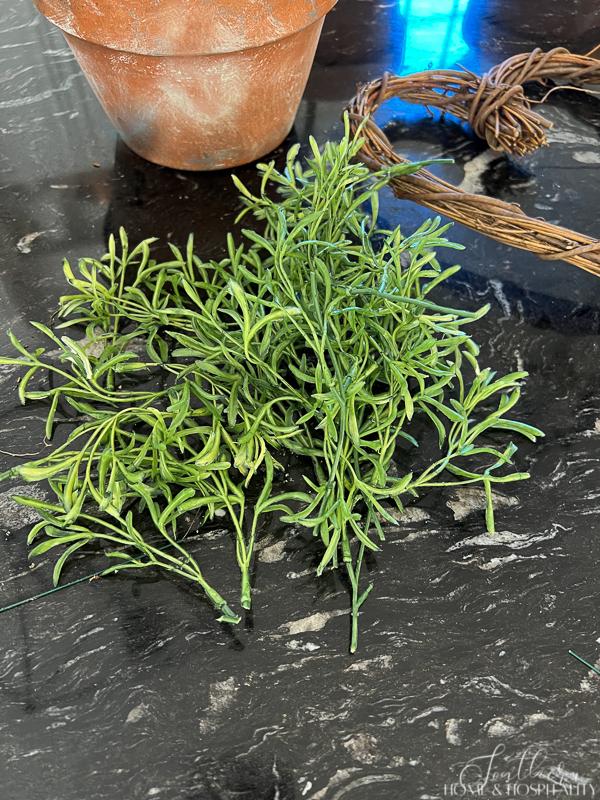 I cut apart pieces of the faux vine. I'm not sure exactly what type of plant this is supposed to be since rosemary doesn't grow like this long trailing version…maybe a fern. But the individual pieces look like real rosemary! I was able to buy it during a week when florals were 50 percent off at Hobby Lobby.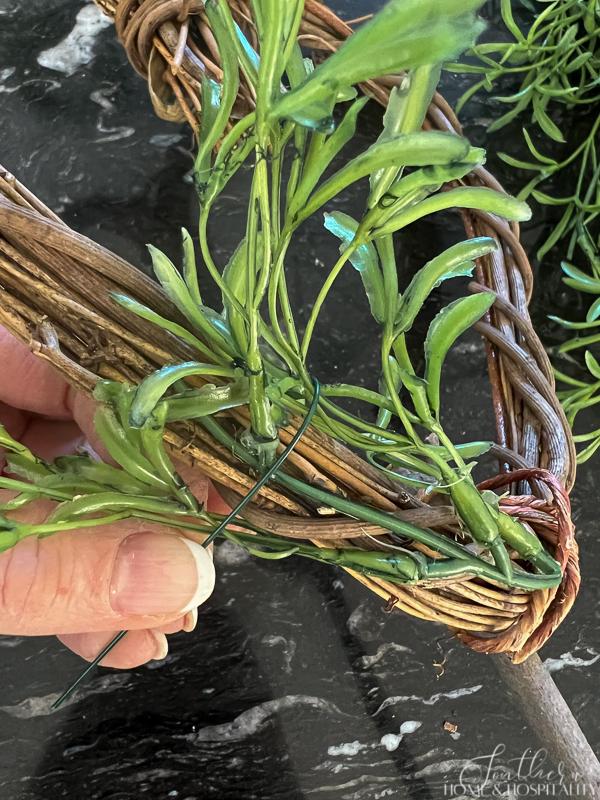 I laid out pieces over one side of the heart. Then I secured it to the wreath every few inches with pieces of green floral wire.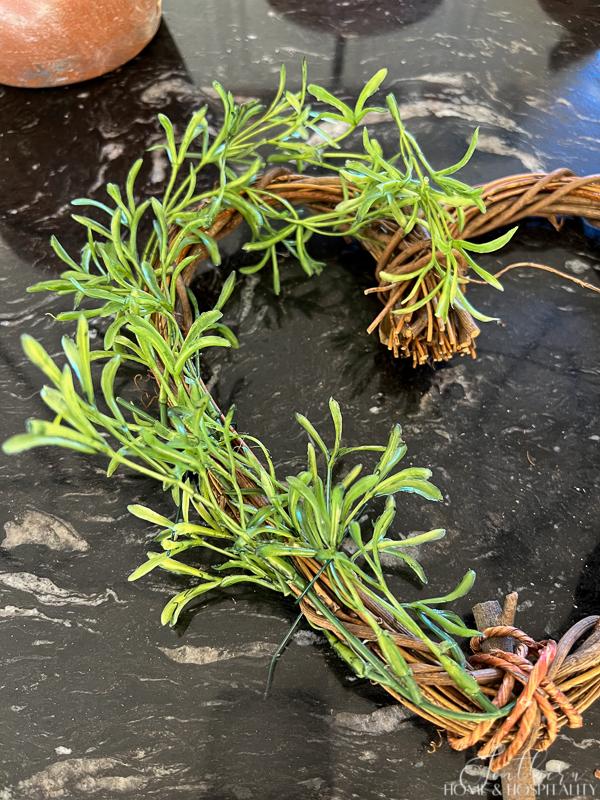 Instead of closing the wire all the way and smoothing it down, I left it sticking out on the other side so that I could use the same wire to secure the rosemary pieces on the back as well. After the front side was covered, I flipped the wreath over and repeated on the back.
I cut floral foam I had on hand to fit snugly in the bottom of the pot. These topiaries aren't really top heavy so nothing was needed to weigh it down.
Tip: Don't insert the stick until you are pretty much done attaching the greenery. You can still do minor touching up, but if you cause the stick to move around, it will enlarge the hole and the topiary won't stand straight.
The rosemary looked so life-like, I decided to fill the pot with potting soil, but I could have also chosen Spanish moss or green preserved moss.
I made a trio of topiaries and just varied the heights of the sticks. They look so natural in my French country kitchen and I love how they also bring some life into the room this dreary time of year!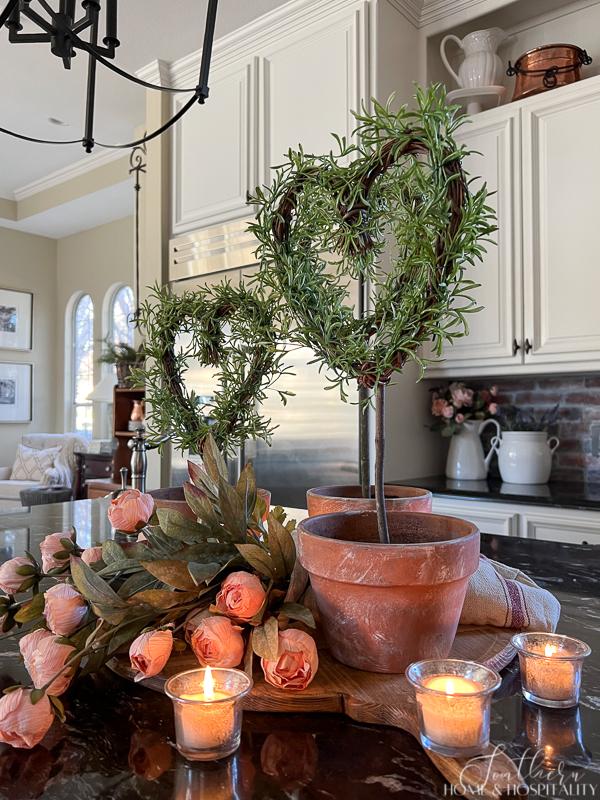 This is the extent of my Valentine decor this year but I also gave the vent hood a little Valentine love with this cute flower heart I also picked up at Hobby Lobby:
And some pink flowers on the counter…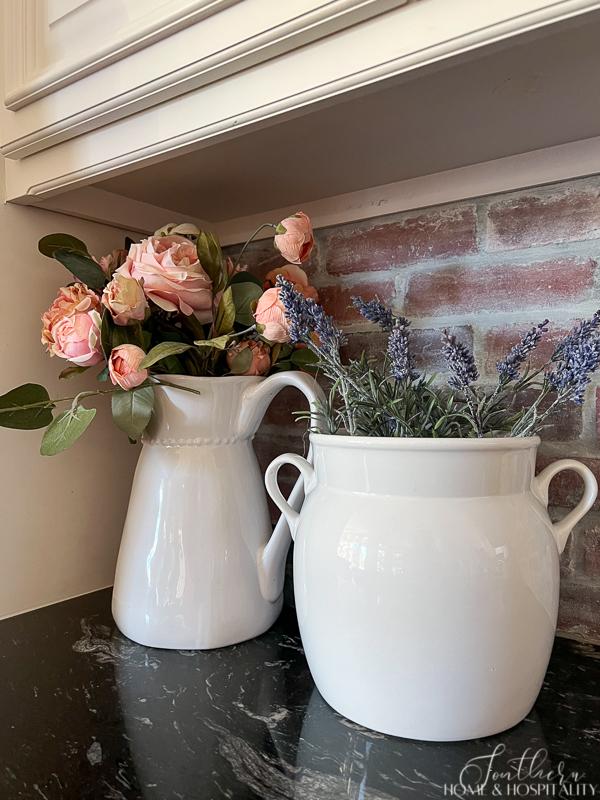 If you love topiaries as much as I do, you should give this Valentine DIY a try! I'd love to see what you create!!
And if you'd like to see even more Valentine's Day crafts, take a look at the other beautiful projects my blog friends have made!
Marianne from Songbird shares her sweet DIY Lace Hearts
Suzy from Worthing Court created this lovely Valentine's Day Printable
xoxo,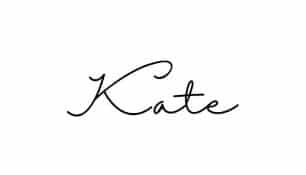 As always, I appreciate your visit, comments, and shares here on the blog! I'd love it if you also follow along with me on Pinterest, Instagram, and Facebook so you won't miss any of my inspiration and ideas.
Don't forget to sign up for updates to keep in touch…I have lots of fun and useful freebies you may be interested in in my subscriber-only library like my cheat sheets for where to place lighting, bathroom fixtures, artwork, and furniture!
Pin this for reference later: