St. Patrick's Day Sparkling Shamrock Champagne Cocktail
Inside: This easy green cocktail is made with crisp and bubbly champagne, a splash of Midori, and a squeeze of fresh lemon juice. A quick signature drink for St. Patty's Day that's an elegant, fresh, and light option to green beer. ➡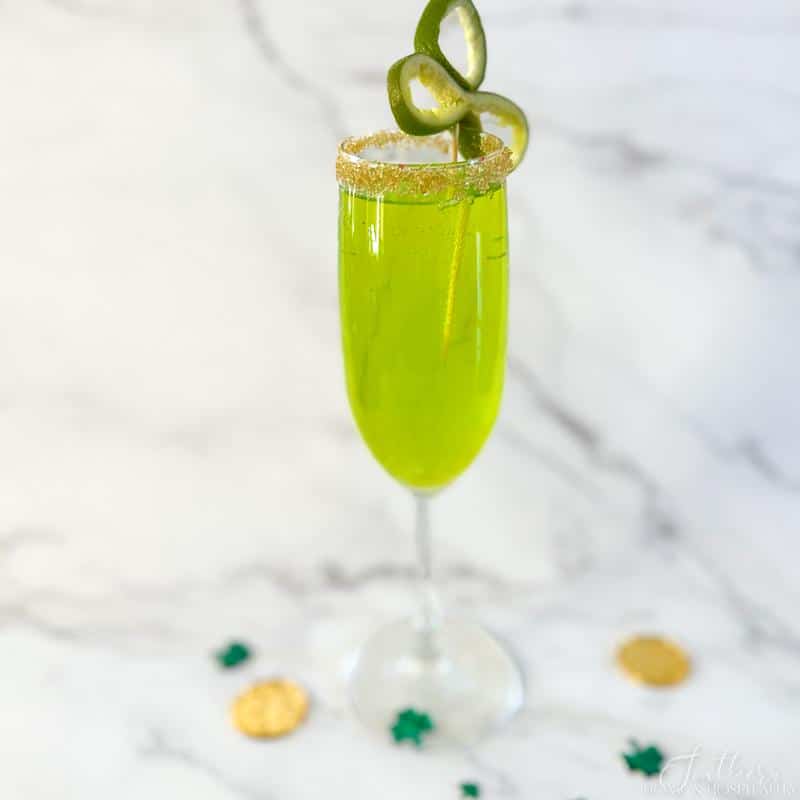 ---
On St. Patrick's Day, most people partake and celebrate with green beer. But champagne goes with every holiday. And you just can't ignore the party in a champagne flute full of neon green bubbles.🥂
This fun cocktail is a perfect alternative if you're not into all the Irish beers at a St. Patrick's Day party. And it only has three simple ingredients – crisp and light bubbly with a squeeze of lemon and a splash of Midori melon liqueur for a wee bit o' the green.
I'm joining together with friends for the "Celebrate the Holiday" Blog Hop, hosted by Carol of Bluesky at Home! This month it's all about celebrating St. Patrick's Day with plenty of creative ideas to inspire you so make sure to check them all out at the end of this post. If you've landed here from Laura's at Everyday Edits, thank you for your visit and I hope you come back again!
What is Midori?
Midori is a neon green, melon-flavored Japanese liqueur. In fact, it's named after the Japanese word for green. You might remember the overly sweet Midori Sour from the 1980's. The liqueur itself does have a sweet honeydew melon flavor, but its real star quality is its ability to add electric green color to a cocktail.
The simple Sparkling Shamrock recipe.
This easy St. Patrick's Day cocktail only has three ingredients and three steps!
Ingredients.
1 oz of Midori (or other melon liqueur)
1 tsp or splash of fresh lemon juice
Prosecco, Champagne, or Sparkling Wine
Directions.
Pour the Midori into a champagne glass.
Add the lemon juice.
Top with Prosecco or Champagne for a sparkling green St. Patrick's Day drink you can't miss!
Add more or less melon liqueur depending on how green you want it, how bubbly, and how sweet. A little goes a long way if you're only wanting to add this gorgeous green hue. If needed, combine everything with a drink stir stick.
This post contains Amazon and other affiliate links for your convenience. As an Amazon Associate I earn from qualifying purchases. If you purchase something through any link, I may receive a small commission, at no extra charge to you. I only recommend products that I love or would purchase for myself. See my full disclosure here.
Dress it up even more by adding some sparkle! Stir in some green edible glitter. Or rim the glass with lemon juice and gold cocktail rimming sugar before making the cocktail, like I've done here:
Can you make the Sparkling Shamrock a mocktail?
To get the same bubbly look without the alcohol, try replacing the champagne with club soda, seltzer water, sparkling grape juice, or a combination of these depending on how sweet you like it.
Other good times to serve a green signature cocktail.
This festive cocktail is also fun for any holiday or adult party with a green theme. Serve these green champagne or prosecco cocktails at a:
Mardi Gras bash
Golf gathering
Wizard of Oz party
Football get together
Halloween party
College graduation, watch party, fancy tailgate, or alumni event where the school color is green
If you love champagne cocktails, be sure to read the post "Skinny French 75 Champagne Cocktail: Celebrate With Less Sugar".
Other green tasty drinks with champagne.
If you'd like to add yet another bubbly green cocktail drink option to the menu, try an easy Leprechaun Mimosa. It's a fun twist on the traditional mimosa and perfect for a St. Patrick's Day brunch. Simply add a splash of blue curacao to the orange juice and champagne and it will turn it green!
Sources for this post or similar.
---
For those of us that the very thought of drinking green beer makes us feel "green", the Sparkling Shamrock is a perfect way to share in celebration of all things Irish!
So raise your glass o' green and toast to this:
"May your trouble be less. And your blessings be more. And nothing but happiness come through your door." –Irish Blessing

Before you go:
As always, I appreciate your visit, comments, and shares here on the blog! I'd love it if you also follow along with me on Pinterest, Instagram, and Facebook so you won't miss any of my inspiration and ideas.
Don't forget to sign up for updates to keep in touch.
I have lots of fun and useful freebies you may be interested in in my subscriber-only library like my printable for a summer theme party signature drink menu!
---
Pin it to remember it!
If you've enjoyed this post, please pin and share this on Pinterest:
---
Celebrate the Holiday links.
Now for more St. Patrick's Day Inspiration: