Inside: This free printable vacation packing list has both filled out and blank editable versions to help you start any trip more organized, under control, and relaxed because you're less likely to forget anything! ➡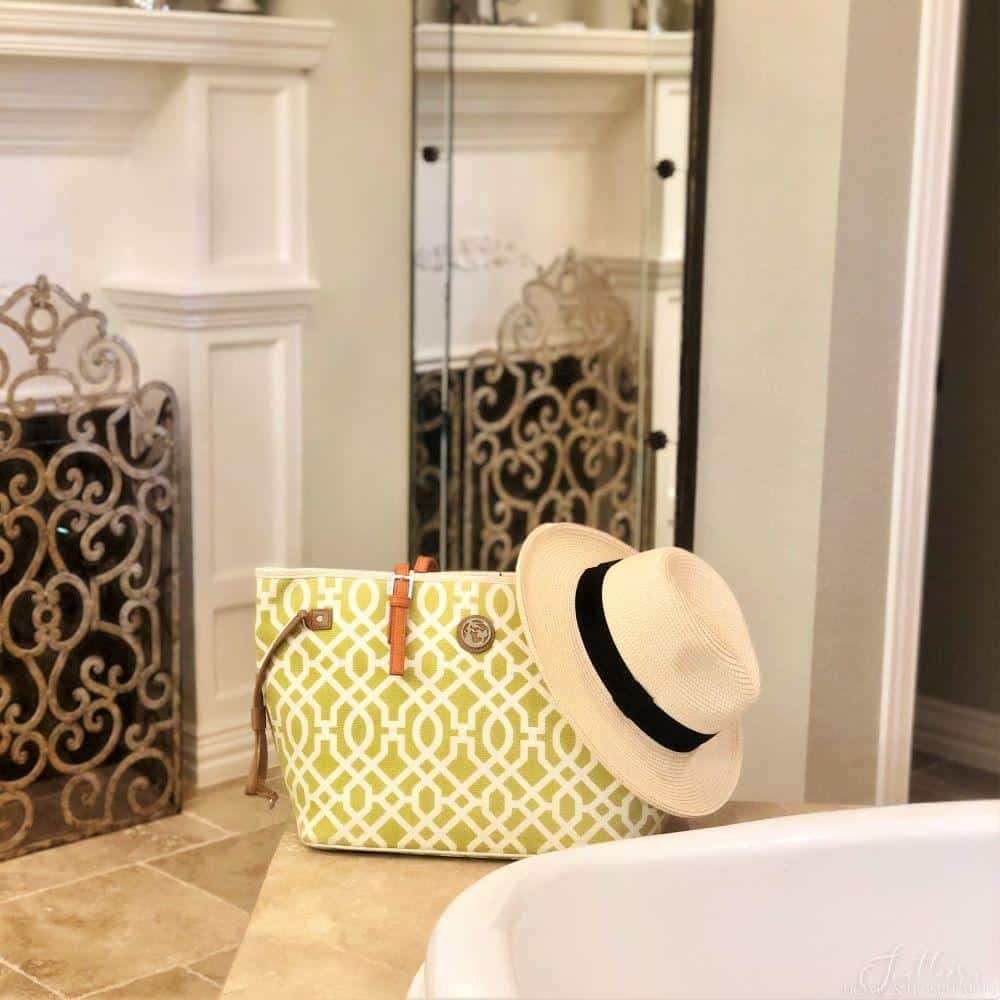 ---
You would think that going to the Walmart in every town I visit was on my vacation bucket list.
Because it never fails someone in my family forgets something and we end up there. (I can attest they are all very similar.)
My solution?
I'm a list nerd, so of course my answer was to create a packing list to avoid some of those emergency shopping trips.
And I'm all too happy to share it so you can skip some of the beginning-of-vacation store runs. (Unless you are into visiting all of the Walmarts – no judgment.)
This post contains Amazon and other affiliate links for your convenience. As an Amazon Associate I earn from qualifying purchases. If you purchase something through any link, I may receive a small commission, at no extra charge to you. I only recommend products that I love or would purchase for myself. See my full disclosure here.
Things to include on your ultimate packing list.
The top list below is what my packing list currently looks like. The one underneath is a blank template with ready-to-fill categories: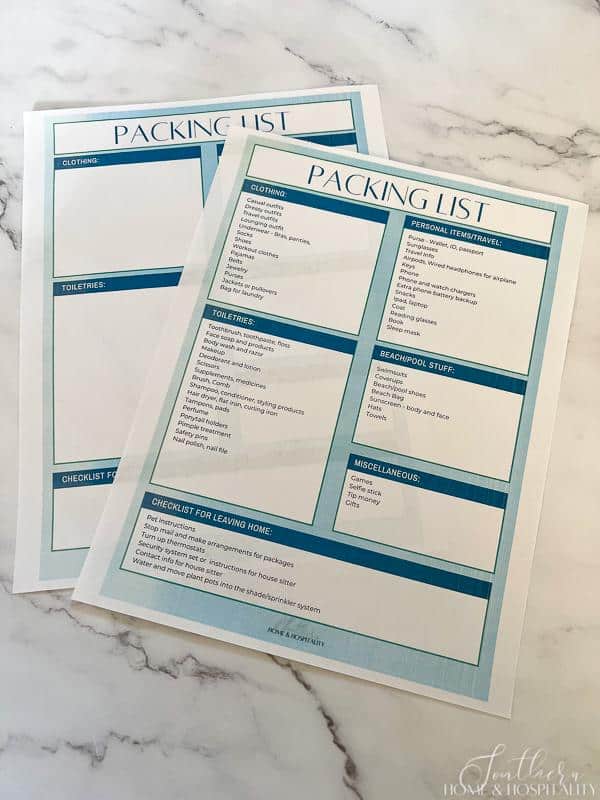 I've broken both packing lists down into sections for what to bring:
Clothing items like casual outfits, pajamas, socks
Toiletry items like toothbrush, flat iron, medicines
Essential items for tech/travel – like cell phone and watch chargers, voltage converters, headphones
Personal items – like wallet, glasses, passport, snacks
Beach/pool items – like beach towels, beach bag, bathing suit, sunscreen
Miscellaneous items – like tickets, gifts, umbrella
The miscellaneous section is a great way for me to customize the list I already have printed. Specific items change depending on the time of year, the dress code, and activities. Do I need a coat and gloves? Or my Minnie Mouse fanny pack to rock on a Disney World vacation?
And at the very bottom, I've included a "checklist for leaving home" area. It helps with my peace of mind to make sure I've taken care of everything before I go away – like stopping the mail and turning up the thermostat.
Two packing list printables for you to choose from.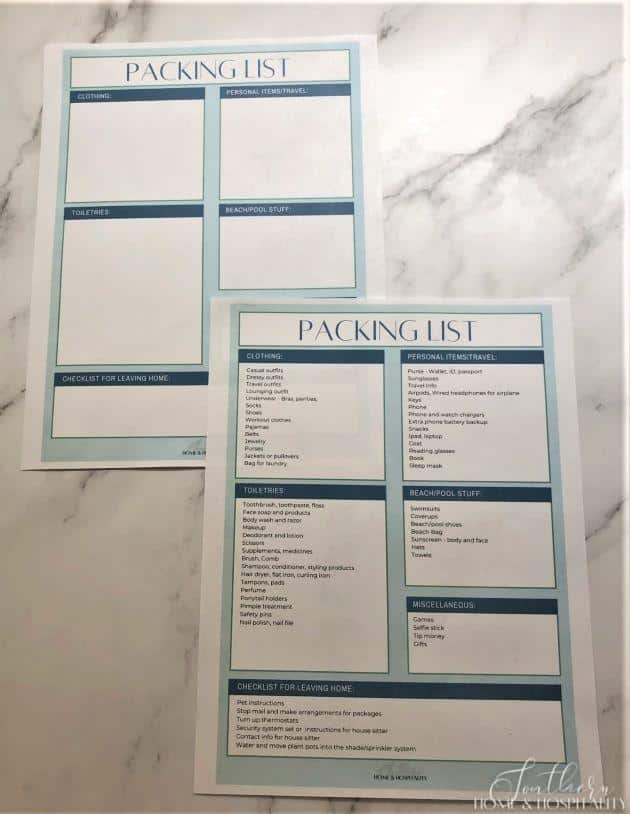 One of the printables is this current detailed list of suggestions of things I might need. Feel free to use it as is, or as a starting point for ideas of what you want to include in your own customized version.
I also included a second blank packing list because your list of what you usually pack could be much different than mine. This editable packing list template is in a PDF format that you can fill in and customize for yourself in a PDF editor. Or just print the blank packing list and write in your own complete travel packing list.
You could even print and make one for each family member that you have to pack for (they may be the most likely to forget something).
Customize the packing list by trip.
My packing list changes over time and by trip and I occasionally update it and print a fresh one. But it's a good idea to keep it in a sheet protector like this: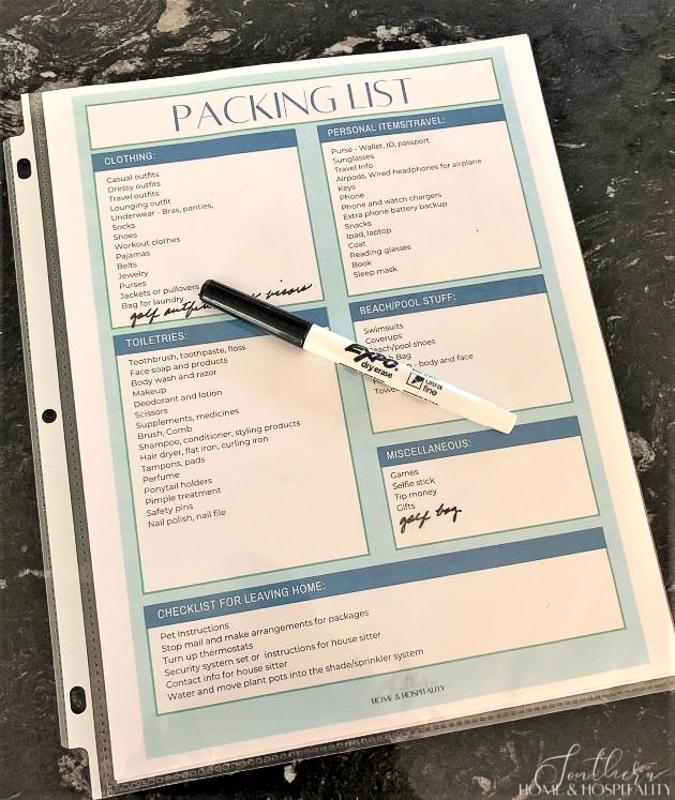 This allows me to use it over and over for different kinds of trips. I can make notes on it, cross things out, and check things off with a fine tip dry erase marker. When I'm done I just wipe it clean for the next time!
You can find both versions of this free printable travel checklist in the subscribers-only library down in the footer menu. (The password is at the bottom of every email you get from me.)
If you're not already a member of the SH&H family, I'd love to have you join us! You'll not only get email updates, but you'll have exclusive access to all the bonus materials only for my subscribers, like these packing list printables:
Don't forget to sign up for updates to keep in touch.
---
Some of my favorite travel gear and best tips.
Some of my other favorite travel tips besides making a packing list are:
Use compression packing cubes. They keep everything more organized and your clothes won't take up as much room.
Pack an empty plastic kitchen garbage bag for dirty laundry. It makes it so easy to toss dirty clothes in the hamper when you unpack at home.
Pack your toiletry bag as you're getting dressed. I always pack my toiletries as I use them for the last time before I leave, and then the last thing I do is go over the packing checklist. It's saved me many times from forgetting a personal item or two.
Invest in the following items to keep in your travel bag, so you never forget them:

Travel size versions of your toiletries
---
I hope this packing list helps you stress less about packing for your next trip. I know it makes it easier for me to get this not-so-fun but necessary part of a vacation done and feel like everything is taken care of so I can enjoy my trip!
Tell the Walmart greeter in your town I said hello. Hopefully, now I won't be visiting them.
Happy packing,

Before you go:
As always, I appreciate your visit, comments, and shares here on the blog! I'd love it if you also follow along with me on Pinterest, Instagram, and Facebook so you won't miss any of my inspiration and ideas.
---
Pin it to remember it!
If you've enjoyed this post, please pin and share this on Pinterest:
Sources for this post or similar.

---