Quick Patriotic Decorating Ideas with American Flags
Inside: Want to add a patriotic touch in minutes with little cost? Inspiration and ideas for decorating with American flags for the 4th of July or Memorial Day that are easy as (American) pie! ➡
We've gotten much worse at planning ahead.
And plans for July 4th are no exception. So not knowing whether we'll be at home celebrating with an impromptu gathering, or doing something fun elsewhere, I don't go all out decorating for this middle-of-the-heat-of-summer holiday anymore.
It's got to be fast.
My speedy decorating is all about sticking small American flags everywhere, Oprah style— you get a flag, and you get a flag…
Nothing says Fourth of July like the stars and stripes, right?
And the best thing— I can pull the same flags back out to use for any patriotic holidays like Memorial Day, Flag Day, Veterans Day, and Presidents Day.
This post contains Amazon and other affiliate links for your convenience. As an Amazon Associate I earn from qualifying purchases. If you purchase something through any link, I may receive a small commission, at no extra charge to you. I only recommend products that I love or would purchase for myself. See my full disclosure here.
Festive for the Fourth front porch.
First, I stick flags in the summer front door wreaths to set the patriotic tone on the front porch: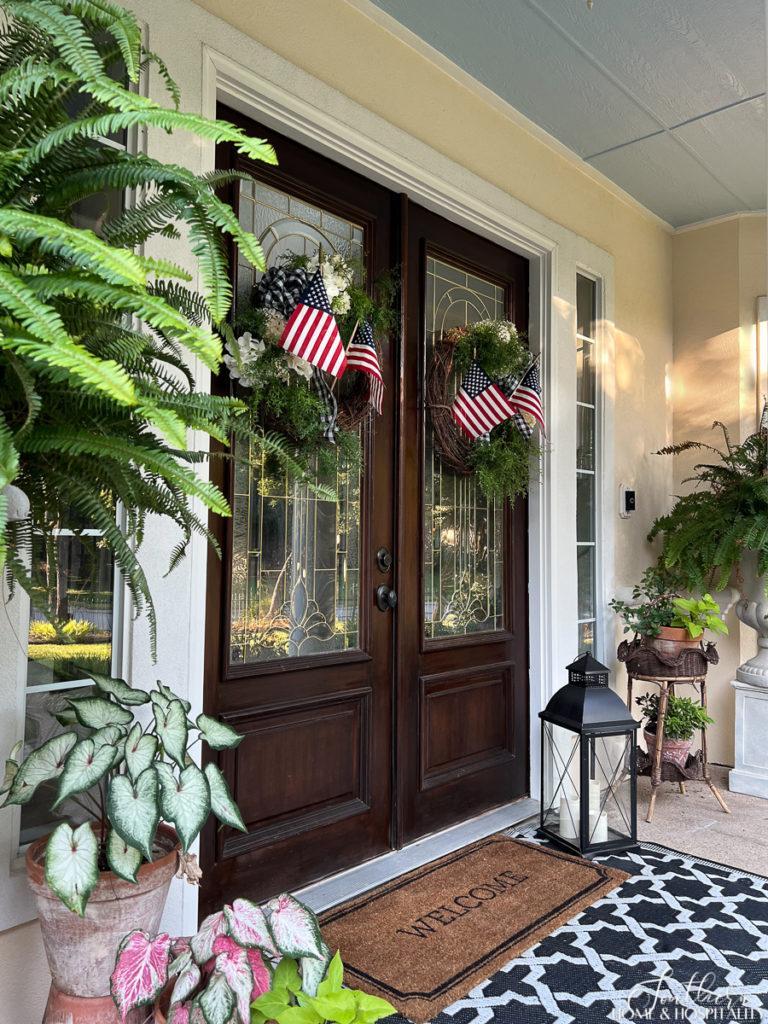 And put a few in the porch planters around the entrance:
I also hang traditional red, white, and blue patriotic bunting from the balcony with some zip ties. A little more expensive than the small flags, but I'm able to use them for several years if I don't leave them out to fade too long.
America in the house…
The entryway is the perfect place for a pop of patriotic pride to set the theme as you come in. So I fill up the big foyer urn with another bunch of flags.
In the kitchen, I'll add more flags to whatever arrangement I have for summer on the island.
And I put out my Independence Day kitchen towels. I remember buying these towels thinking, "how cute are these patriotic crawfish?" Yes, they are more likely to be lobsters— that's just the Louisiana girl in me.
I hang this pennant banner from the fireplace mantel in the family room. I always liked the more muted, vintage version of red, white, and blue it has. And I place a couple of 4th of July patriotic decorations from Pier One (RIP—they were always a go-to source for holiday decor).
Patriotic patio for Fourth of July dinner outdoors.
Since Independence Day is smack in the middle of summer, it seems most appropriate to decorate outside! At some point during this weekend, whether we celebrate here or not, we'll hang out at the pool and have at least one of our meals out here. So I like to have a bit of a tablescape base in place.
For patriotic tablescape ideas that match your decorating style, see "How to Create a Stylish and Sophisticated 4th of July Tablescape that Pops!"
The outdoor dining table just needs flags (of course) with some additional red, white, and blue.
I'll usually make a patriotic centerpiece with mason jars, flower pots, or white planters and fill them with red, white, and/or blue flowers.
I also pull out some table linens from what I have in red, white, and blue. And depending on if we have guests or not, either my real white dishes, these blue melamine plates, or maybe just some disposable patriotic paper napkins and plates if it's only us.
One more flag for the road in the planter of blue salvia on the outdoor kitchen, where we'll cook our meal to eat al fresco.
Fourth of July decorations? Done.
For this easy way to add a little red, white, and blue wherever your heart desires, buy a couple of packages of flags in different sizes. I found most of my smaller flags on Amazon, but the dollar store and craft stores are other good (cheap) sources to find flags to decorate with.
You can find similar small flags here and here.
Other easy patriotic decor ideas:
Shop your house or keep an eye out for these fun ways to decorate:
Red, white, and/or blue flowers, either faux or fresh flowers, or real potted summer flowers
Red, white, and/or blue pillows, even better if they sport a stars and stripes motif
Red, white, and/or blue home decor, or with stars or stripes
Check the thrift store for a vintage flag and drape it under a vignette, or use framed flags as patriotic wall decor
You'll be surprised at all the different ways you can add a little flair to your Fourth with a few flags and a few minutes!
Happy 4th of July!

Before you go:
As always, I appreciate your visit, comments, and shares here on the blog! I'd love it if you also follow along with me on Pinterest, Instagram, and Facebook so you won't miss any of my inspiration and ideas.
Don't forget to sign up for updates to keep in touch.
If you're not already a member of the SH&H family, I'd love to have you join me! You'll not only get email updates, but you'll have exclusive access to all the bonus materials in my free subscriber-only library, like this:
---
Pin it to remember it!
If you've enjoyed this post, please pin and share this on Pinterest: