How I easily made our home festive for the Fourth of July in minutes just by adding a few flags! ⟹
Happy Independence Day weekend! We will be hanging out with friends mostly away from home to celebrate the 4th of July, but of course, I couldn't resist adding a little patriotic flair to the house.
I repeat "little".
We won't be celebrating over here so I didn't want it to take much effort. If you don't count the bunting hanging from the front balcony, it probably took all of 10 minutes! My speedy decorating was all about sticking small flags everywhere. Easy Peasy.
Nothing says July 4th like the American flag, right?
This post contains Amazon and other affiliate links for your convenience. As an Amazon Associate I earn from qualifying purchases. If you purchase something through any link, I may receive a small commission, at no extra charge to you. I only recommend products that I love or would purchase for myself. See my full disclosure here.
Festive for the Fourth front porch.
First, I set the patriotic tone on the front porch with some flags stuck in the summer door wreaths…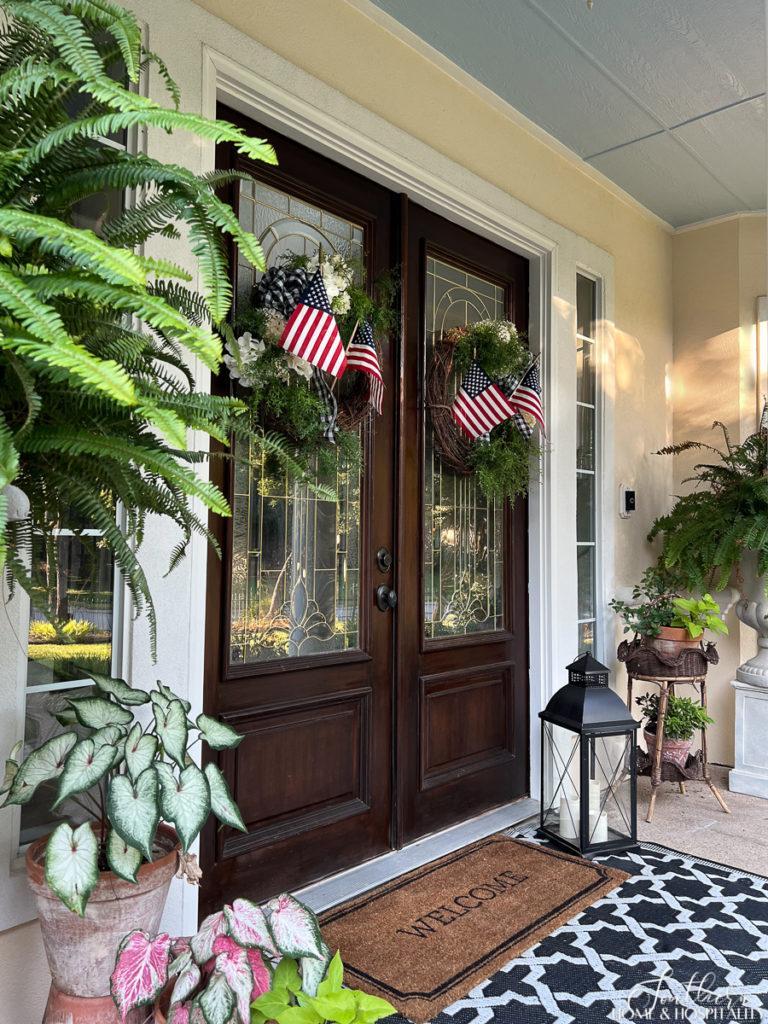 And as usual, I hung the traditional red, white, and blue bunting from the second story balcony.
America in the house…
Moving inside the house, I popped more flags in the aged urn in the foyer.
In the kitchen more flags on the island. And I put out my Independence Day kitchen towels.
I remember buying these towels thinking, "how cute are these patriotic crawfish?" Yes, they are more likely to be lobsters…that's just the Lousiana girl in me.
I hung my 4th of July pennant banner from the mantel in the family room. I always liked the more muted, vintage version of red, white, and blue it has. And I placed a couple of 4th of July knick-knacks I have above from Pier One (RIP…they were always a good source of holiday decor).
Patriotic patio for Fourth of July dinner outdoors.
Since Independence Day is smack in the middle of summer, it seems most appropriate to decorate outside! At some point this weekend we will hang out at the pool and have at least one of our meals out here.
The dining table just needed flags (of course!) with some additional red, white, and blue.
I added a few white magnolia flowers to this planter along with the white caladiums already growing in it. I brought in blue with the linen table runner and the melamine plates. And finished with a dash of red with the red plaid under the planter. I'll use patriotic disposable napkins this year since it's just us!
One more flag for the planter of blue salvia on the outdoor kitchen where we will cook our meal to eat al fresco.
Done and ready to enjoy the weekend!
I found most of the small flags on Amazon…if you want to easily add a little flair for July 4 like I did, you can find small flags here and here.
I think I may leave the flags in place a little longer this year to celebrate our American athletes for the 2021 Summer Olympics!
Happy Independence Day my friends!!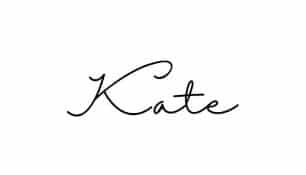 As always, I appreciate your visit, comments, and shares here! And don't forget to subscribe for updates to keep in touch and to follow along with me on Pinterest, Instagram, and Facebook!!
Pin this for reference later:
Remember to pin this to your Pinterest Summer and patriotic holiday boards to refer to later. You can FOLLOW ME ON PINTEREST and see all of my pins plus lots of other inspiring ones that I've found and pinned!