Mercury glass, silver, snow and candles set the stage for this reflective, soft, and elegant winter tablescape perfect for January. ⟹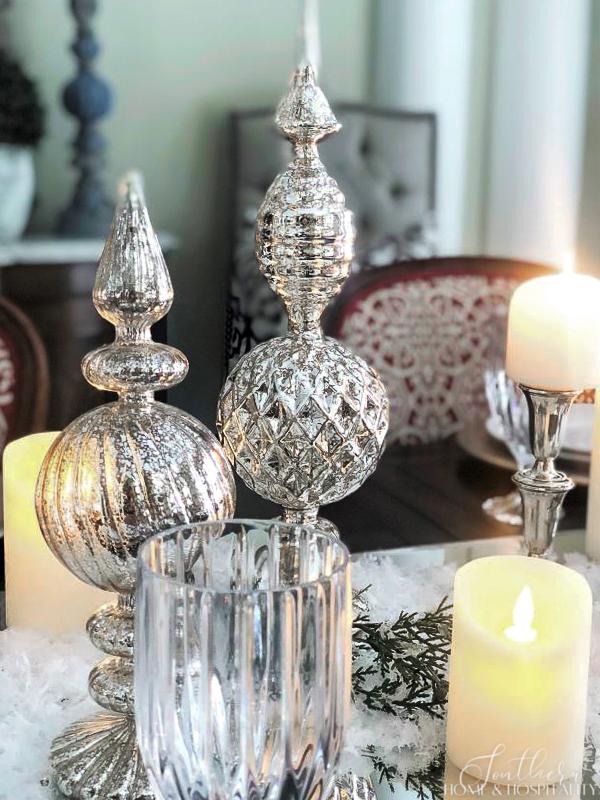 The holidays are over and the house is much quieter. There is a (very) brief time that I still like to embrace the beauty of winter before putting the flowers back on my dining table. I've done a version of this elegant silver and white tablescape a couple of times in years past for early January entertaining and the effect is so elegant and peaceful!
This post contains Amazon and other affiliate links for your convenience. As an Amazon Associate I earn from qualifying purchases. If you purchase something through any link, I may receive a small commission, at no extra charge to you. I only recommend products that I love or would purchase for myself. See my full disclosure here.
This set of mercury glass finials adorn my master bedroom fireplace mantel during the holidays but they are the star and inspiration of this centerpiece this January. They set the stage for a reflective, soft, elegant table of silver and white.
The mirror runner that is still in place from my holiday table makes the base for this winter design. The reflection complements the mercury glass and candlelight beautifully and really amps up the reflective quality of this table!
You can see how I've used this mirror in a red and white Christmas tablescape here.
I add lots of white candles, both real and battery-operated among the finials. These battery-operated candles with the moving "flickering" flame are so realistic!
They have a timer so I set them to come on every evening…it's so calming to walk through and see them glowing every night!
I used this set of white and silver china that I inherited and it fits perfectly in this white and silver theme and the crystal faceted glasses also add to the sparkle factor!
My vintage silver candlesticks are a perfect partner to the mercury glass finials…
And what winter tablescape would be complete without a little (faux) snow! I sprinkled a bit of artificial snow around the centerpiece and then added some natural elements on top with cedar sprigs and pinecones. These particular cedar pieces are also faux, but I have used real cedar from our trees in the past.
And then it really snowed! I HAD to put this centerpiece back into place in February this year just because we don't often have this view from our dining room window in Texas!
This winter tablescape is a nice contrast to the dark winter days of January with its silvery light. And a relaxing place to have an unhurried dinner with family and friends.
I'd love to hear what you do with your dining table in early January…let me know in the comments!
As always, I appreciate your visit, comments, and shares here on the blog! I'd love it if you also follow along with me on Pinterest, Instagram, and Facebook so you won't miss any of my inspiration and ideas.
Don't forget to sign up for updates to keep in touch…I have lots of fun and useful freebies you may be interested in in my subscriber-only library like my cheat sheets for where to place lighting, bathroom fixtures, artwork, and furniture!