Amazingly Moist Pesto Salmon and Asparagus in Foil (in 30 Minutes)
Inside: A super moist and flaky salmon filet topped with delicious basil pesto and juicy tomato on a bed of roasted asparagus, all wrapped up in a foil packet. Easy, quick, and healthy, it's the perfect weeknight dinner recipe!
How about a simple recipe that's healthy? And quick? And that's all contained in its own foil packet making it a breeze to clean up?
This pesto salmon is my favorite fast delicious dinner for busy weeknights that I feel good about eating.
Cooking the fish in foil makes it so moist and flaky, even my family who aren't huge salmon fans, eat it every time.
Jump to Recipe
This post contains Amazon and other affiliate links for your convenience. As an Amazon Associate I earn from qualifying purchases. If you purchase something through any link, I may receive a small commission, at no extra charge to you. I only recommend products that I love or would purchase for myself. See my full disclosure here.
The ingredients for pesto salmon.
Salmon filets
Traditional jarred pesto sauce (my favorite is this Classico Traditional Basil Pesto—it's packed with flavor and available in most grocery stores)
Fresh asparagus
Grape or cherry tomatoes
Lemon juice
Olive oil
Salt and pepper
Aluminum foil
See the recipe card for exact amounts.
How to make pesto salmon in foil.
Preheat the oven to 400 degrees.
Tear the foil. Cut four pieces approximately 12-14 inches wide.
Prep the asparagus. Wash and then cut or break off the tough ends. Toss the spears in a bowl with 2 tsps. of olive oil and salt and pepper. Divide it between the sheets of foil.
4. Add the salmon and pesto. Lay a salmon filet on top of the asparagus, and sprinkle with salt and pepper. Then spread a generous amount of pesto sauce over each piece of salmon.
5. Top with lemon juice and tomatoes. Drizzle lemon juice over the fish. Cut the grape tomatoes in half and toss in another teaspoon of olive oil and salt. Divide them over each salmon filet.
6. Fold the foil packets. Wrap the sides of the foil up over the salmon (but not too tightly). Then roll up and crimp the ends.
7. Bake. Place the foil packets on a baking sheet and bake for 20-25 minutes or until the fish flakes and is no longer bright pink inside (the internal temperature should be around 125-130 degrees).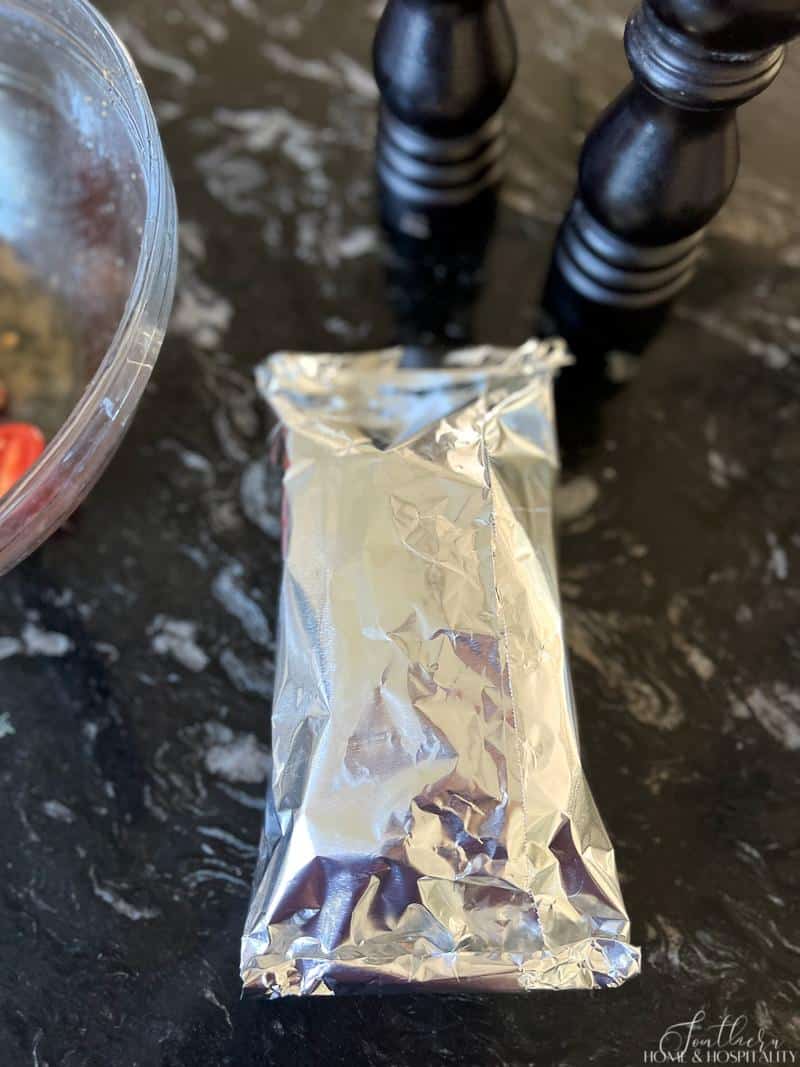 SH&H Tip: Before serving, open the corner of each foil packet slightly and drain out the liquid that forms while cooking. Or remove the asparagus and fish and plate it without the foil.
This cooking method can also be used for one large salmon filet by piling it all into one large foil packet!
Pesto salmon FAQ's.
What can I serve with pesto salmon?
This dish is a protein entree and a vegetable all in one and we usually don't add anything with it. But it pairs beautifully with sides! Here are some delicious partners for this baked pesto salmon recipe:
Green salad
Jasmine rice
Wild rice
Roasted potatoes
Crusty baked bread with butter
Can I grill pesto salmon packets?
Yes, you can. Heat the grill to medium-high heat (around 400 degrees) and place the foil packets on the grates. Grill for 20-25 minutes until the fillets are cooked all the way through.
Can I use my own homemade basil pesto?
Of course! I like pesto from the grocery store just because it makes this meal so fast. But you can make your own pesto with a little fresh basil, garlic cloves, seasonings, olive oil, parmesan, and a food processor.
I don't like asparagus. Are there other options?
I've seen similar recipes use green beans. You'll need to blanch them before adding to the packets.
If you love asparagus, here's my most popular healthy salad on Pinterest featuring it.
Is this pesto salmon recipe keto friendly and low carb?
If you use storebought pesto like I do, it is fairly keto and low carb. If you are in the strict stages of these diets, you can further lower the carbs by researching the nutrition labels or making homemade.

---
Pile it on, wrap it up, pop it in the oven. What healthy meal could be easier?
This flaky salmon is moist and full of basil garlic goodness. Oh, and good-for-you fats and Vitamin B. 😊

Before you go:
As always, I appreciate your visit, comments, and shares here on the blog! I'd love it if you also follow along with me on Pinterest, Instagram, and Facebook so you won't miss any of my inspiration and ideas.
Don't forget to sign up for updates to keep in touch.
If you're not already a member of the SH&H family, I'd love to have you join me! You'll not only get email updates, but you'll have exclusive access to all the bonus materials in my free subscriber-only library, like this:
---
Pin it to remember it!
If you've enjoyed this post, please pin and share this on Pinterest:
Pesto Salmon and Asparagus in Foil
Ingredients
4

Salmon filets, skinless

4

sheets

Aluminum foil, 12-14 inches wide

1

lb.

Asparagus, washed and tough ends trimmed

3

tsp.

Olive oil, divided

Salt and pepper

1

jar

Basil pesto sauce

1

tsp.

Fresh lemon juice

1

pint

Grape or cherry tomatoes, washed and sliced in half
Instructions
Preheat the oven to 400 degrees.

Tear four pieces of aluminum foil into 12-14 inch pieces.

Toss the prepped asparagus with 2 teaspoons of the olive oil and season with salt and pepper to taste.

Divide the spears between the 4 sheets, laying in a single layer in the center of each piece of foil.

Place salmon over the asparagus and spread 3-4 tbsp pesto over the top.

Drizzle 1 tsp. lemon juice over each fillet.

Toss cut tomatoes with the remaining 1 tsp. olive oil and salt to taste.

Spread the tomato halves over each salmon filet.

Wrap the sides of foil in (not too tightly) and roll up the edges to seal into a packet.

Place the packets on a baking sheet and bake in a preheated oven until the salmon has cooked through, about 20 – 25 minutes or until flaky (cooking time will vary depending on the thickness of the salmon).