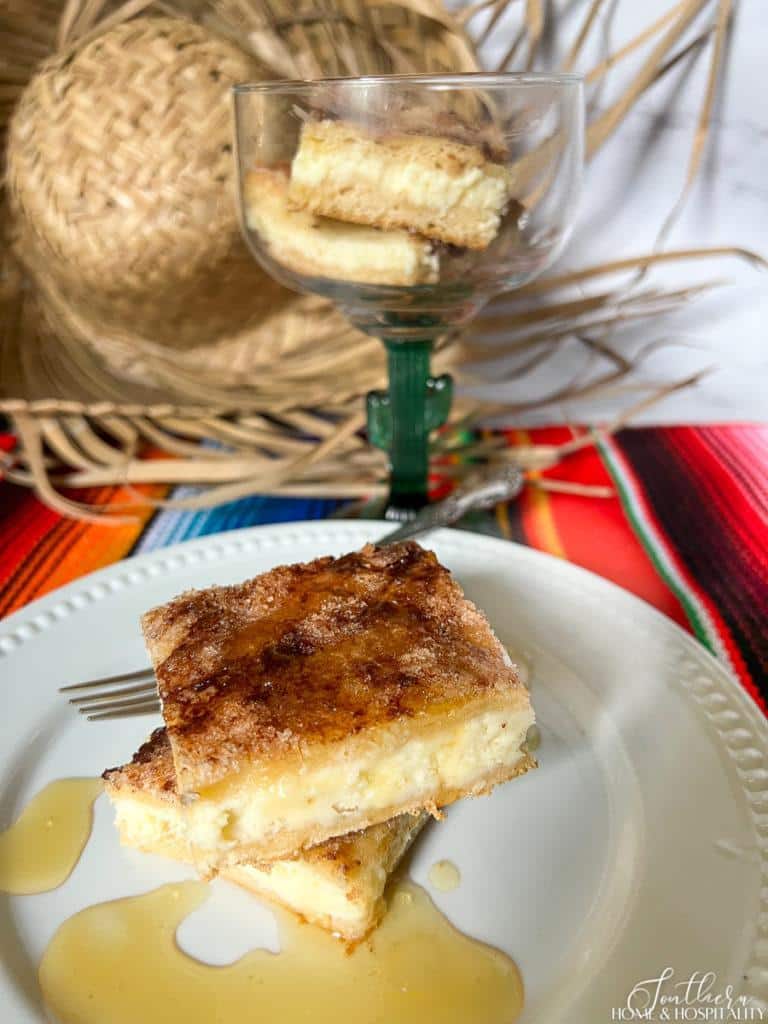 This Sopapilla Cheesecake dessert recipe is a delicious combination of the flavors of sopapillas, churros, and cheesecake all in one! A sweet cream cheese filling sandwiched between layers of buttery cinnamon sugar crust makes this dessert irresistible and perfect for Cinco de Mayo, or any party or potluck!
What is a Sopapilla?
Just in case you're not familiar with the regular sopapilla, this New Mexico specialty is the southwest's version of a fried dough dessert. The sopapilla is made and served in a variety of ways in Latin culture, which are not all sweet. I'm most familiar with the Tex Mex sopapilla which is always a fried pastry dessert flavored with cinnamon and drizzled with honey, very similar to a churro.
This easy Sopapilla Cheesecake Bar recipe is based on this sweet pastry with a coating of butter, cinnamon, and sugar. As yummy as that is on its own, imagine it stuffed with cheesecake!
I've served these at several events and guests always rave about them. Only requiring a few ingredients and less than an hour, they are a go-to whenever I want a dessert for a Mexican-themed party.
One of the times I've served them was at my Margaritaville themed party – a Mexican/Hawaiian/Summer mashup!
Ingredients for Sopapilla Cheesecake Bars.
Refrigerated crescent rolls
Cream cheese
Vanilla
Egg
Granulated sugar
Unsalted butter
Ground cinnamon
See the recipe card at the bottom for exact measurements and directions.
Jump to Recipe
How to make Sopapilla Cheesecake Bars.
Make the Filling: Beat together room temperature cream cheese, a cup of the sugar, egg, and vanilla until combined and creamy.
Bottom Crust: Roll out one of the cans of crescent rolls into a 9×13 baking dish.
Spread the Filling: Spread the filling over the bottom crust.
Top Crust: Roll the second crescent roll sheet over the cheesecake filling layer.
Butter: Melt the butter and spread over the top crust.
Cinnamon and Sugar: Sprinkle the cinnamon and sugar over the entire top crust.
Bake: Bake at 350 degrees for 30 minutes until golden brown.
Cool and slice: Let cool completely (at least an hour or chill overnight) before slicing and serving.
How to serve Sopapilla Cheesecake Bars.
Sopapilla cheesecake bars can be served warm, cold, or at room temperature. When fresh, the top crust is crunchy and complements the creamy cheesecake center so nicely!
For easy, clean cutting, chill them first. You can rewarm them easily by just popping them in the microwave for a few seconds.
This dessert is already quite sweet, but if you want to take it up a notch and serve them just like a sopapilla, drizzle them with honey…yuuummmmm!
Other topping ideas:
Ice cream
Caramel sauce
Raspberry sauce
Apple filling
FAQ's about Sopapilla Cheesecake Bars.
Can Sopapilla Cheesecake Bars be made ahead of time?
Yes! One of the wonderful reasons this dessert is perfect for parties is it can be prepared ahead of time and stored.
Are Sopapilla Cheesecake Bars supposed to be refrigerated?
The leftovers should be refrigerated. The crust does become less crispy when refrigerated, but still tasty!
Can you freeze Sopapilla Cheesecake Bars?
Yes, you can! Freeze them for up to two months in a freezer safe bag or container. Again, the crust won't be crispy but they will still be delicious.
---
For your next Cinco de Mayo meal, Mexican themed party, or just any get together, try bringing these…everyone will love them!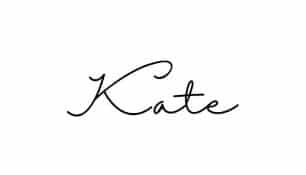 Don't forget to sign up for updates to keep in touch…I have lots of fun and useful freebies you may be interested in in my subscriber-only library like my cheat sheet for emergency baking ingredient substitutions!
This post contains Amazon and other affiliate links for your convenience. As an Amazon Associate I earn from qualifying purchases. If you purchase something through any link, I may receive a small commission, at no extra charge to you. I only recommend products that I love or would purchase for myself. See my full disclosure here.
Shop this post:
Fitz and Floyd Everyday White Dishes (see why I love them here!)
Pin this to your recipe or dessert board – just hover over the upper left corner of the picture:
Sopapilla Cheesecake Bars
Sopapilla Cheesecake bars are a delicious combination of the flavors of sopapillas, churros, and cheesecake all in one! Sweet cream cheese sandwiched between layers of buttery cinnamon sugar crust makes this dessert irresistible and perfect for Cinco de Mayo, or any party or potluck!
Ingredients
Two 8-ounce cans crescent rolls

Two 8-ounce packages cream cheese, at room temperature

1 1/2

teaspoons

vanilla extract

1

large egg

1 1/3

cups

sugar

4

tablespoons

unsalted butter, melted

2

teaspoons

ground cinnamon
Instructions
Preheat the oven to 350 degrees F.

Beat the cream cheese, vanilla, egg and 1 cup of the sugar with an electric hand mixer or stand mixer on medium speed until smooth and creamy, about 1 to 2 minutes. Make sure the cream cheese is at room temperature first.

Unroll one can of crescent roll dough and lay it in the bottom of a 9" x 13" glass baking dish. Use your fingers to press the dough evenly into the bottom of the dish. Pinch the perforations to seal if they are pulled apart.

Spread the cream cheese mixture over the first layer of dough with a rubber spatula.

Unroll a couple of inches of the second can of dough and lay it on top of the cream cheese layer starting the unrolled portion at the end. Unroll the dough to cover the cream cheese and again use your fingers to pinch the perforations and smooth gaps. No need to make the seams totally disapperar; the baked dough and cinnamon and sugar will somewhat cover the perforations.

Melt the butter and pour on top of the dough. Use a rubber spatula, pasty brush, or spoon to spread it out evenly.

Sprinkle the remaining 1/3 cup sugar over the top of the dough and then the cinnamon until evenly covered.

Bake for 30 minutes or until the dough is baked through and the cinnamon and sugar have gotten slightly crusty.

Cool for at least 15 minutes before cutting. The bars can also be cooled completely, or even refrigerated before cutting and serving.